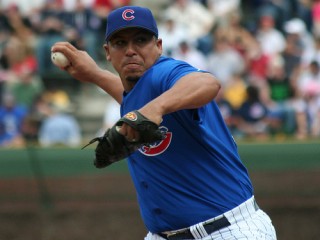 Carlos Zambrano biography
Date of birth : 1981-06-01
Date of death : -
Birthplace : Puerto Cabello, Venezuela
Nationality : Venezuelan
Category : Sports
Last modified : 2010-11-16
Credited as : Baseball player MLB, pitcher with the Chicago Cubs,
GROWING UP
Carlos Alberto Zambrano was born on June 1, 1981, in Puerto Cabello, Venezuela. The Zambranos had deep roots in the country's Carabobo region, a few hours west of Caracas, but they were also a family on the go. Carlos's father had been a trucker his entire adult life, and two of Carlos's brothers followed him into the family business.
Driving a truck is not an especially lucrative profession in Venezuela, and the work is extremely hard. There were times when money and even food was scarce. Carlos once owned a pair of shoes that literally wore out and started to disintegrate. But what the family lacked in wealth it made up for in faith. The were deeply religious, and Carlos remains so to this day.
The Zambrano boys were big, strong and athletic. Carlos competed against his brothers in every sport they played and quickly surpassed them. He could throw a baseball hard at an early age, and his physical prowess increased as he got older. By the time Carlos was a teenager, he had sprouted taller than six feet and soared past 200 pounds
Carlos was a right fielder as a kid, and he also switch-hit. But his dream was to be a pitcher. It started the night he saw Roger Clemens on TV. From that point on, he envisioned himself as a Clemens-like presence on the mound.
Carlos's early development was aided by Julio Figueroa, a former pitcher on Venezuela's Olympic team. After hurting his arm, Figueroa went to work with one of Carlos's brothers. Day after day, he heard so much about Carlos, how he looked like Andres Galarraga and had a cannon for an arm. When Figueroa finally watched him play, he was stunned by the rockets the 14-year-old launched from rightfield to third and home plate.
Carlos had started to pitch a little by this time, but his mechanics were horrible and he had no consistency or control. Figueroa immediately took the teenager under his wing, and from that moment on, Carlos began learning the finer points of pitching.
His fastball had an explosive downward dip, and Figueroa advised him to hone this pitch as his primary weapon. He also told Carlos that to become like Clemens, he could not be just a thrower. He would have to broaden his repertoire. Carlos watched the winter league games in Venezuela and saw how major leaguers like Wilson Alvarez, Rich Garces, Carlos Pulido and Omar Daal changed speed and location, and used the natural movement of their deliveries to set up and then put away hitters.
Carlos was big, bright and very animated—an exciting prospect, to be sure. What ultimately separated him from other talented pitchers in his country, however, was his pure athleticism. He had a hulking frame, but was incredibly graceful. The only concerns were Carlos's weight, and his ability to control his emotions.
Carlos hated to lose. Or rather, he expected to win every time he took the mound. When he made stupid pitches or his teammates committed errors behind him, he became enraged. Usually, he could channel this anger into his pitching. But there were times when he took out his frustration on his fielders, or threw at enemy batters. Given his size, and his velocity, he was an unusually intimidating player.
Carlos progressed so quickly that by age 15 Figueroa had quit his job to become his full-time mentor. The kid was throwing his fastball 85-90 mph with extraordinary movement, and looked effortless doing so. Cubs scout Alberto Rondon was the first to recognize Carlos as a prime prospect. Oneri Fleita, head of the team's Latin American academies, agreed. They convinced Figueroa to throttle back on the workouts, lest Carlos ruin his young arm. Meanwhile, they had the inside track.
As soon as Carlos turned 16, Rondon escorted him to Mesa, Arizona, where he worked out with Chicago's Rookie-level team for a couple of weeks. Alongside a host of interesting prospects, including Kyle Lohse, Jon Garland, Mike Meyers and Francis Beltran, he impressed manager Terry Kennedy, who gave Carlos a big thumbs up. The Cubs sent him home and put a deal on the table worth $5,000. Carlos signed in July, gave the money to his parents, and prepared for his first season as a pro.
The Cubs expected great things from their big teenager when he reported for duty in the spring of 1998. His fastball was getting up into the low 90s, he had begun to work on a change and slider, and it already looked like he had the body and makeup that would allow him to go deep into games.
He began his first season as a Chicago farmhand in familiar surroundings, with Mesa. Under manager Nate Oliver, Carlos pitched primarily out of the bullpen, and his heavy, sinking fastball baffled enemy batters. In 40 innings of work, he gave up no home runs.
ON THE RISE
Carlos pitched for Class-A Lansing in 1999, and blossomed earlier than anyone had imagined. Posting a 13-7 record with a 4.17 ERA, he harnessed his explosive fastball, demonstrated command of his change-up, and his slider—which broke sharply in the opposite direction of his fastball—was on the way to becoming a great second pitch. Carlos was one of five high-grade prospects on a team managed by Oscar Acosta, who would later become the pitching coach in Chicago. Others on the club included Corey Patterson, Hee Seop Choi, Michael Wuertz and David Kelton.
Carlos started the 2000 campaign in the starting rotation for the West Tenn Diamond Jaxx. He pitched well, and well beyond his years, going 3-1 with a 1.34 ERA in nine starts. The decision was made to promote him to the Class-AAA Iowa Cubs, but there he would work the rest of the year out of the bullpen. The big club was desperate to develop a closer from within the organization, and Carlos appeared to be the best option they had. He made 34 appearances at that level, saved six games, and was simply unhittable at times.
Carlos was invited to the Cubs' major league camp in the spring of 2001. He wowed everyone with his repertoire, and wasn't awed by major-league batters in exhibition action. In an inning of work against the Padres, he allowed a single to Tony Gwynn, but also struck out veterans Ryan Klesko, Phil Nevin and Damian Jackson. There was some brief talk of giving Carlos the final spot in the Chicago bullpen, but he returned to Triple-A for the '01 season. With Iowa, the organization reconverted him into a starter. The Cubs' brass felt his stuff was too explosive to be a consistent reliever, but ideal for a starting role. At 6-5 and 225 pounds, they suspected he would have the stamina to take the ball every fifth day without a problem.
They were right. Carlos averaged six innings a start, and went 10-5 with a 3.88 ERA. He was murder on righties, limiting them to a .186 average. The Cubs, monitoring his progress closely, called him up in August. After two straight last-place finishes, they were in the thick of things in the Central. Carlos got a start for manager Don Baylor against the Milwaukee Brewers and was brilliant through three innings. Then the roof caved in, as he allowed seven runs. Carlos was returned to Iowa, where he helped the team finish first. After the Cubs lost to New Orleans in the AAA playoffs, Carlos rejoined Chicago.
He spent the season's final month in the bullpen and did mop-up duty. His 15.26 ERA was nothing to brag about, and his control was atrocious. Acosta was on his case night and day, and was berating some of the other Cub pitchers, too. The friction caused by Acosta's rants convinced Baylor to dump him. When Acosta found out, he quit before the campaign ended.
The following spring, under the tutelage of Larry Rothschild, Carlos showed that he had the stuff to help the Cubs this time around. He had pitched winter ball in Venezuela and gained confidence in his slider and split-finger pitch. In one seven-inning start, he shattered eight bats, including one belonging to Richard Hidalgo. His makeup and maturity, however, were still in question.
It was a tough call for Baylor, but at the end of camp he announced that Carlos would be heading north with the team. Hours later, in Chicago's final Cactus League game, Carlos coughed up six runs to the White Sox in a third of an inning. Baylor, in turn, changed gears, banished him back to Iowa and gave Joe Borowski the 25th spot on the roster.
This actually worked out nicely for the team, as Borowski pitched sterling ball as a set-up man and became the Chicago closer in 2003. As for Carlos, he surrendered three hits and no runs in his lone Triple-A appearance before returning to the Cubs at the end of April when Kyle Farnsworth broke his foot. He made the most of his second chance.
Carlos worked with Rothschild and picked the brains of Jon Lieber, who was coming off a career year for Chicago. He also learned from Matt Clement, who had a similar repertoire. Carlos concentrated on evening out his emotions, gaining consistency in his delivery, and throwing strikes. He opened the year in the bullpen, did a stint on the DL, got into a fight in a minor league game while on rehab (for which he was suspended), and joined the rotation in July. As a starter, Carlos got himself in trouble with walks, but his stuff was good enough to wriggle out of many jams. Overall, he went 4-8 with a 3.66 ERA, allowing two runs or less in 11 of his 16 starts. Carlos's performance was one of the bright spots in an otherwise dismal campaign for the Cubs. The team finished 67-95 and Baylor didn't last the year.
MAKING HIS MARK
The 2003 Cubs were a different story. Carlos nailed down the fourth spot in a terrific rotation, behind Kerry Wood, Mark Prior and Clement. New manager Dusty Baker cobbled together an effective bullpen, the bench responded when called upon, and the team traded for Kenny Lofton, Randall Simon and Aramis Ramirez—all of the Pirates—in time for a solid stretch run. Chicago finished first in the Central, a game up on the Houston Astros and three up on the St. Louis Cardinals. They captured the division with a doubleheader sweep of Pittsburgh on the final day of the season.
Carlos trusted his stuff all year, won 13 times, and pitched to the tune of a 3.11 ERA. When he had it all going, batters could do little more than hammer balls into the ground. He gave up the fewest homers per nine innings in the NL. Sometimes his stuff was too good, and the walks piled up. Carlos suffered 11 losses, most of which boiled down to untimely bases on balls. His strikeouts were something—Carlos punched out Barry Bonds in a game against the Giants and did a little celebration on the mound that was replayed again and again on the highlight shows. Bonds was not a happy man.
As a rule, Baker let his big 21-year-old pitch deep into games. (Carlos averaged seven innings a start.) The wisdom of this strategy was questioned in September, when a sore back nagged Carlos. In the post-season, he struggled against the Braves and Marlins. In the NLDS against Atlanta, he started Game 2 and gave up 11 hits in less than six innings in a 5-3 loss, despite hitting 101 mph on the radar gun. Thanks to great performances from Prior and Wood, the Cubs pulled out the series, setting up a showdown with Florida, the league's Wild Card entry. Carlos started the NLCS opener, and was handed an early 4-0 lead. He promptly gave back five runs in a game that the Marlins won 9-8 in extra innings.
Chicago took the next three to seize control of the series, and Baker handed Carlos the ball to close the Marlins out. He held his own for five innings, allowing two runs, but Josh Beckett was twirling a two-hit shutout for Florida. The 4-0 loss was a setback, but with Prior and Wood slated for the next two contests, the Cubs were still sitting pretty. But in vintage Wrigley fashion, the team blew Game 6 and then lost Game 7. Chicago's bid for its first World Series since 1945 became just a bitter memory.
Sensitive to criticism about his weight and stamina, Carlos huddled with personal trainer Frank Alvarez over the winter. Certain his back woes were related to his size, not his strength, he adjusted his diet and took better care of his body. Carlos dropped 15 pounds, substituted broccoli and cottage cheese for burgers, and reported to spring training in the best shape of his life. After trimming the flab from his upper body and back, he was throwing the ball better than ever.
The Cubs reloaded for 2004, adding Derrek Lee, Michael Barrett, Todd Walker, Greg Maddux and LaTroy Hawkins—and actually improved their record by one game from the year before. But the Cardinals set a torrid pace in the Central, and the Astros caught fire late. Both teams went to the playoffs while Chicago stayed home. Wood, Prior and Borowski all spent time on the DL, and Baker struggled just to keep his team in the Wild Card shuffle.
Carlos's mound antics became big news in Chicago that summer. Known around the league for his fist-pumping, sky-pointing and occasional tantrums when teammates made bad plays, he raised his emotional outbursts to a new level in a July game against the Cardinals. Displeased with Jim Edmonds's showboating after a long home run, he shouted at the St. Louis slugger as he rounded the bases and was later ejected after hitting Edmonds with a pitch. He received a five-game suspension. Of course, instead of drawing the ire of Chicago fans, he became a folk hero. They despise Edmonds, and felt he got what he deserved. Carlos was the MAN.
Carlos was also the man Baker turned to when the bullpen was sucking wind. The skipper pitched his young star deep into games again, despite constant reminders from fans and the media about his poor '03 post-season. By using Carlos up in July and August, they claimed, he would have nothing left for September.
But Baker's faith in Carlos paid off when the leaves began to turn. After going 12-8 over the first five months, he was untouchable in September, with a 4-0 record and 1.01 ERA. His overall improvement was also seen in his control numbers, as his walks dropped from 94 to 81 and his strikeouts rose from 168 to 188. Had anyone else on the club played to their ability in the last two weeks, Chicago would have held off Houston's furious rush, but it was not to be.
Carlos returned to Venezuela during the winter and was greeted with a hero's welcome. He and Johan Santana had raised the profile of the country's pitching prowess, and both men were mobbed wherever they went. The attention made Carlos very uncomfortable. He preferred it when people respected him and treated him like a person, not a god. Carlos spent only two weeks hanging out and relaxing, then began working out and eating right. After a whiff of the Cy Young in 2004, he decided he wanted it in 2005.
Though Carlos was Chicago's best pitcher in '04, either Prior or Wood was slated to start on Opening Day. When both came up with arm injuries in the spring, Carlos got the honor. At age 23, he was the youngest Cub to start an opener since Joe Niekro, in 1968.
Carlos has looked good in '05, despite a blister problem. His usual self in the early going, he has pitched a couple of lights-out games, and got thumbed from a couple of others. The maturity issue still lingers, but his physical tools are no longer a concern.
Carlos is a throwback to the days when hurlers didn't mind starting something with a purpose pitch—and also liked to finish what they started. That suits the Cubs just fine. With a chaotic bullpen situation and health issues with their other starters, Chicago is happy to have a horse who can get to the finish line.
CARLOS THE PITCHER
Carlos throws a hard, heavy ball that bores in on righthanded hitters. It has been his bread-and-butter pitch since high school, and it has gotten better as he has matured physically. When this pitch is working, batters either wave over it or beat it into the ground. It is almost impossible to knock out of the park, which accounts for Carlos's sterling record in Wrigley Field, where sluggers tend to swing for the fences and the tall grass slows every grounder to a snail's pace. Carlos mixes in three other pitches that look the same coming out of his hand: a slider that darts right to left, a splitter that dives straight down, and a changeup.
Carlos gets less attention that Kerry Wood and Mark Prior, but he has been the pitcher who takes the ball and makes his starts with a minimum of muss, fuss and injuries. He likes to go deep into games, and hates it when he does not pitch his best. The rawness of his emotions still gets the best of him, and this can create a fair amount of havoc for the Cubs, but the same naked desire to win also gets him through a lot of tough innings.
Also overlooked, because of his immense size, is Carlos's tremendous athleticism. He helps himself in the field and does a decent job on the bases. Had he grown up in California instead of Puerto Cabello, he would probably be playing tight end in the NFL. A lousy hitter when he arrived in the majors, Carlos is now good enough to be a legitimate concern to other teams. Anyone his size who swings as aggressively as he does can hit it out if a pitcher makes a mistake.
Read more
Latest headlines