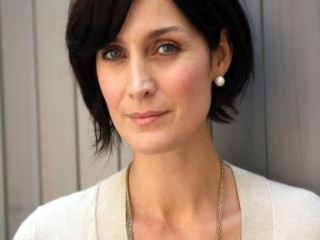 Carrie-Anne Moss biography
Date of birth : 1967-08-21
Date of death : -
Birthplace : Burnaby, British Columbia, Canada
Nationality : Canadian
Category : Arts and Entertainment
Last modified : 2011-09-21
Credited as : actress, The Matrix trilogy, model
Carrie-Anne Moss
is a Canadian actress known for her roles in The Matrix trilogy, Memento, Unthinkable, and Chocolat.
Moss is Canadian by birth, and grew up in Vancouver, British Columbia. Born in 1967, she was named after a Hollies song, "Carrie Anne," that was popular at the time. She acted in children's theater, but her plans to pursue acting as an adult were sidelined by lucrative work as a model in Japan and Spain. While living in Barcelona, Moss acted in television commercials and then auditioned for a part on a CBS series that was filming in there at the time. She won the role of Tara McDonald on Dark Justice, and when the series returned to Los Angeles, California, for the 1992 season, Moss went there as well.
Moss took classes at Pasadena's American Academy of Dramatic Arts, but recalled her transition to Hollywood as an exceedingly difficult period in her life. "I just didn't know anybody, not a soul," she told Palmer in the Sunday Times. "It was a very, very lonely time. I mean, moving to LA at just 24 and not knowing anyone, how insane is that? But I wanted to act and I just hung on in there and kept hoping." Eventually Moss landed a number of guest roles on television shows such as L.A. Law, Silk Stalkings, and Baywatch, and did some stage work as well. She even appeared in a short-lived series on the USA cable channel called Matrix, which had no relation to the movie that later made her famous. Her big break, ostensibly, came on a much-hyped new series for the Fox Network in 1994: Models, Inc. Critics savaged the show, a spin-off of the hit Melrose Place drama, and the Globe & Mail 's Giammarco described Moss's character as" an aging model embroiled in some of the most groan-inducing plot twists ever conceived outside of daytime soaps."
Moss made her big-screen debut in a little-seen mystery titled The Soft Kill in 1994. She also appeared a 1996 horror flick that starred a young Heather Graham, Terrified, and spent a season as Lucinda Scott on F/X: The Series, between 1996 and 1997. Other films went straight to the proverbial video bin, but Moss told Giammarco in the Globe & Mail interview that schlock television and B-movies served her well in her career. "I've had to deliver some of the hardest, most terrible dialogue ever written," she reflected. "When you learn how to do that, you can do anything." Reading for the role of Trinity in The Matrix, she said in an interview with Palm Beach Post writer Hap Erstein, was more or less an aberration. "I wasn't even auditioning for movies, really, because it was hard to get in the room," she recalled.
The Matrix was the brainchild of two filmmaker brothers from Chicago, Larry and Andy Wachowski. Their farfetched premise-that computers are actually running the planet, that reality as people know it was merely a "matrix," and that human behavior was programmed to maximize profit-won a surprise greenlighting by Warner Bros. studio executives. The brothers had no experience in the big-budget action-thriller genre, and were also adamant about having their actors perform all their own stunts. Moss went to seven callbacks before they cast her in the role of Trinity, and then began preparing intensely in the fall of 1997 for the film, which would not be released until some 18 months later. In order to psychologically prepare for the part, however, she revisited the Clint Eastwood Dirty Harry series from the 1970s and '80s. "I hadn't seen his movies since I was a kid and went with my dad and my brother," she told Esquire 's David Hochman. "But I remembered how still he was. Still but full of strength. I knew I needed to tap into that because I'm not a very still person."
Moss's co-stars in The Matrix were Laurence Fishburne (as the leader of small band of rebels who have escaped the computer-controlled Matrix and are fighting from a small place deep inside Earth) and Keanu Reeves (as the computer hacker Neo). It is Trinity's task to guide Neo into fulfill his destiny as humankind's savior, and a romance develops amidst the danger and dazzling special effects. The film was a box-office smash worldwide when it was released in the spring of 1999, with Entertainment Weekly 's Marc Bernardin deeming it the first successful Hollywood movie to deal credibly with the virtual-reality concept. "The genius of writer-directors Larry and Andy Wachowski's deep-thinking actioner is that they took their Big Idea and armored it in a cohesive cyberpunk/comic-book chic that had never been seen outside of Japanimation," Bernardin asserted. The New York Times critic, A. O. Scott, called it a work that "succeeded by entwining traditional-and often breathtakingly innovative-action-movie motifs with the mapping of an intricate and mysterious world."
The Wachowskis had a Matrix sequel in the works that was eventually split into two separate films, but before reprising her Trinity role Moss appeared in a slew of films released in 2000, some of which did well with critics and audiences alike. She was a desperate, battered woman in Memento, which featured Guy Pearce as a short-term amnesiac named Leonard trying to find his wife's killer. Moss helped Pearce's character put together the pieces in a complex plot that unfolded in reverse in screen. "Each section of the main story begins in mid-action," noted New Statesman writer Jonathan Romney, "so that we do not know what is happening any more than Leonard does: it is like walking in to the middle of a film, over and over again." A sci-fi flick in which Moss starred opposite Val Kilmer, Red Planet, took a drubbing, however, and she also appeared in a little-seen caper-comedy with Burt Reynolds and Richard Dreyfuss, The Crew. But she also had a supporting role in Chocolat, one of the year's surprise box-office hits.
Moss began training once again for the Matrix sequels in the spring of 2001, learning kung-fu moves from the movie's fight choreographer, Yuen Wo Ping, of Crouching Tiger, Hidden Dragon fame. Often she toiled seven hours a day, but the arduous work-much of it on high wires-took its toll, and she fell and broke her leg. She was mortified that she would be re-cast, as she recalled in the Esquire interview. "I remember going somewhere around that time," confessed to Hochman. "I was on crutches, and a guy said, 'Hey, my girlfriend just auditioned for your part.'" He was joking, and Moss's leg mended well enough for her to return to shooting and take on a new villain: a motorcycle. The stunt-driving school she attended failed to prepare her for the intensity of some of the scenes, especially one that required her to drive into oncoming traffic, and one chase sequence alone took eight weeks to film. "I rode a bike in the first one," she told Giammarco in the Globe & Mail, "but really all I had to do was pull away from a curb-and I fell off every time," she said with a laugh. "I was scared to death of them. So, of course, in this one they had me riding a motorcycle for almost two months. But it feels pretty good to have conquered my fear."
The filming of The Matrix sequels was stressful in other ways, Moss recalled. There were two deaths among cast members: R&B singer Aaliyah, cast as Zee, was killed in a plane crash in August of 2001, and Gloria Foster, who played the Oracle in the first Matrix film, died of complications from diabetes. In between those deaths, while cast and crew were far from home on location in Sydney, Australia, hijacked airliners crashed in New York, Washington, D.C., and Pennsylvania on September 11, 2001. Moss underwent a crisis of confidence, as she recalled in the interview with the Sunday Times. "I was a wreck," she told Palmer. "I was asking myself: 'Why am I going to work? What am I doing making a movie right now, while all this is happening?'"
The sequels, while hotly anticipated by fans of the first installment, fared less well with critics. The Matrix Reloaded was released in the spring of 2003, followed six months later by The Matrix Revolutions. The New York Times 's Scott called Reloaded "a lumpy, gaseous treatise of a movie," and Newsweek 's film reviewer David Ansen declared the third film not as compelling as the initial Matrix. "If you missed the second part, you will be hopelessly lost," Ansen wrote. "Even if you saw it, expect more confusion than your average action movie delivers." Ansen liked a fantastiscal, climactic battle scene, describing it as "a wild sequence so densely crammed with flying metal, flaming weapons, and smashed architecture it verges on abstraction." The New York Times 's Scott asserted, however, that the final film "feels padded. The battle for Zion goes on forever and seems designed to justify the picture's enormous military hardware budget. There is very little that is tantalizing or suspenseful. The feeling of revelation is gone, and many of the teasing implications of Reloaded have been abandoned."
Both Matrix films were enormous successes at the box office, however, and Reeve's turn as Neo was said to have revived what had been a moribund career. Moss was sometimes asked about her love scenes with the cinematic heartthrob. "I'm definitely not a big fan of that part of the work," she told Hochman in Esquire. "I'm such a private person, and sexuality is such a private thing. A sex scene is much harder than a fight scene. It's one thing to say, 'Kick higher,' but 'Kiss harder'-that's just crazy." The leather trench coats she and Reeves sported in the films were mentioned in a New York Times Style piece, and a cult-like following arose in homage to Moss's Trinity and her black latex catsuit. She was surprised to learn there was an avid Internet following for the character-who, with "Moss's endless scissor legs, angular face and thin, serious lips," noted the Sunday Times 's Palmer, "make her a cybergeek's S&M fantasy"-since she was vastly uninterested in computers, the Web, or any of the virtual-reality gaming elements that made The Matrix such a hit with a generation of filmgoers. "I'm really computer-illiterate," she admitted in the interview with Erstein for the Palm Beach Post. "I don't even know how to turn our computer on." Her more net-savvy mother gave her a crash course, "and I went on," Moss recalled, "and it's like, 'Oh, my God, pictures that I had never seen.' I find it a bit weird."
Moss's next film project was Suspect Zero, a thriller about a serial killer of other serial killers that also starred Aaron Eckhart and Ben Kingsley. Married to Steven Roy, an actor and director, Moss became a mother in 2003 as well. She was 36 years old when the final installment of The Matrix was released, and declared herself retired from the action-movie genre. "The first time around I didn't know what to expect," she told Newsweek 's Devin Gordon, "and it was really hard, but ignorance was bliss.… I'm a very strong person. But I will never do another kung fu movie again," she said with a laugh. "It's too stressful."
Career:
Actress in television, including:
Dark Justice, 1991-93;
Nightmare Cafe, 1992;
Forever Knight, 1992;
Down the Shore, 1992;
Matrix, 1993;
Flashfire (movie), 1993;
Street Justice, 1993;
Doorways (movie), 1993;
L.A. Law, 1993;
Silk Stalkings, 1993;
Spider-Man (voice), 1994;
Baywatch, 1994;
Models, Inc., 1994-95;
Nowhere Man, 1995;
Due South, 1996;
F/X: The Series, 1996-97;
Viper, 1997.
Film appearances include:
The Soft Kill, 1994;
Terrified, 1996;
Sabotage (uncredited), 1996;
Lethal Tender, 1997;
The Secret Life of Algernon, 1997;
The Matrix, 1999;
New Blood, 1999;
The Crew, 2000;
Memento, 2000;
Red Planet, 2000;
Chocolat, 2000;
The Matrix Reloaded, 2003;
The Matrix Revolutions, 2003;
Suspect Zero, 2004.
Stage appearances include:
Outward Bound,
Hudson Theatre,
Los Angeles, CA.
Also worked as a model in Spain and Japan during the 1980s.
Read more
Latest headlines