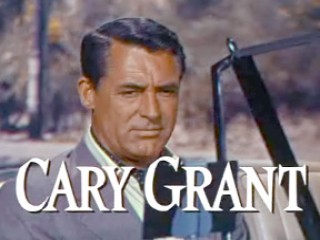 Cary Grant biography
Date of birth : 1904-01-18
Date of death : 1986-11-29
Birthplace : Bristol, England
Nationality : British
Category : Arts and Entertainment
Last modified : 2010-06-15
Credited as : Actor, Greatest Male Star of All Time ,
Archibald Alexander Leach
(January 18, 1904 – November 29, 1986), better known by his stage name
Cary Grant
, was a British-American actor. With his distinctive yet not quite placeable Mid-Atlantic accent, he was noted as perhaps the foremost exemplar of the debonair leading man: handsome, virile, charismatic and charming.
He was named the second Greatest Male Star of All Time by the American Film Institute. His popular classic films include
The Awful Truth (1937), Bringing Up Baby (1938), Gunga Din (1939), Only Angels Have Wings (1939), His Girl Friday (1940), The Philadelphia Story (1940), Suspicion (1941), Arsenic and Old Lace (1944), Notorious (1946), To Catch A Thief (1955), An Affair to Remember (1957), North by Northwest (1959), and Charade (1963).
Cary Grant is one of a handful of actors whose personalities so captivate the moviegoing public that their names become synonymous with the qualities they embody on the screen. Just as John Wayne has come to represent a certain brand of rugged masculinity, or Marilyn Monroe a blend of sexuality and childlike innocence, so Cary Grant has become the enduring cinematic personification of elegance, wit, and sophistication. A master of light comic acting, his much-imitated style is the yardstick by which others who attempt this difficult technique are measured, yet Grant's seemingly effortless performances remained unequaled. His talent, grace, and good looks have earned him a place among Hollywood's most popular male stars.
Grant's polished persona seems the antithesis of his working-class background, yet his unmistakable style was already much in evidence in his earliest film roles. His credentials as a traditional leading man were established with his appearances opposite Marlene Dietrich in Blonde Venus and Mae West in She Done Him Wrong and I'm No Angel, but it was his work with the directors George Cukor, Howard Hawks, and Leo McCarey which revealed the full measure of his abilities.
The fast-paced screwball comedies of the 1930s proved to be the perfect format for displaying Grant's verbal and physical agility. His romantic sparring with Irene Dunne in McCarey's The Awful Truth, Rosalind Russell in Hawks's His Girl Friday, and Katharine Hepburn in Cukor's Holiday and Hawks's Bringing Up Baby displayed Grant's deft comic touch in films that served to define the genre. His role as the daredevil flyer in Only Angels Have Wings, and his Oscar-nominated performances in Penny Serenade and None but the Lonely Heart showed him to be a capable dramatic actor as well, but it was in sophisticated comedy that his real strength lay. Grant continued to mine the successful image he had created in these early films throughout his career, and his performance in Stanley Donen's Charade--one of his final films--demonstrates the undiminished appeal of his debonair charm.
Although Grant's comedies represent the majority of his best remembered roles, his work with Alfred Hitchcock in several classic films offers a departure from his usual image. As he does with James Stewart in Rear Window and Vertigo, Hitchcock plays against Grant's familiar persona by incorporating into his characters psychological twists that are in startling contrast to the actor's smooth surface elegance. To Catch a Thief is perhaps closest to his characteristic style, with Grant portraying an infamous jewel thief, while Suspicion finds him cast as a seemingly loving husband who may or may not be plotting to murder his wife. In North by Northwest Grant's wisecracking character is subtly shown to be a man whose charm hides a basically selfish nature and whose only lasting relationship with a woman is his amusing but obsessive bond with his mother.
It is in Notorious, however, that Hitchcock fully utilizes this conflict between Grant's image and his character's personality. As Devlin, a misogynistic, emotionally repressed American agent, he sends the woman he has unwillingly come to love (Ingrid Bergman) into the arms of a Nazi collaborator (Claude Rains). Devlin's struggle against his attraction to the high-living Bergman nearly causes her death when he blindly ignores signs that she may be in danger. The bizarre love triangle in the film hinges on Bergman's attraction to Grant in spite of his consistently callous behavior, and his performance is both fascinating and disturbing.
In David Thomson's essay, "Charms and the Man," he discusses at length the Notorious kiss between Grant and his co-star, Ingrid Bergman. The engineered intimacy and the "links between universal voyeurism and filmmaking" are perhaps best expressed by the director in an interview conducted by Truffaut. Hitchcock confesses, "I felt [the kiss] was indispensable that they should not separate, and I also felt that the public, represented by the camera, was the third party to this embrace. The public was given the great privilege of embracing Cary Grant and Ingrid Bergman together. It was a kind of temporary menage à trois" (quoted by Thomson). One sees in this an ultimate working of the Hollywood star system and the ideology manipulated by the machine: if only in illusion do we embrace the unattainable glamour of the stars, so be it only in illusion.
Grant's charms and wits may linger larger than life on screen, but it is also his spirit of camp that transcends beyond and steps outside of the frame. If we feel his speech is fast, we are experiencing the thrill of a possibility that his speech is going to be too fast to be restrained on film. In his handsome smiles that also hint at a touch of coyness and conceit and the physical as well as mental agility and quickness when "suddenly gone gay," it is tempting to look at Grant not only as a star but also as a star looking back at us and, perhaps, at filmmaking itself.
Education: Attended Fairfield Academy, Somerset. Family: Married 1) the actress Virginia Cherrill, 1934 (divorced 1935); 2) Barbara Hutton, 1942 (divorced 1945); 3) the actress Betsy Drake, 1949 (divorced 1962); 4) the actress Dyan Cannon, 1965 (divorced 1968), daughter: Jennifer; 5) Barbara Harris, 1981. Career: 1919-20--ran away from school to join the Bob Pender Troupe of comedians and acrobats; toured with them to the United States, and decided to stay; then worked as barker on Coney Island, stilt walker at Steeplechase Park, and in vaudeville as straight man; 1927--first role on legitimate stage, Golden Dawn; followed by roles in musicals including Boom, Boom, 1929, with Jeannette MacDonald, a summer season at the St. Louis Municipal Opera, 1931, and in Nikki, 1931, with Fay Wray; 1932-37--contract with Paramount: film debut in Singapore Sue (short), 1932; 1937--freelance actor; entertained the armed forces during World War II; 1959--formed his own production company Grantart. Awards: Honorary Academy Award, "for his unique mastery of the art of screen acting with the respect and affection of his colleagues," 1969; Life Achievement Award, American Film Institute. Died: Of a stroke, in Davenport, Iowa, 29 November 1986.
WORKS - Films
* 1932: Singapore Sue (Robinson--short) (as Archie Leach)
* 1932: This Is the Night (Tuttle) (as Stephen)
* 1932: Sinners in the Sun (Hall) (as Ridgeway)
* 1932: Merrily We Go to Hell (Arzner) (as stage leading man)
* 1932: Devil and the Deep (Gering) (as Lt. Jacques)
* 1932: Blonde Venus (von Sternberg) (as Nick Townsend)
* 1932: Hot Saturday (Seiter) (as Romer Sheffield)
* 1932: Madame Butterfly (Gering) (as Lt. Pinkerton)
* 1933: She Done Him Wrong (Sherman) (as Capt. Cummings)
* 1933: The Woman Accused (Sloane) (as Jeffrey Baxter)
* 1933: The Eagle and the Hawk (Walker) (as Henry Crocker)
* 1933: Gambling Ship (Gasnier and Marcin) (as Ace Corbin)
* 1933: I'm No Angel (Ruggles) (as Jack Clayton)
* 1933: Alice in Wonderland (McLeod) (as Mock Turtle)
* 1934: Thirty-Day Princess (Gering) (as Porter Madison)
* 1934: Born to Be Bad (Sherman) (as Malcolm Trevor)
* 1934: Kiss and Make Up (Thompson) (as Dr. Maurice Lamar)
* 1934: Ladies Should Listen (Tuttle) (as Julian de Lussac)
* 1935: Wings in the Dark (Flood) (as Ken Gordon)
* 1935: The Last Outpost (Gasnier and Barton) (as Michael Andrews)
* 1935: Sylvia Scarlett (Cukor) (as Jimmy Monkley)
* 1935: Enter Madame (Nugent) (as Gerald Fitzgerald)
* 1936: Pirate Party on Catalina Island (short)
* 1936: Big Brown Eyes (Walsh) (as Danny Bart)
* 1936: Suzy (Fitzmaurice) (as Andre)
* 1936: Wedding Present (Wallace) (as Charlie)
* 1936: The Amazing Quest of Ernest Bliss (Amazing Adventure; Romance and Riches) (Zeisler) (as Ernest Bliss)
* 1937: When You're in Love (For You Alone) (Riskin) (as Jimmy Hudson)
* 1937: Topper (McLeod) (as George Kerby)
* 1937: The Toast of New York (Rowland V. Lee) (as Nick Boyd)
* 1937: The Awful Truth (McCarey) (as Jerry Warriner)
* 1938: Bringing Up Baby (Hawks) (as David Huxley)
* 1938: Holiday (Free to Live; Unconventional Linda) (Cukor) (as Johnny Case)
* 1939: Gunga Din (Stevens) (as Sgt. Archibald Cutter)
* 1939: Only Angels Have Wings (Hawks) (as Geoff Carter)
* 1939: In Name Only (Cromwell) (as Alec Walker)
* 1939: His Girl Friday (Hawks) (as Walter Burns)
* 1940: My Favorite Wife (Kanin) (as Nick Arden)
* 1940: The Howards of Virginia (The Tree of Liberty) (Lloyd) (as Matt Howard)
* 1940: The Philadelphia Story (Cukor) (as C. K. Dexter Haven)
* 1941: Penny Serenade (Stevens) (as Roger Adams)
* 1941: Suspicion (Hitchcock) (as Johnnie Aysgarth)
* 1942: The Talk of the Town (Stevens) (as Leopold Dilg)
* 1942: Once upon a Honeymoon (McCarey) (as Pat O'Toole)
* 1943: Mr. Lucky (Potter) (as Joe Adams)
* 1944: Destination Tokyo (Daves) (as Capt. Cassidy)
* 1944: Once upon a Time (Hall) (as Jerry Flynn)
* 1944: Arsenic and Old Lace (Capra) (as Mortimer Brewster)
* 1944: None but the Lonely Heart (Odets) (as Ernie Mott)
* 1944: The Road to Victory (short)
* 1944: The Shining Future (Prinz--short)
* 1946: Without Reservations (LeRoy) (as guest)
* 1946: Night and Day (Curtiz) (as Cole Porter)
* 1946: Notorious (Hitchcock) (as Devlin)
* 1947: The Bachelor and the Bobby-Soxer (Bachelor Knight) (Reis) (as Dick Nugent)
* 1947: The Bishop's Wife (Koster) (as Dudley)
* 1948: Mr. Blandings Builds His Dream House (Potter) (title role)
* 1948: Every Girl Should Be Married (Hartman) (as Dr. Madison Brown)
* 1949: I Was a Male War Bride (You Can't Sleep Here) (Hawks) (as Capt. Henri Rochard)
* 1949: Polio and Communicable Diseases Hospital Trailer (Hoffman--short)
* 1950: Crisis (Richard Brooks) (as Dr. Eugene Ferguson)
* 1951: People Will Talk (Joseph L. Mankiewicz) (as Dr. Noah Praetorius)
* 1951: Room for One More (The Easy Way) (Taurog) (as George "Poppy" Rose)
* 1952: Monkey Business (Hawks) (as Barnaby Fulton)
* 1953: Dream Wife (Sheldon) (as Clemson Reade)
* 1954: To Catch a Thief (Hitchcock) (as John Robie)
* 1957: The Pride and the Passion (Kramer) (as Anthony Trumbull)
* 1957: An Affair to Remember (McCarey) (as Nickie Ferrante)
* 1957: Kiss Them for Me (Donen) (as Andy Crewson)
* 1958: Indiscreet (Donen) (as Philip Adams)
* 1958: Houseboat (Shavelson) (as Tom Winston)
* 1959: North by Northwest (Hitchcock) (as Roger Thornhill)
* 1959: Operation Petticoat (Edwards) (as Matt Sherman)
* 1960: The Grass Is Greener (Donen) (as Victor Rhyall)
* 1962: That Touch of Mink (Delbert Mann) (as Philip Shayne)
* 1963: Charade (Donen) (as Peter Joshua/Alexander Dyle/Adam Canfield/Brian Cruickshank)
* 1964: Father Goose (Nelson) (as Walter Eckland)
* 1965: Ken Murray's Hollywood (Murray)
* 1966: Walk Don't Run (Walters) (as William Rutland)
* 1970: Elvis: That's the Way It Was (Sanders--doc)
* 1977: Once upon a Time . . . Is Now (Billington--for TV) (as voice)
Read more
Latest headlines