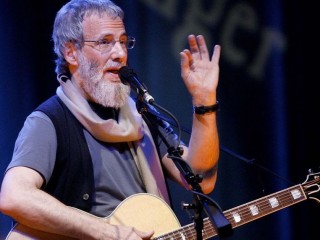 Cat Stevens biography
Date of birth : 1948-07-21
Date of death : -
Birthplace : London, England
Nationality : English
Category : Arts and Entertainment
Last modified : 2022-07-21
Credited as : Singer-songwriter, multi-instrumentalist, Moonshadow
Yusuf Islam
(born
Steven Demetre Georgiou
), commonly known by his former stage name
Cat Stevens
, is an English singer-songwriter, multi-instrumentalist, educator, philanthropist, and prominent convert to Islam.
Beginning as a British teen idol in the late 1960s, he eventually rose to great heights of popular and critical acclaim as a folk artist in the 1970s. Then, while still enjoying a large following of music fans, Stevens converted to Islam and stopped putting out records to devote himself to his new religion. He took the name Yusuf Islam, and eventually rid himself of all vestiges of his secular career, giving away his guitars and the many gold records he had earned.
Stevens was born Steven Georgiou to Greek immigrant parents, July 21, 1948, in London, England. Interested in music from an early age, he preferred the stirring songs of his parents' native country as a child, but in his adolescence became more attracted to the rock and roll music his friends enjoyed. By the time Stevens had graduated from secondary school and was attending the Hammersmith College of Art, he was also performing in small clubs in London. He had gathered a fairly large following, and eventually a professional manager became interested in the young man's talent. Shortly afterwards, Stevens's first demo tape garnered him a recording contract with Decca in England.
Decca saw Stevens as a pop artist, and wanted him to record teen-oriented songs. Perhaps because of his youth, the singer-songwriter at first had no trouble complying. His first album, Matthew and Son, was released in 1967, and the title track became a British hit. More successes, including "I Love My Dog" and "The First Cut Is the Deepest," followed, and he toured England, Belgium, and France. But Stevens became dissatisfied with his material, and tried to get Decca to record some more mature tunes that he had written. When they refused, he grew more depressed about his career. He later told Mark F. Zeller in Rolling Stone that during this period, "in order to get onstage, I used to have to drink. To get drunk." Stevens also neglected his health in other ways, and in late 1968 had to be hospitalized for three months with tuberculosis.
By the time Stevens was well enough to leave the hospital, he had decided to drop out of the music scene for a while. He reemerged with a more mature, folk-oriented style, his instrumentation was more spare, and his appearance drastically changed--the cleanshaven teen idol now had long hair and a bushy beard. The album he recorded in 1970, Mona Bone Jakon, received a great deal of critical acclaim and brought Stevens to the attention of music fans in the United States. The follow-up, 1970's Tea for the Tillerman, became his first gold album, and included the classics "Wild World," "Father and Son," and "Miles from Nowhere." His popularity was further increased in that year by a live radio concert in Los Angeles, California, which prompted Los Angeles Times critic Robert Hilburn to hail Stevens as "an exceptional singer and artist whose highly distinctive voice has the rare ability to combine the strength, fragility, and sometimes mystery of his highly personal compositions."
Stevens's success continued throughout the 1970s, and he racked up gold album after gold album. Teaser and the Firecat, his 1971 effort, had on it three songs that are perhaps his most famous--"Moonshadow," "Morning Has Broken," and "Peace Train." In 1972, Catch Bull at Four yielded the hit "Sitting"; 1974's Buddah and the Chocolate Box brought forth "Oh, Very Young" and a remake of the Sam Cooke smash, "Another Saturday Night." But the latter album began a period of slight critical disfavor for Stevens--many reviewers felt it and his subsequent albums did not measure up to his earlier work. He was still supported by his fans, however, and his hits during the late 1970s included "Ready," "Two Fine People," and his last big-selling single, "Old School Yard."
But as early as the mid-1970s, forces were at work in Stevens's personal life which foreshadowed a drastic turn-about. According to Zeller, he nearly drowned while swimming at a California beach. Struggling against the undertow, Stevens made a promise to serve God if his life was spared. He told Zeller: "Immediately, a wave came from behind and pushed me forward. All of a sudden, I was swimming back." Then, shortly afterwards, his older brother gave him a copy of the Koran--the holy scriptures of the Islamic faith--to read. By 1977, Stevens went public with his conversion to Islam and his decision to stop recording secular music; however, A&M, his record company, had enough of his material stored up to release a final album, Back to Earth, in 1978.
When last heard from, Stevens, or Yusuf Islam, as he now prefers to be called, was running a Muslim school for children in London, England. There, he uses his musical talents to write religious songs and poems for the pupils. Though in 1984 he emphatically denied rumors that he was living in Iran as a follower of the late Ayatollah Khomeini and that he was studying to become an Ayatollah himself, he resurfaced as the object of controversy in 1989 when he came out in support of the late Ayatollah's death threats to author Salman Rushdie, whom he considers to have defamed the Islamic religion with his book, The Satanic Verses. Reportedly, Yusuf Islam is still considering recording again, though his albums would most likely be expressions of his faith aimed primarily at children. "He believes his mission is to teach others to accept his religion," explained Zeller.
On the occasion of the 2000 re-release of his Cat Stevens albums, he explained that he had stopped performing in English due to his misunderstanding of the Islamic faith. "This issue of music in Islam is not as cut-and-dried as I was led to believe... I relied on heresy [sic], that was perhaps my mistake."
In 2003, after repeated encouragement from within the Muslim world, Yusuf once again recorded "Peace Train" for a compilation CD, which also included performances by David Bowie and Paul McCartney. He performed "Wild World" in Nelson Mandela's 46664 concert with his former session player Peter Gabriel, the first time he had publicly performed in English in 25 years. In December 2004, he and Ronan Keating released a new version of "Father and Son": the song entered the charts at number two, behind Band Aid 20's "Do They Know It's Christmas?" They also produced a video of the pair walking between photographs of fathers and sons, while singing the song. The proceeds of "Father and Son" were donated to the Band Aid charity.
On 21 April 2005 Yusuf gave a short talk before a scheduled musical performance in Abu Dhabi, United Arab Emirates, on the anniversary of Muhammad's birthday. He said, "There is a great deal of ignorance in the world about Islam today, and we hope to communicate with the help of something more refined than lectures and talks. Our recordings are particularly appealing to the young, having used songs as well as Qur'an verses with pleasing sound effects..." Yusuf observed that there are no real guidelines about instruments and no references about the business of music in the Qur'an, and that Muslim travellers first brought the guitar to Moorish Spain.
In early 2005, Yusuf released a new song entitled "Indian Ocean" about the 2004 tsunami disaster. The song featured Indian composer/producer A. R. Rahman, a-ha keyboard player Magne Furuholmen and Travis drummer Neil Primrose. Proceeds of the single went to help orphans in Banda Aceh, one of the areas worst affected by the tsunami, through Yusuf's Small Kindness charity.
Starting in 2006, the Cat Stevens song "Tea for The Tillerman" was used as the theme tune for the Ricky Gervais BBC-HBO sitcom Extras. A Christmas-season television commercial for gift-giving by the diamond industry aired in 2006 with Cat Power's cover of "How Can I Tell You". That song is also covered by John Frusciante of the Red Hot Chili Peppers frequently in concert.
In January 2009, Yusuf recorded a George Harrison song, "The Day the World Gets Round", collaborating with Klaus Voormann. Proceeds from the single were donated to a charity to help the people of war-torn Gaza. To promote the new single, Voormann re-designed his famous Beatles Revolver album cover, drawing a picture of a young Cat Stevens along with himself and George Harrison.
In May 2012, Moonshadow, a new musical by Yusuf, featuring music from throughout his career, will open at the Princess Theatre in Melbourne, Australia. The public can register on the musical's website (www.moonshadowthemusical.com.au) to receive updated news and information, including updates on ticket sales. According to the Theatre's website, "Through [Yusuf's] much loved songs and music, Moonshadow will take the audience on an incredible journey with a magical story of a young man and his moonshadow's struggle against the oncoming of darkness and the search for everlasting happiness".
On 15 September 2014, Yusuf announced the forthcoming release on 27 October 2014 of his new studio album, Tell 'Em I'm Gone, and two short tours: a November 2014 (9-date) Europe tour and a December 2014 (6-date) North America tour, the latter being his first one since 1976. On 4 December 2014, he played to his first public US audience since the 1970s at the Tower Theater in Philadelphia.
On 1 June 2016, Yusuf shared a new song called "He Was Alone" and its corresponding video. Part of his newly launched fundraising campaign for child refugees, #YouAreNotAlone, the song was inspired by a trip to southern Turkey's camps for Syrian refugees.
On 9 August 2016, Yusuf announced "A Cat's Attic Tour", his second North American tour since 1978, beginning on 12 September 2016 at the Sony Centre for the Performing Arts in Toronto and ending on 7 October 2016 at the Pantages Theatre in Los Angeles. The string of 12 dates roughly coincides with the 50th anniversary of his first single, I Love My Dog, and would "feature a limited run of stripped down, introspective performances." The tour included three shows in New York City (two shows at the Beacon Theatre and one show in Central Park at the Global Citizen Festival), his first shows in New York City since 1976.
On 15 September 2017, he released his fifteenth studio album, The Laughing Apple. The album is credited to "Yusuf / Cat Stevens" and is his first record under the Cat Stevens name since Back to Earth in 1978.
On 29 March 2019, Yusuf performed in Christchurch, New Zealand, at the National Remembrance Service for victims of the Christchurch mosque shootings.
Read more
Latest headlines