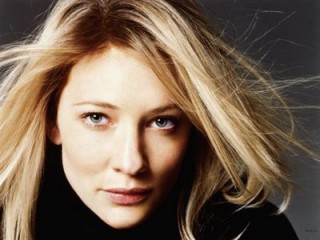 Cate Blanchett biography
Date of birth : 1969-05-14
Date of death : -
Birthplace : Melbourne, Australia
Nationality : Australian
Category : Arts and Entertainment
Last modified : 2010-05-13
Credited as : Drama comedy actress, Galadriel in Lord of the Rings, Elizabeth
With her regal and elegant visage, Aussie actress Cate Blanchett broke through the mob of aspiring actors and instantly ascended the ranks to Hollywood stardom with her Academy Award-nominated turn as Elizabeth I in Shekhar Kapur's Elizabeth (1998). Her concomitantly poignant and fierce portrayal won admiration from critics and filmgoers, but she had maintained a low enough profile in years prior (and her celebrity materialized so quickly) that the Elizabeth triumph appeared to pull the heretofore unseen actress from out of thin air and caught just about everyone off guard.
Born in Melbourne on May 14, 1969, Catherine Elise Blanchett entered the world as the daughter of an Australian mother and a Texas-born American father, with two siblings. Her dad died of a heart attack when she was ten and her mother subsequently raised her. Blanchett studied economics and fine art at the University of Melbourne, but -- reeling from ennui and dissatisfaction -- she set off in search of an alternate vocation and traveled for a period of time, perhaps in search of herself. Blanchett ultimately landed in Egypt, where a chance bit part in an Arabic boxing film introduced her to a newfound love of acting. Taking this as a firm cue, Blanchett harkened back to Sydney, where she enrolled in and ultimately graduated from the highly esteemed National Academy of Dramatic Art. Blanchett later joined the Sydney Theatre Company, where she earned positive notices in a production of Caryl Churchill's Top Girls. A subsequent role in Timothy Daley's musical Kafka Dances won Blanchett a 1993 New Comer Award from the Sydney Theatre Critics Circle, an honor doubled that same year when she gleaned a Rosemont Best Actress Award for her performance opposite future Elizabeth co-star Geoffrey Rush in David Mamet's Oleanna.
The considerable prestige that accompanied these theatrical triumphs led Blanchett to the small screen, where she appeared in various programs for the Australian Broadcasting Corporation, including the drama Heartland and the cop series Police Rescue. Her television performances caught the attention of director Bruce Beresford, who cast her in his 1997 POW drama Paradise Road as a shy Australian nurse, opposite Glenn Close and Frances McDormand. 1997 proved to be a busy year as it also found her staring in the comedy Thank God He Met Lizzie, for which she netted an Australian Film Institute Best Actress Award. By the end of the year she had an even bigger event than any successful acting gigs, as she was married in December to British film technician Andrew Upton. With the considerable amount of praise and recognition Blanchett was receiving in her native country and a partner in her personal life to share it with, it was only a matter of time and opportunity before she became known to a wider audience. That opportunity arrived that very same year, with her role in Gillian Armstrong's adaptation of Peter Carey's novel Oscar and Lucinda. Opposite Ralph Fiennes, Blanchett won almost uniform praise for her performance in a tepidly received film.
Blanchett came first-billed in the following year's Elizabeth. The film drew swift and unequivocal praise, and Blanchett's portrayal of the queen turned her into Los Angeles' newest cause célèbre. A plethora of awards greeted Kapur's feature and Blanchett's performance, including a Best Actress Academy Award nomination and eight additional Oscar nods. The actress won a Golden Globe and British Academy Award, in addition to a host of critics' circle awards.
With that experience under her belt, Blanchett starred opposite Angelina Jolie, John Cusack, and Billy Bob Thornton in the Mike Newell comedy Pushing Tin (1999). Although the film dive-bombed at the box office, critics singled out Blanchett's fine performance as a Long Island housewife. The same year, she played another domestic, albeit one of an entirely different stripe, in Oliver Parker's adaptation of Oscar Wilde's An Ideal Husband. Despite a uniformly strong cast including Jeremy Northam, Rupert Everett, and Julianne Moore, the film divided critics, although Blanchett herself again earned favorable notices.
Blanchett maintained a busy schedule after the Newell project, appearing in a plethora films throughout the early 2000s. She joined Johnny Depp and Christina Ricci with her role as a kindhearted albeit materialistic showgirl in The Man Who Cried, then starred as a fortune-teller who holds the key to a mysterious murder in director Sam Raimi's The Gift, an unwitting accomplice in the crime comedy Bandits, a British schoolteacher in Tom Tykwer's Kieslowski update Heaven, and Galadriel, Queen of Lothlórien, in Peter Jackson's Lord of the Rings trilogy. Blanchett also appeared in 2001's The Shipping News (as Petal) and director Gillian Armstrong's Charlotte Gray as the title character. That same year, she gave birth to her first son, Dashiell John.
Blanchett appeared as ill-fated Irish journalist Veronica Guerin in director Joel Schumacher and producer Jerry Bruckheimer's eponymously titled 2003 biopic. The film split critics in half and died a quick death in cinemas during its late-autumn run, but those reviewers who did respond favorably again singled out the actress' stunning interpretation of the role. The following year, Blanchett appeared in Wes Anderson's quirky film The Life Aquatic with Steve Zissou alongside Bill Murray and Owen Wilson. Blanchett wore a prosthetic belly in the film for her role as a seven-months-pregnant journalist and, interestingly enough, she later found that she was actually pregnant during filming. She gave birth to her second son, Roman Robert, later that same year. First, however, she effortlessly lit up the screen with a performance as film legend Katharine Hepburn in director Martin Scorsese's lavish Howard Hughes epic The Aviator. If The Aviator's Best Picture loss to Million Dollar Baby proved somewhat disappointing to Scorsese fans when the Oscars were handed out, Blanchett landed her greatest triumph that evening: she won the Best Supporting Actress award for her turn as Hepburn.
Perhaps despairing of the paucity of solid scripts in Hollywood, Blanchett went global after the Scorsese affair. She returned to her native Australia for a low-key follow-up, Rowan Woods' harrowing and skillful Little Fish (2005). 2006's multi-national production Babel, directed by Alejandro González Iñárritu, won the Best Director Award at Cannes; one of the narrative strands in its array of subplots featured Blanchett and Brad Pitt as husband and wife, grieving over the death of a child, and thrust into a desperate situation. Babel turned out to be a major critical success, as did another film Blanchett appeared in that same year, Notes on a Scandal. In the film, Blanchett played a mother and schoolteacher who becomes deeply embroiled in a maze of power and deception when she betrays her job and family by carrying on an affair with a student. The tautly suspenseful and intimate film also starred Judi Dench, who played Blanchett's friend and confidant who soon becomes a source of emotional blackmail. The actresses were each praised for their performances, and each received both Golden Globe and Oscar nominations for their work in the film.
Blanchett went on to play Lena Brandt in The Good German, Steven Soderbergh and Paul Attanasio's tale of a man (George Clooney) searching for his former mistress (Blanchett) in post-WWII Berlin.
2007 found the revered actress double nominated at the Oscars. She snagged a Best Supporting Actress nod for her work as the Don't Look Back era Bob Dylan in Todd Haynes' I'm Not There - the eccentric bio of the pop singer co-starred Richard Gere, Julianne Moore, Adrien Brody, and Charlotte Gainsbourg, with various performers playing the musician in different sequences. She also made the final five in the Best Actress category for reprising her role as one of England's most celebrated monarchs in Elizabeth: The Golden Age, Shekhar Kapur's sequel to his 1998 arthouse hit Elizabeth, a film that earned Blanchett her first Academy nomination in the same category.
Blanchett also agreed to join the cast of The Curious Case of Benjamin Button, scheduled for release in 2008. The David Fincher-directed fantasy was adapted by Eric Roth from an F. Scott Fitzgerald story about a man who begins to age backwards.
Personal life
Blanchett's husband is playwright and screenwriter Andrew Upton, whom she met in 1996 while she was performing in a production of The Seagull. It was not love at first sight, however; "He thought I was aloof and I thought he was arrogant", Blanchett later remarked. "It just shows you how wrong you can be, but once he kissed me that was that." They were married on 29 December 1997, and have three sons, Dashiell John (born 3 December 2001), Roman Robert (born 23 April 2004) and Ignatius Martin (born 13 April 2008).
After making Brighton, England their main family home for much of the early 2000s, she and her husband returned to their native Australia. In November 2006, Blanchett stated that this was due to a desire to decide on a permanent home for her children, and to be closer to her family as well as a sense of belonging to the Australian (theatrical) community. She and her family live in "Bulwarra", an 1877 sandstone mansion in the harbourside Sydney suburb of Hunters Hill. It was purchased for $10.2 million Australian dollars in 2004 and underwent extensive renovations in 2007 in order to be made more "eco-friendly".
In 2006, a portrait of Cate Blanchett and family painted by McLean Edwards was a finalist in the Archibald Prize, which is awarded the "best portrait painting preferentially of some man or woman distinguished in Art, Letters, Science or Politics".
Blanchett is a Patron of the Sydney Film Festival. She works as the face of SK-II, the luxury skin care brand owned by Procter & Gamble. In 2007, Blanchett became the ambassador for the Australian Conservation Foundation's online campaign www.whoonearthcares.com — trying to persuade Australians to express their concerns about climate change. She is also the Patron of the development charity SolarAid. Opening the 2008 9th World Congress of Metropolis in Sydney, Blanchett said: "The one thing that all great cities have in common is that they are all different".
In early 2009, Blanchett appeared in a series of special edition postage stamps called "Australian Legends of the Screen", featuring Australian actors acknowledged for the "outstanding contribution they have made to Australian entertainment and culture". She, Geoffrey Rush, Russell Crowe, and Nicole Kidman each appear twice in the series: once as themselves and once in character; Blanchett is depicted in character from Elizabeth: The Golden Age.
Cate Blanchett filmography
1994 Police Rescue: The Movie
1996 Parklands
1997 Oscar and Lucinda
Thank God He Met Lizzie
Paradise Road
1998 Elizabeth
1999 Bangers
The Talented Mr. Ripley
Pushing Tin
An Ideal Husband
2000 The Gift
The Man Who Cried
2001 The Shipping News
Charlotte Gray
The Lord of the Rings: The Fellowship of the Ring
Bandits
2002 The Lord of the Rings: The Two Towers
Heaven
2003 The Lord of the Rings: The Return of the King
The Missing
Coffee and Cigarettes
Veronica Guerin
2004 The Life Aquatic with Steve Zissou
The Aviator
2005 Little Fish
2006 Babel
The Good German
Notes on a Scandal
2007 Hot Fuzz
Elizabeth: The Golden Age
I'm Not There
2008 Indiana Jones and the Kingdom of the Crystal Skull
The Curious Case of Benjamin Button
2009 Ponyo
2010 Robin Hood
The Last Time I Saw Michael Gregg
2011 Hanna
Read more
Latest headlines