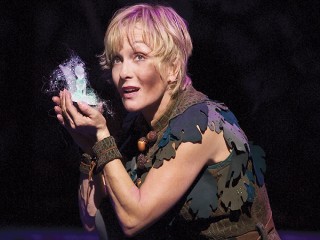 Cathy Rigby biography
Date of birth : 1952-12-12
Date of death : -
Birthplace : Long Beach, California
Nationality : American
Category : Sports
Last modified : 2010-06-22
Credited as : Gymnast and actress, ,
Cathy Rigby
(also known as:
Cathy Rigby Mason, Mrs. Tom McCoy, Cathy Rigby McCoy
) born December 12, 1952 in Long Beach, California, United States is an American gymnast and actress.
Before
Mary Lou Retton
, before
Nadia Comaneci
, even before
Olga Korbut
came the gymnast whose prodigious talent and upbeat personality served to make her a representative of her sport. America's Cathy Rigby never won an Olympic medal, but she was much-honored in international competition and helped boost gymnastics in the United States. Following her competitive career, Rigby remained in the public eye, recreating herself as a musical-comedy actress best known for her athletic portrayal of the boy who would not grow up, Peter Pan. At the same time, Rigby became an advocate for healthy eating, freely discussing her own battles with anorexia and bulimia.
Talented, But Torn
Born in Long Beach, California, to two aerospace specialists, Cathy Rigby was a spirited child who turned first to ballet to channel her energy. At age nine she discovered gymnastics--still a relatively low-profile activity in the early 1960s. Rigby showed early talent at tumbling, but found herself in the midst of a power struggle between her father and her coach. Each man wanted to direct the child's talent, but fate intervened when Rigby's father, Paul, an alcoholic, lost his job. "Life was hell for a long time," Rigby recalled in a People interview with Mark Goodman. "Gymnastics was a way to be away from home, but it too had its problems."
Chief among those problems was the issue of Rigby's weight. Though decidedly on the petite size--she stood four-foot-eleven--the teenager was informed that her ideal weight was not to exceed 89 pounds, far less than her normal weight. At first Rigby attempted to control her size through diet. "Sometimes I ate only one meal a day, even though I was practicing eight hours a day and needed food to be strong" she noted in a cautionary article she wrote for Sports Illustrated for Kids. "Sometimes I didn't eat for a week and drank only apple juice. I often felt tired and dizzy. Sometimes I felt so weak, I fainted. But I lost weight."
At sixteen a maturing Rigby gained ten pounds. Weighing in at 105, the gymnast felt, she told Goodman, that "my identity was threatened." A bout with anorexia (curtailing eating) led to a case of bulimia (purging food before digestion). It was the beginning of a vicious cycle that lasted more than a decade. At her lowest point, Rigby weighed only 79 pounds and was hospitalized twice with coronary episodes.
Off to the Olympics
None of this information was made available to Rigby's fans at the time. She was far better known the embodiment of health and fitness, the youngest and smallest member of the U.S. gymnastics team competing in Mexico City in 1968. Competing in the four divisions of gymnastics--floor exercise, balance beam, vaulting, and uneven bars--Rigby finished sixteenth, the best-ever placement of an American in a sport more commonly dominated by Eastern European women.
Rigby's success in Mexico City heralded a four-year streak of gymnastics championships in the U.S. and abroad. The young woman took home honors in various contests, most notably in 1970 when Rigby became the first American of either gender to win a gold medal at the World Championships held in Yugoslavia. As her profile increased, Rigby increasingly became known as the woman to beat in the 1972 Olympic games in Munich, Germany. At nineteen, Rigby was again an Olympian, even though she could not curtail her binging and purging. Olympic glory, however, was not in her future. When the scores were tallied, gold medalist Korbut had stolen the spotlight as gymnastics' newest gamine. But even though Rigby had again set the record as the highest-placed American, finishing tenth, the pre-Olympics publicity--including a Life cover story--led her to feel like a failure. She retired from competition and married Tommy Mason, himself an ex-athlete.
Hiding a Painful Secret
Now a recognizable figure, Rigby embarked on a new career as a gymnastics commentator while she started her family. The early days of post-athletic training proved difficult, she related in a 1984 People article. "I no longer had a goal and all I was doing was eating and throwing up. Everybody thought I had the most successful life: I had a career working with ABC Sports, I was doing TV movies ... and commercials, and the money was coming in." Rigby struggled to maintain this "perfect" image, saying she hid her condition from her husband and secretly consumed 10,000 calories a day in fast food. "I took a voice lesson every week," she told the People reporter, "and I can tell you where every McDonald's and Jack-in-the-Box was along the way--and every bathroom where I could get rid of the food."
During Rigby's pregnancy with her first son, Bucky, the former athlete gained only eleven pounds. Though she was praised for her self-discipline, some internal damage was done. Rigby's son was born small, and because of her lack of body fat Rigby could not produce enough milk to nurse him for more than a month. After landing in the hospital with an electrolyte balance problem, Rigby determined to improve her health in time to have her next child. She gained twenty-five pounds this time and was able to successfully nurse her second son, Ryan, for four months. But Rigby's bulimia recurred shortly after.
At the same time, Rigby was considering her professional future. "When I got out of gymnastics and retired at the age of [nineteen], I thought, What else am I going to do with my life?" she said in a Back Stage West interview with Rob Kendt. "I started doing episodic television, where I'd always play the Russian gymnast or whatever, and someone recommended I take voice and acting lessons. I studied for seven years before I had the courage to really step onstage." Rigby approached acting as she did gymnastics. "I knew I could get better if I just worked at it," she told Goodman. "It's that athlete's obsessiveness--the need to prove yourself and work harder than anyone else."
Flying High
As her performing talent developed Rigby was finding herself cast in musicals where she could display her range. She starred in such shows as Meet Me in St. Louis, They're Playing Our Song, and South Pacific. But her best-known role came with a lavish revival of Peter Pan that made it to Broadway in 1991 (she had done an arena version of the show as early as 1974). The title role seemed tailor-made for Rigby, who not only mastered the strenuous flying sequences but also added her own signature flourishes, such as using a stairway railing as a balance beam. Critics were impressed: Martin Schaeffer of Back Stage commented on Rigby's "surprisingly strong performance." Rigby's voice "is strong," he noted, "and she's able to muster the needed degree of poignancy for such evergreens as [the ballad] `Neverland.'" An "all-around delight" is how Nelson Pressley of Washington Times saw Rigby in a 1998 tour. "She is more than merely cute as Peter Pan. She knows the magical boy is a bit of a brat and deeply lonely, and these darker qualities come through easily." Rigby was nominated for the 1991 Tony Award as best musical actress, the first Olympian to be so recognized.
There seemed but one hurdle left for the athlete--conquering her eating disorder. In 1981, with her marriage to Mason dissolving, Rigby met fellow actor Tom McCoy, who encouraged her to face her problem. Part of his intervention was based on pure "vanity," as Rigby noted in People. "He said, `You [have] circles under your eyes, your hair is falling out and you look older.' For the first time I listened to somebody." Rigby and McCoy married, and with psychiatric help she finally was cured of her bulimia. The couple went on to have two daughters, Theresa and Kaitlin, while Rigby added health advocate to her credentials. To that end, she took a role in a 1997 television movie Perfect Body, playing a gymnastics coach who warns a young girl of the dangers of starving herself to attain an unreasonable weight. She also narrated a video, Cathy Rigby on Eating Disorders.
By 1998 Rigby--healthy and accomplished--had been performing on-and-off in Peter Pan for twenty years. But even after two decades "she never seems to be going through the paces as she charms the Darling children and the audience with her tough-talking, good-hearted attitude," according to Variety reviewer Christopher Isherwood. "Her affection for the role seems freshly minted, and her exuberant singing is wining. The show really takes wing whenever she does." Rigby admitted in Kendt's article, "I love doing long runs, because some nights you go out there and ...it just happens. You're just alive, and no matter how you feel that day, it works."
After playing 2,500 performances of Peter Pan, Cathy Rigby committed her production to video in 2000. When not acting, she holds the title of Artistic Producing Director for McCoy Rigby Entertainment, a stage production company she runs with her husband, Tom McCoy, in Fullerton, California. Rigby's contribution to theatre was recognized with the 2001 Ovation Award from Theatre L.A. In 2002, approaching age fifty, she showed no sign of slowing down, taking the part of the mischievous Cat in the Hat in the Broadway and touring companies of Seussical: The Musical.
AWARDS
1968, Highest-placed American (sixteenth), Olympic summer games; 1968, World Cup gold medalist; 1970, U.S. Championships gold medalist; 1970, World Championships silver medalist; 1971, World Cup gold medalist and champion; 1971, Riga Cup gold and bronze medalist; 1971, South African Cup all-around champion; 1971, U.S.-U.S.S.R. Dual Meet champion, floor exercise; 1972, Highest-placed American (tenth), Olympic summer games; 1972, U.S. Championships gold, silver, and bronze medalist; 1972, Appeared on cover of Life magazine; 1991, Tony Award nomination, Peter Pan; 1998, Inducted into International Gymnastics Hall of Fame; 2001, Ovation Award, Theatre L.A. board of governors.
CHRONOLOGY
* 1952 Born December 12, in Long Beach, California
* 1961 Begins gymnastics training
* 1968 Represents U.S. at Olympic summer games, Mexico City, Mexico
* 1972 Represents U.S. at Olympic summer games, Munich, Germany
* 1972 Retires from gymnastics competition
* 1972 Begins career as commentator and actress
* 1973 Marries first husband, Tommy Mason
* 1974 Stage debut in arena version ofPeter Pan
* 1982 Makes public her longtime eating disorder
* 1982 Marries second husband, Tom McCoy
* 1991 Broadway debut in Peter Pan
* 1997 Appears in television movie, Perfect Body
* 1998 Narrates video Cathy Rigby on Eating Disorders
* 2000 Produces video version of Peter Pan
* 2002 Appears in Seussical: The Musical
Read more
Latest headlines