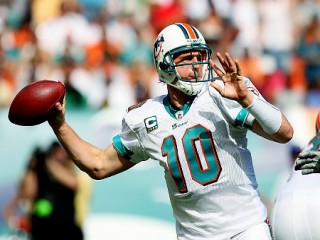 Chad Pennington biography
Date of birth : 1976-06-26
Date of death : -
Birthplace : Knoxville, Tennessee, U.S.
Nationality : American
Category : Sports
Last modified : 2010-08-23
Credited as : Football player NFL, currently plays for the Miami Dolphins, Super Bowl
GROWING UP
James Chadwick Pennington
was born on June 26, 1976, in Knoxville, Tennessee. His parents were both teachers: Denise, ninth-grade English, and James, physical education. Chad's father also coached high school football, so the family—which included a younger daughter named Andrea—moved whenever James got a new gridiron job. He passed his passion for football onto his son.
The elder Pennington was working at Lake City High School when Chad first arrived in the world. James sometimes brought the toddler to practice, and from the time he could walk, Chad seemed to have a singular pursuit—sneaking into the team's offensive huddle.
Back home, the family regularly gathered to watch the University of Tennessee football games on TV. Chad liked to squeeze into his Volunteers helmet and pretend to be the team's quarterback.
It didn't take long for Denise and James to realize that Chad was exceptionally bright. An interested and engaged student, he possessed a photographic memory, which he applied to every part of his life. Chad enjoyed music and took to the piano easily. In school plays, not only would Chad know his lines, he would have every other kid's down cold, too.
Chad also put his brain power to use on the football field. Though he wasn't a particularly impressive athlete, his understanding of strategy and technique helped him stand apart from others. Chad threw himself into the more mundane aspects of sports. He began studying film with his father when he was eight. he also idolized Joe Montana, identifying with the skinny star's cerebral approach to the game.
Being the son of a football coach only fed Chad's love for the sport. With an insider's view of the X's and O's, his gridiron IQ rose to a genius level. In football-crazy Tennessee, Chad was exposed to some of the nation's top prep talent. His father eventually hooked on as an assistant at Halls High School.
The Red Devils' biggest rival was Knoxville Central High School, whose star quarterback was Todd Helton. Chad also admired Tennessee signal caller Peyton Manning.
When Chad was ready for high school in the fall of 1991, his parents decided to enroll him at the private Webb School of Knoxville. Denise and James felt it was important for father and son to keep their football lives separate.
During his football career at Webb, Chad did little to distinguish himself. Coach David Meske, who ran the wing-T, favored the run over the pass. For a gangly quarterback with no-better-than-average speed—Chad stood six feet and weighed about 180 pounds as a senior—the system was not built to showcase his skills.
But Chad had no illusions about his gridiron life after high school, anyway. It's not that he was a poor athlete—Chad was a four-time letter man in football and also earned three letters in basketball. But as a college football fanatic, he knew that there wasn't a Division 1-A program in the country that would touch him.
In fact, it was Webb's challenging academic curriculum that had the greatest impact on the teenager. Chad was up by five every morning and hit the books hard every day after practice. The teenager's room was usually a mess, and Denise often threatened to ground her son if he didn't clean it up. No one in the family ever took her scoldings seriously. Chad didn't have time for anything besides football and homework.
Except for fishing, that is. For Chad, there was no better news than word that the dams on the Tennessee River had been lowered. No matter what time of year, that meant a day-long angling excursion. His best fishing buddy was his grandfather, James.
Chad had plenty of friends on and off the football field. His parents taught him at an early age to be outgoing and personable. Everyone who met Chad instantly liked him.
That was the case with the coaching staff at Marshall University, a I-AA school in Huntington, West Virginia. Chad attended a summer football camp there and got noticed by assistant coach Gunter Brewer because of how smart he was and how hard he worked. Marshall head coach Jim Donnan also liked what he saw and talked to the boney signal caller about playing for the Thundering Herd. Also recruited by Middle Tennessee State and Tennessee-Chattanooga, Chad packed his bags for Huntingdon.
ON THE RISE
When Chad arrived on the Marshall campus in 1995, the school's football program was best known for a plane crash in November of 1970 that claimed the lives of the entire team—players and coaches included. The tragedy devastated the school and the residents of the small town on the Ohio River where it was located.
Under Donnan, the Thundering Herd was a team on the rise. After taking over the program in 1990, he had transformed Marshall into a powerhouse. The school captured the national title in 1992, was runner-up twice and made it to the final four one other time.
Chad wasn't in Donnan's immediate plans for the squad, but that changed in September of his freshman campaign when starter Larry Harris and his back-up Mark Zban both went down with injuries. Chad stepped in against Georgia Southern and played like a fifth-year senior. In a 37-7 victory, he completed 14 of 23 passes for 164 yards and a touchdown.
Chad got his first career start in Marshall's next game against UT-Chattanooga. The Moccasins pressured the 18-year-old unmercifully, battering him to the turf time and again. Chad popped back up after every hit, and though he threw six interceptions, he also connected on three scoring tosses. The Thundering Herd escaped with a 35-32 win. Their frosh signal caller earned the respect of everyone in the locker room.
Marshall wound up winning 10 of 11 with Chad at the helm and cruised into the I-AA playoffs. For the season, he passed for 2,445 yards and 15 touchdowns. His QB rating of 125.4 was second-best in the Southern Conference. Chad was rewarded for his fine performance with honors as his league's Freshman of the Year. The award was all the more meaningful to Chad because grandpa James has passed away earlier in the fall. The news still stung so sharply that Chad couldn't bring himself to visit the grave site.
Chad wasn't the only reason for Marshall's success. Senior running back Chris Parker enjoyed a big year, finishing his career fifth in I-AA history with more than 4,500 yards on the ground. The Thundering Herd defense, among the stingiest units in the nation, allowed just 246.4 yards and 15.7 points per game.
In the postseason, Marshall routed Jackson State and Northern Iowa (led by Kurt Warner), and then upset top-ranked McNeese State to advance to the I-AA Championship Game. Their opponent, Montana, was one of the country's most explosive squads. Behind quarterback Dave Dickenson, the Grizzlies averaged more than 40 points a game and nearly 400 yards of total offense. The contest was a classic. With Montana down 20-19 late in the fourth quarter, Dickenson drove his club into Marshall territory for the go-ahead field goal. Chad had one last shot and marched the Thundering Herd to the Grizzlies' 46-yard-line with two seconds left. Kicker Tim Openlander's 63-yard attempt fell short of its mark.
Despite his scintillating freshman year, Chad found himself out of a job in 1996. His demotion was one of several major changes at Marshall. Donnan left to coach Georgia and was replaced by Bob Pruett. A Thundering Herd alum, Pruett had been an assistant at Florida under Steve Spurrier. Taking over at his alma mater was the realization of a lifelong dream.
Accompanying Pruett on the trip to Huntington was quarterback Eric Kresser, a senior whose role with the Gators was up in the air. Clinging to aspirations of an NFL career, Kresser jumped at the chance to start for Marshall. He had actually visited the school months earlier, a weekend graciously hosted by Chad. At first angry at the notion of being replaced, the sophomore ultimately agreed to do what was best for the team. Pruett red-shirted Chad, who spent the season helping Kresser learn the offense. He also logged long hours in the weight room and worked hard in practice to sharpen his mechanics.
Chad struggled the most with Pruett's decision on Saturdays, especially as he watched Marshall's newest recruit, wide receiver Randy Moss, run wild in enemy secondaries. With Kresser and Moss forming one of the country's best passing combinations, the Thundering Herd went undefeated and beat Montana in a rematch for the national championship.
The '96 campaign was also notable as Marshall's last in I-AA. Heading into the fall of 1997, the Thundering Herd moved up a notch, joining the Mid-American Conference. Kresser jumped to the NFL, meanwhile, opening the door for Chad to reassume his starting duties. His primary threat was Moss, who in one season had demonstrated why he had been so highly touted coming out of high school. (The receiver had ended up in Huntington because of some well publicized off-the-field problems that caused Notre Dame and Florida State to shy away from him.)
Chad also had an excellent ground game to rely on, as 1,000-yard rusher Doug Chapman returned for his sophomore season. Marshall's defense boasted several stars, too. Heading the unit were linebacker Larry McCloud and pass-rushing end B.J. Cohen.
The Thundering Herd handled their step up in competition with surprising ease. The team went 7-1 in the MAC, good for first in the conference's East Division. The combination of Pennington to Moss was unstoppable. Overall, Chad racked up 3,480 passing yards and 39 touchdowns, both league records. With 90 catches for 1,647 yards and 25 TDs, Moss also put up huge numbers.
Chad excelled off the field, too. Named to the GTE Academic All-District Team, he won the MAC Commissioner's Award (given to athletes with a cumulative grade point average of 3.5 or higher) and was picked for the conference All-Academic Team. Chad also took home the Cam Henderson Award as Marshall's student-athlete of the year. A Broadcast Journalism major, the junior figured he was paving the way to a career as a sportscaster.
Marshall ended its inaugural campaign in I-A opposite Mississippi in the inaugural Motor City Bowl. In an offensive showcase, the Rebels outgunned the Thundering Herd, 34-31. Tailback Deuce McAllister was the catalyst for Ole Miss, while Chad and Moss starred for Marshall. On their first play from scrimmage, they hooked up for an 87-yard scoring strike. Chad finished with 337 yards and three scores, but it wasn't enough.
Though Moss skipped his last two years of eligibility for the riches of the NFL, Marshall was expected to keep rolling in 1998. Chad still had a full assortment of weapons, including Chapman and receiver LaVorn Colclough. The defense, meanwhile, welcomed back five starters. In his third year as head coach, Pruett hoped to raise the program's profile even higher.
The Thundering Herd did just that, going 12-1 and taking their second straight MAC title. The team also returned to the Motor City Bowl, and this time wouldn't be denied. In a contest billed as a showdown between two of the nation's most talented passers—Chad versus Louisville's Chris Redman—Marshall raced to a 48-29 victory. Chad got the best of the quarterback duel, throwing for 411 yards and four touchdowns. He was an easy choice as the game's MVP.
The rousing win capped another marvelous campaign for the 21-year-old. Chad led the MAC in nearly every passing category, including yards (3,419) and QB rating (146.2). His 24 TDs also topped the conference (and gave him the league's career mark with a year of eligibility still to go).
Chad entered his senior season as one of football's most celebrated stories. Though players like Peter Warrick, LaVar Arrington and Ron Dayne had more impressive pedigrees, the Marshall quarterback embodied what many fans and reporters believed the college experience was all about. Chad had emerged from anonymity to become one of the nation's best quarterbacks. A Rhodes scholar candidate, he worked as hard in the classroom as he did on the gridiron. His girlfriend, Robin Hampton, was a trainer for the Thundering Herd. For Heisman voters, Chad was a sentimental favorite. Marshall launched an Internet campaign to promote its long-shot candidate.
The Thundering Herd had high hopes for another big year. Chapman was back at tailback, looking for his fourth 1,000-yard rushing season in a row. On the outside, Nate Poole and James Williams offered Chad a pair of speedy downfield threats. On defense, Marshall was stacked again, particularly in the secondary. Cornerback Danny Derricott tied for second nationally in '98 with six interceptions. Free safety Rogers Beckett was in the running for the Thorpe Award.
The Thundering Herd broke from the gate in impressive fashion with victories in their first two games. They came from behind to take their opener at Clemson, 13-10. Chad was the hero, directing the game-winning drive late in the fourth quarter. Next Marshall registered a 63-3 blowout of Liberty. In that one, Chad threw for four scores and ran for another. The team remained undefeated heading into a matchup with conference rival Western Michigan. Behind another strong performance by Chad, the Green & White won easily, 31-17.
Several weeks later, the Thundering Herd squared off against Western Michigant again for the MAC title. This time, he Broncos built a huge lead, surging a 23-0 advantage at halftime. But Marshall stormed back behind Chad for a 34-30 victory. The decisive score came with seven seconds left, as Pruett decided to go for the win with the ball on Western Michigan's one-yard-line and his team down by a field goal. On a play-action pass, Chad found third-string tight end Eric Pinkerton in the end zone by himself.
At 12-0, the Thundering Herd surged into the Top 20. Chad, in the process, catapulted himself into the heart of the Heisman talk, along with Dayne (who would go on to claim the hardware) and three other quarterbacks—Joe Hamilton, Michael Vick and Drew Brees. Also a finalist for the Davey O'Brien National Quarterback Award and the John Unitas Golden Arm Award, Chad ended up fifth in the Heisman voting.
His final game in a Marshall uniform was a second appearance in the Motor City Bowl, against BYU. The Thundering Herd galloped to an easy victory, 21-3. Chad finished the campaign with 4,006 yards and 38 touchdowns through the air, and was named the MAC Offensive Player of the Year. A GTE/CoSIDA Academic All-America first -team pick, he also received the Anson Mount Award from Playboy magazine as the nation's top student-athlete.
MAKING HIS MARK
By December of 1999, Chad's future had changed considerably. Not only was an NFL career a certainty, but it was possible he might be the first quarterback taken in the draft. He and Redman were the two top-rated passers, followed by the likes of Hamilton, Tee Martin, Giovanni Carmazzi and Tom Brady. For a player who five years earlier wasn't sure if he was good enough for Marshall's scout team, this was heady stuff.
Chad's college resume was loaded with impressive stats, and NFL clubs noted that he had flourished in Pruett's pro-style offense. Still, there were plenty of questions about him, particularly his limited physical skills. Chad stood more than six feet and weighed more than 200 pounds, but his arm was no better than average. The same was true about his speed.
Seeing the need to solidify his stock in the draft, Chad chose to play in the Senior Bowl. It proved a wise decision. In the week leading up to the game, he was able to demonstrate the type of intangibles that coaches love. Chad took control in the huddle, read defenses quickly and accurately, was a favorite among his teammates and expressed himself intelligently in interviews.
Come draft day, several teams expressed interest in Chad. No club was more enthusiastic than the Jets. The team owned three picks in the first round (numbers 12, 13 and 18), thanks to a trade that sent loud-mouthed receiver Keyshawn Johnson to Tampa Bay. After tabbing Shaun Ellis and John Abraham with their first two selections, New York grabbed Chad with its third.
The rookie joined a team just one season removed from an appearance in the AFC Championship Game. But a lot had happened since then. Bill Parcells, who had put New York on a title path, retired after the 1998 campaign. When it appeared that Bill Belechick would be his successor, he shocked the football world by jumping ship for New England. Left naked by Belechick's move, New York handed the job to Al Groh. The Jets slumped to .500, partly because of a season-ending injury suffered by quarterback Vinny Testaverde.
Chad didn't figure to see any action in his first year. For one thing, Testaverde returned to the lineup and showed no ill effects from his blown Achilles. For another, Chad struggled mightily to adjust to the pro game.
The Jets started the 2000 season with victories in six of their first seven games. Though the offense was criticized at times for being overly conservative—Testaverde's two leading receivers were running backs Richie Anderson and Curtis Martin—the Jets were putting points on the board. On defense, Ellis and Abraham energized the front four, while the linebacking trio of Marvin Jones, Mo Lewis and James Farrior was active and steady. The secondary, anchored by cornerback Aaron Glenn and safety Viktor Green, was also performing well. New York's postseason hopes were dashed in December, however, as the Jets lost their last three.
As expected, Chad's contributions were minimal. He took snaps in one game, completing two of five passes for 67 yards and a touchdown.
The off-season was a busy one for Chad and the Jets. In March, he and Robin got married, and then embarked on a Caribbean cruise. Meanwhile, for the third time in two years, New York welcomed aboard a new coach. The move became necessary when Groh left to become the head man at the University of Virginia. In his place the Jets hired Herman Edwards, formerly an assistant under Tony Dungy in Tampa Bay.
A short time after taking the reigns, Edwards introduced Paul Hackett as his offensive coordinator. For Chad—whose skills seemed perfectly suited to Hackett's West Coast system—the news was particularly exciting. In fact, he brought his playbook with him on his honeymoon.
Surprisingly, the transition to Hackett's offense was difficult for Chad. His goal entering training camp was to gain the trust of his teammates. It was somewhat of an uphill battle. Installed as Testaverde's backup, he played significant minutes in every exhibition game, but couldn't find his groove. Though Chad studied as hard as anyone on the team, he lacked confidence and patience. Rather than relaxing and letting his instincts guide him, he forced the action. Chad knew how to fix his game—he had to improve his footwork and be more decisive with his reads—but this was easier said than done.
For Testaverde, the new offense was even more perplexing. He preferred the vertical passing game, but Hackett's system relied on short, well-timed routes. The result was a stuttering attack that never really fired on all cylinders. Still, New York found a way to win 10 games and qualify for the playoffs as a Wild Card. Though they fell to the Oakland Raiders, the campaign was viewed a success. Martin gained more than 1,500 yards, Lamont Jordan proved an excellent change of pace in the backfield, and Laveranues Coles developed into a top-flight receiver. On defense, new coordinator Ted Cottrell implemented Edwards's 4-3 scheme to mixed reviews. The unit's best player was Abraham, who recorded 13.5 sacks and earned his first trip to the Pro Bowl.
Again, Chad was non-existent. In two games, he hit on half of his pass attempts, good for 92 yards and a TD.
Several months after the season, Testaverde had surgery on his right foot, putting Chad at the helm of the first-team offense during spring minicamp. Deadly serious about the opportunity in front of him, he showed up in the best shape of his life. Noting his quarterback's renewed commitment, Edwards tried to motivate him further by telling the media it was time for Chad to live up to his status as a first-round draft pick. The third-year player accepted the challenge. Though he was far from perfect in drills, Chad was carrying himself with greater confidence.
As a team, the Jets also felt sure of themselves. After their hot finish in '01, expectations were as high as they had been since Parcells was in charge. The defense was bolstered by the signing of four free agents—Sam Cowart, Donnie Abraham, Aaron Beasley and Sam Garnes. In the draft, the team picked Bryan Thomas, a pass-rushing specialist out of Alabama- Birmingham.
On offense, Martin demonstrated that he had plenty left in the tank, while Coles was ready to join the ranks of the league's top receivers. The question was who would get them the ball. Fans were growing tired of Testaverde, partly because he was so ineffective in the West Coast offense. More and more, they wondered whether Chad wasn't the better choice to pilot the Jets. Meanwhile, Chad had yet to make his first NFL start—he was the only first- round quarterback in the last 20 years to wait this long.
To their credit, Chad and Vinny handled the situation with class. The pair were good friends and supported each other fully. Obviously, both wanted the starting job, but they realized that a rift between them would divide the team. During the preseason, Chad went about his business quietly and professionally. In four games as the backup, he produced excellent results, hitting on more than 60 percent of his passes for three scores and no interceptions. Ironically, he was demonstrating wonderful ability as a leader, even though Testaverde was still Edwards's #1 quarterback.
New York's quarterback controversy deepened as the 2002 season began. After four weeks, the Jets were 1-3, and Testaverde looked completely lost. With the season on the line, Edwards made the switch to Chad.
The announcement came just as the quarterback had received distressing personal news. Robin's dad was diagnosed with leukemia, and the prognosis wasn't optimistic. Chad was persuaded to move his father-in-law from his home in West Virginia to New York, where doctors were better equipped to treat his illness.
With his emotions frazzled, Chad took the field for his first career start, at home against the Kansas City Chiefs. Though New York lost 29-25, there was no denying Chad's impact on the club. The pace of the offense quickened, which enabled the unit to find its rhythm. Chad's numbers—22 of 29 passes for 239 yards and two touchdowns—were emblematic of this improvement. He was even better a week later against Minnesota, as the Jets beat the Vikings 20-7. Chad reached the 300-yard plateau and posted a quarterback rating of 124.7.
That type of performance soon became just another day at the office for Chad. New York took four of its next six to force its way into the AFC playoff picture. Chad was proving to be exactly the spark the team needed. His enthusiasm was infectious, and his production was amazingly efficient. In a 31-14 rout of the Lions at Detroit, he was close to perfect, missing on just five passing attempts while throwing four TDs.
With four games left on the schedule, the Jets still required a little help to advance to the postseason. They did their part by closing out the year with a pair of victories over New England and Green Bay. Chad was superb in those contests, connecting on 40 of 57 passes for 481 yards, seven touchdowns and no interceptions. Meanwhile, New York received a belated Christmas gift from the Patriots when they coughed up a fourth-quarter lead to the Dolphins on the season's last day. The Jets were in the playoffs.
Chad was obviously elated at the turn of events, but his thoughts also went to his father-in-law. He and Robin had chosen to keep his cancer secret as best they could. Only his coaches and a few teammates knew of the situation.
For Chad, the best way to deal with his father-in-law's struggle was to focus even more intently on the playoffs. New York's opening-round foe was Indianapolis. In the first playoff contest in NFL history featuring two black head coaches (Edwards and Tony Dungy), the Jets hammered the Colts, 41-0. Chad was sensational with three scoring tosses and a QB rating of 142.
The bubble burst for New York a week later, as the Jets were manhandled in Oakland. Though the game was close at the half, the Raiders dominated over the final two quarters and won going away, 30-10. Chad learned a valuable lesson about postseason preparation and poise. He opened the contest as pumped up as he had ever been. Afterwards, however, it occurred to him that he had been too emotional. Chad was never able to settle down, which led directly to him missing open receivers in key spots. In the end, he realized that in the playoffs composure was his greatest ally.
That's the player who was back at the helm for the Jets during most of 2003. After returning from a broken and dislocated left wrist suffered against the Giants in an exhibition game, he reasserted himself as the league's most efficient quarterback. In '02, he led all passers with a 104.2 quarterback rating (to go along with a 68.9 completion percentage, 3,120 yards through the air and 22 touchdown passes). Chad picked up where he left off, with 10 TDs and just four interceptions in his first five games.
The bad news was that New York won only two of those contests, which all but eliminated them from the playoff picture. In Chad's absence, the team floundered, losing its first four before breaking through with victories over the Buffalo Bills and Houston Texans. Fans of Gang Green held out hope that the Jets would go on a major run when Chad came back. Martin began looking like his old self again, and Santana Moss was emerging as one of the league's best deep threats. But the defense was awful. Unable to shut down opposing running games, New York found itself playing catch-up time and again. While the team rebounded from a poor start in the previous year, doing the same in '03 was not in the cards. The Jets went 6-10, cleaned out their lockers and watched the postseason from home.
Chad ended the year with 2,139 yards passing, 13 touchdowns and an 82.9 QB rating. But he also threw 12 interceptions, including a miserable night late in the campaign when the Patriots picked him off five times. Of course, those kinds of performances weren't out of the ordinary for young passers—it's just that Chad had set the bar so high for himself. As usual, he handled the himself with class and dignity afterwards.
For Chad, however, the challenge to stay positive was especially difficult in 2003. His father-in-law passed away over the summer, a loss that took him and Robin a long time to come to terms with. The injury that sidelined him for more than two months exacerbated the situation. Missing the playoffs didn't help, either.
Heading into the 2004 season, Chad and the Jets were looking to prove that they belonged among the elite teams in the AFC. The club looked much the same from the year before, the most notable roster move being a trade for Justin McCareins. The big receiver was viewed as an important addition to New York's smallish receivng corps. Along the sidelines, Edwards hired Donnie Henderson as his new defensive coordinator.
With Chad fully healthy, the Jets started the season at 6-1, their only loss coming to the defending Super Bowl-champion Patriots. Martin was running like a guy 10 years his junior, and under Henderson, the defense was swarming all over the field. Chad was also having a nice seaosn, with eight touchdown tosses against only two interceptions.
The campaign appeared to take a turn for the worse in early November when Chad hurt his right shoulder against the Bills. Diagnosed with a strain of his rotator cuff, he was forced to the bench for the next three games. The Jets, however, kept rolling behind veteran back-up Quincy Carter, who led the club to two victories. When Chad returned to action, New York stood at 8-3, in the thick of the playoff race.
In Chad's first game back, he helped engineer a rout of the Texans with two touchdown passes. Next on the schedule were the AFC-leading Steelers in Pittsburgh. In New York, the game was billed as a chance for the Jets to prove they deserved to be mentioned among the conference's best teams. But by the final gun, the jury was still out, as New York lost in a defensive struggle, 16-6. Chad had his worst day of the season—he was intercepted three times and posted a QB rating of 33.6.
Afterwards, Chad took a lot of heat for not producing in big games. The criticism clearly bothered him. After the Jets manhandled the Seattle Seahawks the following Sunday, he refused to speak to reporters and then vented his frustrations the next day. For the first time in his career, Chad was not New York's golden boy.
At 10-4, the Jets needed one win in their last two to secure a playoff berth. A defeat at home to the Pats put the pressure on them as they visited St. Louis for the season finale. New York fought hard, knotting the game with a FG at the end of regulation on an impressive drive orchestrated by Chad. In OT, St. Louis won a battle of attrition and walked away the victory. Thanks to a loss by Buffalo, however, the Jets still snuck into the postseason.
Their reward was a return trip to San Diego to face the Chargers, who they had beaten earlier in the year. The confident Jets grabbed a 10-point lead going into the fourth quarter, as Chad was enjoying one of his best games of the season. Before halftime, he hit Anthony Becht for a touchdown, and then he connected with Moss on a 47-yard bomb to open the third quarter. But with the game seemingly in the bag, linebacker Eric Barton committed a silly roughing penalty on quarterback Drew Brees. The Chargers tied the contest on the next play to force overtime. In the extra period, rookie kicker Nate Kaeding missed a chip shot for San Diego, setting up the game-winner by Doug Brien. Chad and the Jets celebrated their most important victory under coach Edwards.
Amazingly, New York played a third straight overtime game the following week in a rematch with the Steelers. This time, Brien wore the goat horns, botching two field goals—both in the last two minutes of regulation—that would have given victory to the Jets. Pittsburgh eventually won 20-17 on a 33-yard boot by Jeff Reed.
For Chad, the playoffs were a microcosm for his entire '04 season (2,673 yards, 16 touchdowns, nine interceptions and a 91.0 QB rating). He was amazingly efficient against the Chargers, completing 23 of 33 attempts for 279 yards, two TDs and a 115.6 QB rating. But a week later he struggled against the Steelers, who sacked him three times and picked him off once.
Several months later, the Jets revealed that Chad's shoulder injury was much more serious than originally announced. He had a severe tear of the rotator cuff along with a large bone spur. Chad went under the knife to repair the damage.
Chad faced the prospect of playing the 2005 without a fully healed shoulder—and without his friend Hackett, who resigned after 2004. Some felt the less conservative offense of new coordinator Mike Heimerdinger was what the Jets needed, but they noted that Chad would have to be 100 percent to make it work.
As the season started, Chad looked a half-beat behind. Then in a September game against the Jacksonville Jaguars, he left the field clutching his shoulder. It was the rotator cuff again. His season was over. The Jets won a mere four games.
That winter Chad reworked his deal with the Jets to stay for the 2006 season. He accepted less salary in return for a promise that he would be the starter—and that he could earn back his paycut through incentives.
It was a smart play. Chad looked good from the start in yet another new offense designed by New York's third coordinator in three years, Brian Schottenheimer. In each of the Jets' first two games, he threw for over 300 yards. As the season wore on, he got better and better. Chad did not miss a start for the first time as a pro. He also set a career best with 3,352 passing yards. A bunch of those yards came on short passes that were turned into substantial gains by running back Leon Washington and Coles.
The Jets had a nice season as well, winning 10 games and securing a Wild Card berth. They lost in the playoffs to the Patriots, 37–17. Chad topped 300 yards in an unsuccessful rallying effort.
Chad hoped to build on his 2006 campaign, but the fates aligned against him in 2007. A high ankle sprain in the opener limited his mobility, which contributed to several back-breaking interceptions during the first half of the year. New York's record stood at 1–7 when coach Eric Mangini decided it was time to sit Chad and see what young Kellen Clements had.
Late in the season, Chad replaced Clemens after he was injured against the Patriots. Chad completed 25 of 38 passes in a loss that kept New England's perfect record alive. He proved he could still move the ball against a good defense.
So had Clemens shown enough for the Jets top let Chad walk? Could they or would they allow the two QBs vie for the starting job in 2008? Had the 2007 campaign proved anything other than Chad was no good when injured?
These questions were answered on the morning of August 7th, when the Jets announced they had acquired the un-retired Favre, late of the Packers. The Jets released Chad that afternoon.
Several teams pounced on Chad, including the hapless Dolphins, who inked him to a two-year deal. Chad agreed to take the helm of a team in transition, to say the least. Miami had hired Parcells to run their football operations, and he wiped the slate clean. The coach, his staff, and even the GM were cut loose. Longtime defensive fixtures Zach Thomas and Jason Taylor also said adios to the club.
Chad is part of a fresh start in Miami after the team's dismal 1–15 season in '07. The Dolphins' first draft pick was Jake Long, who will anchor the line in front of Chad. Ricky Williams has reemerged from the haze as the top running back, and Ernest Wilford is the kind of reliable possession receiver with whom Chad thrives. None of these players was wearing the aqua and orange last year.
No one in Florida is expecting miracles, but if Chad stays healthy, he is capable of doing a lot with a little. Which is exactly what the Dolphins need him to do.
CHAD THE PLAYER
Chad will never be confused with John Elway (or Brett Favre). His arm is no better than average, and the same is true of his foot speed. The flipside is that Chad throws with a deft touch, receivers love catching his passes, and he knows how to buy time in the pocket. His timing and accuracy are also incredibly precise. Opposing defenses are often surprised when he beats them deep, but that's what a quick, on-time release will do.
Chad is most dangerous on play-action passes. His ball faking is among the most deceptive in the league. With opposing defenses biting on the run, he almost always has a receiver running free and clear in the secondary. If Ricky Williams produces for the Dolphins, it will show in Chad's passing stats.
Chad possesses the intangibles that define winning quarterbacks. He keeps plays alive in the pocket, patiently waiting to see what defenses give him. His poise under pressure has a calming effect on his teammates, but he also can fire them up, either with a head butt or a few pointed words of inspiration. At every level he's played, Chad's best friends have been interior lineman. That says a lot about his mentality on and off the field.
Chad has already established himself as a solid leader. His teammates like him and respect him immensely. And it's not just because he delivers in the clutch. Chad studies his craft and works hard at it. He sets an example that others follow and want to live up to. The Dolphins hope another Chad in the making —rookie Chad Henne—will wait, watch and learn.
EXTRA
* Chad's 39 touchdown passes in 1997 were the fifth highest single-season total in NCAA history.
* Chad graduated from Marshall as the school's all-time leader in TD passes (123 ), passing yards (14,098) and completion pct. (63.3).
* Chad's back-to-back 300-yard games in Weeks 1 & 2 of the 2006 season marked the first time he had ever accomplished this as a pro. His 339 yards against the Minnesota Vikings that year was a career high.
* Chad's 77-yard TD pass to Jerricho Cotchery during the 2006 playoffs is the longest postseason play in Jets history.
* Chad was named the NFL's 2006 Comeback Player of the Year. Drew Brees of the New Orleans Saints finished second.
* At the beginning of the 2008 season, Chad ranked first in NFL history with a 65.6 completion percentage.
* Chad's career 88.9 QB rating with the Jets is the highest in team history. He also owns virtually all of the franchise's postseason records for quarterbacks.
* Chad took his education very seriously at Marshall. A Broadcast Journalism major, he co-hosted a call-in show on WMUL-FM radio, and produced and anchored the MU Report for West Virginia public television. His biggest coup was interviewing Miami of Ohio basketball star Wally Szczerbiak for the Parthenon, the school newspaper.
* During his rookie year with the Jets, Chad learned an important lesson from Joe Namath: Make sure your autograph is easy to read. Today he has one of the most legible signatures in sports.
* Chad's car in college was 1985 Oldsmobile Brougham. His favorite restaurant in Huntington was the Buffalo Pizza Company. He loved the chicken-finger subs.
* In the off-season, Chad runs a quarterback camp for kids in Knoxville.
* Chad, who isn't a sci-fi fan and has never seen a Star Wars movie, had all of the series' action figures as a kid.
* The biggest adjustment for Chad to life in the Big Apple was the pace of life, especially how fast New Yorkers drive.
* Chad loves to bowl. He uses a custom-made ball to accommodate his long fingers.
* Chad counts Peyton Manning among his friends. They have the same agent, Tom Condon.
* Chad and his wife, Robin, had their first child, a boy named Cole, in January of 2004. Chad and Robin had their second sonin 2006.
* Chad's favorite hobby is fishing.
Read more
Latest headlines