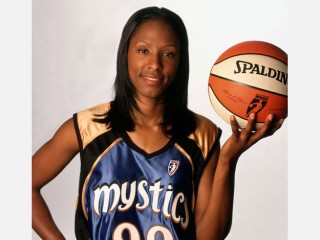 Chamique Holdsclaw biography
Date of birth : 1977-08-09
Date of death : -
Birthplace : New York City, New York, U.S.
Nationality : American
Category : Sports
Last modified : 2010-08-02
Credited as : Basketball player WNBA, played for Los Angeles Sparks,
The basketball scrap heap is littered with young men hailed as the "Next Michael." Chamique Holdsclaw claims the unique distinction of being the first woman driven to the fringes by Jordanian expectations. She is also one of the few players who has bounced back. A three-time NCAA Player of the Year and one-time WNBA savior, Chamique is looking for a fresh start with the Los Angeles Sparks.
GROWING UP
Chamique Shaunta Holdsclaw
was born on August 9, 1977 in Flushing, New York. Her parents, William and Benita, were ill-prepared for their first child. Young and immature, they argued frequently. The fighting only worsened when Chamique's brother, Davon, came along a couple of years later.
Chamique's parents both battled drinking problems throughout her childhood. From time to time, the police were called to their apartment in Jamaica, Queens, to break up their quarrels, and eventually Children's Services got involved.
Chamique had to grow up fast. Her parents treated her more like an adult than a child, heaping on her the responsibility of keeping things around the house functioning as normally as possible. Chamique's escape was sports—basketball in particular. There weren't a lot of other girls in the neighborhood who shared Chamique's passion for hoops, so if she wanted to get into a pick-up game, it came against boys her age and older. Among those she faced was a tough kid named Ron Artest. Running with and against the opposite sex gave Chamique a different perspective on the game. She learned a wide variety of one-on-one skills, developed an appreciation for a well-placed elbow under the boards, and found that backing down was a quality no one valued on the court.
In 1988, the authorities decided that Chamique and Davon were no longer safe living with their parents. They moved in with their grandmother, June. After a brief stay in her Manhattan apartment, they found a more appropriate place in Astoria, Queens. June made a point of teaching Chamique about the importance of religion. In fact, the youngster wore #23 not because Michael Jordan was her idol, but because the 23rd Psalm held particular meaning for her.
Through her church connections, June was able to enroll her granddaughter in Queens Lutheran School. There she got her first taste of organized basketball, which she took to quickly. Chamique turned plenty of heads with her court skills at Lutheran. This opened a lot of high school options for her. She had designs on attending St. John's Prep for her freshman year in 1991. But Vincent Cannizzaro, the head coach at Christ the King, had other ideas. He launched an aggressive recruiting campaign, working June as hard as he went after Chamique. Eventually, Cannizzaro prevailed, convincing both that the school's rich basketball tradition would serve her well.
Chamique stepped on the court for the first time as a Royal when she was 14. A starter for Cannizzaro, she blended in with her teammates seamlessly. Her first big moment came in a game against O'Connell in Washington, D.C. Chamique's trey to begin the fourth gave Christ the King a comfortable lead that it never relinquished. More nights like that followed, and by the state playoffs, Chamique was an integral part of the squad.
Coming off a championship in '91, the team entered the post-season looking to repeat. In the state semis, Christ the King beat Brooklyn St. Savior, as Chamique went for 16 points and eight rebounds. In the championship contest, the Royals cruised past Staten Island St. Peter's, 58-43. Chamique was solid again, posting eight points, nine boards and three blocks. After the campaign, USA Today listed her among its "Underclassmen to Watch" in 1992-93.
Cannizzaro expanded Chamique's role in her sophomore year. Though quiet by nature, she was a natural leader, with an ability to dominate opponents. In a mid-season rematch versus O'Connell, the Royals rolled to a 70-47 win. Chamique keyed the victory with 26 points. Undefeated heading into March, Christ the King again blitzed through the state tournament. Drawing Clifton Park Shenandoah for a third straight title, it was no contest. The Royals won by 20, and Chamique, who registered a double-double (22 points, 20 rebounds), was named the tourney's Most Outstanding Player.
By now, Chamique was attracting the attention of the New York press, which relished the job of covering the Big Apple's next great star. When USA Today asked her to pen a daily diary, the junior became a full-fledged media darling. The pressure seemed to have no effect on Chamique. For the third year in a row, she led Christ the King to league, city and state titles.
By the fall of 1994, college coaches were lining up at Chamique's door. Purdue, Virginia and Connecticut were all jockeying for position at the top of the list, but the choice became a no-brainer after she visited the University of Tennessee. Though life moved at much slower pace than in New York, Chamique felt at home in Knoxville, and despite Pat Summitt's reputation as a taskmaster, she believed the Lady Vols head coach was a good fit for her.
With the stress of her college decision behind her, Chamique enjoyed a remarkable senior year for Christ the King. She averaged 25 points, 15 rebounds, five blocks, four steals and three assists, and was voted player of the year by Rawlings/WBCA, Atlanta's Tip-Off Club and Ohio's Touchdown Club. The Royals were unstoppable, taking yet another state title. The only downer was a ruling by New York City's Catholic High School Athletic Association, which suspended Christ the King from league play for a violation concerning out-of-state trips. That hiccup aside, Chamique ended her high school career as one of the Big Apple's most storied players.
ON THE RISE
In Knoxville, Chamique joined a team long on experience. Senior point guard Michelle Marciniak was Summitt's top returning player, but every Tennessee upper classman realized that their new teammate was a star in the making. In the preseason, Chamique got a lift from Abby Conklin, who encouraged her to let her talent shine. A few weeks later, in an exhibition against the U.S. Women's national team, the freshman scored 19 points, and all of Tennessee embraced her. It wasn't long before the comparisons to all-time greats like Cheryl Miller began.
Through the first few months of the 1995-96 campaign, the Lady Vols were ranked consistently in the Top 10. As Chamique grew more accustomed to the college game, Tennessee got better and better. A victory over unbeaten Louisiana Tech gave the team lots of momentum as the NCAA Tournament approached. Then disaster struck. Chamique hurt her right knee, making her availability in the post-season questionable. But the frosh attacked her rehab, and when the Lady Vols opened against Radford, she was in the lineup.
Tennessee waltzed through its portion of the bracket, breezing into the Final Four. Against UConn, a team that had defeated them earlier in the season, the Lady Vols turned the tables. Relying on balanced scoring, they advanced to the championship game. Chamique, still trying to work her way into game shape, netted nine points. Facing SEC rival Georgia for national title, Tennessee authored one of its best performances of the year. With Chamique going for 16 points and 14 rebounds, Summitt's troops captured an easy 83-65 victory.
Chamique's first season was an unqualified success. The SEC Freshman of the Year, she topped the squad in scoring (16.2 ppg) and rebounding (9.1 rpg), and also earned spots on the all-conference and All-American teams. In every way possible, Chamique had the best season by a newcomer in Tennessee hoops history.
With expectations high the following season, the Lady Vols limped from the starting gate. Losers of six of their first 16, they clearly missed Marciniak. Though Chamique was delivering on the court, Summitt needed more from her. In January, the sophomore tore into her teammates, and they responded. Tennessee got hot late, and advanced to Final Four for the second year in a row. In their semi-final matchup, the Lady Vols dismantled Notre Dame. Chamique was the catalyst with 31 points, five rebounds and four steals. In the final, UT squared off against 34-2 Old Dominion. Summitt crafted an aggressive game plan, urging her players to pressure Lady Monarchs point guard Ticha Penicheiro at every opportunity. They pulled it off flawlessly, producing a 68-59 victory. With 24 points and seven rebounds, Chamique secured the Most Outstanding Player award.
Rallying a slumping club to another national championship was quite a feather in Chamique's cap. But she had little time to enjoy it, as she embarked on an international tour with Team USA. The youngest player on the roster, Chamique established a commanding presence on the floor nonetheless. She ended the 12-game tour as the squad's leading scorer and rebounder, and the Americans posted an 11-1 record. Weeks later, Chamique joined the U.S. women again, this time for World Championship qualifying. The U.S. had little problem with anyone on their schedule.
Chamique had a great time on both trips. She roomed with 33-year-old veteran Teresa Edwards, who shared her views on basketball and life whenever asked. The advice was particularly helpful as Chamique prepared for her junior season at Tennessee. There was talk of her leaving school for either the WNBA or American Basketball League, but she didn't think she was ready.
Edwards had emphasized the need to round out her game, especially on the defensive end. That was evident as the Lady Vols put together a season for the ages. With Chamique teaming up with two freshmen, Tamika Catchings and Semeka Randall, the squad ended the regular season undefeated, and then swept through the SEC Tournament. In March Madness, the "Three Meeks" continued their dominance. Tennessee again made it to the title game, matching up against Louisiana Tech. Chamique took control early, piling up 18 points, seven rebounds and five assists by intermission. Her performance helped the Lady Vols build a 22-point bulge, which they nursed to their third straight national title. Chamique was again the easy pick at MOP.
She spent another summer with the U.S. nation team, as the Americans looked for gold in the World Championships. Again, Team USA barely broke a sweat. They won all nine of their games, including a 71-65 victory in the tournament final. Chamique finished third on the squad in scoring (10.9 ppg) and rebounding (5.4 rpg).
MAKING HER MARK
Chamique returned home a national sensation. The Tennessee Athletic Department was besieged with media requests. In all during the 1998-99 campaign, Chamique did somewhere in the neighborhood of 700 interviews and photo shoots. That she even had time for school and basketball was an amazing accomplishment. Fans wondered whether Chamique had it in her to bring home a fourth championship.
Early on, it appeared the national title was a forgone conclusion. Chamique's international experience had helped her become stronger and more confident. In February she was presented with the Sullivan Award as the nation's top amateur athlete. No female basketball player had ever won the award before. She was also selected to the 25th anniversary Kodak All-American team.
But the strain of four years in the spotlight caught up to Chamique in the NCAA Tournament. Tennessee cruised into the Great Eight, only to be upset by Duke. Chamique had one of her toughest nights ever, hitting on just two of 18 shots and fouling out. She left the court in tears.
Chamique had only a few months to recover from the disappointing end to her college career. In May, the Washington Mystics tabbed her as the #1 pick in the WNBA Draft. The league, now three years old, was in an interesting position. The ABL had just disbanded, meaning stars like Dawn Staley, Natalie Williams and Jennifer Azzi were available to the highest bidder. While the WNBA was eager to integrate as many of these talented veterans as possible, it still wanted a young, marquee name to build around. The league looked to Chamique to help it break through with mainstream sports fans, to become its next Michael Jordan.
The people of D.C. welcomed her with open arms. A rally was held in her honor, and the Mystics sewed her up with one of the league's most lucrative contracts, somewhere in the neighborhood of $200,000 annually. Also arranged was an endorsement deal with Nike that earned her even more cash.
Chamique was an instant box-office draw from the Mystics. Coming off a dreadful 3-27 campaign, the team was grateful for a second chance to win over their fans. Head coach Nancy Darsch figured to pair Chamique with Nikki McCray to give Washington an explosive one-two punch. The plan worked out on the scoresheet, as McCray netted 17.5 points a game and Chamique added 16.9. She also grabbed nearly eight boards and dished out 2.5 assists a night. Selected as a starter in the inaugural WNBA All-Star Game, Chamique was the runaway choice as the league's Rookie of the Year.
Her numbers translated into more wins for the Mystics, who went 12-20, and they led the league in attendance. But their record wasn't good enough to get them into the playoffs, and for the first time in eight years Chamique watched the post-season from home.
Based on their 1999 showing, there were high hopes for the Mystics in 2000 season. Chamique boosted her scoring and improved her defense, but her play was uneven at times as she limped through a series of minor injuries. He frustration was evident in her dealings with the team higher-ups. After years of saying and doing the right thing, Chamique openly argued with Darsch and others in the front office about the direction of the team.
Her behavior was odd, considering that the Mystics were actually playing well. With point guard Andrea Nagy running the offense and veteran Vicki Bullett acquired in a trade, Washington appeared to be on track for a playoff berth. But Chamique and McCray displayed little to no chemistry on the floor, and Darsch ultimately paid the price. She was canned midway through the year, replaced by Darrell Walker. He rallied the Mystics to a 14-18 mark, which got them into the post-season for the first time. Washington, however, was no match for the New York Liberty, who sent them packing after two games. Chamique was relieved the campaign was over.
She flew to Australia with her U.S. teammates for the Olympics, where they claimed the gold. It was during the Summer Games that she came to an important realization. She had put together two strong pro seasons, but felt like she had not reached her potential. Chamique hit the weight room hard over the winter, adding more muscle to her frame and shedding 20 pounds. The results were not evident on the court, however. While Chamique improved her rebounding during the 2001 WNBA season, she dropped in nearly every other statistical category, including scoring and field goal percentage. The Mystics struggled, too, finishing in a four-way tie for last place at 10-22.
For Chamique, losing was taking its toll. The Mystics went through another coaching change before the '01 season, when Walker chose to move on. In his place, the team hired Australian Olympic coach Tom Maher. His presence did nothing to bridge the gap between Chamique and McCray, who feuded publicly, airing many of their complaints in the media.
The Mystics tried to retool again after their disappointing campaign. Maher and GM Melissa McFerrin resigned, while McCray was shipped to Indiana for Angie Braziel and a couple of draft picks. Hoping to appease Chamique, the team hired Pat Summitt as a consultant, and handed the coaching reigns to Marianne Stanley, who shifted her star player from small forward to power forward. Chamique made a change of her own, too, switching from #23 to #1.
A new number, however, did nothing to lessen the pain of a personal tragedy. In the spring of 2002, Chamique's grandmother died, a loss that affected her deeply. With no close friends on the Mystics, she kept most of the pain to herself during the summer.
Still, through the opening months of the '02 campaign, Washington looked like a different team, and Chamique was a different player. Stanley's no-nonsense approach worked with her players, particularly Chamique, who was averaging a double-double in points and rebounds. At 14-5, the Mystics boasted one of the league's top records. But the team was forced to adjust when Chamique missed a total of 12 games to a pair of ankle sprains. Washington managed to survive without its star, and ended with its best record ever, at 17-15. In the playoffs, the Mystics disposed of the Charlotte Sting in two games, setting up a showdown with the Liberty in the Eastern Conference Finals. Again, New York was the better team, taking the series in three.
For Chamique, 2002 was a nice bounce-back year. The move to power forward suited her well, as she was able to use her quickness to greater advantage. Chamique topped the league in scoring, rebounding and double-doubles. She also played in her fourth consecutive All-Star Game.
Still, Chamique was unhappy. Over the winter, she travelled to the Far East with former Tennessee teammate Michelle Snow, where they joined the KB Savers of the Women's Korea Basketball League. Chamique enjoyed competing against veterans of the international game, as well as the challenge of adapting to a new culture. She returned to the States revitalized, but the 2003 WNBA season was another draining one. Chamique put up strong numbers again, averaging 20.5 points and 10.9 rebounds a game. The Mystics, however, were dreadful, falling to the basement in the East at 9-25.
Already unfulfilled personally and professionally, Chamique began to withdraw further from friends, family and teammates. When Team USA called and asked her to work out with the squad over the winter in preparation for the 2004 Olympics, she declined the invitation. She stopped answering her phone. The situation grew worse when she lost her grandfather in the spring. Nothing seemed to matter to her.
Washington, meanwhile, named yet another new head coach, this time turning to former NBA All-Star Michael Adams. For the 2004 season, he promised to install an up-tempo offense that would allow Chamique to use her speed and run the floor. The system appealed to her, but her focus was clearly lacking at times. On the nights Chamique was into it, she was a terror, regularly posting double-figures in points and rebounds. By July, however, she was unable to sustain a consistent effort. Late in the month, Chamique left the club for what management called a "minor medical issue." She also relinquished her spot on the U.S. national team for the Summer Games in Athens.
In reality the problem was far more serious. With rumors swirling about a cancer diagnosis, an unwanted pregnancy and drug addiction, Chamique remained silent. Two months later, she came clean, admitting that she had been in the throes of severe depression. It wasn't until several friends confronted her that she sought psychiatric help.
Unsure of her desire to continue her hoops career, Chamique joined a team in Valencia, Spain to gauge her interest in playing again. The experiment was a success, but when she got back to the U.S., she knew she needed a change of scenery. The Mystics eventually obliged, dealing her to the Los Angeles Sparks for Delisha MIlton-Jones and a first-round draft pick.
Chamique got off to a great start in 2005, including scoring her 3,000th career point in May. She looked relaxed and content for the first time in a long time.
In Los Angeles, Chamique teams up with Lisa Leslie to form one of the league's most lethal combinations ever. While it may take a season to learn each other's games, Sparks fans are hoping they will be in sync by the playoffs, when they have to deal with Seattle's Lauren Jackson and Sue Bird.
This may ultimately be the perfect fit for Chamique. She never minded being her team's go-to girl—she just wanted a place to hide from time to time. With the Sparks, she can duck into Leslie's long shadow whenever she wants.
With the burden of being the Michael Jordan of women's basketball finally off her shoulders, Chamique can stop worrying about someone else's legacy and get back to playing the game she loves.
CHAMIQUE THE PLAYER
Chamique is the complete package. She is a consistent shooter inside 20 feet, she can penetrate and finish, and she can handle the ball as well as most guards. She has an explosive first step and gets off the floor quickly for rebounds. Chamique is bigger, faster and can get up higher than any swingman in the WNBA. And she plays good D when she puts her mind to it.
Those who predicted she would dominate in the pros have been left scratching their heads, but if you look at who was doing the talking, these were not the coaches and players with an intimate knowledge of women's hoops. The sport isn't structured for a single player to dominate. A superstar gives her team an advantage, but it is up to the rest of the squad to work that edge and create more opportunities.
Chamique spent the first half of her WNBA life knowing that the crowd would be disappointed when they left the building, whether her team won or not. She wasn't going to score 40 and she wasn't going to perform any gravity-defying dunks. That responsibility has now been removed, and it will be interesting to see how her game grows in its new environment.
EXTRAS
* Chamique's nickname as a kid was "Flat Out," because she would flat out drop what she was doing to play basketball.
* Chamique was team captain at Christ the King High School during her junior and senior years.
* Chamique wrote a biweekly diary for the New York Daily News during her senior year in high school.
* Christ the King's record during Chamique's four years was 106-4, including four state titles.
* No one in New York City history besides Chamique has been named Player of the Year three seasons in a row.
* Chamique had a little fun with Pat Summitt after she decided on the Volunteers. The teenager called the Tennessee head coach and told her that she had made up her mind—she was going to Virginia. After a slight pause, Chamique admitted she was only kidding.
* Chamique reached the 1,000-point plateau in her sophomore season, faster than anyone else in Tennessee history.
* After her first stint with the U.S. national team in 1997, Chamique received a diaper from her teammates—signifying she was the baby of the squad.
* Only once in her junior season at Tennessee did Chamique fail to score in double figures (in a victory over DePaul). She can blame it on Michael Jordan. The two met earlier in the day, and Jordan challenged her to a game of one-on-one.
* Chamique finished her Tennessee career as the school's all-time leading scorer (3,025 points) and rebounder (1,295 boards), tops for both men and women. The Lady Vols went 131-17 during her four years.
* Chamique was a first-team All-American all four years at Tennessee, and the NCAA's Player of the Year three times.
* Chamique graduated as the NCAA Tournament's all-time scoring and rebounding leader.
* Chamique was the leading vote-getter for the 2002 WNBA All-Star Game.
* Chamique's favorite historical figures are Marcus Garvey and Martin Luther King.
* Chamique has won three ESPY Awards, two for Women's Basketball Player of the Year (1998 & '99) and one for Female Athlete of the Year ('99).
* Chamique once served as a special correspondent for Nickelodeon. She guest-starred on a some of the network's shows, including Figure It Out, All That and Kenan & Kell, and filed reports from various sporting events.
* Spike Lee wanted to cast Holdsclaw in He Got Game while she was attending UT, but NCAA rules prevented it.
* Chamique once appeared in a a Jay-Z video.
* After Chamique graduated from Tennessee, the city of Knoxville named a street after her.
* Chamique wrote her autobiography, Chamique: On Family, Focus and Basketball, in 2001, and has her own shoe, the BBMiqueShox.
Read more
Latest headlines