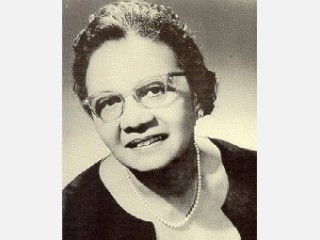 Charlemae Hill Rollins biography
Date of birth : 1897-10-21
Date of death : 1979-02-03
Birthplace : Yazoo City, Mississippi
Nationality : American
Category : Famous Figures
Last modified : 2011-02-02
Credited as : Librarian and author, ,
Charlemae Hill Rollins was a Chicago librarian and author who was dedicated to improving the image of African Americans in children's literature. She served as an advisor to authors, teachers, and publishers, encouraging them to disregard negative stereotypes and honestly portray black culture and history. Rollins taught two generations of children to love books and appreciate their ethnic heritage.
Charlemae Hill Rollins was born October 21, 1897, in the small farming community of Yazoo City, Mississippi. She was the oldest child of Allen G. Hill, a farmer, and Birdie Tucker Hill, a teacher. The family was poor, but Rollins remembered a childhood rich in family life, the result of growing up among a large extended family. Her grandmother, a former slave, was a wonderful storyteller who shared her book collection with her grandchildren. Rollins recalled her grandmother's influence in More Books by More People; Interviews with 65 Authors of Books for Children: "She gave us all the books that belonged to her master who was the father of her children, one of whom was my father. We enjoyed the books in his library, even though most of them were medical books. But I would read anything and everything."
The Hill family moved to the Indian Territory—now Oklahoma—when Rollins was still a child. She attended a school for African Americans founded by her family, and her mother was one of the first black teachers in the territory. As Rollins grew older few educational opportunities existed for blacks nearby, so she enrolled in black secondary schools in Missouri, Mississippi, and Kansas. She graduated from a segregated boarding school in Quindoro, Kansas, in 1916.
After graduating, Rollins taught briefly in Beggs, Oklahoma, before enrolling in Howard University in Washington, D.C. After a year at Howard she returned to Oklahoma where she married Joseph Walter Rollins in 1918. The couple had a son, Joseph Walter Rollins Jr., in 1920. They moved to Chicago, where Joseph Sr. worked for the Young Men's Christian Association.
In 1927 Rollins combined her love of books and teaching by taking a job as a children's librarian at the Harding Square Branch of the Chicago Public Library. When the George Cleveland Hall Branch Library opened in 1923 she was named head of the children's department there. This branch was the first to be located in the city's black neighborhoods and it served a diverse population representing all socioeconomic levels.
The library system helped Rollins continue her education. She enrolled in library training at Columbia College of the University of Chicago and remained a children's department librarian at Hall Library for 36 years. Serving the community in a caring, imaginative way, she guided two generations of young patrons to discover and love books and reading. Rollins organized events to draw people into the library and was dedicated to educating patrons on the contributions of black people. Storytelling sessions were a major part of her work, as she explained to an Illinois Libraries contributor: "Storytelling is a wonderful way of breaking down barriers, or getting acquainted with new people, and drawing groups and individuals together. Hearing a wonderful story well told, can bring escape from hunger, from drab surroundings, from hate and rejection, and escape from injustices of all kinds."
Rollins believed that children's programs could only be effective if the adults in the children's lives also took an interest. Encouraging and teaching parents and teachers to become involved with children and books, she organized a reading guidance clinic for families and maintained close contact with Patent-Teacher Association groups. Rollins's library programs often centered on black history. She felt a strong need to teach children about their heritage, but she was frustrated by the lack of books available on the topic during the 1930s. She found that when children asked for her help with a school paper about a black person, there were no appropriate books in the library. "For many years books about Negro children followed a stereotyped pattern," Rollins was quoted as remarking on the University of Mississippi Library web site. "The characters portrayed were the barefoot menial, or the red-lipped clown. Rarely did the Negro character in a story where there were other children ever take part in the story as equals. Illustrators, it seemed, could not resist presenting the quaint 'pickaninny' type."
Rollins wanted her young patrons to read books that honestly portrayed African Americans in all phases of life. "Children as they are growing up need special interpretations of the lives of other peoples," she maintained, "[and] must be helped to an understanding and tolerance. They cannot develop these qualities through contacts with others, if those closest to them are prejudiced and unsympathetic with other races and groups. Tolerance and understanding can be gained through reading the right books."
Rollins made it her mission to improve the image of blacks in children's books and to teach her young patrons about their heritage. She formed a Negro history club and a series of appreciation hours in which she taught children about the contributions of blacks. She researched and collected materials for her programs and made publishers aware of the need for books about African American culture and history. "I got to be quite a nuisance for the publishers, writing them letters on top of letters for more information," she told a contributor to American Libraries.
Her interest in African American books led Rollins to complete a research paper on the topic of blacks in children's books for one of her library classes at the University of Chicago. She became recognized as an evaluator of children's literature and became a member of the Chicago Public Library's advisory committee on book selection. Rollins transformed her research paper into a mimeographed list of books relating to blacks that was used by children's librarians. This list evolved into one of the first significant publications on African American literature for children. Published in 1941 by the National Council of Teachers of English as We Build Together, A Reader's Guide to Negro Life and Literature for Elementary and High School Use, the pamphlet includes introductory text about how to write and select books about blacks and an annotated bibliography of recommended books. We Build Together raised the level of consciousness among librarians, teachers, and publishers to the need for more honest portrayals of African Americans in children's literature. The landmark publication was revised in 1948 and 1967.
Her 1941 publication earned Rollins a national reputation as an authority on African American children's books. Publishers, becoming aware of the stereotypes they presented in their books, began seeking Rollins's and other black librarians' and teachers' advice. Many publishers and authors sent manuscripts to Rollins for evaluation, and she was asked to serve on the editorial advisory boards of World Book Encyclopedia, American Educator, and Bulletin of the Center for Children's Books. She chaired the Jane Addams Book Award committee for the Women's International League for Peace and Justice in 1964-1965 and in 1962 traveled to Oslo, Norway, to present the award to Aimee Sommerfelt, author of The Road to Agra.
Many universities and professional associations invited Rollins to teach, write, and lecture on African American books. She contributed articles to many journals, including American Childhood, Illinois Libraries and Junior Libraries. She lectured at Fisk University, Morgan State College, the University of Mississippi, Rosary College, San Francisco State College, and the University of Chicago, and taught a class in children's literature at Roosevelt University in Chicago.
Rollins also became involved in professional associations. She was active in the Illinois State Library Association, the Catholic Library Association, and the American Library Association (ALA). She worked on many ALA committees and became the association's first black president in 1957. In 1972 she was the first African American to receive an honorary lifetime membership in the ALA.
Rollins retired in August 1963 at the age of 66. She had been involved with books her entire life and had met many authors in her role as a children's librarian. In retirement she began writing books of her own, among them juvenile biographies of black men and women. Among her books are They Showed the Way, 1964; Famous American Negro Poets for Children, 1965; Famous Negro Entertainers of Stage and Screen, 1967; and Black Troubadour, Langston Hughes, 1971. Her biography on Hughes was inspired by her own friendship with Hughes, whom she had met during the 1930s at a Works Project Administration-sponsored writer's project hosted by her library.
In 1963 Rollins wrote Christmas Gif': An Anthology of Christmas Poems, Songs, and Stories Written by and about Negroes. The title, Christmas Gif', was based on a holiday tradition celebrated by her family that originated in the days of slavery. The book includes selections from Hughes, Paul Laurence Dunbar, Booker T. Washington, and Pulitzer Prize-winning poet Gwendolyn Brooks, who had been a patron at the George Cleveland Hall Branch Library as a child.
Rollins's role in elevating the status of African Americans in children's books earned her many awards from library, education, and humanitarian organizations. She received the American Brotherhood Award from the National Conference of Christians and Jews in 1952, the Library Letter Award from the ALA in 1953, and the Grolier Foundation Award from the ALA in 1955. She also received the Good American Award of the Chicago Committee of One Hundred in 1962, the Children's Reading Round Table award in 1963, and the New Jersey Library and Media Association's Coretta Scott King Award in 1971. In 1974 Columbia College, Chicago awarded Rollins a doctorate of humane letters, and three years later the Chicago Public Library dedicated a room in her name at the Carter G. Woodson Regional Library.
Rollins died in Chicago on February 3, 1979. She was 81 years old. In her memory, the School of Library and Information Science at North Carolina Central University presents the biennial Charlemae Hill Rollins Colloquium, while the ALA's Library Service to Children division presents the Charlemae Rollins President's Program at its annual summer conferences.
Read more
Latest headlines