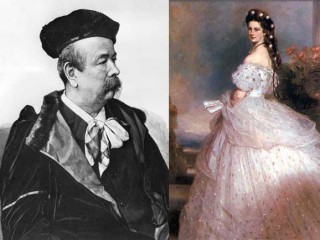 Charles Frederick Worth biography
Date of birth : 1825-10-13
Date of death : 1895-03-10
Birthplace : Bourne, Lincolnshire, England
Nationality : British
Category : Famous Figures
Last modified : 2011-02-07
Credited as : Fashion designer, founder of Paris haute couture, designed for Queen Victoria
Credited with developing the bustle, Charles Frederick Worth rose from humble beginnings to create the first fashion empire. He dictated his style preferences to the crowned heads of Europe during the mid-nineteenth century.
Charles Frederick Worth was the founder of Paris haute couture —high fashion. A talented designer with a savvy head for business, his fashion empire spanned the nineteenth century, growing amid the increasing opulence, wealth, and luxury of France's Second Empire, the reign of Britain's Queen Victoria, and America's Gilded Age. Raised in the Age of Reason, he used the technology of the industrial era to transform the decoration of women from a cottage-based craft into a major industry.
Worth was born October 13, 1825, in Bourne, Lincolnshire, England. While he was descended from several generations of attorneys and was raised to assume a life of affluence, his comfortable lifestyle was disrupted by his father's alcoholism when Worth was eleven. Losing everything, his mother, Mary Worth, was forced to clean houses to support her family, while Charles was also forced to go to work. Apprenticed to a printer but finding the work not to his taste, Worth left after one year and in 1838 went to work as a bookkeeper for the London yard goods firm of Swan and Edgar. Like many such firms, Swan and Edgar supplied ladies with fabric yardage that would be taken to a dressmaker to create one-of-a-kind gowns and other garments. Worth later moved to Lewis and Allenby, London silk merchants, where he stayed until 1845. At Lewis and Allenby Worth learned about textiles. He also observed the social intricacies of fashionable society, and vowed to be a part of it someday. During his time off from work, the young apprentice visited art galleries, where his study of the clothing of past eras would influence his later designs.
After moving to Paris in 1845, Worth found work with a fabric and dress accessories shop, Maison Gagelin. In his shop M. Gagelin employed young women to model shawls, cloaks, and other accessories for his clients. Worth fell in love with one of these models, Marie Vernet, and the two were eventually married. They would go on to have two sons, Gaston and Jean-Philippe.
Desiring that his wife look her best, Worth designed and constructed several simple yet elegant gowns for Marie to wear while modeling Gagelin's wares. Soon customers were asking Worth to make gowns for them as well. He proposed a scheme whereby he would design and construct several dresses from Gagelin silks that could be sold alongside the shop's dress goods, but Gagelin was skeptical, as purchasing ready-made garments was unheard of in the mid-nineteenth century. However, Worth's talent as a dressmaker and designer was soon the talk of Paris, and fashionable ladies flocked to view his latest creations. Denied a partnership by Gagelin, Worth eventually broke out on his own and started his own ladies' dress shop, Worth and Bobergh, in 1858. His financial partner was Otto Bobergh and the two men located their shop in Paris on the rue de la Paix.
The economic advances of the Second Empire (1852-1870), ruled over by Napoleon III and his wife, the Empress
Eugenie, provided many in the French upper class the economic means to afford the luxury goods Worth produced. In the United States, as well, the mid-1800s saw the growth of industrial empires whose creators demanded luxurious, ostentatious surroundings. Mimicking the royal families of Europe, these "nouveau riche" worshiped all things European. Architecture of the period reflected this trend, and by the 1880s lavish Italianate "cottage" studded the residential neighborhoods of posh Newport, Rhode Island, their polished marble walls lined with gilt-framed works by the Old Masters.
While the male members of this new upper class attended to business, their wives and daughters spent their time calling on friends, attending parties, and planning shopping trips to Paris. In addition to embodying the era's conspicuous consumption, the less a woman appeared to be capable of performing any useful task, the more positively it reflected upon her husband's social standing. Restricted by a tightly laced, constricting corset that made breathing difficult since the age of eight, the average young lady of fashion was burdened as well by several layers of petticoats; a hairstyle that required painstaking attention; a crinoline constructed of watch-spring wire that prevented her from either sitting comfortably on a chair or passing through a narrow doorway; a tightly fitted bodice the sleeves of which often prevented her from raising her arms; and the necessity of changing her garments several times a day as required by the meal to be served, the company to be entertained, or the function to be attended.
Even more than today, the clothes a woman wore were crucial in retaining and even elevating her position in society. Every activity required a particular mode of dress, from the reception gown for greeting guests at home, to visiting dresses, to dinner dresses, lavish evening gowns, and fanciful gowns specially designed for costume balls. And there was also fashion's cardinal rule—never wear the same dress twice—which meant that the average woman of the upper classes donned a minimum of two new dresses each day.
Breaking the monotony of social outings and needlework for wealthy women was the arrival, each fashion season, of a new trunk full of clothes from Paris. Appearing in a gown made in Paris guaranteed that one would appear distinguished, and Paris fashions were commonly seen gracing everything from debutante balls to weddings. In addition to their stylish designs, ordering garments was simplified in France, and high-quality fabrics and trims, a good fit, good construction were available for far less than they were in New York City.
Even before opening his shop, or atelier, Worth knew he needed to attract the patronage of women in court circles in order to become a success. He decided to earn the goodwill of the fashion-conscious Princess Pauline von Metternich, who was married to the Austrian ambassador to France. Gaining the princess as a client would allow Worth to gain the patronage of the equally fashionable Empress Eugenie. His plan proved successful, and by 1864 Worth had become couturier to the French court.
Among Paris dressmakers, Worth soon reigned supreme. The street in front of 7 rue de la Paix was lined with carriages from morning to night, and the shop itself buzzed with the gossip of fashionable women from around the world. Worth could often be found at the center of a rapt audience of these women, garbed as they were in colorful, rustling silks. He would often call certain women forward to critique their ensemble, finding favor or criticizing as was his whim. The Empress Eugenie joined her court in frequenting his shop, and other royal clients included Queen Victoria and the Empress Elizabeth, for whom he designed a dress for her coronation as Queen of Hungary. Among the American women who patronized his shop in later years were the Astors, Carnegies, Rockefellers, and Vanderbilts, who all made frequent appearances. While many of Worth's clients would spend upwards of $10,000 a year on their wardrobes, still others were willing to spend that same sum on a single ball gown.
In producing the 6,000 to 7,000 gowns and 4,000 outer garments he designed and sold each year, Worth used the most beautiful fabrics he could find. In an effort to support the textile industry in his own country, he often looked to French weavers. The famed silk mills of Lyon frequently submitted samples of their new patterns for Worth's approval, and his fabric orders would sometimes determine a weaver's production output for an entire year. Worth's attention to quality and detail was painstaking; the inside of his garments was often finished equally as well as the outside.
While much of Worth's success was due to the fact that he used the best fabrics and employed the best dressmakers in Paris, he also made use of his artistic genius. He is credited with popularizing the cage crinoline—a bell-shaped framework formed from a series of horizontal hoops and suspended with tapes from the waist to support the weight of overskirts—as well as for its demise in favor of a half-crinoline that pushed the skirt's fullness to the back. The half-crinoline eventually became the bustle, a fixture in women's dress during the 1870s and 1880s.
Crinolined ball gowns were among Worth's most popular creations. He is also credited with creating the first walking skirt by trimming enough length from the hem of a dress to allow the skirt to clear the ground and not drag in the mud. He favored jaunty hats over the bonnets that had been in favor for years, and designed several hats in his shop.
Some of Worth's innovations were technical in nature. He sped up the patternmaking process by creating a system of standardized, interchangeable components—from sleeves to collars to bodices—so that a single pattern piece could be used in numerous garments. He also used the newly invented sewing machine as much as possible, relying on hand sewing for only delicate finish work. Rather than shunning modernization, he willingly used the laces, ribbons, and other trims produced by machine instead of by hand and readily available in quantity.
Worth was also the first designer to organize and show an entire collection of clothes in advance. The first man to become prominent in the field of women's fashion, he was also the first to use young women as models for entire outfits. In addition to his private customers, Worth's clientele included American seamstresses who purchased garments to copy for ladies longing for the Worth look but unable to travel to Paris. In this way, Worth pioneered the technique of designing dresses for the purpose of being copied in French workrooms and then distributed throughout the world.
Practical as well as fanatical, Worth realized that women have as great a need for housecoats, maternity dresses, and mourning clothes as they had for fancy evening dresses, and he designed fashionable clothing for even these mundane uses. He also was sensitive to the likes and dislikes of his clients, creating designs based upon the individual woman rather than the prevailing trend. His clients included leading members of the Comedie Francais, whom Worth costumed based on the works of Titian, Rembrandt, and other artists.
In 1870 the Second French Empire fell, forcing Empress Eugenie into exile in England. During France's attack by allied European forces, Maison Worth was transformed into a hospital for injured French soldiers. In January of 1871 France surrendered to the Prussian army, but during the civil unrest that followed many French symbols of the aristocracy were destroyed.
After the French government had been restored, the doors to luxurious Parisian shops bearing such names as Worth and Cartier once again opened their doors. As most of the ladies of the French court had long since departed, clients of Maison Worth now numbered chiefly British, American, Swedish, Italian, and Russian. Fortunately for Worth, the spending habits of these foreign women caused a boom in business. His prices became even more exorbitant, and his income of $80,000 a year was an enormous sum by nineteenth-century standards. Business flourished and by 1871 Worth had 1,200 people in his employ.
Worth's sense of style and his head for business were enhanced by an unusually large ego. Probably the first dressmaker to sign his name to his work by using a label sewn into the garment, he nurtured the mystique that made him a legend to his fans, adopting autocratic mannerisms. He also affected a Bohemian style in his own wardrobe, often appearing in a black skullcap. Caricatures of Worth appear in many novels of the period, including works by Emile Zola, Henry James, and Edith Wharton.
In keeping with his desire for social status, Worth devised his own coat of arms, which he had worked into the iron gates of his home in Suresnes. The design featured a stylized cornflower of blue and a snail.
Worth's combination of genius and arrogance captured the imagination of his female clients, and he soon had absolute control over the world of Paris fashion. While his genius was lauded during his lifetime, some critics commented on his high prices—often higher still for Americans—and his dictatorial nature. In part as a reaction to his ornate fashions, advocates of a reformed "aesthetic" dress began to call for the abolition of the corset, crinoline, and other unnatural paddings. Instead they advocated the wearing of undecorated dresses sewn from modest fabrics and designed to drape loosely from the shoulders to the floor.
While his works continued to be featured in Harper's Bazaar, by the 1890s Worth had lost his monopoly on French fashion. Designers such as Paquin, Doucet, and Felix soon began to find favor with the wealthy set. Upon his death in Paris on March 10, 1895, Worth's shop was turned over to his sons. Jean-Philippe, in addition to being raised in atelier Worth, had studied painting, while Gaston, Worth's older son, competently handled the businesses finances.
The two brothers proved successful in continuing their father's success, albeit on a less intensive scale. Creating elegant gowns in the tradition of his father, Jean-Philippe was also responsible for costuming some of the era's most notable actresses, who still relied on private dressmakers rather than theatrical designers for the clothing they donned on stage.
At the turn of the century the reputation of Maison Worth declined in favor of such young, innovative designers as Paul Poiret, who discarded corsets in favor of the straight, waistless styles that would come to characterize women's fashions during the 1920s. Following World War II, Jean-Philippe confined himself to making gowns for state occasions attended by the few remaining members of the European nobility. He and his brother were patronized by an increasingly older clientele until, in 1956, the House of Worth closed its doors. Today Worth's gowns can be viewed at museums around the world, including the Metropolitan Museum of Art and the Costume Institute.
Read more
Latest headlines