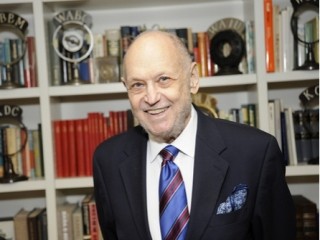 Charles Strouse biography
Date of birth : 1928-06-07
Date of death : -
Birthplace : New York City, U.S.
Nationality : American
Category : Arts and Entertainment
Last modified : 2012-02-15
Credited as : Composer, lyricist, received an Emperor Has No Clothes Award
Charles Strouse is an American composer and lyricist.
Composer Charles Strouse built his reputation on the stage musical, from the celebrated (Bye, Bye Birdie and Annie) to the obscure (It's a Bird ... It's a Plane ... It's Superman!). In five decades he has seen two dozen theater productions come to light, and has also composed film scores, including 1967's Bonnie and Clyde. Millions also recognize his song "Those Were the Days," which was warbled weekly by Carroll O'Connor and Jean Stapleton to open the classic sitcom All in the Family.
A native of New York City, Strouse grew up sampling the best Broadway had to offer. He attended the Eastman School of Music and studied privately with composer Aaron Copland, among others. By age 24 Strouse was working his first theatre job, supplying scores for summer-stock productions in Warrensburg, New York. In 1955 he made his Broadway bow with the music for the Shoestring Review; Strouse ended that decade with several more compositions, including a song, "Born Too Late," that made the Billboard charts in 1958.
In 1960 Strouse and lyricist Lee Adams achieved their first big success with the first "book" show, Bye, Bye Birdie. Inspired by the events surrounding the drafting of Elvis Presley into the Army, Bye, Bye Birdie (with "book" or libretto by Michael Stewart) told of rockabilly sensation Conrad Birdie, whose upcoming entry into the military causes panic among America's teenage girls.
The production opened at the Martin Beck Theatre in April of 1960 to an enthusiastic audience. Strouse and Adams' score featured soon-to-be standards "Put on a Happy Face" and "A Lot of Livin' to Do" plus a chant, "We Love You Conrad," that later made the charts in England as "We Love You Beatles." While Bye, Bye Birdie was described as the first rock 'n' roll Broadway musical (another teen-oriented hit of the era, West Side Story, was far more classical- and jazz-influenced), the authors "clearly disdain the new genre" of music, according to All Music Guide writer William Ruhlmann. "Birdie's songs ... are supposed to be as bad as the songwriters think rock to be." But the show's attitude is closer to affectionate ribbing than outright scorn. Strouse picked up his first Tony Award, for Best Musical, in 1961. A big-screen version released in 1963 helped cement the musical's reputation; Bye, Bye Birdie was also remade for television in 1995 starring Jason Alexander as Albert and Vanessa Williams as Rosie. Williams debuted a new song for the television production, "Let's Settle Down," which won Strouse an Emmy Award.
The success of their first big production led to the inevitable question of the "sophomore curse": could the next Strouse/Adams show equal Birdie? The college-football comedy All American, which bowed in 1962, featured a score "that was every bit as good as the material they had produced for Bye, Bye Birdie," according to Gerald Bordman in his book American Musical Theatre, but the show failed to capture the popularity of its predecessor. Set at the fictional Southern Baptist Institute of Technology, the story follows an immigrant professor (played by Ray Bolger) whose "curious charm even inspires his football team to unaccustomed victory and catapults the professor to national attention," as Bordman wrote. Two numbers "outlived" the short-lived production: "If I Were You," a soft-shoe showcase for Bolger, and "Once upon a Time."
An adaptation of Clifford Odets's boxing drama Golden Boy marked Strouse's 1964 season. Bordman described the score as "lackluster"; the show ran only 69 performances, driven primarily by the appeal of star Sammy Davis, Jr. A similarly lukewarm response greeted the 1966 Strouse/Adams effort, It's a Bird ... It's a Plane ... It's Superman!. The familiar tale of the superhero from Metropolis was received by a small group of fans, but the musical didn't draw big audiences. However, the show did generate a minor hit, "You've Got Possibilities." "The failure of the show," noted Bordman, "left its songwriters ... still looking for a successor to their Bye, Bye Birdie."
Four years later, that successor emerged. Applause, based on the movie All about Eve, made its debut in 1970 to critical and popular acclaim. Lauren Bacall starred as the diva who finds both her career and her love life threatened by a ruthlessly ambitious ingénue. Strouse and Adams's score, highlighted by the compelling title song, won the writers their second Tony Award.
During the early 1970s Strouse had only one stage opening, 1972's short-lived London production of I and Albert. Five years later the duo embarked on their next major theatrical project. Though the Superman musical had failed to take flight, the musicians decided to turn again to the comic strips for inspiration, finding it in the story of Little Orphan Annie. Their musical adaptation, Annie, overcame a famously troubled incubation to become the must-see show of 1977.
While still in previews at Connecticut's Goodspeed Opera House, Annie went through extensive revamps and even recasting of the title role. Early reviews were mixed; during one performance, a massive storm kept most of the audience home and toppled the sets. Still, the show made its Broadway bow on April 21, 1977, to glowing notices and top ticket sales. The show's signature song, "Tomorrow," became an instant Broadway standard; other well-known numbers include "You're Never Fully Dressed without a Smile" and "It's a Hard-Knock Life." Annie won the Tony for Best Musical in 1977.
The original Annie production ran six years, racking up 2,377 performances--Strouse's most successful show to date. Even after closing, however, it never really faded from view. Worldwide adaptation found Annie in Australia, Mexico, Israel, Denmark, Germany, Argentina, Spain, Korea, and many other countries. The show was brought to the big screen in 1982, featuring a Strouse/Adams number, "We Got Annie," that had been cut from the stage production. Annie was revived on Broadway for a twentieth-anniversary edition in 1997 and received a new television production in 1999, but is likely best known today as a staple of school drama clubs and community theatre.
If Strouse wanted lightning to strike twice for his popular orphan, however, he found that fate had other plans. Two sequels--Annie 2: Miss Hannigan's Revenge (1990) and Annie Warbucks (1993) failed to attract attention. (Nor was Strouse's earlier hit Bye, Bye Birdie immune from the sequel curse--a 1981 show, Bring Back Birdie, was a notorious bomb, closing after only four performances.)
In the years since Annie, Strouse continued to produce scores for a series of new musicals including Mayor (for which he also wrote the lyrics), Rags (lyrics by Stephen Schwartz), and Nick and Nora (lyrics by Richard Maltby, Jr.). The shows' lack of box office success was not necessarily related to the quality of the music; in the opinion of Back Stage reviewer Martin Schaeffer, Rags boasted "one of the most ravishingly beautiful scores written in the last quarter century." In 1982 Strouse wrote book, lyrics, and music for a London production, Nightingale. An opera written for children, Nightingale retells the Hans Christian Andersen story of the Chinese emperor who learns, nearly too late, that wealth cannot buy happiness. Nightingale has been performed worldwide over the years. John Koopman of Opera News reviewed a 1997 production in Milwaukee, where he found Strouse's score "filled with singable melody and charming, multiple rhymes."
In 1997 Strouse premiered his anthology show, A Lot of Living, in London, where it garnered good reviews. He also contributed an original piano work, Concerto America, which premiered in Boston on June 30, 2002. The classical composition "is a thematic evocation of my fascination with American popular music," Strouse was quoted in a press release. The work was particularly important for its composer as the terrorist attacks on America occurred during its creation. "I can't help feeling that my original ambition ... was partially aborted when the terrorist planes struck the twin towers in my home town," he noted. "I rewrote much of the piece, yet found myself coming back to the joy and optimism of America--the crazy quilt of music that seems to see us through, and which remains our country's trademark."
Even as he explores his classical leanings, however, Strouse does not stray too far from the stage. Among other projects, he is involved in a new production of two new musicals, both based on movies: The Night They Raided Minskey's and Marty, the latter an adaptation of the award-winning story of a lonely Bronx butcher who strives to find love.
In 1999 Strouse was honored with the American Society of Composers, Authors, and Publishers (ASCAP) Foundation's Richard Rodgers Award for lifetime achievement. "I'm enormously flattered, but at the same time I feel just a little bit bemedaled, like some old Russian general at a May Day parade," he quipped to Robert Windeler in a Back Stage interview. To the musician, the "lifetime" aspect seemed premature: "There's an element of 'wait a second,'" he told Windeler. "I'm not ready to be honored for lifetime achievement. I'm still at the height of my powers, raring to go."
Upcoming works by Strouse include an adaptation of the Paddy Chayevsky film Marty starring John C. Reilly, a musical version of The Night They Raided Minsky's, and an adaptation of Theodore Dreiser's An American Tragedy. Real Men, for which Strouse wrote the music and lyrics, premiered in January 2005 at the Coconut Grove Playhouse in Miami, Florida, and his musical Studio, premiered at Theatre Building Chicago in August 2006. The musical Minsky's, with music by Strouse, book by Bob Martin, and lyrics by Susan Birkenhead (loosely based on the movie The Night They Raided Minsky's) premiered in January 2009 at the Ahmanson Theater.
Strouse has won Emmy Awards for music in television adaptions of Bye Bye Birdie and Annie. He is also the recipient of the ASCAP Foundation Richard Rodgers Award and the Oscar Hammerstein Award. He is also a member of the Theater Hall of Fame and the Songwriters Hall of Fame.
Strouse is married to director-choreographer Barbara Siman. They have 4 children: Benjamin, Nicholas, Victoria and William.
Strouse received an Emperor Has No Clothes Award at the Freedom From Religion Foundation's 34th annual national convention on October 8, 2011. The award is "reserved for public figures who make known their dissent from religion."
Musicals:
-Bye Bye Birdie (1960)
-All American (1962)
-Golden Boy (1964)
-It's a Bird, It's a Plane, It's Superman (1966)
-Applause (1970)
-Six (1971, Off-Broadway)
-I and Albert (1972, London)
-Annie (1977)
-A Broadway Musical (1978)
-Charlie and Algernon (1979, London, as Flowers for Algernon); (1981)
-Bring Back Birdie (1981)
-Nightingale (1982; this work is often described as an opera)
-Dance a Little Closer (1983)
-Mayor (1985)
-Rags (1986)
-Annie 2: Miss Hannigan's Revenge (1989)
-Nick & Nora (1993)
-Annie Warbucks (1993)
-Alexander and the Terrible, Horrible, No Good, Very Bad Day (1998)
-The Future of the American Musical Theater (2004 opera)
-Real Men (2005)
-Studio (2006)
-Minsky's (2009)
Film scores:
-Bonnie and Clyde (1967)
-The Night They Raided Minsky's (1968)
-There Was a Crooked Man (1970)
-Just Tell Me What You Want (1980)
-The Worst Witch (1986)
-Ishtar (1987)
Read more
Latest headlines