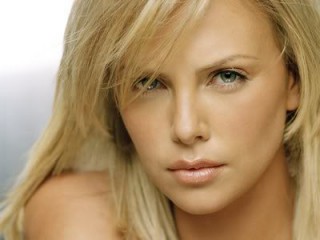 Charlize Theron biography
Date of birth : 1975-08-07
Date of death : -
Birthplace : Benoni, Gauteng, South Africa
Nationality : South African
Category : Arts and Entertainment
Last modified : 2010-10-22
Credited as : Actress and producer, role of Aileen Wuornos in "Monster" (2003), "The Italian Job" (2003)
With critics' praise and numerous film awards she has obtained throughout her acting career,
Charlize Theron
undoubtedly has established herself as one of Hollywood's prominent stars of her generation. Consistently displayed stunning performances in every role she takes, this striking actress has indeed proven that she is much more than just a pretty face and therefore really deserves all the accolades addressed to her. Although the road to achieve world's recognition was quite rough to undergo, the remarkable natural talent she possesses definitely is the strongest point which enables her to eventually embrace what every aspiring thespian craves for: success, popularity, and respect.
A perfect blend of French Huguenot and German origin, Charlize was raised at her parents' farm in Benoni, a town near Johannesburg, South Africa from the day she was born on August 7, 1975. As this only child of Charles and Gerda Theron began to show a fascination with dancing, particularly ballet, she then was encouraged by her mother to take ballet lessons at the age of 6. Apparently, dancing was not her only interest for the little girl enthusiastically spent her spare time to watch American movies through the videos she obtained from a video store. "And this little video store opened in town with, like, 20 videos," she recalled. "I saw everything about 50 times." Meanwhile, her study of ballet brought her to Johannesburg where she entered a boarding school specialized in performing arts at her early teens, polishing her dancing skills in classical ballet, flamenco, and contemporary dance while also attending drama classes.
Unfortunately, an awful tragedy struck Theron family by the time Charlize turned 15 as she witnessed tortured Gerda shot her husband dead after the drunken man attacked her furiously just like he frequently did ever since he fell into alcoholism. No charges were pressed for the case was considered as a self-defense action so that Gerda peacefully moved on with her beloved daughter by her side, thus took over Charles' construction company to support their life. In order to keep Charlize's mind away from the tragic incident, Gerda advised her to join a Johannesburg modeling competition in which she surprisingly gained the first prize to represent South Africa at the International New Model Today contest held in Positano, Italy. As she once more crowned as the winner, this mesmerizing blonde ultimately concluded to leave her boarding school and underwent a series , U.S.
Returned to her long-time desire of becoming a prima ballerina, the 18-years-old girl enrolled in The Big Apple's Joffrey Ballet School while still maintained her modeling career to finance her expenses. Sadly, she encountered a serious knee injury in her class which made her unable to keep pursuing her dream. As she poured down her grief to Gerda, the mother remembered her daughter's childhood passion for cinema, thus gave suggestion to try her hand at acting. Considering it quite a good idea, Charlize quickly packed up her things to go for her next destination: Hollywood, Los Angeles, California. During her search for opportunity, she unexpectedly was approached by a talent manager named John Crosby after a ridiculous scene in a bank and delightfully became his client afterwards. Not only helped her to look for auditions, he also put the aspiring actress into Ivana Chubbuck's acting classes to remove her thick Afrikaans accent.
After some struggling months, Charlize finally encountered her first taste of cinematic experience through a brief appearance in "Children Of the Corn III" (1995). This was followed by a larger role in John Herzfeld's "2 Days In The Valley" (1996) alongside Jeff Daniels, James Spader, and Teri Hatcher. Despite the film's fair result, she managed to display an excellent performance which was well reviewed by critics, subsequently ignited people to pay attention on her, including Tom Hanks. Noticed her potentiality, the renowned actor then offered her a small part in his directorial debut, "That Thing You Do!" which also came up in the same year. Lauded "the most naturally confident and talented actress I have ever worked with" by Hanks, the blue-eyed beauty once again exhibited a brilliant enactment as Keanu Reeves' wife in "The Devil's Advocate" (1997), preventing the movie to be labeled a feature of supernatural silliness.
As this first leading role of her satisfyingly earned critical acclaim, the thriller flick also scored an amazing result in the box-office with the income of more than 60 million U.S. dollar. This great success automatically brought Charlize to wider exposure and recognition for she was included in the cast of Woody Allen's "Celebrity" as well as in Ron Underwood's "Mighty Joe Young," both came up in 1998. Kept exhibiting fantastic performances in her 1999 projects, namely "The Astronaut's Wife" Rules," she exhilaratingly received a nomination in the category of Outstanding Performance by a Cast in a Theatrical Motion Picture together with other actors of the latter movie at the 2000 Screen Actors Guild Awards. By the year of 2000, she had already maintained a solid career since she was consistently billed to be the leading actress as seen in "Reindeer Games," "The Legend Of Bagger Vance," and "Men Of Honor."
Reunited with Keanu Reeves through "Sweet November" as well as with Woody Allen in his "Curse of the Jade Scorpion," 2001 also marked her first acquaintance of Stuart Townsend when both of them were cast in "Trapped" which was slated to come up in 2002. Previously dated Craig Bierko and Stephan Jenkins of Third Eye Blind, she discovered a new love in this Irish actor and immediately embarked on a romantic relationship by August 2001. In the meantime, her path to embrace considerable popularity drew closer as her next film feature, "The Italian Job" (2003), turned out to be a box-office hit, collecting over 100 million U.S. dollar during its run in domestic theaters. However, what truly propelled her to fame and respect was her role as a prostitute also serial killer named Aileen Wuornos in "Monster" (2003). With a totally different physical appearance, she displayed such a strong and magnificent performance which amazed both critics and audience.
As many people had assumed, Charlize's portrayal in this biopic feature was highly praised by most film critics, notably Roger Ebert who considered it to be one of the greatest performances in the history of motion picture. This outstanding work of her unquestionably led this tall actress to bring home numerous accolades in 2004, including a Golden Globe Award for Best Performance by an Actress in a Motion Picture - Drama and a Screen Actors Guild Award for Outstanding Performance by a Female Actor in a Leading Role. This reached its peak on February 29 when she was bestowed the title of Best Actress in a Leading Role at the 76th Annual Academy Awards, becoming the first South African to achieve such attainment. The accomplishment unmistakably catapulted her to be one of the A-list actresses in Hollywood film industry while also highlighted the career she has developed with perseverance and dedication.
Amid all the adoration and kudos she received, Charlize humbly shared her glory with the people of her homeland shortly after her Oscar winning, even got the honor from both South African President Thabo Mbeki and his predecessor, Nelson Mandela. Respected as a high-profile actress, she carefully selected any roles that were offered in her effort to maintain the status she had built with such hard work. Her next choice to star in a TV movie production entitled "The Life And Death Of Peter Sellers" (2004) was indeed a right decision for her name once again popped up as a nominee at three prestigious film events which all held in 2005, namely Golden Globe Awards, Screen Actors Guild Awards, and Emmy Awards. Once more starring together with Townsend in "Head In The Clouds" (2004), she continued to compile an impressive resume through her involvement in "North Country" and "Aeon Flux," which both hit theaters in 2005.
Again scored triple nomination of Best Actress category at the 2006 SAG Awards, Golden Globe Awards, and Academy Awards for her role in the former feature, Charlize effortlessly expanded her big screen credits for the two following years without losing her good sense in picking up potential titles. 2007 would see her appear in three film productions of "Ferris Wheel," "In the Valley of Elah," and "Battle in Seattle," which was directed by Townsend. Meanwhile, 2008 marks her enactments in four high-profiles movie namely "The Hurt Locker," "The Ice at the Bottom of the World," "Tonight, He Comes," and "The Brazilian Job," the sequel to "Italian Job."
Inducted into the Hollywood Walk of Fame by September 30, 2005, Charlize willingly dedicates herself to make contribution in world's issues. She has collaborated with the Cape Town Rape Crisis Centre to make the government of South Africa aware of the increasing number of sexual violence victims in the country. She also took a deep concern on animals, joining PETA's campaign against the use of animal fur in fashion. "Fur isn't necessary. It doesn't make sense to me to let animals suffer for fashion," she commented. "The only difference between your 'best friend' and the animals killed for their pelts is the way we treat them."
Filmography
2012 : Mad Max: Fury Road
2012 : Florence of Arabia
2012 : Young Adult
2011 : Hancock 2
2011 : Atlas Shrugged
2009 : Astro Boy
2009 : The Burning Plain
2009 : The Road
* Astro Boy (2009)
* The Burning Plain (2009)
* The Road (2009)
* Battle in Seattle (2008)
* Hancock (2008)
* Sleepwalking (2008)
* In the Valley of Elah (2007)
* Aeon Flux (2005)
* North Country (2005)
* Head in the Clouds (2004)
* The Life and Death of Peter Sellers (2004)
* Monster (2003)
* The Italian Job (2003)
* Trapped (2002)
* Waking Up in Reno (2002)
* 15 Minutes (2001)
* Sweet November (2001)
* The Curse of the Jade Scorpion (2001)
* Men of Honor (2000)
* Reindeer Games (2000)
* The Legend of Bagger Vance (2000)
* The Yards (2000)
* The Astronaut's Wife (1999)
* The Cider House Rules (1999)
* Celebrity (1998)
* Mighty Joe Young (1998)
* Hollywood Confidential (1997)
* Trial and Error (1997)
* The Devil s Advocate (1997)
* 2 Days in the Valley (1996)
* That Thing You Do! (1996)
* Young Adult
Producer Credits
* The Burning Plain (2009)
* Sleepwalking (2008)
* East of Havana (2007)
* Monster (2003)
Read more
Latest headlines