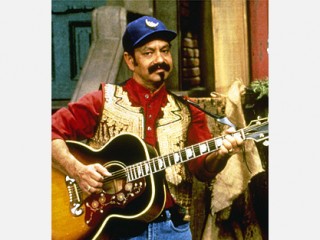 Cheech Marin biography
Date of birth : 1946-07-13
Date of death : -
Birthplace : Los Angeles, California, United States
Nationality : American
Category : Arts and Entertainment
Last modified : 2010-06-14
Credited as : Actor and comedian, ,
Cheech Marin
(Also known as: Richard Anthony Marin, Rick Marin, Cheech, Richard Marin) born July 13, 1946 in Los Angeles, California, United States is an American Actor, comedian, screenwriter, singer, movie director .
Actor
Cheech Marin
is one of Hollywood's most recognizable Hispanic stars. Once half of the stoner-hippie comedy team Cheech and Chong, he enjoyed immense success in the 1970s, but went on to tackle a far wider range of roles. To the surprise of many, he has even played a police detective, and in 1992 released an album of children's songs. Marin has also become a renowned patron of Chicano art, and is thought to own the largest collection of such in private hands. "I personify all the changes our generation went through, in the extreme," he joked with a People interviewer in 1998.
The actor was born
Richard Anthony Marin
on July 13, 1946, in Los Angeles, the third generation in a Mexican-American family. English was his first language, and the accent he later used in the Cheech and Chong routines was wholly fabricated. His father was a Los Angeles police officer, and an uncle on the force was the LAPD's highest-ranking detective of Hispanic heritage for a number of years. The
"Cheech"
nickname came from an uncle, who peered at the infant in his crib and declared he resembled a chicharron, the Mexican deep-fried pork skin treat. Marin and his three sisters grew up first in the South-Central area of Los Angeles, a rough section of the city. "By the time I was 7, I had seen three murders," he told People magazine. His parents then relocated to the San Fernando Valley area, settling in Granada Hills. "It was like moving from Nigeria to Knotts Berry Farm," Marin said in a San Francisco Chronicle interview with Jesse Hamlin.
Started Entertaining With Tommy Chong
As a teen, Marin earned top grades in school, and was increasingly drawn to art and art history. He possessed few artistic skills of the visual kind himself, however. "I was always a musician," he told Austin American-Statesman columnist Anne Hornaday. "I was a singer from a very early age, and music occupied my life. I came from a very funny family; everyone's very bright and funny, but I knew at a very early age that show business was going to be my life." He briefly detoured from that plan with a stint at California State University at Northridge, from which he earned an English degree. During his years there, he worked full-time in a factory that made kitchen units for aircraft.
At twenty-one years of age in 1967, at the height of the Vietnam War, Marin was highly eligible for the draft, and fled to Canada for a time to escape it. He settled in Vancouver, British Columbia, and hoped to begin a writing career. As a record reviewer for a Canadian music magazine, Marin was introduced to a local musician and club impresario Tommy Chong, and the two became fast friends. Marin joined Chong's bizarre improvisational theater group called City Works in 1969. The act featured comedy skits and topless dancers. Chong's parents owned the club, and the exotic dancers were a ploy to lure patrons; Chong just wanted to have a place to perform his music. Marin described the City Works show as "hippie burlesque" in an interview with Los Angeles Times writer Candace A. Wedlan. "It had long hair and dope and nudity and sex and drugs but in a real kind of hostile environment at first because guys wanted to see naked chicks, not long-haired guys talking. It was really seen as absurd. I mean, it was surreal, you know, and that's where we got our chops."
Heading back to the States and dropping the rest of the entourage, he and Chong began touring as a rock/comedy duo, but their music was not as popular with audiences as their banter, which satirized hippie culture and poked fun at those whose brains seemed permanently addled by drug use. The routine contained numerous references to marijuana, and became hugely popular with counterculture youth. A gig at L.A.'s Troubadour club caught the attention of a record-industry executive one night, and Cheech and Chong released their eponymous debut in 1972. Their third comedy album, Los Cochinos in 1973, won a Grammy Award for best comedy album of the year. The records sold in the millions, and were a staple of many teen record collections; not surprisingly, some parents tried to ban the duo's stoned banter from their households. The comedy routine gave way to feature films, beginning in 1978 with Up in Smoke. Over the next five years, the Cheech and Chong movies were hugely popular at the box office, but criticized by some in the Latino community as rife with negative stereotypes.
Branched Out From Drug Humor
Uninterested in reprising the stoner role any longer, Marin split from Chong not long after the 1984 release of Cheech and Chong's The Corsican Brothers. As Marin told Entertainment Weekly journalist Bruce Fretts nearly a decade later, he and Chong "ran out of drug jokes, and it wasn't politically correct anymore. I didn't want to play those chords--it was boring. I wanted to get the characters involved in dramatic situations. Tommy was real resistant." Marin landed a deal to make his own movie, and it was a surprising success: he wrote, directed, and starred in 1987's Born in East L.A., a farce about a third-generation Hispanic American who is mistaken for an illegal immigrant and deported to Mexico, where he experiences enormous difficulties because he neither understands nor speaks Spanish.
Marin took other film roles over the next few years, including The Shrimp on the Barbie, and appeared in television commercials aimed at Hispanic buyers for Chevrolet. He served as producer for a 1991 comedy series on the Fox Television network that featured a Latino comedy team, Culture Clash, but it was cancelled after six episodes. The same fate befell a sitcom in which he was cast, The Golden Palace, a spin-off of the highly successful Golden Girls series. In a move that many termed surprising--given his previous work as the comedic, marijuana-addled voice of 1970s counterculture--Marin branched out into children's entertainment. He did voice-over work for animated feature films, including FernGully: The Last Rainforest and The Lion King, in the latter giving voice to Banzai the Hyena. He also appeared on Sesame Street and released an album of children's songs, My Name Is Cheech the Bus Driver. He also stunned many when he emerged as the grand prize winner on the celebrity edition of the television's tough trivia game show, Jeopardy! in 1992.
Marin's Hollywood success began in earnest when independent filmmaker Robert Rodriguez cast him in two films, 1995's Desperado and From Dusk Till Dawn, but it was not until a role opposite Kevin Costner in the 1996 film Tin Cup that Marin finally hit his stride in Hollywood. After a few years of scarce offerings, the actor told Sport writer Randy Williams that he was grateful for his Tin Cup role as a faithful golf caddie. "I was looking to do anything that didn't have a big joint in it," he joked. Tin Cup reunited him with a friend from his more free-wheeling younger days, Don Johnson, and Johnson invited him to take one of the leads in his new cop drama for television, Nash Bridges. Johnson even tailored the part specifically for Marin: Joe Dominguez, a San Francisco private detective who was once the partner of Johnson's Nash character. The irony of his playing a former law-enforcement officer was not lost on Marin, but he stressed that his father and others in his family had been cops, so he felt at home in the role. "I ended up playing my father," he told reporter Christy Slewinski in an article that appeared in the Buffalo News. "All I have to do is open my mouth and my dad comes out."
Became Chicano Art Connoisseur
Though the CBS series earned critical praise and quickly developed a devoted following, Nash Bridges was cancelled in 2001. Marin's film career, however, continued to flourish: he appeared in 2001's Spy Kids, and reprised his character in its follow-up as well as in a sequel to Desperado. He also will reunite with Tommy Chong on a film project for New Line Cinema. The success of their act did enable Marin to buy a home in the posh celebrity beachfront enclave of Malibu, where he lives with his artist wife, Patti Heid, and their two children; the actor also has an adult daughter from a previous marriage.
Over the years, Marin has become an avid collector of Hispanic art, and reportedly owns the largest collection of Mexican-American paintings in the United States outside of a museum. His favorites include Patssi Valdez, Frank Romero, Carlos Al, and Glugio "Gronk" Nicandro, and Marin claimed that he is formidable in his acquisition deals. "I drive a hard bargain," he told Hamlin in the San Francisco Chronicle interview. "But I'm always out there supporting the artists. I'm the guy who puts my money where my mouth is over a long period of time. My niche is Chicano art, and I'm a propagandist for it. I want to promote these painters because they deserve a wider audience and attention." Some of the collection became part of a 2002-2003 art exhibit, "Chicano Visions: American Painters on the Verge," that made stops in several American cities, including El Paso, Albuquerque, and Washington, D.C.
AWARDS
Grammy Award for Best Comedy Album, the National Academy of Recording Arts and Sciences, 1973, with Tommy Chong, for Los Cochinos.
CAREER
City Works Improvisational Group, Vancouver, BC, Canada, late 1960s; formed comedy duo Cheech and Chong with Tommy Chong, c. 1970; recording artist, 1972-; actor, 1978-; screenwriter, 1978-.
WORKS
* Discography
* Cheech and Chong, Ode, 1972.
* Big Bambu, Warner Bros., 1972.
* Los Cochinos, Warner Bros., 1973.
* Wedding Album, Warner Bros., 1974.
* Sleeping Beauty, Warner Bros., 1976.
* Up in Smoke, Warner Bros., 1978.
* Greatest Hit, Warner Bros., 1981.
* Get out of My Room, MCA, 1985.
* "Born in East L.A." (single), MCA, 1987.
* Let's Make a New Dope Deal, Warner Bros., 1991.
* Filmography
* Up in Smoke, 1978.
* Cheech & Chong's Next Movie, 1980.
* Still Smokin', 1983.
* Cheech & Chong's The Corsican Brothers, 1984.
* After Hours, 1986.
* Born in East L.A., 1987.
* Oliver & Company, 1988.
* Rude Awakening, 1989.
* The Shrimp on the Barbie, 1990.
* The Lion King, 1994.
* Desperado, 1995.
* From Dusk Till Dawn, 1996.
* Tin Cup, 1996.
* Paulie, 1998.
* Spy Kids, 2001.
* Spy Kids 2: Island of Lost Dreams, 2002.
* Once Upon a Time in Mexico, 2003.
* Screenwriting
* Up in Smoke, 1978.
* Cheech & Chong's Next Movie, 1980.
* Cheech & Chong's Nice Dreams, 1981.
* Things are Tough All Over, 1982.
* Still Smokin', 1983.
* Cheech & Chong's The Corsican Brothers, 1984.
* Born in East L.A., 1987.
* Television
* The Golden Palace, 1992.
* Nash Bridges, 1996-2001.
* The Ortegas, 2003.
Read more
Latest headlines