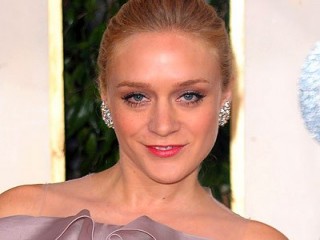 Chloe Sevigny biography
Date of birth : 1974-11-18
Date of death : -
Birthplace : Springfield, Massachusetts, United States
Nationality : American
Category : Arts and Entertainment
Last modified : 2011-08-11
Credited as : Film actress, fashion designer, former model
Chloe Sevigny
is an American film actress, fashion designer and former model. Sevigny became known for her broad fashion career in the mid-1990s, both for modeling and for her work at New York's Sassy magazine, which labeled her the new "it girl" at the time, garnering her attention within New York's fashion scene.
Sevigny made her film debut with a leading role in the controversial Larry Clark film Kids (1995), which led to an Independent Spirit Award nomination for her performance. A long line of roles in generally well received independent and often avant-garde films throughout the decade established Sevigny's reputation as an indie film queen. It was not until 1999 that Sevigny gained serious critical and commercial recognition for her first mainstream role in Boys Don't Cry, for which she received Academy Award and Golden Globe nominations for Best Supporting Actress.
Sevigny has continued acting in mostly independent art house films, such as American Psycho (2000), Party Monster (2003), The Brown Bunny (2003) and Dogville (2003). In 2006, Sevigny gained a leading role in the HBO television series Big Love, for which she received a Golden Globe for Best Supporting Actress in 2010. Additionally, Sevigny has two Off-Broadway theatre credits, and has starred in several music videos. She has also designed several wardrobe collections, most recently with Manhattan's Opening Ceremony boutique.
Chloë Stevens Sevigny was born in Springfield, Massachusetts and raised in Darien, Connecticut by her mother, Janine (née Malinowski) who is a Polish American and father, H. David Sevigny, an accountant turned interior painter of French Canadian heritage. Sevigny's father died of cancer in 1996. She has an older sibling, Paul, who is now a New York disc jockey. Sevigny often spent summers attending theatre camp, with leading roles in plays run by the YMCA; she had always aspired to be an actress despite her interest waxing and waning over the years. Sevigny would often play dress up as a child with trunks of clothing her mother would buy for her at local secondhand shops describing it as "instinctual" for her. She was raised in a Roman Catholic household, and attended Darien High School. While in high school, she often babysat actor Topher Grace and his younger sister. Despite Darien's high-class, wealthy reputation, Sevigny's parents kept a "frugal" household, and she worked as a teenager sweeping the tennis courts of a country club her family could not afford to join.
During her teenager years, Sevigny became something of a rebel: "I was very well-mannered, and my mother was very strict. But I did hang out at the Mobil station and smoke cigarettes." She also began referring to her hometown as "Aryan Darien", attempting to break free of the high class, Ivy League-reputation of the community. Between her junior and senior year of high school, Sevigny even shaved her head and sold her hair to a Broadway wigmaker. She openly admitted to experimenting with drugs as a teenager, especially hallucinogens, but said she was never a "good drug user"; despite this, she was sent to Alcoholics Anonymous meetings by her parents after indulging in marijuana and hallucinogenic drugs. In 2007, she told The Times, "I had a great family life – I would never want it to look as if it reflected on them. I think I was very bored, and I did just love taking hallucinogens ... But I often feel it's because I experimented when I was younger that I have no interest as an adult. I know a lot of adults who didn't, and it's much more dangerous when you start experimenting [with drugs] as an adult." She often described herself as a "loner" and a "depressed teenager." Her only extracurricular activity was occasionally skateboarding with her older brother, and she spent most of her free time in her bedroom: "Mostly I sewed. I had nothing better to do, so I made my own clothes".
At age 18, Sevigny relocated from her Connecticut hometown to an apartment in Brooklyn. There, in 1993, she was spotted on an East Village street by a fashion editor of Sassy magazine, who was so impressed by Sevigny's style that she asked her to intern at the magazine. When recounting the event, Sevigny was reluctant about it: "The woman at Sassy just liked the hat I was wearing," she said. She later modeled in the magazine as well as for X-girl, the fashion label of Kim Gordon of Sonic Youth. During that time, author Jay McInerney spotted her around New York City and wrote a seven-page article about her for The New Yorker in which he dubbed her the new "it-girl". She subsequently appeared on the album cover of Gigolo Aunts' 1994 recording Flippin' Out and the EP Full-On Bloom, as well as having a part in a Lemonheads music video.
Sevigny encountered young screenwriter and aspiring director Harmony Korine in Washington Square Park in New York City during her senior year of high school in 1993.The two became close friends, which resulted in her being cast in the low-budget independent film Kids (1995). Directed by Larry Clark and written by Korine, Sevigny plays a New York teenager who discovers she is HIV-positive. According to Sevigny, she was originally cast in a much smaller role in the film, but ended up replacing Canadian actress Mia Kirshner. Just two days before production began, the leading role went to the then-19-year-old Sevigny, who had no professional acting experience; she said of her casting in the role, "Harmony [Korine] just thought I was this sweet, cute girl and he liked my blonde hair." Nonetheless, Kids was controversial; the film was given an NC-17 rating by the Motion Picture Association of America for its graphic depiction of sexuality and recreational substance and drug use involving teenagers.Despite its controversy, Kids was taken note of critically and commercially: respected film critic Janet Maslin considered the film a "wake-up call to the modern world" about the nature of the youth in urban life at the time.
Sevigny followed Kids with actor/director Steve Buscemi's independent film Trees Lounge (1996), starring in a relatively small role as Buscemi's object of affection. During this time, director Mary Harron (after having seen Kids) offered Sevigny a minor part in her film, I Shot Andy Warhol (1996). Harron tracked Sevigny down to the SoHo clothing store Liquid Sky, where she was working at the time. Sevigny then gave her first audition ever, but ultimately decided to turn down the part; she would later work with Harron on American Psycho (2000). Instead of taking the part in I Shot Andy Warhol, Sevigny starred in and worked as a fashion designer on Gummo (1997), directed and written by Harmony Korine, who was romantically involved with Sevigny during filming. Gummo was as equally controversial as Sevigny's debut; set in Xenia, Ohio, the film depicts an array of nihilistic characters in a poverty-stricken small-town America, and presents issues such as drug and sexual abuse as well as anti-social alienated youth in Midwestern America. In retrospection to the confronting nature of the film, Sevigny cited it as one of her favorite projects: "Young people love that movie. It's been stolen from every Blockbuster in America. It's become a cult film". The film was dedicated to Sevigny's father, who died prior to the film's release.
After Gummo, Sevigny starred in the neo-noir thriller Palmetto (1998), playing a young Florida kidnapee alongside Woody Harrelson. She then had a leading role as a Hampshire College graduate in the sardonic period piece The Last Days of Disco (1998), alongside Kate Beckinsale. The film was written and directed by cult director Whit Stillman and details the rise and fall of the Manhattan club scene in the "very early 1980s". Stillman said of Sevigny: "Chloë is a natural phenomenon. You're not directing, she's not performing it's just real." Janet Maslin of The New York Times wrote that Sevigny "is seductively demure" in her performance as Alice. The film was generally well received, however was not a box-office success in the United States, only grossing $3 million it has since become somewhat of a success as a cult film.
Aside from film work, Sevigny starred in a 1998 Off Broadway production of Hazelwood Junior High, which tells the true story of the 1992 murder of Shanda Sharer; Sevigny played seventeen-year-old Laurie Tackett, one of four girls responsible for savagely torturing and murdering twelve-year-old Sharer. Sevigny was reportedly so emotionally disturbed after playing the role that she began attending Catholic mass again.
Sevigny owns an apartment in the East Village, Manhattan, which she purchased for $1.2 million in 2006. Her father died when she was in her early 20s, and Sevigny stated in a 2006 interview that she came from a "close-knit" family, that she speaks to her mother every day, and that her brother lives three blocks away from her apartment. Sevigny also suffers from scoliosis, which was diagnosed when she was a child, though she never received any surgical treatment. She has stated that she practices yoga for relief from the condition.
Sevigny is a practicing Roman Catholic, although she admits she rebelled against religion as a teenager. She said she began attending church services again after playing a Satan-worshipping teenage murderer in a 1998 Off Broadway production of Hazelwood Junior High: "I got really disturbed. I started having nightmares and thinking horrible things".
Sevigny has pursued various relationships with high-profile men throughout her life, though in 2006 she stated to the New York Post Gossip column: "I've questioned issues of gender and sexuality since I was a teenager, and I did some experimenting." In a later interview, she stated that she "wouldn't call herself bisexual", and that she could never see herself in a relationship with a woman. Nonetheless, Sevigny has garnered a gay fanbase throughout her career. Following her relationship with Harmony Korine (which ended in the late 1990s), Sevigny dated British musician Jarvis Cocker, and later Matt McAuley, a member of the noise-rock band A.R.E. Weapons. Sevigny and McAuley ended their relationship in late 2007, after being together for nearly eight years.
In a 2009 interview, Sevigny reflected on her career, and said she was content with the level of stardom she'd maintained: "When I was in my early 20s, I went out with a British pop star, Jarvis Cocker; of course, pop stars have much more celebrity, I think, than actors even. They're really hunted by their fans much more. I remember driving around these remote towns in Wales and kids running after us in the street. I was like, 'This is horrible!' And I saw the effect it had on him, and that's when I decided I never wanted to be a celebrity at that level, and I think that's why I've chosen to do the work that I do and just kind of work with directors that I love and try and do work that means something to me."
Filmography:
2010 :
All Flowers in Time
Fight for Your Right Revisited
Beautiful Darling
Barry Munday
Mr. Nice
2011 :
The Wait
Television:
2006-2011: Big Love
Music videos:
2009 : "Any Fun" Skater
2011 : "Make Some Noise/Fight For Your Right (Revisited)"
Read more
Latest headlines