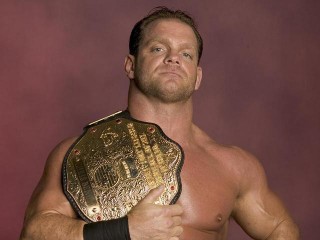 Chris Benoit biography
Date of birth : 1967-05-21
Date of death : 2007-06-24
Birthplace : Montreal, Quebec, Canada
Nationality : Canadian
Category : Arts and Entertainment
Last modified : 2011-08-10
Credited as : Professional wrestler, suicide, WCW, WWE
Chris Benoit
was a Canadian professional wrestler whose career and life ended in a murder suicide. Benoit was a multi-time world champion who held a total of thirty-two championships during his professional wrestling career, and worked for such major promotions as Consejo Mundial de Lucha Libre (CMLL), Extreme Championship Wrestling (ECW), New Japan Pro Wrestling (NJPW), World Championship Wrestling (WCW), and World Wrestling Entertainment (WWE).
Benoit is recognized by WWE as a record-tying five-time WCW/WWE United States Champion, having held the championship twice in WCW, and three times in WWE; and a two-time world champion: a one-time WCW World Heavyweight Champion and one-time World Heavyweight Champion (tied for third longest reign in history), with both reigns represented by the Big Gold Belt. Benoit is one of three men to have held the Big Gold Belt in both WCW and WWE, alongside Bill Goldberg and Booker T.
In addition to championships, Benoit also won the 2004 Royal Rumble match, joining Shawn Michaels as one of two men to win the match as the number one entrant. Described by WWE as "a favorite among WWE fans for his unbelievable athleticism and wrestling ability", Benoit was widely regarded as one of the most popular, respected, and gifted technical wrestlers in history.
Chris Benoit murdered his wife and son on June 22, 2007 and subsequently hanged himself on June 24, 2007. Since Benoit committed suicide, numerous explanations for his actions have been proposed, including concussions, steroid abuse, and a failing marriage. Benoit last performed for WWE on their ECW brand. Paul Heyman, head of the original ECW promotion, intended to book Benoit to win the ECW World Heavyweight Championship in 1995 but did not renew his United States Work Visa in time; twelve years later, Benoit was booked by WWE to win the title in one of three world championship matches at pay-per-view event Vengeance: Night of Champions, which again did not come to fruition due to his death that night.
On June 9, Benoit returned to SmackDown! after being the first man selected by the SmackDown! brand in the 2005 Draft Lottery and participated in an ECW-style revolution against the SmackDown! heels. Benoit appeared at One Night Stand, defeating Eddie Guerrero. At the end of the night he delivered a flying headbutt to his former WCW boss and former Raw General Manager Eric Bischoff.
Benoit in September 2005 as the United States Champion
On July 24 at The Great American Bash, Benoit failed to win the WWE United States Championship from Orlando Jordan, but he faced him in a rematch at SummerSlam. Benoit defeated Jordan in 25 seconds with the Crippler Crossface to win the title. On the next two editions of SmackDown!, Benoit defeated Jordan by submission in 23.4 secondsand 22.5 seconds, respectively. Two weeks later, Benoit defeated Jordan by submission in 49.8 seconds. Benoit then started wrestling Booker T in some friendly competitions, but it was all a ploy, as Booker and his wife, Sharmell, cheated Benoit out of the US title on an episode of SmackDown!.
On November 13, 2005, Eddie Guerrero was found dead in his hotel room. The following night, Raw held a Guerrero tribute show hosted by both Raw and SmackDown! superstars. Benoit was devastated at the loss of his best friend and was very emotional during a series of video testimonials, eventually breaking down on camera. The same week on SmackDown! (taped on the same night as Raw), Benoit defeated Triple H in a tribute match to his fallen friend. Following the contest, Benoit, Helmsley, and Dean Malenko all assembled in the ring and pointed to the sky in salute of Guerrero.
After controversy surrounding a US title defense against Booker T, Theodore Long set up a "Best of Seven" series between the two. Booker T won three times in a row, due largely to his wife's interference, and Benoit faced elimination in the series. Benoit won the fourth match to stay alive, but after the match, Booker suffered a legitimate groin injury, and Randy Orton was chosen as a stand-in. Benoit defeated Orton twice by disqualification. However, in the 7th and final match, Orton defeated Benoit with the help of Booker T, Sharmell, and Orlando Jordan, and Booker captured the US title. Benoit feuded with Orton for a short time, only to compete against Booker for the US title. Benoit was given one last chance at the US title at No Way Out and won it by making Booker submit to the Crippler Crossface, ending the feud. Soon after, Benoit defeated Orton in a No Holds Barred match on SmackDown! via Crippler Crossface.
The next week on SmackDown!, Benoit kayfabe broke John Bradshaw Layfield's (JBL) hand (JBL actually needed surgery to remove a cyst). A match was set up for the two at WrestleMania 22 for Benoit's title, and for the next several weeks, they attacked each other. At WrestleMania, JBL won the match with an illegal cradle to win the title. Benoit used his rematch clause two weeks later in a steel cage match on SmackDown!, but JBL again won with illegal tactics. Benoit then entered the King of the Ring tournament, only to be defeated by Finlay in the opening round, after Finlay struck Benoit's neck with a chair and delivered a Celtic Cross. At Judgment Day, Benoit gained some revenge by defeating Finlay with the Crippler Crossface in a grudge match. On the following edition of SmackDown!, Mark Henry brutalized Benoit during their match, giving him (kayfabe) back and rib injuries and causing him to bleed from his mouth. Benoit then took a sabbatical to heal nagging shoulder injuries.
On October 8, Benoit made his return at No Mercy, defeating William Regal in a surprise match. Later that week, he won his fifth United States Championship from Mr. Kennedy. Benoit then engaged in a feud with Chavo and Vickie Guerrero. He wanted answers from the Guerreros for their rash behavior towards Rey Mysterio, but was avoided by the two and was eventually assaulted. This would lead to the two embarking on a feud with title implications at the coming two pay per views. The feud would culminate with one last title match as a No disqualification match, which was also won by Benoit. Afterward, Montel Vontavious Porter (MVP), who claimed that he was the best man to hold the US title, challenged Benoit for the title at WrestleMania 23, where Benoit retained. Their rivalry continued with similar results again at Backlash. At Judgment Day, however, MVP gained the upper hand and won the title in a two out of three falls match.
On the June 11 edition of Raw, Benoit was drafted from SmackDown! to ECW as part of the 2007 WWE Draft, after losing a match to Bobby Lashley. Benoit won his ECW debut match teaming up with CM Punk and defeating Elijah Burke and Marcus Cor Von by disqualification. On June 19, Benoit wrestled his last match, defeating Burke in a match to determine who would compete for the vacated ECW World Championship at Vengeance. Benoit missed the weekend house shows, telling WWE officials that his wife and son were vomiting blood due to food poisoning. When he failed to show up for the pay-per-view, viewers were informed that he was unable to compete due to a "family emergency" and he was replaced in the title match by Johnny Nitro. Nitro won the match and became ECW World Champion. Stephanie McMahon later indicated that Benoit would have defeated Punk for the championship had he been present for the event.
Benoit became good friends with wrestler Eddie Guerrero following a match in Japan, when Benoit utilized an Enzuigiri kick and knocked him out cold. This started a friendship that lasted until Guerrero's death in late 2005. He was also close friends with Dean Malenko as the trio traveled from promotion to promotion together putting on matches, eventually being dubbed the "Three Amigos" by commentators. According to Benoit, the Crippler Crossface was borrowed from Malenko and eventually caught on as Benoit's signature hold.
Benoit's lost tooth, his top-right lateral incisor, was usually attributed to training or an accident early on in his wrestling career. It actually resulted from an accident involving his pet Rottweiler: one day while playing with the dog, the animal's skull struck Benoit's chin and his tooth "popped out".
Benoit married twice, having two children by his first wife, Martina: David and Megan. By 1997, that marriage had broken down and Benoit was living with Nancy Sullivan, the wife of WCW booker and frequent opponent Kevin Sullivan. On February 25, 2000, Chris and Nancy's son Daniel was born; on November 23, 2000, Chris married Nancy. It was Nancy's third marriage. In 2003, Nancy filed for divorce from Benoit, citing the marriage as "irrevocably broken" and alleging "cruel treatment"; she claimed that he would break and throw furniture around. She later dropped the suit, as well as the restraining order filed against her husband.
On June 25, 2007, police entered Benoit's home on a "welfare check" after several missed appointments, leading to concerns.The officers discovered the bodies of Benoit, his wife Nancy, and their 7-year-old son Daniel at around 2:30 p.m. EDT. Upon investigating, no additional suspects were sought by authorities. It was determined that Benoit had committed the murders.
Over a three day period, Benoit had killed his wife and son before he hanged himself. His wife was bound before the killing. Benoit's son was drugged and likely unconscious before Benoit strangled him. Benoit then committed suicide with a weight machine.
WWE canceled the scheduled three hour long live Raw show on June 25, and replaced the broadcast version with a tribute to his life and career, featuring his past matches, segments from the Hard Knocks: The Chris Benoit Story DVD, and comments from wrestlers and announcers. However, once the details of the murder suicide became apparent, WWE quickly and quietly began distancing itself from the wrestler by removing merchandise and no longer mentioning him. The June 26 episode of ECW began with Vince McMahon addressing the television audience about the circumstances and announcing that there would be no mention of Benoit that night other than his comments. There was no mention of Benoit at all the following Friday on Smackdown.
Toxicology reports released on July 17, 2007 revealed that at their time of death, Nancy had three different drugs in her system: Xanax, hydrocodone, and hydromorphone, all of which were found at the therapeutic rather than toxic levels. Daniel was found to have Xanax in his system, which led the chief medical examiner to believe that he was sedated before he was murdered. Benoit was found to have Xanax, hydrocodone, and an elevated level of testosterone, caused by a synthetic form of the hormone, in his system. The chief medical examiner attributed the testosterone level to Benoit possibly being treated for a deficiency caused by previous steroid abuse or testicular insufficiency. There was no indication that anything in Benoit's body contributed to his violent behavior that led to the murder suicide, concluding that there was no "roid-rage" involved. Prior to the murder suicide, Benoit had been given illegal steroids not in compliance with WWE's Talent Wellness Program in February 2006. Benoit received nandrolone and anastrozole. During the investigation into steroid abuse, it was revealed that other wrestlers had also been given steroids.
After the double-murder suicide, former wrestler Christopher Nowinski contacted Michael Benoit, father of Chris Benoit, suggesting that years of trauma to his son's brain may have led to his actions. Tests were conducted on Benoit's brain by Julian Bailes, the head of neurosurgery at West Virginia University, and results showed that "Benoit's brain was so severely damaged it resembled the brain of an 85-year-old Alzheimer's patient." He was reported to have had an advanced form of dementia, similar to the brains of four retired NFL players who had suffered multiple concussions, sank into depression, and harmed themselves or others. Bailes and his colleagues concluded that repeated concussions can lead to dementia, which can contribute to severe behavioral problems. Benoit's father suggests that brain damage may have been the leading cause of the crime. He also confirmed that his son was quietly cremated, but what was done with the ashes is not public knowledge.
Wrestling Observer Newsletter awards:
5-Star Match (1994) vs. Great Sasuke at Super J Cup
Best Brawler (2004)
Feud of the Year (2004) vs. Triple H and Shawn Michaels
Best Technical Wrestler (1994, 1995, 2000, 2003, 2004)
Most Underrated (1998)
Most Outstanding Wrestler (2000, 2004)
Match of the Year (2002) with Kurt Angle vs. Edge and Rey Mysterio
Readers' Favorite Wrestler (1997, 2000)
Wrestling Observer Newsletter Hall of Fame (Class of 2003)
Read more
Latest headlines