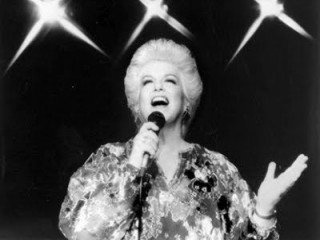 Chris Connor biography
Date of birth : 1927-11-08
Date of death : 2009-08-29
Birthplace : Kansas City, Missouri,U.S.
Nationality : American
Category : Arts and Entertainment
Last modified : 2011-11-07
Credited as : jazz singer, Hal McIntyre's band, Stan Kenton Orchestra
Chris Connor was an American jazz singer.Though most popular during the 1950s and 1960s, Chris Connor continues to draw fans to her cool jazz sound with subtle, smoky vocals. Connor was born Mary Loutsenhizer. The daughter of Clyde Loutsenhizer, a Western Union telegrapher and Mabel Shirley Loutsenhizer, Connor was the youngest of two daughters. Her mother died when she was 13 years old. While some media and press accounts implied that her father was a violinist and responsible for her musical ability, no one in her family had any musical inclinations. "My older sister used to say I was singing and humming tunes before I could talk," Connor remarked. When Connor was two years old, she could hum the old song "Ramona." For eight years, Connor studied and played the clarinet while at Jefferson City High School until she graduated in the mid-1940s.
Although Connor never attended college, on weekends she would go to the University of Missouri in Columbia, a short distance from Jefferson City, where she sang with a band that performed Stan Kenton arrangements. It was her first vocal experience. During the week she worked in the state unemployment office as the head typist, and it was there that she picked up the name "Chris Connor." Her job consisted of typing unemployment checks, but Connor really wanted to be a jazz singer. Realizing she needed a stage name because she felt her surname was inappropriate, she noticed the name of an unemployed person named "Connor" and chose it. She also felt using another name with the same beginning initial would be a favorable match. Soon she saw the name "Chris" and adopted it as well, having her name legally changed.
Realizing there was limited work in Jefferson City, after high school Connor moved to Kansas City where she obtained a job with RKO Radio Pictures as a secretary. A close friend and roommate, Mary Ann Elliott, was employed at Play More, a ballroom famous for bringing in some of the top big bands in the country including Tony Pastor, Claude Thornhill, Stan Kenton and others. Elliott gave Connor free tickets and she went to the ballroom to listen to the bands. Knowing she wanted to sing, Elliott introduced Connor to Hal McIntyre's band road manager, Eddie Dix, who encouraged her to send a demonstration record to New York.
After several months, Connor received a call inviting her to New York. McIntyre's band had broken up, and Dix was looking for a job. He heard that Claude Thornhill was looking for a vocalist to join his group called The Snowflakes. In 1947, Connor auditioned and was quickly hired. She stayed with Thornhill for nearly five years and performed in one town after another around the United States. She and Thornhill traveled by bus with as many as 15 musicians. "It provided a great learning experience and the musicians were the very best," Connor told Contemporary Musicians. Thornhill's band was rated as one of the top 20 bands in America.
From time to time, Thornhill would break up the band and allow its members to go on vacation. Although Connor received three months of paid vacation, she joined Jerry Wald's orchestra for a two-week temporary assignment at the Roosevelt Hotel in New Orleans, Louisiana. Wald's band was broadcast across the country and Connor was heard by singer June Christy, who was planning to leave Stan Kenton's band with the intention of becoming a soloist. Although Christy did not know Connor, she was so impressed with her style and range, she strongly recommended her to Kenton. He in turn sent a disc jockey to New Orleans where an audition tape was made. When Kenton heard the tape that sounded so much like Christy, coupled with the high recommendation that Christy had made, he offered Connor a job. Two weeks later she joined the Stan Kenton Orchestra. Christy had previously replaced Anita O'Day, and Connor and O'Day had similar vocal styles and later became known as the "Cool Singers" of the 1950s. "I had always wanted to sing with Kenton. It had always been my goal and I joined the band in California in 1952," Connor told Contemporary Musicians.
But the constant one-nighters in different cities and the grueling bus rides began to take a toll. After a year Connor was exhausted and left the Kenton band. "I had to get out of this rat race, get the batteries charged, and take stock of myself," Connor said. Although she hated to leave the band, regarding it as the best in the world, she elected to quit and stay in New York. She had made five singles with Kenton and had begun to establish a reputation. She took a job at the famous Birdland club and in the audience was Jim Bright, the president of a newly formed recording company, Bethlehem Records. Her rendition of the moody ballad "All About Ronny" led to an offer with Bethlehem. Connor's first recordings were with Ellis Larkins, who had once been a pianist for bandleader Lucky Millinder, and his trio. Larkins had also worked with Ella Fitzgerald and recorded the album Ella Sings Gershwin. Connor's first album was very successful and put Bethlehem Records on the map.
In 1956, Connor moved to Atlantic Records and remained with the label for nine years. She made more than 15 trips to Japan and was regarded by the Japanese as one of their favorites along with Ella Fitzgerald and Sarah Vaughn. Connor still remains a favorite jazz vocalist in Japan, and has also performed in Europe. For 12 years her arrangements were made by the acclaimed Ralph Sharon, who later worked with singer Tony Bennett.
Connor does not exercise her voice, nor has she received any formal vocal training because she felt lessons would just hang her up. "Sarah Vaughn said I just go up there and let loose and whatever comes out, comes out. That's the best way because as a jazz singer, you can't do that," Connor told Contemporary Musicians. "It would not come out naturally and you must sing the way you feel and what comes out emotionally. You either have it or you don't have it."
Over the years, Connor has performed in nightclubs all over the world including Basin Street East in Manhattan, New York, and in 1996, she performed in the tribute to Ella Fitzgerald at Carnegie Hall. In addition, Connor has appeared at the Half Note and at the Maisonette at the St. Regis Hotel in New York City. She has recorded more than 50 albums which include three with Bethlehem Records and 12 on the Atlantic label. Her recordings have also appeared on the Roulette, FM, Paramount, Progressive, Evidence, Stash, Contemporary, Bainbridge, Enja, Audiophile, and Affinity labels. She regards Cole Porter as the greatest composer though she favors many others including Harold Arlen and George Gershwin. Connor's voice is like no other. Some describe it as hoarse but it has a velvet sound to it that is warm and tender whether Connor is performing a ballad or an upbeat jazz piece.
In the early 1950s, Connor began drinking alcohol and over the years became an alcoholic. "Frequently being in night clubs around liquor is an occupational hazard," Connor told Contemporary Musicians. "The first thing they ask you when you get on a plane is, 'Would you like a drink?' It can easily sneak up on you and eventually got out of hand," Connor continued. Not knowing how sick she had become, Connor's manager helped steer her to a facility to recover where she stayed about three weeks. But after Connor was released, she continued to drink and subsequently returned to the facility, staying longer. But Connor met a counselor during her stay, a former alcoholic herself, who convinced Connor that if she resumed her habit, she would die. In 1978, Connor became completely alcohol free and has remained that way. She has encouraged others to seek help over the years by not preaching to them but serving as a supporter.
Her television credits include several appearances on the Ed Sullivan Show, and she was one of the first guests on the Vic Damone Show. When she was not recording, she performed at many concerts and supper clubs across the United States and Japan. In recent years she has performed at the Kennedy Center in Washington, D. C., the Calumet Arts Café in Buffalo, New York, and Michael's Pub in New York City with Anita O'Day, whom she met for the very first time.
Connor continued to record in the early 2000s, when she recorded her last album, Everything I Love for Highnote Records in 2003. Connor most recently lived in Toms River, New Jersey. She occasionally performed in New York and surrounding areas. She owned the rights to both of the ABC/Paramount Records albums and hoped to release both on CD in the future.
Chris Connor died on August 29, 2009, from cancer, aged 81. She is survived by a nephew and her long-time partner and manager Lori Muscarelle.
She has worked with such notables as Ralph Sharon, Herbie Mann, Don Sebesky, Stan Kenton, Ralph Burns, Ray Ellis, Clark Terry, Al Cohn, Oscar Pettiford, Hank Jones, Maynard Ferguson, Osie Johnson, Ernie Royal, Freddie Green, Phil Woods, Jaki Byard, Lee Konitz, Bill Holman, Conte Candoli, Frank Rosolino, Hank Levy, Joe Puma, Sal Salvador, Richie Kamuca, Buddy Childers, Don Dennis, Kai Winding, and Don Smith.
Selected discography:
-Sings Lullabies of Birdland , Evidence, 1953.
-This Is Chris , Bethlehem, 1955.
-Chris Connor , Atlantic, 1956.
-Sings the George Gershwin Almanac of Song , Atlantic, 1956.
-I Miss You So , Atlantic, 1956.
-Bethlehem Girls , Bethlehem, 1956.
-Ballads of a Sad Café , Atlantic, 1959.
-Witchcraft , Atlantic, 1959.
-Chris in Person , Atlantic, 1959.
-A Portrait of Chris , Atlantic, 1960.
-Free Spirits , Atlantic, 1961.
-Chris Connor at the Village Gate , FM, 1963.
-Sings Gentle Bossa Nova , Paramount, 1965.
-Now , Paramount, 1967.
-Sweet and Swinging , Progressive, 1978.
-Lover Come Back to Me , Evidence, 1981.
-Love Being Here with You , Stash, 1983.
-Chris Connor Classic , Contemporary, 1986.
-New Again , Contemporary, 1987.
-Capitol Sings Cole Porter , Capitol, 1991.
-Atlantic Jazz Vocals: Voices of , 1995.
-All About Ronnie , Giants of Jazz, 1998.
-Chris Connor/He Loves Me, He Loves Me Not , Collectables, 1999.
-Warm Cool: The Atlantic Years , 32 Jazz, 1999.
Read more
Latest headlines