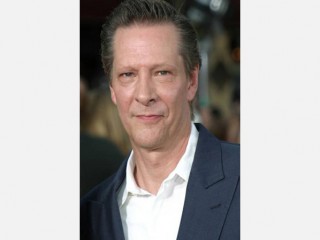 Chris Cooper biography
Date of birth : 1951-07-09
Date of death : -
Birthplace : Kansas City, Missouri, U.S.
Nationality : American
Category : Arts and Entertainment
Last modified : 2010-10-22
Credited as : Actor, American Beauty" (1999),
An intense character actor with a knack for playing taciturn authority figures,
Chris Cooper
came to prominence following his third collaboration with director John Sayles, "Lone Star" (1996), which put him on Hollywood's radar and opened the doors to a wider range of projects. His first film with Sayles, "Matewan" (1987), was also his feature debut. Though critically acclaimed and recognized in the indie world, Cooper waited almost another decade before finally earning the recognition he deserved. Three years after "Lone Star," he had his breakout performance in "American Beauty" (1999) as a repressed former Marine, which called attention to his talents and put him very much in demand. Cooper had one of his greater triumphs with his turn as real-life orchid poacher John Laroche in "Adaptation" (2002), a role that earned him his first Academy Award. He soon found favor with audiences with strong supporting performances in "The Bourne Identity" (2002) and "Seabiscuit" (2003), while serving as the moral conscience to a suffering Truman Capote in "Capote" (2005). Though he offered a compelling leading turn as convicted turncoat Robert Hanssen in "Breach" (2007), Cooper's gifts were better served in co-starring roles in "The Town" (2010) and "The Company Men" (2010), which offered the actor a more colorful palate from which to drawer richer characterizations, making him one of the most sought-after supporting actors in Hollywood.
Born on July 9, 1951 and raised in Kansas City, MO, Cooper spent his summers on a cattle ranch owned by his father, Charles, a military doctor, and his mother, Mary Ann, a homemaker. He had his first brush with performing as a singer in the Country Club Christian Church choir, where his father served as deacon. When he was in his mid-teens, Cooper began spending time at the Barn Player's Theater, where he started sweeping floors and changing sets between scenes. He soon worked his way up to the workshop by building sets until switching to the Resident Theatre, where he became shop foreman while moving toward acting with occasional walk-ons. After graduating Southwest High School, he enlisted for two years of active duty with the Coast Guard before enrolling at the University of Missouri, where he was a performing arts major starting in his sophomore year. Following a year of working construction in Kansas City, Cooper packed a U-Haul truck in 1975 and moved to New York City to try his luck with acting. There, he took classes with Wynn Handman at Carnegie Hall while also studying the craft with such luminaries as Bob McAndrew and Stella Adler.
Cooper made his stage debut in an off-Broadway production of David French's "Of the Fields, Lately" (1980), but made ends meet with carpentry jobs mainly for wealthy clients on the Upper East Side. After knocking around for a few years, he had his first significant part in a London production of Tennessee Williams' "Sweet Bird of Youth" (1985) opposite Lauren Bacall and directed by Harold Pinter. At the time, Cooper came to the attention of director John Sayles through mutual friends, who was casting actors for the lead in "Matewan" (1987), an atmospheric look at the volatile 1920s labor dispute in the small West Virginia coal town. Though tied up with "Sweet Bird" for several months, Cooper managed to fly out for a one-day trip back to New York to audition for the role. Cooper was cast as union organizer Joe Kenehan, who scours Matewan looking to unite the coal workers after a group of illegal immigrants are brought in for cheap labor, leading to a bloody showdown in the streets. Though the film failed to producer ancillary work for Cooper, he did form a strong working relationship with Sayles that served him well in later years.
Turing to the small screen, Cooper made his television debut on "The Equalizer" (CBS, 1985-89), which he followed up with an episode of "Miami Vice" (NBC, 1984-1990). Following a role in the television movie "Eugene O'Neill: Journey into Genius" (PBS, 1988), he had a prominent supporting part as Sheriff July Johnson in the acclaimed miniseries, "Lonesome Dove" (CBS, 1989). John Sayles again tapped the actor for another major role; this time casting Cooper in "City of Hope" (1991), his searing crime drama about race, political corruption and petty crime. Following a turn as Eugene Debs in the American Playhouse special, "Darrow" (PBS, 1991), which explored the life of renowned attorney Clarence Darrow (Kevin Spacey), Cooper co-starred in "Ned Blessing: The True Story of My Life" (CBS, 1992), a Western drama set in the Southwest of the 1880s that follows a young man (Daniel Baldwin) who hunts down the killers who murdered his father (Cooper). He next reprised Sheriff July Johnson for "Return to Lonesome Dove" (CBS, 1993), then had supporting roles in both "This Boy's Life" (1993) and "Money Train" (1995). In 1996, he took a turn to episodic television with a guest starring role on "Law & Order" (NBC, 1990-2010), which he followed with an appearance in the made-for-television movie, "The Deliverance of Elaine" (CBS, 1996), starring Mare Winningham and Lloyd Bridges.
Having amassed a number of supporting credits on screens both large and small, it was only a matter of time before Cooper had a breakout leading performance. That moment came when he made his third film with Sayles, "Lone Star" (1996), a rich and meditative mystery drama that utilized the discovery of the decades-old skeleton of a cruel and corrupt Texas sheriff (Kris Kristofferson) to explore racial prejudice, border politics, forbidden love and long-buried family secrets. Cooper played Sheriff Sam Deeds, who investigates the discovery of the skeleton and uncovers some uncomfortable truths about his father (played in flashbacks by Matthew McConaughey) and himself. A thoughtful, but compelling film, "Lone Star" was hailed by critics as being Sayles' best to date, while also finally calling attention to Cooper's own superb gifts. Because of his newfound recognition brought about by the role, Cooper was able to land supporting roles in higher profile projects. Right after "Lone Star" hit theaters, the actor was seen as a steely deputy in the legal thriller, "A Time to Kill" (1996). The following year, he starred alongside David Schwimmer in "Breast Men" (HBO, 1997), playing a cosmetic surgeon who goes into business with a medical resident (Schwimmer) after the two discover how to create a prosthetic breast with silicon.
After playing Ethan Hawke's humble caretaker in Alfonso Cuarón's adaptation of Charles Dickens' "Great Expectations" (1998), Cooper landed high-profile turns in "The Horse Whisperer" (1998) and "October Sky" (1999); the latter in which he starred as Jake Gyllenhaal's coal-miner dad. He reached true stardom with his next performance, playing Colonel Frank Fitts, a retired Marine, Nazi paraphernalia collector and closeted homosexual whose unwarranted kiss with neighbor Lester Burnham (Kevin Spacey) was among the many seminal moments in Alan Ball's Oscar-winning "American Beauty" (1999). While much of the attention was steered toward Spacey and co-star Annette Bening for their inspired performances, Cooper's tortured portrayal of an unrelenting authoritarian repressing his true nature was one of the film's finest, leading to more high-profile film projects. He next played an American Revolutionary War general who joins forces with Mel Gibson in "The Patriot" (2000) and a tough cop after multiple-personality disorder-afflicted Jim Carrey in the hit-and-miss Farrelly Brothers comedy, "Me, Myself & Irene" (2000). A string of hard-nosed government and law enforcement types soon followed, starting with special ops chief Alexander Conklin, who aims to bring down super spy Jason Bourne (Matt Damon) in "The Bourne Identity" (2002), a role he reprised in the sequel, "The Bourne Supremacy" (2004).
With his next film, "Adaptation" (2002), Cooper went from rising star to Oscar winner, playing eccentric con man and orchid thief John Laroche in Charlie Kaufman's meta-comedy adaptation of Susan Orlean's award-winning nonfiction novel, The Orchid Thief. Starring Nicolas Cage as a fat, balding and perpetually sweaty Kaufman, who manages to write himself into his own script, and Meryl Streep as Orlean, "Adaptation" offered Cooper a sterling opportunity to deliver a deeply nuanced performance that captured the attention of critics while earning him a slew of awards, including a Golden Globe and Oscar for Best Supporting Actor. Continuing his newfound award recognition, Cooper netted an Emmy nomination as the grieving brother of a terrorist attack victim, who finds it difficult to bond with his niece (Emmy Clarke) in "My House in Umbria" (2003), starring Maggie Smith. He followed up with another acclaimed turn, earning a Screen Actors Guild award nomination for his subtle performance as "Silent" Tom Smith, trainer of the famous racehorse "Seabiscuit" (2003).
Now in full command of his talents and a host of creative forces wanting to work with him, Cooper was able to expand his range, as he did in John Sayles' broad political comedy, "Silver City" (2004), in which he played the bumbling and inept gubernatorial candidate Dickie Pilager, who was a not-too-subtle caricature of former U.S. President George W. Bush. He reunited with "American Beauty" director Sam Mendes and "October Sky" co-star Jake Gyllenhaal to play a gung-ho Marine colonel Kazinski in "Jarhead" (2005), while being featured in a small, but pivotal role as a former oil executive opposite George Clooney and Matt Damon in "Syriana" (2005). Cooper next delivered a subtle portrayal of Kansas lawman Alvin Dewey in "Capote" (2005), which depicted author Truman Capote (Philip Seymour Hoffman) and his writing of In Cold Blood, following the shotgun murder of a respected family by two drifters (Clifford Collins, Jr. and Mark Pellegrino). Though 2005 was a good year career-wise, Cooper and his wife, former actress Marianne Leone, were beset with personal tragedy when their son, Jesse, died from complications brought on by cerebral palsy. Jesse was born in 1987 three months premature and whose cerebral palsy necessitated the couple's move to Kingston, MA for proper schooling, while his parents became strong advocates for special needs children. Following Jesse's death, Copper and his wife set up the memorial Jesse Cooper Foundation fund.
In 2007, Cooper landed his first top-billed role in a major feature, playing real-life counter-intelligence expert Robert Hanssen, whose spying for the Soviets puts him at the center of an internal investigation by the FBI in "Breach," a critically acclaimed spy thriller that unfortunately struggled at the box office. He followed with turns as an FBI demolition expert hunting terrorists in Saudi Arabia in "The Kingdom" (2007) and as a husband who plots to murder his wife (Patricia Clarkson) in the nourish black comedy, "Married Life" (2007). Reteaming with "Adaptation" director Spike Jonze, Cooper voiced David, the bird-like best friend of Carol (voiced by James Gandolfini), in "Where the Wild Things Are" (2009). Staying with voiceover work, he voiced Walt Whitman in "American Experience: Walt Whitman" (PBS, 2008) while narrating "The Assassination of Abraham Lincoln" (PBS, 2009). In "The Town" (2010), directed by Ben Affleck, Cooper played the incorrigible father of a career criminal (Affleck) on the run from a dogged FBI agent (Jon Hamm). He rejoined Affleck for the John Wells-directed drama, "The Company Men" (2010), which followed the effects of corporate downsizing on families and communities. Cooper rounded out the year with a turn as Antonio in Julie Taymor's imagining of Shakespeare's "The Tempest" (2010), starring Helen Mirren as the gender-switched Prospera and David Strathairn as Alonso.
Filmography
* Remember Me (2010)
* The Company Men (2010)
* The Tempest (2010)
* The Town (2010)
* New York, I Love You (2009)
* Where the Wild Things Are (2009)
* Married Life (2008)
* Breach (2007)
* The Kingdom (2007)
* Capote (2005)
* Jarhead (2005)
* Syriana (2005)
* Silver City (2004)
* Interstate 60 (2003)
* My House in Umbria (2003)
* Seabiscuit (2003)
* Adaptation (2002)
* The Bourne Identity (2002)
* Me, Myself and Irene (2000)
* The Patriot (2000)
* American Beauty (1999)
* October Sky (1999)
* The 24 Hour Woman (1999)
* Great Expectations (1998)
* The Horse Whisperer (1998)
* Breast Men (1997)
* Horton Foote's Alone (1997)
* Boys (1996)
* Lone Star (1996)
* A Time to Kill (1996)
* Money Train (1995)
* Pharaoh s Army (1995)
* Lone Justice (1994)
* This Boy's Life (1993)
* 1000 Pieces of Gold (1991)
* Between Heaven and the Hangmen (1991)
* City of Hope (1991)
* Guilty By Suspicion (1991)
* Lonesome Dove (1990)
* Matewan (1987)
* Conquistadora
Read more
Latest headlines