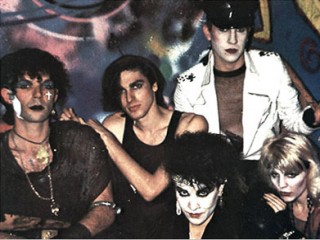 Christian Death biography
Date of birth : -
Date of death : -
Birthplace : Los Angeles, California, U.S.
Nationality : American
Category : Arts and Entertainment
Last modified : 2012-04-20
Credited as : deathrock band, Rozz Williams, Only Theatre of Pain album
Christian Death is an American deathrock band formed in Los Angeles, California in 1979. The band was founded and fronted by Rozz Williams. Christian Death is most notable for their first album Only Theatre of Pain.
During the 1980s, Christian Death became one of the few bands to cultivate a sizable and extremely loyal following while at the same time averting the media. The group's dark, brooding style of music--described with terms like gothic, death metal, and goth-rock--would serve as an important catalyst for other bands for years to come. Both Trent Reznor of Nine Inch Nails and Marilyn Manson cite Christian Death as an influence. Over the years, Christian Death earned a reputation as one of the most prolific and enduring of the goth-rock bands, in spite of numerous lineup changes and altercations within the band. Christian Death's founder and former lead vocalist Rozz Williams, who committed suicide in 1998, was known as an extremist throughout his career, dabbling in bisexuality and cross-dressing, as well as Satanism and even Christianity. Although recognized for spawning the goth rock genre, Williams himself, believing that being pigeonholed as goth did not fully represent his work, preferred the description death rock over gothic.
Christian Death, then known as the Upsetters, was formed in 1979 in Los Angeles, California, under the leadership of an androgynous teenage street performer and vocalist named Rozz Williams. The other original band members, who shared Williams's passion for the hardcore rock music that had penetrated the Los Angeles club scene, included former member of the Adolescents Rikk Agnew on guitar, James McGearly on bass, and George Belanger on drums. After spending some time establishing a local audience, the Upsetters officially changed their name to Christian Death and released their debut album, Only Theatre of Painin 1982. Along with Williams, Agnew, McGearly, and Belanger, the studio recording also featured guest vocalists Eva O. and Ron Athey. According to the Rough Guide to Rock website, Only Theatre of Pain presented "an unpromising display of self-aggrandizing doom rock with total ghastliness averted only by the strong musicianship of those concerned." While not one of the group's best efforts by critical accounts, the band's debut became one of their most controversial and served as a cornerstone of the death rock movement. Not only was Only Theatre of Pain one of the original "goth" albums, but Williams also used satanic imagery and lyrics, in addition to backwards vocals, for intended shock value. Although Christian Death would not include such overt references to Satanism in subsequent albums, the band's later work continued to question religion and spirituality.
Soon after issuing their debut, Christian Death returned with a six-track EP entitled Deathwish, which was, in fact, recorded prior to Only Theatre of Pain. However, these two records would come to represent the only recordings by the original lineup. In the two years that passed between Only Theatre of Pain and a full-length follow-up, the band fell apart. Following the release of the above mentioned records, L'Invitation au Suicide owner Yann Farcy licensed the album and EP in France and invited Williams and his band to relocate to Paris to record a new album. Meanwhile, Williams had formed friendships with singer/keyboardist Gitane DeMone, guitarist Valor Kand, and drummer David Glass, all members of a local band called Pompeii 99. Intrigued by Williams's vision and notoriety, the members of Pompeii 99 offered to join the singer in Europe, thus giving rise to a new Christian Death lineup.
Once the new group arrived in Paris, they were immediately influenced by their surroundings. Williams idolized several French artists and literary figures from Rimbaud, Genet, and Lautremont, to Marcel Duchamp and Rene Magritte. As a result, the album Catastrophe Ballet, released in 1984, sounded more surreal in comparison to Christian Death's brash debut, though it maintained a portion of the band's trademark dark lyrical content. Based around songs such as "Sleepwalk," a song first recorded by the original band in 1983 and eventually released on 1993's Invocations: 1981-1989, and "The Drowning," a song written for the original band's aborted second LP, Catastrophe Ballet was recorded at Rockfield Studios in Monmouth, Wales, England, the same location where Bauhaus recorded two classic albums.
Following an extensive European tour that lasted through 1984, Christian Death returned to Los Angeles to record Ashes, released in 1985. This time, according to critics, Williams's lyrics, which were sometimes performed in German, seemed somewhat more convincing, despite their overwhelming focus on medieval savagery, and diehard fans considered the album Christian Death's masterpiece. However, Christian Death, in the midst of contemplating further personnel changes, performed only one show together in support of Ashes. The extravagant event, entitled "The Path of Sorrows" and held at Hollywood's Roxy Theater on Easter, 1985, included spectacular visuals, films, and four costume changes for Williams. Stylist Kristina Fuller, known for her work for major films such as Batman and Robin, supervised and coordinated Williams's wardrobe.
Near the end of the night, during the band's final song, Williams announced his decision to leave Christian Death, which came as a shock to the group's obsessed fans. Feeling that he had outgrown his band and the confines of the goth genre, Williams wanted to pursue solo and side projects. At first, the split between Williams and the remaining Christian Death members appeared amicable; DeMone, Kand, and Glass agreed to tour Europe in support of Ashes, but would call themselves Sin and Sacrifice and only perform songs that they helped write. However, according to Williams and his loyal supporters, his former band mates failed to keep their word, igniting a battle over name rights that would continue throughout the band's remaining history. As the Sin and Sacrifice tour progressed across Europe, fans reported that the band was still using the name Christian Death. Moreover, word circulated that Valor was singing Williams's lyrics, including songs like "Cavity" and "Romeo's Distress," composed for Only Theatre of Pain two years before Kand and Williams ever met. When the group, now fronted by Kand, released the 1985 EP The Windkissed Pictures, the name The Sin and Sacrifice of Christian Death appeared on the cover; but by the time their first full-length album, 1986's Atrocities, arrived, the band listed themselves as Christian Death and continued to tour and record under that name.
With Kand now taking over songwriting duties, as well as the general direction of the band, the third version of Christian Death released several albums throughout the later 1980s and into the 1990s. As leader of the trio, Kand's chief ambition, as indicated in the Rough Guide to Rock, "seemed to be to castigate the church and religious institutions at every conceivable opportunity--not in itself a bad thing, but it soon became abundantly clear that Kand was not the man to articulate the concept." Some of Christian Death's other post-Williams efforts included the lyrically pompous The Scriptures released in 1987, the semi-musical, yet shocking --the cover included a picture of Jesus injecting drugs on the cross--Sex and Drugs and Jesus Christ released in 1988, as well as All the Love All the Hate Part One: All the Love and All the Love All the Hate Part Two: All the Hate (which included samples from the Third Reich and the Ku Klux Klan), both issued in 1989. Overall, critics agreed that the Kand-led Christian Death repeatedly acted in poor judgement.
On his own and with other musicians, Williams recorded and performed under several guises, including Shadow Project, Heltir, and Premature Ejaculation. His solo releases, Every King a Bastard Son released in 1992, and Whorse's Mouth released in 1996, were both nightmarish, spoken-word journeys. For the project Daucus Karota, Williams teamed with bassist Mark Barone, drummer Christian Omar Madrigal Izzo, and guitarist Roxy, abandoning his goth tendencies in favor of glam-rock. That band's EP, Shine, was released in 1994 and became a critical favorite. Williams also worked with Demone for one album, and also formed the band Heltir for an album that was a collage of samples and instrumental loops. With the dark, heavy rock band Shadow Project, Williams was joined by Agnew on guitar and vocalist Eva O., along with an unstable rhythm section, to recapture the intensity of the original Christian Death. The collaboration also led to the recording of new Williams-led Christian death albums: The Iron Mask released in 1992, which included remakes of past Christian Death songs that Williams later denounced as a mistake, The Path of Sorrows released in 1992, a collection of new songs that was well-received by both critics and the public, and The Rage of Angels, a more angry, aggressive album.
By the mid-1990s, two versions of Christian Death were making records and performing. As the battle persisted, Williams claimed that he deserved name rights for forming the band in the first place, but Valor believed that because he was the most constant of band members over the longest period of time, he should own the name. Nonetheless, most fans sided with Williams, given his higher profile.
Williams took his own life by hanging on April 1, 1998, at his apartment in West Hollywood, California, at the age of 34. Although he was known to have struggled with bouts of depression and drug dependency, Bruce Duff of Williams's label at the time, Triple X Records, told NME (New Musical Express) that the singer/songwriter had not seemed depressed in the days just before his death. "I saw him a week ago, I was hanging out in a club with him and he was partying and everything was fine. Most people I know were caught off guard: he didn't leave a note, I don't think there was any real warning, and you can only speculate as to why."
Williams' reclamation of the Christian Death name sparked a fierce court battle with Valor Kand, who eventually won trademark rights and forced Williams to bill his version of the band as "Christian Death Featuring Rozz Williams". After this, Williams' version would not release another full album of original material and went on to pursue other projects. Williams committed suicide on April 1, 1998.
Valor's Christian Death began recording again, offering the double live set Amen in 1995, and 1996's Nostradamus-themed Prophecies. In 2000, they added drummer Will Sarginson and toured Europe with Britain's Cradle of Filth in support of the Born Again Anti-Christian album. Valor's silence was broken again in 2007 with the American Inquisition album.
Albums:
Only Theatre of Pain - 1982
Catastrophe Ballet - 1984
Ashes - 1985
The Iron Mask - 1992
The Path of Sorrows - 1993
The Rage of Angels - 1994
Read more
Christian Death Picture Gallery
Latest headlines