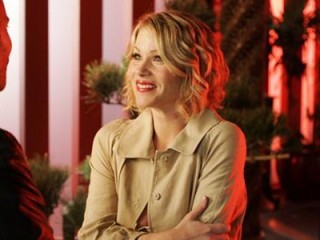 Christina Applegate biography
Date of birth : 1972-11-25
Date of death : -
Birthplace : Los Angeles, California, United States
Nationality : American
Category : Arts and Entertainment
Last modified : 2010-09-06
Credited as : Actress, role of Kelly Bundy in the television series "Married...With Children", and in the sitcom "Samantha Who?"
Christina Applegate
began acting almost as soon as she was born, showing up with her actress mother on sets and getting cast in commercials. In her teens, she became synonymous with her provocative character,
Kelly Bundy
, on the popular Fox television show
Married...With Children
, a controversial show that delivered a dysfunctional twist to the typical family sitcom. With her skin-tight outfits, cherry-red lipstick, and dim-bulb persona, the promiscuous Kelly was object of uncountable bimbo jokes on the program, but nevertheless held great sex appeal for many male viewers. Applegate spent eleven years on the show before branching into new territory as a sweet single mother on the NBC sitcom Jesse, which allowed her to become much more multi-dimensional. Applegate has also appeared in numerous film roles, but she is best known for her memorable small-screen characters.
Applegate
was born on November 25, 1972, in Los Angeles, California. Her father, Robert Applegate, is a former record company executive, and her mother, Nancy Priddy, is an actress. "I was born and raised in Hollywood," Applegate told Bob Thomas in the Washington Times. "I've always been in the picture business. My mom was an actress, and after she gave birth to me, she'd go on a lot of calls for mothers with kids." Applegate began acting at the age of three months, when she appeared in her mother's arms on The Days of Our Lives. At five months old, Applegate showed up in a Playtex nursers commercial, and as soon as she could talk, she began doing radio commercials. Her parents divorced soon after she was born, but the split was amicable. Her father remarried and had two more children, and she became best friends with her step-sister.
By age seven, Applegate had earned enough money to buy a house, by age ten, she began working steadily in television and film. Some of her early parts included guest spots on the shows Mama's Family, Charles in Charge, Silver Spoons, and Family Ties. Her movie debut came in 1981, working with her mother in the horror flick Jaws of Satan. Also that year she had a role in Beatlemania: The Movie and then in 1983 played a young Grace Kelly in the television biopic about the actor-turned-princess. In 1986, she landed a starring role in the ABC series Heart of the City.
At age 16, Applegate left school to start acting full-time when she landed the role of Kelly Bundy in Married...With Children, which premiered in 1987. Dressed in revealing outfits each week, she steamed up the screen while bearing the brunt of the punch lines delivered from her parents and brother. The show was innovative because of its unconventional take on the traditional nuclear family. Family members continuously insulted each other; all were mean- spirited, foul-mouthed personalities. Bruce Fetts in Entertainment Weekly even dubbed the show "smutcom." But it attracted viewers, despite--or more likely, because of--a national campaign sparked by a Michigan housewife to boycott the show because she felt it lambasted family values. The show ran until the spring of 1997, and continues to be seen in syndication.
After several seasons of Married...With Children, Applegate still enjoyed working on the program, but began to openly long for a more well-rounded character. "I think over the last couple years Kelly's gotten dumber and dumber and dumber," she noted to Lisa Schwarzbaum in Entertainment Weekly in 1991, "and she's on her way to being a complete vegetable. I'd love to see her turn her whole life around, do something progressive." While Kelly Bundy would never change, Applegate looked to new projects to stretch her acting range.
During breaks from Married...With Children, Applegate began to work her way into feature films. Her first starring role was as a heroin-addicted hooker in Streets, 1990, and then she played a clean-cut teen in Don't Tell Mom the Babysitter's Dead, 1991. She also appeared in the western Wild Bill, 1995, and the spoof Mars Attacks!, 1996, and had major parts in 1994's Across the Moon and 1995's Variations. However, Applegate was not exactly a blockbuster star, probably because she was typecast for so many years as the ditzy and slutty Kelly Bundy. As she told Elaine Warren in TV Guide, "When you're on a television show, people start thinking that's what your personality is in real life. They can't see you as anything different, and they don't respect you as an actress."
But after Married...With Children had run its course after eleven years, Applegate snagged the lead role on a new NBC sitcom, Jesse, which featured her in a completely new light. On it, she played Jesse Warner, a single mother of a ten-year-old son making her way by working at her grizzled father's German-themed restaurant while studying to be a nurse. Applegate told Bruce Fetts in Entertainment Weekly, "It's not about a young career woman in her late 20s to early 30s who's neurotic," referring to a spate of similar shows. "It's more of a family oriented comedy." She drew upon her mother's experiences as a single mom in order to flesh out the character.
Jesse premiered in September of 1998 in the ratings at number four, the highest- rated show of the new season. Without a doubt, its success was largely due to its place in NBC's winning Thursday night lineup. But critics were receptive as well, and Applegate won a TV Guide Award and People's Choice Award in 1999 for her role. The show continued to win viewers over with its on-again, off-again love story between Jesse and her Chilean neighbor, Diego, played by Bruno Campos. Nevertheless, the show's ratings dropped and it was cancelled in May of 2000. Despite the cancellation, Applegate continued to have roles on the big and small screen. In 1998 she appeared in the comedy Jane Austen's Mafia! and in The Big Hit starring Mark Wahlberg and Lou Diamond Philips, and in 1999 she starred in the movies The Giving Tree and in Out in Fifty.
In the early 2000s, Applegate's acting career continued to be diverse. She appeared in a number of high-profile films, including 2001's Just Visiting, and A View from the Top and The Sweetest Thing, both released in 2002, and 2004's Anchorman: The Legend of Ron Burgundy. Applegate's work on the small screen was also notable. She won an Emmy Award in 2003 for her guest-starring role as Rachel's sister on the hit show Friends, and appeared in the television movie Suzanne's Diary for Nicolas in 2005. After impressing theater audiences and critics with her Tony Award-nominated turn in the title role of the Broadway production of Sweet Charity in 2005, Applegate returned to television in 2007 as the star of the situation comedy Samantha Who? In the show, Applegate played a victim of amnesia whose personality went from haughty pre-accident to sweet and naïve afterward. Though Samantha Who? had low ratings during its first season, it was renewed for 2008. During the early 2000s, her personal life also was busy as she married actor Johnathon Schaech in 2001. While the couple were close, they separated at the end of 2005 and finalized their divorce in August of 2007.
In addition to acting, Applegate enjoys jazz dance, which helps her stay slim for the camera. Schwarzbaum reported in Entertainment Weekly that the actor spends 60 to 70 percent of her time keeping in shape, and Applegate expressed to her, "I think it's sick that we have to do that, because acting is from the soul, not from the body, but this business is all about appearance." She also enjoys reading and writing poetry, and she practices meditation and attends regular church services. Applegate has lived in Laurel Canyon, California, all of her life, and enjoys the location because it is so close to the city yet feels far removed. She is involved with the AIDS Project Los Angeles and in charities for breast and ovarian cancer, and has marched in support of the homeless in Washington, D.C.
Applegate's support of breast cancer charities proved fortuitous. In the summer of 2008, she announced that she had breast cancer. Though the cancer was detected early and the tumor was only in one breast, she had both breasts removed and planned on undergoing reconstructive surgery. Applegate underwent the procedure because her mother had once beat breast cancer but had a recurrence years later. Applegate also did so because she tested positive for the BRCA-1 breast cancer gene mutation which indicates an increased risk of breast cancer at an early age. By having her breasts removed, Applegate was happy to report, as quoted by Donna Freydkin in USA Today that "I'm definitely not going to die from breast cancer."
PERSONAL INFORMATION
Born November 25, 1972, in Los Angeles, CA; daughter of Robert Applegate (a record company executive) and Nancy Priddy (an actress); married Jonathon Schaech (an actor), 2001 (divorced, August 2007).
AWARDS
Young Artist Award for best young television actress, for Heart of the City, 1987; Young Artist Award for best young television actress, for Married...With Children, 1989; Ft. Lauderdale International Film Festival President Award for "Star on the Horizon," 1998; People's Choice Award for favorite female performer in a new series, for Jesse, 1999; TV Guide Award for favorite star of a new series, for Jesse, 1999; Emmy Award for outstanding guest actress in a comedy series, Academy of Television Arts and Sciences, for Friends, 2003.
CAREER
Began appearing on television at age three months; acted in radio and television commercials as a youth. Television appearances include: Father Murphy, 1981; Mama's Family, 1983; Quincy, 1983; Grace Kelly (movie), 1983; Charles in Charge, 1984; All Is Forgiven, 1986; Still the Beaver, 1986; Amazing Stories, 1986; Silver Spoons, 1986; Heart of the City, 1986; Married...With Children, 1987-97; Family Ties, 1987; Dance 'Til Dawn (movie), 1988; 21 Jump Street, 1988; Top of the Heap, 1991; Mad TV, 1996; Pauly, 1997; Jesse, 1998-2000; Friends, 2003; Suzanne's Diary for Nicholas (movie), 2005; Samantha Who?, 2007--;. Film appearances include: Jaws of Satan, 1981; Beatlemania, 1981; Streets, 1990; Don't Tell Mom the Babysitter's Dead, 1991; Across the Moon, 1994; Wild Bill, 1995; Vibrations, 1995; Mars Attacks!, 1996; Vibrations, 1996; Nowhere, 1997; Claudine's Return, 1998; The Big Hit, 1998; Jane Austen's Mafia!, 1998; Out in Fifty, 1999; and The Giving Tree, 1999; Just Visiting, 2001; A View from the Top, 2002; The Sweetest Thing, 2002; Anchorman: The Legend of Ron Burgundy, 2004; The Rocker, 2008. Stage appearances include: Sweet Charity, Chicago, IL, then Broadway, 2005.
Read more
Latest headlines