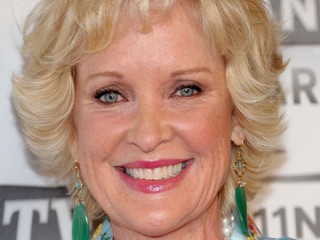 Christine Ebersole biography
Date of birth : 1953-02-21
Date of death : -
Birthplace : Chicago, Illinois, USA
Nationality : American
Category : Arts and Entertainment
Last modified : 2011-09-02
Credited as : Actress, singer, Tony Award
Christine Ebersole
is an American actress and singer.
Christine Ebersole
's career on stage and screen has taken more than a few unexpected detours. Tagged in the early 1980s as a rising new star of Broadway, she headed to Hollywood and languished in sub-par films and television sitcoms for more than a decade. Returning to the New York City area in the late 1990s, Ebersole found that excellent roles that showcased her best attributes a comic verve and terrific singing voice were more than plentiful. In 2006, she starred in the original production of Grey Gardens , a stage musical based on the true-life story of two eccentric, old-money scions related by marriage to the Kennedy political dynasty.
Ebersole was the first of four children born in her family, and grew up in the Chicago suburb of Winnetka. An affluent community that was part of an area collectively known as the North Shore, Ebersole's hometown was served by top-notch public schools, including her alma mater, New Trier Township West High School, ranked as one of the top public high schools in the United States as well as the locale for several 1980s teen comedies from filmmaker John Hughes. Ebersole has said in interviews that her family was a bit eccentric for their neighborhood. Her father, an engineer, had a passion for recordings of Shakespeare's plays, while her mother, a psychiatric social worker, had a penchant for gospel music.
Ebersole attended MacMurray College in Jacksonville, Illinois, and moved to New York City after graduating in 1975. She took classes at the American Academy of Dramatic Arts while trying to break into show business, and struggled to make ends meet while waiting tables and dreaming of a lucky break. She married a fellow actor in 1976, Peter Bergman, who went on to fame on daytime dramas but may be best remembered for his line in a television commercial of the 1980s, "I'm not a doctor, but I play one on TV." Ebersole's break finally came in 1978 when she won a part as an understudy for a role in a Hal Prince musical, On the Twentieth Century , and later replaced the other cast member. She fared even better in 1979 as Ado Annie in a revival of the Rodgers & Hart stage classic Oklahoma! . The producers offered to sign her for another season in it, but she decided against it after winning a part in the ABC daytime drama Ryan's Hope .
On the last day of May in 1980, Ebersole was anticipating a summer off once her Oklahoma! run ended later that week, and before she was set to start work on the soap opera. That day, before the matinee performance of Oklahoma! , she received a phone call inviting her to audition for Camelot . The Broadway musical had not yet opened, but was slated to feature the British actor Richard Burton once again in the lead, reprising his star-making turn in the original 1960 run. But the current producers were unhappy with the unknown actor they had cast as his Queen Guenevere, Kathleen McKearney, who had little Broadway experience. Ebersole agreed to come down for an audition between her matinee and evening performances of Oklahoma! and read for the role.
Ebersole was stunned to win the part, and never returned to Oklahoma! , so pressing was the need for her to prepare for Camelot 's opening night. After some costume fittings, she was hustled off to Toronto for the pre-Broadway run with Burton and the other cast and crew. She had just five days to learn her lines, the dances, and several songs. On opening night, she had to write some cue words in eyeliner on her hand, and she confessed to New York Times writer Michiko Kakutani that "a lot of times, I didn't know what I was doing. I would think, 'This is all absurd what am I doing here, anyway?' But if you do it with authority, people believe you."
When Camelot moved to Broadway, Ebersole earned good reviews, with Frank Rich, then the theater critic for the New York Times , calling her "a charming, self-possessed Guenevere whose voice is more than up to the demands" of some of the show's best-loved numbers. The musical closed less than two months later, however, and Ebersole's career seemed to stall briefly: She turned up somewhat unexpectedly as a Saturday Night Live cast member during its 1981-82 season, had a small role in the hit Dustin Hoffman comedy Tootsie , and spent two years on the ABC soap One Life to Live . She had a small but juicy role as a famed opera singer in the 1984 film Amadeus , and finally returned to Broadway in a new musical in 1985, Harrigan 'n Hart , but the vaudeville-themed play fared so badly with critics that it closed after just three nights.
Ebersole, whose marriage to Bergman had ended in 1981, gave up finding meaningful work in New York, and moved to Los Angeles. Within a year, she had landed a starring role in a new CBS sitcom, The Cavanaughs , as a Las Vegas showgirl who returns to her Irish-Catholic family in Boston. The show's creator was Robert Moloney, who had loosely based the story on his own mother, Ginger O'Dare, a onetime exotic dancer on vaudeville. On the set, Ebersole met another Moloney boy, Bill, who was the musical director for the show, and the two began dating. The sitcom earned good reviews during its 1986-87 season and was slated to return after a year's hiatus, but was waylaid by a 1988 writers' strike in Hollywood that wreaked havoc with the fall 1988 television schedule.
Ebersole's career seemed to stall after that. She played the mom in a 1988 dud about a disabled boy who befriends an extraterrestrial in Mac and Me , a film distinguishable only for its audacious product-placement shots involving a well-known fast-food chain and subsequent listing on Internet sites ranking it in the Top 100 of the worst movies of all time. She made an appearance in another notable bomb, the 1990 Bill Cosby comedy Ghost Dad , had a few television-episode guest credits, and then appeared to rebound with a new sitcom for a relatively new network, FOX, in 1992. She was cast as the title character in Rachel Gunn, R.N. as an abrasively witty head nurse in a hospital, but the series received terrible reviews and lasted just one season. For the rest of the decade, Ebersole was relegated to small parts, such as six lines of dialogue in an episode of Ally McBeal , or her role as the older sister of Tom Selleck, an actor who is, in real life, ten years older than Ebersole. Her agent told her that finding work in Hollywood was increasingly difficult as she headed into her late forties.
In 1998, Ebersole took the stage again in a production of The Ziegfeld Follies of 1936 at the New York City Center, a performing-arts venue in Manhattan. Its popular series, Encores! Great American Musicals in Concert , staged the classic Broadway musicals for brief runs that gave actors, singers, and dancers a chance to test their mettle with little or no rehearsal time. Ebersole enjoyed the experience so much that she and Moloney whom she had wed in 1988 and later adopted three children with decided to relocate to the New York City area. Suddenly, she found herself in demand, appearing as the exuberant Mame in a revival of the hit Broadway musical at New Jersey's Paper Mill Playhouse, and returned once again to Broadway itself in the fall of 2000 in another revival, this one of Gore Vidal's The Best Man . In April of 2001, she was cast in another perennial Broadway favorite, the musical 42nd Street , as the diva Dorothy Brock. She spent more than a year in the role, and won her first Tony Award for Best Actress in a Musical.
In September of 2002, Ebersole headlined her own cabaret act at the posh Cafe Carlyle, which went on to various other Manhattan venues and almost always won rave reviews. The show featured musical standards but also humorous between-song banter poking fun at her Midwestern youth. A year later, Ebersole made an appearance in Dinner at Eight , the Lincoln Center revival of a 1932 Broadway play, and took much of 2004 off. In April of 2005, she joined a cast that included Delta Burke and Rebecca Gayheart in a new production of Steel Magnolias at the Lyceum Theater. Ebersole played M'Lynn, one of the Southern-belle regulars of a beauty salon.
Ebersole spent several months of 2006 appearing in Grey Gardens , a new musical that won critical acclaim in its initial off-Broadway run and further plaudits once it moved to the Walter Kerr Theatre in November of 2006. The work was based on a 1975 documentary film of the same name shot by the renowned filmmaker-brothers David and Albert Maysles, which revealed the eccentric household of Edith Bouvier Beale and her daughter, "Little Edie" Beale. The women came from an old-money family on Long Island and were cousins of former First Lady Jacqueline Kennedy Onassis. The Maysles film told the Beales' story through interviews and footage of their decrepit mansion in East Hampton, where the reclusive pair lived with more than 50 cats. Since its release, the documentary had garnered a cult following, and Ebersole became one of its fans when she discovered it while living in California. "I had such a strong identification with these characters; it was endlessly compelling to me," she told Gerard Raymond in Back Stage West . "I don't really understand why. I would watch it first thing in the morning and the last thing at night while I was languishing in Los Angeles."
In the stage adaptation, Ebersole took a dual role, playing the mother Edith Bouvier Beale in the first act, set in 1941, and then the middle-aged Little Edie in 1973 for the second half. Also starring were Sarah Gettelfinger as the 1941 Little Edie, who is affianced to the eldest Kennedy son as the play begins, and Mary Louise Wilson as the elderly Big Edie in 1973. Grey Gardens opened in March of 2006 at Playwrights Horizons, and the New York Times theater critic Ben Brantley lauded Ebersole's talents for this particular role. "When she sings, skillfully layering softness with stridency, she takes familial ambivalence to an operatic level of eccentricity, yet becomes frighteningly easy to love, to understand and to identify with…. A blend of gentle compassion and acute observation, Ms. Ebersole's performance is one of the most gorgeous ever to grace a musical." Reviewing it for the Advocate , Don Shewey asserted "the real reason to see Grey Gardens is to worship at the feet of Christine Ebersole, an always terrific actress and singer who gives a staggering performance." She won an Obie Award and a Drama Desk honor for the off-Broadway run.
Grey Gardens moved to Broadway at the Walter Kerr Theatre in October of 2006 for a preview run, and opened for the regular Broadway season in November. The job offered Ebersole a relatively easy commute from her home in Maplewood, New Jersey, which she shares with her husband, children Elijah, Mae-Mae, and Aron, and 88-year-old mother. Her career as well as her outlook on life both vastly improved once she left California, she reflected in one interview, noting that she had a showhouse-worthy kitchen in her Los Angeles home and "a $50,000 Cadillac because it was a signature of myself," she told Joyce Wadler in the New York Times . "Now I drive a '93 Volvo station wagon, which I love more than anything you wouldn't have caught me dead driving it in L.A. When I left there I had no self-esteem left."
Awards:
- Tony Award for best actress in a musical, League of American Theaters and Producers and the American Theatre Wing, for 42nd Street , 2001;
- Obie Award for performance, Village Voice , for Grey Gardens , 2006;
- Drama Desk Award for outstanding actress in a musical, for Grey Gardens , 2006.
Read more
Latest headlines