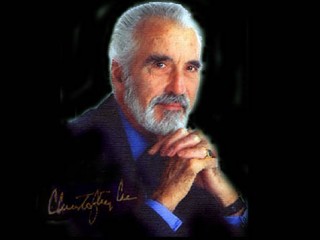 Christopher Lee biography
Date of birth : 1922-05-27
Date of death : -
Birthplace : Belgravia, England
Nationality : British
Category : Arts and Entertainment
Last modified : 2010-05-17
Credited as : Actor and musician, Saruman in Lord of the Rings, Frankenstein
Born
Christopher Frank Carandini Lee
in Belgravia, London, England on May 27, 1922 is an English actor and musician. Lee was born to Estelle Marie Carandini di Sarzano, a descendant of Italian nobility, and Geoffrey Trollope Lee, a lieutenant colonel in the 60th King's Rifle Corps. Artists were also in his bloodline; his great-grandparents founded the first opera company in Austria, and in later years, Lee demonstrated a proficiency at singing in a variety of styles, including light opera.
His parents separated when he was very young, so he relocated to Switzerland with his mother and sister Xandra for several years. While there, he enjoyed his first acting experiences in school, including performing his first villain, Rumpelstiltskin. During Lee's pre-teen years, the family returned to London, where his mother married a banker named Harcourt St.-Croix Rose, who was a distant relative of James Bond creator, Ian Fleming (Lee would later befriend the author, who recommended him to play Dr. No in the 1962 film version of his novel). Lee attended Wellington College, where he won scholarships in the study of classics, before working as a clerk in various shipping companies. When World War II broke out, he joined the Royal Air Force and reportedly served as a member of the Special Operations Executive, which performed counter-intelligence during the war. He also volunteered to fight as a partisan in Finland against the Soviet Union during the Winter War in 1939.
Self-described with typical good humor as "tall, dark and gruesome," Christopher Lee was a remarkably prolific leading man and character actor whose six decades-long film career made him among the world's most popular and recognizable performers. He languished in bit roles for almost a decade before achieving instant fame as an elegant and sexually charged Count Dracula in "Horror of Dracula" (1958) for England's legendary Hammer Studios. Its success led to almost two decades of fright fare, during which he brought elegance and devilish charm to some of the most memorable figures in horror, including the Frankenstein Monster, the Mummy, Dr. Jekyll and Mr. Hyde, and Fu Manchu. In the 1970s, he grew weary of the typecasting and successfully distanced himself from the genre with roles in Richard Lester's "Three Musketeers" (1973), "Airport '77" (1977), "1941" (1979) and even a deftly comic appearance on "Saturday Night Live" (NBC, 1975- ). He remained exceptionally active into the 1980s and 1990s in American and international productions and television, and enjoyed a spectacular third act with significant parts in Tim Burton's "Sleepy Hollow" (1998), Episodes II and III of the "Star Wars" saga, and Peter Jackson's epic "Lord of the Rings" trilogy (2001-03). An icon to several generations of fans and filmmakers, Lee's acting career showed no signs of slowing in the slightest, even as he neared his ninth decade.
Lee began to pursue his acting career after returning to civilian life. He signed with the Rank Organization in 1947 and made his film debut in 1948's "Corridor of Mirrors" before playing minor roles in numerous English productions for the next decade. He appeared with his future friend and frequent co-star Peter Cushing in two films during this period – as a spear carrier in Laurence Olivier's Oscar-winning "Hamlet" (1948), and later as painter Georges Seurat in John Huston's Oscar-nominated "Moulin Rouge" (1952). An exceptionally tall man who stood 6'5" with an angular face and a deep, resonant voice, he essayed numerous authority figures or menacing types during this period. However, his height and dark complexion also prevented him from playing the leading man – something the actor eventually became resigned to.
In 1957, Lee was cast in a loose adaptation of Mary Shelley's "Frankenstein" by Hammer Films, a small English independent company which had achieved modest success with thrillers, light comedies and science fiction films. "The Curse of Frankenstein" (1957) was to be their first effort at the sort of Gothic horror films made by Universal during the 1930s, but with an added dash of violence and mature themes, and shot in lush color photography so blood read very red on screen. Lee was cast as the Creature, and though he was buried under layers of makeup and had no speaking lines, he offered an extremely sympathetic and memorable performance that invited comparison to the greatest of screen Monsters, Boris Karloff in the original Universal film. His "creator" in "Frankenstein" was Peter Cushing, who later became his greatest nemesis on-screen and one of his dearest friends when the cameras stopped rolling.
The worldwide success and controversy that followed "Frankenstein" (critics lambasted the film for its graphic violence) led to more work with Hammer for Lee, and in 1958, he was cast in the lead for "Horror of Dracula." His take on the infamous count stood in marked contrast to the 1931 portrayal by Bela Lugosi, who, up until then, was the actor most identified with the role. Whereas Lugosi's Dracula was courtly – if somewhat stiff and formal – Lee fairly burst with unholy vigor and an animalistic bloodlust. The sexual overtones of the role were also placed at the forefront of Lee's portrayal; his attack on Lucy Holmwood (Carol Marsh) is as much a seduction as a fearsome assault. Lee's fresh take on Dracula helped to make the film a success across the globe – and typecast him as a horror star in the vein of Lugosi, Boris Karloff and Vincent Price for years to come.
Lee turned down the chance to reprise Dracula in Hammer's "Brides of Dracula" (1960), but pressure from the studio forced him to don the cape and fangs six more times, starting with 1965's "Dracula, Prince of Darkness" and ending on a sour note with "The Satanic Rites of Dracula" (1972), which unsuccessfully attempted to bring the Vampire King into the present. A devout fan of the source material by Bram Stoker (and fantastic fiction as a whole), Lee cringed at how far afield the Hammer franchise strayed from the original novel, and fought hard (but failed) to bring some elements from the story into the films. He also played Dracula or vampire types in several low-budget European productions, including two comedies – "Tempi duri per I vampiri" (1959) and 1976's "Dracula and Son" – and played the Count and his historical namesake, Vlad Tepes, in the 1975 documentary "In Search of Dracula."
And while Dracula was the horror role that Lee was most identified with, the actor played a much wider range of monsters and human fiends in films for Hammer as well as for England's Amicus Pictures and numerous European companies. He was a love struck Egyptian priest who returns from the grave centuries later to wreak havoc on archaeologists in "The Mummy" (1959); a coolly diabolical Fu Manchu in four features for English and Spanish producers; a subdued Victorian scientist and his fearsome alter ego in "I, Monster," a 1971 adaptation of "Dr. Jekyll and Mr. Hyde;" and a hypnotic Russian mystic in Hammer's lurid "Rasputin, The Mad Monk" (1966). Lee's horror/suspense credits also included countless variations on aloof, occasionally ruthless men of authority, as well as the occasional hero – most notably in Hammer's "The Devil Rides Out" (1967), where he played a nobleman who battles a sinister Satanic cult. Versed in numerous languages, Lee was frequently able to dub his own voice in Italian, French or German productions, including a 1962 turn as Arthur Conan Doyle's master detective in "Sherlock Holmes and the Deadly Necklace."
Lee's career in horror made him an instantly recognizable star around the world, but by the early 1970s, he was deeply frustrated by the limited roles that were being offered to him. He attempted to branch out into production by creating his own company, but the resulting films – 1972's "Nothing But the Night" and a disastrous adaptation of "To the Devil A Daughter" (1976) for Hammer – convinced him to stay out of that end of the movie business. His popularity occasionally allowed him to play roles outside of the horror genre – he was Artemidorus in Charlton Heston's 1970 film version of "Julius Caesar," and shaved his head to play Sherlock Holmes' brother Mycroft in Billy Wilder's "The Private Life of Sherlock Holmes" (1970), but none of these efforts helped distance him from his horror career. "The Wicker Man" (1973) offered him a rare opportunity to work in a genre picture with a mature and imaginative script. The story, by Anthony Shaffer, cast Lee as the head of a pagan cult on a remote British island, and allowed audiences to hear his singing voice. Unfortunately, the film was severely truncated by its producers, and failed to gain an audience until decades later.
Richard Lester made excellent use of Lee's screen persona and fencing skills (an accomplished swordsman, he claimed at one point to have appeared in more movie swordfights than any other actor) as the villainous Count de Rochfort in his delightful adaptation of "The Three Musketeers" (1973) and its 1974 sequel, "The Four Musketeers." Their overwhelming success gave hope to Lee's aspirations outside the horror genre, and in the mid-1970s, he relocated to the United States with his wife, Gitte, and daughter, Christina, in the hopes of finding more diverse work in Hollywood. The decision was a successful one for many years. He played the coolly elegant assassin, Scaramanga, in the James Bond adventure "The Man with the Golden Gun" (1974); was among the star-studded passengers in "Airport '77" (1977); and even hosted a 1978 episode of "Saturday Night Live," which found him attempting to exorcise Richard Nixon (Dan Aykroyd) from the White House. His wry comic skills were also given showcases in Steven Spielberg's manic "1941" (1979), as a Nazi officer stuck with an uncooperative Japanese submarine crew, and in the little-seen "Serial" (1979), where his high-powered business executive is revealed as a member of a gay biker gang.
But for each of these unique opportunities, it appeared that Lee was being cast in twice as many low-budget horror and science fiction films; many of which made the worst of his efforts for Hammer or Amicus seem like high quality art by comparison. Lee was particularly disappointed by the decision to turn down the role of Dr. Loomis in John Carpenter's "Halloween" (1978), and spoke frequently of his regret in that decision. By the early 1980s, he was finding more rewarding work on American and international television, including the epic HBO miniseries "The Far Pavilions" (1984) and "Shaka Zula" (1986). Lee was also a suitably spooky Blind Pew in Fraser Clarke Heston's adaptation of "Treasure Island," which starred his father Charlton as Long John Silver. Lee also played an elderly Sherlock Holmes in several European-made TV movies, which were shown frequently on American television.
Lee's career began its slow upswing in the early 1990s after almost a decade of bland, even embarrassing film and television projects. He returned to Hollywood with a significant role in Joe Dante's "Gremlins II: The New Batch" (1990) as a scientist bent on experimenting on the cuddly Gizmo. Though the film was not a success, it did signal a change in fortunes for Lee. A new generation of directors and producers who had grown up with Lee's horror films were eager to cast him in their projects, and the actor – now approaching his seventh decade – found himself not only back in vogue, but exceptionally active. He co-starred with Pierce Bronson and Patrick Stewart as a rogue Russian general who sends mercenaries to hijack a train carrying nuclear weapons in the 1993 TV movie "Death Train," then played the pharaoh Ramses opposite Ben Kingsley's Moses in the TNT miniseries "Moses" (1995) and the blind seer Tiresias in "The Odyssey" (1997) for Hallmark. Lee also gave fitting closure on Hammer Films with the fine documentary, "Flesh and Blood" (1994). Lee shared narration of the project with his longtime friend and fellow horror icon Peter Cushing, who had also achieved his own non-Hammer success with his role as Grand Moff Tarkin in "Star Wars" (1977). However, the recording session would be a bittersweet reunion for the duo, as Cushing died just two months after its completion,.
The 1990s closed out with a starring role for Lee in the Pakistani production "Jinnah" (1998), a biopic about the founder of the country. Though his casting as the fabled leader spurred controversy from elements of the Pakistani media – ironically not because he was an Anglo playing a Pakistani, but more for his association with Dracula! – Lee went on record as saying that he was proudest of the film and the role among all others in his career. The following year saw him play opposite Johnny Depp with a brief role in Tim Burton's Hammer-influenced "Sleepy Hollow" (1999). With this small role, Lee formed yet another mutual admiration society with a young filmmaker. Burton, who had grown up worshipping Hammer films and Lee in particular would cast Lee in three of his films: as the stern, candy-hating father of Willy Wonka in "Charlie and the Chocolate Factory" (2005), and in small roles in "The Corpse Bride" (2005) and "Sweeney Todd" (2007), though Lee's turn as a solo ballad singer was trimmed from the theatrical release in the latter.
As successful as the 1990s proved for Lee, it could not hold a candle to his profile in the new millennium. Lee was offered major supporting roles in two of the biggest movie franchises in film history – he was the evil Sith Lord Count Dooku (a name chosen by George Lucas to honor his Dracula history) in "Star Wars Episode II: Attack of the Clones" (2002) and "Star Wars Episode III: Revenge of the Sith" (2005), as well as the war-mongering wizard Saruman in Peter Jackson's "Lord of the Rings" trilogy: "The Fellowship of the Ring" (2001), "The Two Towers" (2002) and "The Return of the King" (2003). The "Star Wars" features saw Lee bring the same level of classic Hollywood villainy to the final two entries in the franchise as Peter Cushing did to the 1977 original, and even indulge in several strenuous light saber duels – though many of the more complicated moves were accomplished by digitally transposing Lee's head onto a double. As for "Rings," Lee had been a fan of the books since their release, and was the only member of its sizable cast to actually meet author J.R.R. Tolkien. He lobbied Jackson to let him participate in the films, and though he did not achieve his goal of playing the heroic wizard Gandalf (Ian McKellan), he did enjoy the choice role of Saruman, who is corrupted by the forces of evil and leads a vast army against the people of Middle Earth. Both films brought him wide exposure to a new generation of moviegoers who had only seen Lee in late-night TV showings of his Hammer films, if at all. If one was to judge their reaction by his three MTV Award nominations and one win for "Attack of the Clones," it was safe to assume that Lee's star power had not dimmed a bit over the previous six decades. Lee was also twice nominated for a Screen Actors Guild award for "Rings" and took home two group awards for the films from the Phoenix Film Critics Society.
Though Lee publicly expressed his disappointment that Saruman's death scene was trimmed from the theatrical release of "Return of the King" (it was later reinstated for the extended DVD version), he was also quick to add his amazement and gratitude at finding himself at the center of two vast, Oscar-winning, record-breaking projects at such a later point in his career. In 2001, England expressed its own gratitude for Lee by appointing him an OBE (Commander of the Most Excellent Order of the British Empire), while an American news report named him the "most bankable star in the world" thanks to the successes of his collaborations with Burton, Lucas and Jackson.
Lee showed no signs of slowing down as he approached his ninth decade; with over 200 films to his credit, he was featured in no less than nine films between 2007 and 2009, including "The Golden Compass" (2007) and "Triage" (2009) with Colin Farrell. Lee also enjoyed a popular side career as a voiceover artist for countless animated projects, including "The Last Unicorn" (1982), Burton's "Corpse Bride" and video game tie-ins for "Star Wars" and "The Lord of the Rings," which allowed him to revisit these popular characters. Perhaps most amusing and pleasing for his countless fans were his regular appearances on albums by hard rock, heavy metal and progressive rock bands like Rhapsody of Fire, whose songs tended towards Tolkien-like fantasy. Lee also contributed vocals to recordings of "The King and I," the songs of Rodgers and Hammerstein, and most amusingly, "The Rocky Horror Show," for JAY Records, as well as releasing several solo albums, which found him covering everything from mournful ballads to cowboy songs.
Read more
Latest headlines