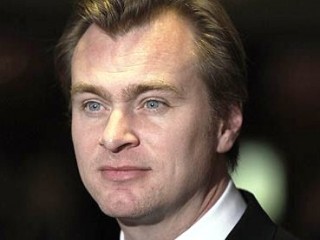 Christopher Nolan biography
Date of birth : 1970-06-30
Date of death : -
Birthplace : London, England, UK
Nationality : English-American
Category : Arts and Entertainment
Last modified : 2011-08-23
Credited as : Film director, Inception, The Prestige
Christopher Jonathan James Nolan
is an English-American film director, screenwriter and producer. He is known for writing and directing such critically acclaimed films as Memento (2000), The Prestige (2006), Inception (2010), and rebooting the Batman film franchise, as well as directing the Hillary Seitz written Insomnia (2002). Nolan is the founder of the production company Syncopy Films.
A filmmaker since his childhood, Christopher Nolan moved from working on training videos and making his own film shorts to creating critically acclaimed features. The first, Following, uses an altered chronology to tell the story and served as Nolan's calling card to Hollywood. Nolan had an independent smash hit with Memento, which told its story backward. After directing a film entitled Insomnia, Nolan successfully revived the "Batman" franchise with his own take on the saga in Batman Begins.
Born in the early 1970s in England, Nolan was one of three sons of a British father, who owned an advertising business, and an American mother, a flight attendant for United Airlines. Though the family primarily made their home in England, they lived in Chicago for three years, beginning when Nolan was around eight years old. His father owned a Super 8mm camera with which Nolan began making movies. Nolan did so with his older brother, Matthew, who later became an author. Some of their works featured action figures in war settings, though they also created science fiction. After this point, Nolan told Jamie Portman of the Ottawa Citizen, "I never really stopped. I just carried on in whatever form was available to me at the time in making films, and they've just become bigger and longer." By the time Nolan was eleven or 12, he knew he wanted to be a film director.
When Nolan was an undergraduate student, he studied English literature at University College in London, England. Though he was not a film student, he did join a film society. He made sophisticated short films from the late 1980s through the mid- to late 1990s. One of his shorts was Tarantella, which aired on television in the United States in 1989. Larceny, another short, was shown at the Cambridge Film Festival in 1996. Nolan had a day job shooting training videos for corporations, and used a significant amount of his income on film stock and processing for his shorts.
In 1998, Nolan released his first feature-length film, the noir-influenced thriller Following. In addition to directing the movie, he also served as writer, producer, editor, and cinematographer. Because everyone involved, including the actors, still had day jobs, it was shot on weekends over 14 months primarily at Nolan's parent's home. The story in Following focuses on a writer named Bill suffering from a difficult case of writer's block. Bill starts to follow random people he does not know, hoping it will improve, and shows his voyeuristic tendencies. Someone he follows, Cobb, catches on and connects with the writer. Cobb is a thief who draws Bill into committing several crimes with him, primarily petty thefts.
The deceptions are complicated by the shifting time perspectives Nolan incorporated into the final film. Nolan edited the film so that the beginning, middle, and end all run at the same time. Janet Maslin in the New York Times quoted Nolan as saying, "I decided to structure my story in such a way as to emphasize the audience's incomplete understanding of each new scene as it is first presented." The final version was only about 70 minutes long, and cost about £7000 (about $6,000 in U.S. dollars) to make. Following was a critical favorite when it was shown in England. Yet Nolan had no real offers from British film companies.
Nolan had more luck showing Following at numerous film festivals in the United States. Nolan had moved to America after completing the film, in part because his future wife, producer Emma Thomas, had taken a job in Los Angeles. The film festival circuit led to a deal to make his next film, Memento. Nolan came up with the idea for the film while driving across the United States with his younger brother, Jonathan, to join Thomas in California. Jonathan Nolan told his brother about an idea he was working on about a revenge-seeking man with memory loss and how he keeps the information he needs. The brothers agreed to each write the story in their own medium. Nolan developed a script around the idea, while Jonathan Nolan completed a short story, which was published in Esquire in March of 2001.
Like Following, Memento was a noir-influenced story that also played with chronology. In this case, the story is told backwards, in part, to give viewers a sense of disconcertment similar to what the memory-challenged protagonist feels. In addition, Memento also had a much bigger budget, between $5 and $10 million, but was still shot in 25 days, primarily in run-down motels in Burbank, California.
Memento focuses on Leonard Shelby, played by Australian actor Guy Pearce, who is suffering from anterograde amnesia. The amnesia comes as a result of being bashed in the head by the same man who sexually assaults and kills Shelby's wife. In Shelby's case, this kind of memory loss means that though he does remember his life up until the incident, he cannot remember anything beyond about 15 minutes at a time. Shelby had been employed as an insurance investigator, and uses his skills to find who murdered his wife and hurt him. Because of his amnesia, Shelby goes to extremes to retain knowledge, including Polaroid pictures and tattooing information on his body. There are other characters Shelby meets along the way, such as femme fatale Natalie (played by Carrie-Ann Moss) and Shelby's shifty friend Teddy (played by Joe Pantoliano), but Shelby is unsure if he can trust or believe them in any way. Set in Los Angeles, the film begins with Shelby killing the man he believes committed the crime.
The three years Nolan spent creating Memento were well-spent. It was a critical favorite and was nominated for numerous awards. Critics were especially appreciative of how challenging it was to audiences, a goal that Nolan had set for himself. He told James Mottram of the Independent : "One of the things I was interested in trying to do with this kind of revenge story is create an unsettling experience. It seems to me that too often in films, things that should be disturbing aren't. I was interested in reclaiming some of these concepts, such as revenge, and making the audience look at them in a slightly different way than they might with other movies where the revenge element is simply an excuse to view the main character going off and killing someone." Reviewing the film in Newsweek, Jeff Giles picked up on this aspect, noting "Nolan's film demands intense concentration. It's an exhausting, exhilarating movie that reminds us how passive we've become as moviegoers."
There was some controversy after the general release of Memento. Nolan earned Golden Globe and Academy Award nominations for best screenplay. The Academy Award was specifically for best original screenplay, not adapted screenplay, though it was based on the idea behind Jonathan Nolan's short story. However, because the story had not been published at the time the script was written, the Academy considered the script original. Also contentious, at least for some viewers, was the several possible interpretations of the film and the events that drive its plot. Nolan wanted the film to be somewhat ambiguous. He told Laura Winters of the New York Times, "I wanted people watching Memento to become aware of the inadequacies of their own memory, and of the way that a lot of memory is interpretation, rather than strict recording. That's why it was important to me that the film be able to sustain several different interpretations."
After Memento, Nolan found more doors open in Hollywood. For his next project, he decided to wanted to direct a remake of a 1997 Norwegian film called Insomnia. In the Americanized version of the thriller, the story focuses on a veteran Los Angeles police detective Will Dormer, played by Al Pacino, whose secrets are physically and psychologically weighing on him. Already bothered by an ongoing investigation by Internal Affairs in Los Angeles, Dormer and his partner, Hap Eckhart (played by Martin Donovan) have traveled to Alaska during the summer time when the sun never sets to help an old friend, the local police chief, on a murder case. In Alaska, Dormer seemingly accidentally kills Eckhart, and hides the body. Dormer's intent is unclear; however, Eckhart was under pressure by Internal Affairs to reveal what he knows about Dormer. Dormer continues to help the local chief with his investigation into the murder of a young girl. He believes that crime fiction author Walter Finch (played by Robin Williams) committed the crime. Finch turns the tables on Dormer, as he knows the detective's secret as well. Though Insomnia received mixed reviews, the film made $67 million in the United States alone, while the budget to make it was only $50 million.
In 2005, Nolan continued to move toward mainstream success, albeit on his terms. Insomnia had been produced by Warner Brothers. The studio then hired him for another project: reviving the Batman franchise. Since the last movie about the comic book hero was a critical and box office failure, the studio had been looking for someone with a new take. Nolan went back to the original source, the comic books and graphic novels, to devise the plot, feel, and focus of Batman Begins and rethink the franchise as a whole. Featuring Christian Bale as Bruce Wayne/Batman, Michael Caine as his loyal butler/ assistant Alfred, and Katie Holmes as Rachel Dodson, a local district attorney and Wayne's love interest, Nolan answered fundamental questions about Batman that other films glossed over or ignored all together. Viewers saw what motivated Wayne to need an alter ego, primarily the outfall from seeing his parents gunned down in front of him in a Gotham City alley as a small child. They also learned how he reached the point of creating Batman, how he obtained all the necessary gadgets like the Bat suit and Batmobile, and more about the inner workings of Wayne Enterprises, the family business. Nolan also ensured that the film was as visually interesting as possible.
Though Nolan had the biggest budget of his career with Batman Begins, $150 million, he approached its creation the same way as his previous films.
While Nolan was not committed to make subsequent Batman films, he already had other films in preproduction. Nolan is writing, producing, and directing The Prestige, an adaptation of the novel by Christopher Priest. He was also scheduled to direct a film called The Exec, based on a comic by Doug Miers. Both were set for release in 2006. Of his career, he told Dixie Reid of the Sacramento Bee , "As an independent filmmaker, I've been in a position where I'm making a film no one will want to see. No one will care if I finish it. So you have to develop your own motivation, your own reasons for doing what you do. You have to be making a film simply because it needs to be made. I've had years of working that way, and it sort of frees you up to approach filmmaking from a very interior position. You're not looking for approval. When you do something you love, you don't question it."
Filmography:
- film-maker of Larceny (short), 1996;
- director and screenwriter of Doodlebug (short), 1997;
- director, screenwriter, producer, cinematographer, and editor of Following, 1998;
- director and screenwriter of Memento, 2000;
- director of Insomnia, 2002;
- director and screenwriter of Batman Begins, 2005.
- Also shot corporate training videos, c. late 1980s.
Awards:
- Best Director Award, Newport International Film Festival, for Following, 1999;
- Tiger Award, Rotterdam International Film Festival, for Following, 1999;
- Black … White Award, Slamdance International Film Festival, for Following, 1999;
- Silver Hitchcock Award, Dinard British Film Festival, for Following, 1999;
- CinéLive Award, Critics Award, and Jury Special Prize, Deauville Film Festival, for Memento, 2000;
- Prize of the Catalan Screenwriter's Critic and Writer's Association, Catalonian International Film Festival, for Memento, 2000;
- ALFS Award for British screenwriter of the year, London Critics Circle, for Memento, 2001;
- Los Angeles Film Critics Association Award for best screenplay, for Memento, 2001;
- Waldo Salt Screenwriting Award (with Jonathan Nolan), Sundance Film Festival, for Memento,
2001;
- Toronto Film Critics Association Award for best screenplay, for Memento, 2001; Boston Society of Film Critics Award for best screenplay, for Memento, 2002;
- American Film Institute Award for screenwriter of the year, for Memento, 2002;
- Bram Stoker Award for screenplay (with Jonathan Nolan), for Memento, 2002;
- Broadcast Film Critics Association Award for best screenplay, for Memento, 2002;
- Chicago Film Critics Association Award for best screenplay, for Memento, 2002;
- Russell Smith Award, Dallas-Fort Worth Film Critics Association, for Memento, 2002;
- Edgar Allan Poe Award for best motion picture, for Memento, 2002;
- Florida Film Critics Circle Award for best screenplay, for Memento, 2002;
- Independent Spirit Awards, best director and best screenplay, for Memento, 2002;
- Sierra Award for best screenplay, Las Vegas Film Critics Society, for Memento, 2002;
- MTV Movie Award for best new film-maker, for Memento, 2002;
- ALFS Award for British director of the year, London Critics Circle, for Insomnia, 2003;
- Visionary Award, Palm Springs International Film Festival, 2003.
Read more
Latest headlines