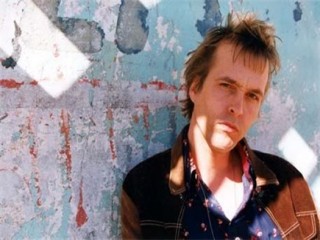 Chuck Prophet biography
Date of birth : 1963-06-28
Date of death : -
Birthplace : Whittier, California,U.S.
Nationality : American
Category : Arts and Entertainment
Last modified : 2012-01-11
Credited as : Singer-songwriter, Guitarist, Producer
Chuck Prophet is an American singer-songwriter, guitarist and producer. A Californian, Prophet first achieved notice in the American psychedelic/desert rock group Green on Red, with whom he toured and recorded in the 1980s. He has also recorded a number of solo records, and gained prominence as a musician and songwriter.
With a voice bearing resemblance to Tom Petty, a lyrical aptitude inspired by Bob Dylan, and an instrumental talent on par with the likes of Eric Clapton and Keith Richards, Chuck Prophet is decidedly one of rock's premiere songwriting guitarists. However, most argue that Prophet--despite recording critically lauded solo work--has failed to earn the kind of mainstream attention he deserves, primarily because of bad timing. Had he been around 20 years ago, Prophet, given his tunefulness, honest and artful lyrics, and keen sense of rock history, may have become a legend. And had he been born later, his tendency to supercede musical trends and ability to deconstruct rock would have placed him in the same modern-day category as musicians such as Beck, as well as the Jayhawks and Wilco.
Prophet, though, is a member of the middle generation, one stuck between the inventive boomer musicians and the Generation X-ers who do not always pay attention to the roots and sources of rock and roll. "I feel like Rip Van Winkle, " the San Francisco-based guitarist commented in an interview with Denise Sullivan of BAM (Bay Area Music) magazine. "I wish I had a generation. I would've made a great slacker, but I'm just a little bit old and I wanted to do things."
Prophet, who initiated his career with the cow-punk, roots-rock band Green on Red, is a no-nonsense musician with an appearance and attitude that scream rock and roll. A tall, lanky, stringy-haired smoker with a history of heavy drug use, Prophet looks like rock personified. And those who know Prophet describe him as a polite, yet world-weary cynic with a sense of humor. Musically, his sound remains traditional, rootsy, countrified, and raw, but Prophet himself admits that he has never been one to play by the prescribed rules of the music business.
Still, Prophet does dream of one day making it into the American mainstream league without letting go of his integrity. "I do care about record sales, y'know, and this 'beautiful loser' image that I have offends me a bit to tell you the truth," he said to Guitar magazine's Michael Leonard. "I don't slack with what I'm doing, I'm really trying to make records that hold up against the albums I like, I want to sell, but doing something genuine, first rate and honest doesn't really equate with sales. I don't know if I'm that happy with many of my records though. Playing live is where you get to kick the songs around." Indeed, according to his followers, the best place to witness Prophet's expertise has always been live on stage with his local ensemble, the Creatures of Habit.
And while Prophet insists on continuing to compose music of a timeless quality, he believes his music has just as much merit as anything fashionable or trendy. "I think I'm as cool as anybody," concluded Prophet in an interview with David Sinclair of the Times. "I'm boxing in the dark with as many demons as P.J. Harvey or any of those people. Sure, I'd love to do something that was a big hit. But I think things start to get a bit complicated on that level. I have a hard enough time unplugging the phone right now. My world is really quite small and I try to keep it simple."
Although Prophet has thus far risen only to the standing of a cult figure in the United States, he has enjoyed greater success overseas. In addition to critical praise, Prophet likewise has gained the respect and admiration of other artists. Throughout his solo career, he has worked with legends like Bob Neuwirth and Billy Swan, as well as beat poet Hubert Huncke (File Under 10% Burroughs ) and Austin-based guitarist Calvin Russell. He also forged a lasting friendship with Memphis sessionist and songwriter Jim Dickerson, with whom he collaborated on a live 1992 recording titled A Thousand Footprints in the Sand, released in 1997. For his own albums, Prophet has more or less worked consistently with the same lineup: bass guitarist Anders Rundblad, drummer Paul Revelli, guitarist Max Butler, and keyboardist/vocalist Stephanie Finch, now Prophet's wife.
Born in the mid 1960s in Whittier, California, Prophet grew up in the town of La Habra, located between Los Angeles and Orange County. "There's music in the air in L.A., and I grew up in a time where music was coming from every car. It was everywhere," Prophet recalled during a Canadian radio show hosted by John Sekerka. Like so many youngsters at the time, Prophet gravitated toward the guitar, as well as his older sister's record collection, which included albums by the Rolling Stones, David Bowie, the Beatles, and Creedence Clearwater Revival. His greatest guitar influences through the years, though, would consist of Richard Thompson, Steve Cropper, Bob Dylan, and Jimi Hendrix.
"I like guitarists who sing like Dylan, Alex Chilton, and J.J. Cale," Prophet told JEM, a Japanese fanzine. "And Hendrix; well, he was otherworldly, completely mystical. When I first got my hands on a guitar, I couldn't really work it all out. I played a sort of Joseph Spence style that was part melody line, and part clusters of notes which later turned out to be chords. Eventually, I got turned on to the open G tuning. I discovered I could get all the strings on my acoustic swirling and ringing like a concertina. I tapped into a vein with that tuning, and pulled a lot of songs out of it."
Barely out of his teens and having relocated to the San Francisco Bay Area, Prophet joined the group Green On Red in 1984. It is said that the band invited him to join after only one impromptu guest appearance at San Francisco's Oasis club. By now, Prophet's involvement with two other groups--Bad Attitude and Wild Game--had already established him as a young, local guitar hero, and his skills helped greatly to shape the direction of Green On Red. Their music, a mix of countrified blues, roots music, and psychedelia, was hit or miss on record, though they were always capable of delivering exceptional live performances. 1989's Here Come the Snakes, recorded with Dickinson (who also collaborated with the Rolling Stones and Ry Cooder) stands out as the best album, but in 1992, the group decided to call it quits.
Before the breakup, Prophet laid the foundation for a solo career, recording his 1990 debut album Brother Aldo on a whim for around $800. "I think that's what it cost, or maybe I read that somewhere," recalled Prophet, as quoted on the Cooking Vinyl Records website. "Green On Red was in escrow of sorts. I'd been kicking those songs around on stage with Stephanie Finch in the growing underground scene (or ghetto) here in town that included American Music Club, Penelope Houston, Steve Yerkey, Bone Cootes and others. We hijacked the back room of our favorite watering hole for some acoustic gigs and after a while, I just wanted to get those songs out of my head...." Afterwards, Prophet's tape fell into the hands of Fire Records, which, upon hearing the session, wanted to release the album "as is."
Despite the album's low-key approach, Brother Aldo prompted a grass-roots following, as well as favorable reviews. Prophet released Balinese Dancer in 1993 on China Records. The album was described by Select,in comments included at the Cooking Vinyl website, as "the best of this whole wracked-out, country-rock genre since Gram Parsons--and that's no hyperbole." His third album, recorded with Los Lobos producer Steve Berlin, bassist Davey Faragher, and drummer Michael Urbano, both veterans of the band Cracker, further enhanced his reputation as a singer, songwriter, and guitarist. In its review of 1994's Feast Of Hearts, Q magazine, as quoted on the Cooking Vinyl website, named Prophet "the missing link between Paul Westerberg and Bob Dylan."
Switching to the Cooking Vinyl label, Prophet returned with his fourth solo effort, Homemade Blood, in 1997. Recorded live during a ten-day period at San Francisco's Toast studios with producer Eric Westfall (known for his work for Giant Sand and the Sidewinders) and mixed by Boston-based engineers Paul Kolderie and Sean Slade (who have worked with Dinosaur Jr., Morphine, Hole, and Radiohead), Homemade Blood contained many songs inspired by a detoxification break Prophet took in 1996 at his parents suburban East Bay home to wean himself off drugs. The album also saw Prophet returning to simpler recording methods and showcased the talents of a mature musician. "Everything was a reaction to spending too much time in the control room on the last record. I wanted to have some fun with the songs and break out of the singer/songwriter mold," he said to Sullivan. Dubbed "essential listening for fans of Americana" in Mojo magazine, Homemade Blood held the number one position on the German Rolling Stone critics' poll for several months.
Two years later, Prophet made an intriguing departure with The Hurting Business, a loose-knit concept album inspired by Danish director Lars Von Trier's "Dogma 95" film movement, one rooted in naturalism and realism. Von Trier's films, most notably Breaking the Waves, are free of effects and incorporate natural lighting and hand-held cameras to reveal the vagaries of contemporary life. In order to achieve the same feeling on record, Prophet enlisted the help of Jacquire King, who also engineered Tom Waits' acclaimed Mule Variations. Although firmly rooted in traditional rock, The Hurting Business transported Prophet's sound into a world of samples, loops, and turntables. But despite modern accompaniment, Prophet did not come across like a bandwagon jumper, and he surrendered none of his trademark intensity.
Garnering rave reviews, The Hurting Business provided Prophet's profile in the United States a substantial boost. Finally, he was beginning to build a healthy following outside Europe. "I've got a love/hate relationship with Europe," he stated to Bob Mehr for Prophet Ear on the Chuck Prophet website. "I mean, I enjoy the success we have over there, but I'm not making this music thinking what someone in Paris would like. I'm making American music. After a while, you start walking around thinking you're crazy because you're not connecting with more Americans. But I think we've sort of turned that around with this record. It's really been gratifying to go to shows and see a lot of people, especially when they speak English."
Prophet has recorded with Jennifer McKitrick, Penelope Houston, Jim Dickerson, Wild Game, Eddie Ray Porter, True West, Don Paul, Suzanne Little, Bob Nuewirth, Sonia Hunter, Simon Bonney, Paul Collins, Calvin Russell, Naked Prey, Steve Yerkey, Stephanie Finch, Gary Frenay, Map Of Wyoming, Jewel, the Silos, Cake, Kelly Willis, Smash Mouth, and others.
He has written and co-written songs recorded by artists such as Steve Wynn, Steven Yerkey, Naked Prey, Calvin Russell, Jim Dickerson, Russ Tolman, Penelope Houston, Kelly Willis, Kim Richey, and Jake Andrews.
In January 2011, Chuck formed the Spanish Bombs along with Chris Von Sneidern and San Francisco rhythm section The Park. The Spanish Bombs performed The Clash's LP London Calling in its entirety at the Actual Music Festival in Spain. This special project came at the invitation of curators Houston Party. This festival show was followed by a 12-date tour of Spain.
Selected discography
Solo:
-Brother Aldo (1990)
-Balinese Dancer (1992)
-Feast of Hearts (1995)
-Homemade Blood (1997)
-The Hurting Business (1999)
-Turn the Pigeons Loose (2002)
-No Other Love (2002)
-Age of Miracles (2004)
-Soap and Water (2007)
-Dreaming Waylon's Dreams (2007)
-Let Freedom Ring (2009)
With Green on Red:
Gas Food Lodging (1985)
"No Free Lunch" ( Mercury, 1985)
The Killer Inside Me (1987)
Here Come the Snakes (1988)
"Live at the Town & County (China 1988)
"This Time Around (China, 1989)
"Scapegoats (China, 1991)
"Too Much Fun (China, 1992)
"Live at the Rialto" (2005)
"BBC Sessions (Cooking Vinyl, 2006)
Read more
Latest headlines