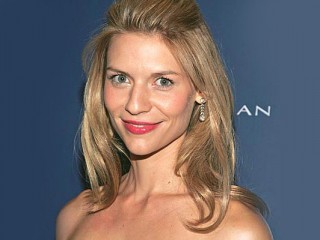 Claire Danes biography
Date of birth : 1979-04-12
Date of death : -
Birthplace : New York City, New York, U.S.
Nationality : American
Category : Arts and Entertainment
Last modified : 2010-09-01
Credited as : Actress, tv series My So-Called Life,
Claire Catherine Danes
born April 12, 1979 in New York, New York, United States is an American actress.
Sidelights
Actress
Claire Danes
may have become famous for her angst-ridden teen character of Angela Chase on the television series
My So-Called Life
, but in reality, she is infinitely more focused. Although Danes traversed adolescence in the public eye, revealing her age as she weathered teenage love affair breakups and other anxieties, she maintained her professionalism and kept her career on an even keel. Early on, her parents drilled into her the family motto, "You're not the only pebble on the beach," according to Tom Gliatto and Nancy Matsumoto in People. Danes was drawn to the spotlight from a tender age, but retained her level-headedness, which has allowed her to steadily build a respectful repertoire of film appearances not usually seen in someone so young. After shooting the pilot for My So-Called Life when she was just 13, Danes throughout her teen years chalked up roles in such diverse films as Little Women, 1994; How to Make an American Quilt, 1995; Home for the Holidays, 1995; and Romeo + Juliet, 1996. In 1999 Danes starred in the Mod Squad, a film based on the late 1960s/early 1970s television show of the same name.
Claire Catherine Danes was born on April 12, 1979, in New York City. She and her older brother, Asa, grew up in a loft space in the trendy SoHo area of Manhattan, on Crosby Street. Danes's father, Chris, was an architectural photographer who became a computer consultant, and her mother, Carla, designed textiles before opening a preschool. Her parents' creativity inspired Danes, who started taking modern dance lessons at age six. While still a youngster, she landed parts in what she termed "a few artsy-fartsy dance performances on the Lower East Side," as she recalled to Mark Marvel in Interview.
After her early introduction to the stage, Danes's appetite for performing was whetted. She announced to her family that even if she had to struggle, she would pursue an acting career, and at age 11, began studying method acting at the Lee Strasberg Theatre Institute. Also that year, she appeared as a molested child in her first film, a small project called Dreams of Love that was produced by Czech director Milos Forman (who directed Amadeus, 1984; and The People vs. Larry Flynt, 1996). After attending public schools, Danes enrolled at a performing arts junior high, and a photographer who was renting space at her parents' apartment one day took a head shot for her. Soon, she took her first paying role, in a pilot for a television series starring Dudley Moore that never came to fruition. She also appeared in an episode of Law & Order in 1992 as a teenager who killed her lover. At 12, she rejected a role in a soap opera because she wanted to pursue a serious acting career.
Soon after taking these small parts, Danes in December of 1992 auditioned for the lead in the television pilot for My So-Called Life, an hour-long drama that chronicled the day-to-day affairs of a typical 1990s teenager-full of anxiety and tinged with postmodern irony. Around the same time, she was offered a minor role in Steven Spielberg's impressive 1993 effort Schindler's List, but turned it down because it was being filmed in Poland. Instead, she worked on My So-Called Life, shooting the pilot in early 1993, when she was still only 13 years old. After that, it would take some time before the network, ABC, would begin making the series. Finally, in January of 1994, Danes began making the first nine episodes, which started to air that fall. She and her family relocated to California, and she had to leave her friends behind and begin a life of work, while still managing to finish her education thanks to an on-set tutor from the Lycee Francais, the same high school that graduated Jodie Foster.
My So-Called Life became a critical sensation, but never caught on with audiences beyond a small and dedicated few. After the 1994-95 season, ABC canceled the show, but MTV later re-broadcast all 19 episodes in syndication. The cancellation was not a problem for Danes, who had won a 1995 Golden Globe for her work in the series, as her film career had already taken off. Around the same time she was working on her television show, she appeared in her first major film role as scarlet fever victim Beth March in Little Women, with Winona Ryder, who became somewhat of a mentor to her. As Danes mentioned to Marvel in Interview, "A huge part of my role in the movie is that I die, which was a pretty intense experience. I didn't expect it to be as hard as it was."
Danes's performance in the adaptation of Little Women led to further offers, and in 1995 she played the young version of Anne Bancroft's character in the melodrama How To Make an American Quilt, which centered on a group of women who tell stories of their lives and loves in flashbacks. That same year, Danes showed up in a small role in the comedy Home for the Holidays, directed by Jodie Foster. In it, she plays Holly Hunter's bratty daughter who stays home while Hunter's character suffers through a Thanksgiving with her oddball family. Working on this project was a big event for Danes, since it allowed her to meet and work with Foster, whom she had admired for some time. Foster encouraged Danes to attend college, and by fall of 1996, she had taken her SAT exam.
Also in 1996, Danes hit the big screen in three different productions. She had a costarring part as a sage teenager experiencing sexual awakenings in To Gillian on Her 37th Birthday, a drama about a mixed-up family centered by a father who is mired in grief over his dead wife. She also appeared in I Love You, I Love You Not, a drama concerning the Holocaust. She then took the role of Juliet opposite Leonardo DiCaprio's Romeo in a modern telling of the classic, tragic love story. Alicia Silverstone was slated for the part originally, but Foster recommended Danes instead.
After being accepted to Yale University, Foster's alma mater, Danes deferred her entrance for a year in order to continue working. She landed parts in the 1997 films U Turn, an all-star effort adapted from John Ridley's novel Stray Dogs, and directed by Oliver Stone, and The Rainmaker, based on the successful John Grisham novel. She subsequently costarred with Lena Olin in Polish Wedding, 1998, a working-class family comedy in which she plays a rebellious daughter who gets pregnant and enters a shotgun marriage with the father. That same year, she also had a role in an adaptation of Les Miserables.
Though none of her films were blockbusters, they kept Danes's name in view, and the film offers continued. Danes costarred in an updated version of the late 1960s/early 1970s television show The Mod Squad in 1999, a film about a trio of hip juvenile delinquent teens who agree to become undercover cops in order to avoid jail time. In addition, she spent three months in the Philippines shooting the drama Brokedown Palace, about two women who end up in jail in Thailand after being mistaken for drug smugglers. It is slated for release in 1999. Unfortunately, Danes revealed her distaste for the Philippines in interviews with Premiere and Vogue, and later, the Manila city council banned her films from being shown there. Philippine President Joseph Estrada also publicly announced that the actor should be banned from the nation entirely.
The steady work, while welcome, presented a problem for Danes, who noted to Luaine Lee of the Knight-Ridder Tribune News Service, "Jodie [Foster] keeps calling me and saying, 'Claire, I swear if you don't go (to school) I'll kill you.' Every time I talk to her she says, 'So, you're still going to school, right?'" Danes, whose paternal grandfather was once the dean of the School of Art and Architecture at Yale, entered the university as a freshman in 1998 but continued to make films, figuring that if Foster did it, so could she. As she told Steven Meisel in Vogue, "I've always associated college with Yale, so it was natural that I go there. I just don't think it's going to threaten my career. Ironically enough, I think I'll be making a movie with Jodie Foster next summer." In college, Danes plans to study psychology, and commented to Mark Kennedy in the Washington Times, "I'm meditating on where I want to go next. I think I've reached a kind of plateau. I'm curious to see what sort of effect my going to school will have on my future acting."
Danes dated musician Andrew Dorff in 1995-96, and was for a short while romantically linked with actor Matt Damon. She later began dating Australian rocker Ben Lee, and took a summer off to tour with him in 1997, riding around the country in the back seat of a Buick and sleeping in Best Western motels. Also in 1997, at age 18, she bought a loft in New York City for a reported $1 million near where she grew up, and hired the same architect that her parents often used when they were frequently remodeling their loft. Her brother Asa, who graduated from Oberlin College in Ohio and later worked for UNICEF in Africa, was also living in New York City. Until the loft space was complete, she and her parents remained in California. As Danes related to Kevin Sessums in Vanity Fair, "It's unbelievable how much money you can make in this business. I've just gotten my first A.T.M. card, and am figuring out how money works. I'm dealing with such huge numbers that my perspective is way off. It's scary."
PERSONAL INFORMATION
Born Claire Catherine Danes, April 12, 1979, in New York, NY; daughter of Chris (an architectural photographer and computer consultant) and Carla (a textile designer and schoolteacher) Danes.
AWARDS
Golden Globe Award for best actress in a dramatic television series, 1995, for My So-Called Life; Blockbuster Entertainment Award for favorite actress and MTV Movie Award for best female performance, both 1996, for Romeo + Juliet; ShoWest Award for female star of tomorrow, 1997.
CAREER
Actress. Television appearances include an episode of Law & Order, 1992; series My So-Called Life, 1994-95; and movie More than Friends: The Coming Out of Heidi Leiter, 1994. Film appearances include Dreams of Love, 1990; Little Women, 1994; How to Make an American Quilt, 1995; Home for the Holidays, 1995; I Love You, I Love You Not, 1996; To Gillian on Her 37th Birthday, 1996; Romeo + Juliet, 1996; U Turn, 1997; The Rainmaker, 1997; Polish Wedding, 1998; Les Miserables, 1998; The Mod Squad, 1999; and Brokedown Palace, 1999.
Read more
Latest headlines