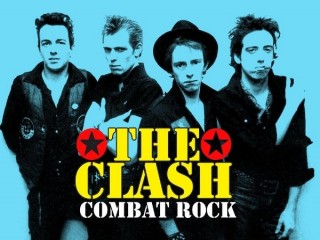 Clannad biography
Date of birth : -
Date of death : -
Birthplace : London, England
Nationality : English
Category : Arts and Entertainment
Last modified : 2012-04-23
Credited as : punk rock band, Combat Rock album, Big Audio Dynamite band
The Clash were an English punk rock band that formed in 1976 as part of the original wave of British punk. Along with punk, their music incorporated elements of reggae, ska, dub, funk, rap, dance, and rockabilly. For most of their recording career, the Clash consisted of Joe Strummer (lead vocals, rhythm guitar), Mick Jones (lead guitar, vocals), Paul Simonon (bass guitar, vocals) and Nicky "Topper" Headon (drums, percussion).
A new musical movement began to rear its head in England in the latter part of the 1970s as a revolt against the establishment and high unemployment rate more than as an artistic statement. "Punk" rock was not a pretty sight but its emotion and power gave pop music a long overdue and much needed kick in the head.
Punk bands like the Sex Pistols and Generation X burned with an incredible intensity that was unique at first, but their energy also caused them to burn out much sooner than they expected. One band, however, was able to rise above the punk death wish, to go beyond the limited musical range of their contemporaries, to survive and create important statements and well-crafted songs: the Clash. "They may well be the greater rock band [compared to the Sex Pistols], as that judgment is conventionally understood," wrote Greil Marcus in the Rolling Stone Illustrated History of Rock & Roll. "That they were not the greater punk band has been their salvation." The Clash formed in 1976 with Joe Strummer, Mick Jones, Paul Simonon, Terry Chimes, and Keith Levene. Guitarists Strummer and Jones had both been in other bands (the 101ers and London SS, respectively) but bassist Simonon had never even played an instrument before. Levene soon left the group and later joined Johnny Rotten's band, Public Image Ltd.
The Clash, managed by punk guru Malcolm McLaren's friend, Bernie Rhodes, earned immediate recognition with their political viewpoints. Singles like "White Riot," "London Burning," and "Career Opportunities" told the British youth to stand up and take a look at the blight of their nation. In live settings, like their billing on the Sex Pistol's "Anarchy in the U.K." tour, the Clash created energetic dance rhythms that drove crowds into a frenzy. "Their music is primitive and aggressive," reported the Illustrated Encyclopedia of Rock, "but the chemistry is combustible--on stage they are a complete audiovisual experience, driven forward on a wave of passion and pure energy."
The band signed with CBS Records for $200,000, and their first LP, Clash, was released in the United Kingdom in 1977. The record company considered the album too crude for U.S. release, however. It wasn't until 1979 that a compilation LP of ten album cuts and seven later British singles would be released as The Clash in America. Even though this version was weaker than the English one because the songs were out of order and out of context, American listeners were impressed to say the least. "Here was a record that defined rock's risks and pleasures, and told us, once again that this was music worth fighting for," wrote Tom Carson in Rolling Stone. In Robert Christgau's Record Guide, the author gave the album an "A" and wrote: "Cut for cut, this may be the greatest rock and roll album ever manufactured in the U.S." When the Clash finally toured the States, audiences were blown away by the band's energy and stance. They "arrive in America not simply to make themselves know but precisely to make a difference, as rock and roll politicians out to create a new rock version of the public space," said Greil Marcus in the Rolling Stone Illustrated History of Rock & Roll.
When the Sex Pistols disintegrated, the Clash carried on the punk flag with the 1977 "Complete Control," a rocking reggae attack on record companies which was produced by Jamaican Lee Perry. "The force of character and the sense of epic in the band's songs, for all their topical urgency, have a grandeur that's almost Shakespearean," wrote Tom Carson in Rolling Stone.
When their second LP, Give 'Em Enough Rope, came out on Epic in 1978 and entered the U.K. charts at Number 2, the band immediately was criticized by the press for their strong political views and seeming advocation of violent terrorism. "Our music's violent. We're not," said Strummer in Rolling Stone. "If anything, songs like 'Guns on the Roof' and 'Last Gang in Town' are supposed to take the piss out of violence. It's just that sometimes you have to put yourself in the place of the guy with the machine gun. I couldn't go to his extreme, but at the same time it's no good ignoring what he's doing."
The band had replaced Chimes with Topper Headon on drums and also recruited rock band Blue Oyster Cult's producer, Sandy Pearlman, for the album. "The Clash see the merit in reaching a wider audience," said Pearlman in Rolling Stone, "but they also like the idea of grand suicidal gestures. We need more bands like this as models for tomorrow's parasites." The band fired and sued their financial manager, Rhodes, as his ineptitude had threatened the band with extinction. Caroline Coon took over the books in an effort to straighten matters out as the band worked on London Calling with producer Guy Stevens. The Clash took an unprecedented risk by releasing the 19-song, double LP at an extremely low price. "I remember that things were so up in the air, and there was quite a good feeling of us against the world," said Strummer in Rolling Stone. "We felt that we were struggling, about to slide down a slope or something, grasping with our fingernails. And that there was nobody to help us."
Critics went crazy over the hastily released album in which the hit "Train In Vain" was thrown on so quickly that it didn't even make it onto the cover label. The Clash had drawn on rock, reggae, and rockabilly to create a diversified effort that Rolling Stone picked as the best LP of the 1980s (it had reached Number 27 on the charts). It was also voted "25th Best Guitar LP of the 1980s" by Guitar World, a publication that usually caters to pyrotechnics, proving that Mick Jones was more than a three-chord basher. A critic in that magazine wrote: "He moves nimbly from subtlety to excess, wielding the scalpel and the wrecking ball with equal facility."
By now the band had dumped their third management group, Blackhill Enterprises, and bassist Paul Simonon took over the band's business affairs. Still wanting to flex their musical muscle for more accessibility, the Clash began working on their angry three-record set, named Sandinista! in honor of the Nicaraguan revolution. "The music--just bang, bang, bang--was getting to be like a nagging wife," Jones said to James Henke in Rolling Stone. The new albums featured an updated studio sound, extra musicians, women and children on vocals and a more varied musical style than its predecessor. "An everywhere-you-turn guerrilla raid of vision and virtuosity," wrote John Piccarella in his Rolling Stone 5-star review. If London Calling shocked the music industry's conception of marketing, Sandinista! gave them a heart attack. The three-record set was priced at $14.95 for kids who listened, not for the pockets of executives. "We believe what we're doing is right," said Simonon in Rolling Stone. "If we had to be dictated by what other people say, it wouldn't be The Clash."
In 1982, the year of the band's biggest album, Combat Rock, Topper Headon left the band, citing "political differences," and was quickly replaced by former member Terry Chimes. The LP (which went platinum) yielded a Top 50 single, the college party anthem "Should I Stay or Should I Go," and a Top 10 single, "Rock the Casbah." The success would not keep them together; it wasn't long before the group followed the path of most punk bands and broke up after an album's release. In what may best describe the movement and the band's demise, Paul Simonon said in Rolling Stone, "People don't understand. Punk was about change--and rule number one was: there are no rules."
"This Is England", much like the rest of the album that came out later that year, had been drastically re-engineered by Rhodes, with synths and football-style chants added to Strummer's incomplete recordings. Although Howard was an adept drummer, drum machines were used for virtually all of the percussion tracks. For the remainder of his life, Strummer largely disowned the album,although he did profess that "I really like 'This Is England' [and album track] 'North and South' is a vibe." Other songs played on the tour remain unreleased to this day, including "Jericho" and "Glue Zombie". The Clash effectively disbanded in early 1986.
After the break-up, Strummer contacted Jones in an effort to reform the Clash. Jones, however, had already formed a new band, Big Audio Dynamite (B.A.D.), that had released its debut late in 1985. The two did work together on their respective 1986 projects. Jones helped out with the two songs Strummer wrote and performed for the Sid and Nancy soundtrack. Strummer, in turn, cowrote a number of the tracks on the second B.A.D. album, No. 10, Upping St., which he also co-produced. With Jones committed to B.A.D., Strummer moved on to various solo projects and screen acting work. Simonon formed a band called Havana 3am. Headon recorded a solo album, before once again spiraling into drug abuse. Chimes drummed with a succession of different acts.
Jones and Headon reunited in September 2009 to record the 1970s Clash B-side "Jail Guitar Doors" with Billy Bragg. The song is the namesake of a charity founded by Bragg which gives musical instruments and lessons to prison inmates. Jones, Headon, and Bragg were backed by former inmates during the session, which was filmed for a documentary about the charity, "Breaking Rocks." Simonon and Jones were featured on the title track of the Gorillaz album Plastic Beach in 2010. This reunion marked the first time the two performers had worked together in over twenty years. They later joined the Gorillaz on their world tour for the remainder of 2010.
Studio albums:
The Clash (1977)
Give 'Em Enough Rope (1978)
London Calling (1979)
Sandinista! (1980)
Combat Rock (1982)
Cut the Crap (1985)
Read more
Latest headlines