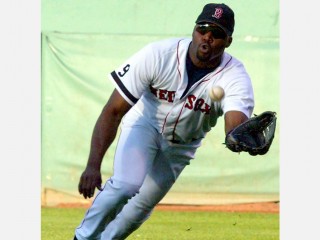 Cliff Floyd biography
Date of birth : 1972-12-05
Date of death : -
Birthplace : Chicago, Illinois
Nationality : American
Category : Sports
Last modified : 2010-10-28
Credited as : Baseball player MLB, outfield with the Tampa Bay Rays,
Cliff Floyd is a poster boy for great expectations. Once viewed as the next Willie McCovey, he went from top prospect to prime suspect during a career riddled by injuries and plagued by bad timing. He has been the best player on lousy teams and a benchwarmer for a world champion. When he became the veteran presence on a young and up-and-coming Tampa Bay Rays, Cliff started another chapter in his career. In a way, the expectations have never been higher.
GROWING UP
Cornelius Clifford Floyd
was born on December, 5, 1972, in Chicago, Illinois. Known as Cliff, he was the only child of C.C. (Cornelius Clifford) and Olivia for 13 years—until a brother and sister, Julius and Shanta, came along. Cliff was an unusually big kid, who was lovingly referred to as Cliffie, Baby Boy and Big Boy by Olivia. To this day, he proudly refers to himself as a "Mama's boy."
The Floyds lived in Markham, located about 30 miles south of the Windy City. The working-class suburb was a bit of a stretch financially for the family, but C.C. would have it no other way. He took on double shifts at the U.S. Steel plant in Chicago to ensure that Cliff, Julius and Shanta were raised in a safe and stable neighborhood.
The elder Floyd also had baseball on his mind when he chose Markham. A former Marine, C.C. had been a diamond star in high school and in the service. A five-tool player long before the term became a scouting buzzword, he passed on a college career when Olivia became pregnant with Cliff. C.C., however, never lost his passion for the game. He wanted his son to learn the sport in an environment where his talents would be appreciated. C.C. knew that a town like Markham was much more serious about baseball than less affluent parts of the Chicagoland area.
Cliff was a natural from the first time he picked up a bat. Tall and beefy with terrific speed, he had a long, flowing swing. Though he could slug with the best of them, Cliff was more of a line-drive hitter who legged out extra-base hits on balls in the gaps. Despite his tremendous athleticism—Cliff also was a gifted football and basketball player—he found a home at first base.
Cliff's idol was Harold Baines, the cool and confident RBI specialist for the Chicago White Sox. Cliff made it to Comiskey Park for games whenever possible, and always arrived in time to watch batting practice. In his mind, the deceivingly powerful Baines, who could also hit for average, was the embodiment of a major leaguer.
Cliff was rambunctious as a chil but never a real discipline problem. In school. he worked hard and got good grades, and also enjoyed being the class clown. By his 13th birthday, he stood six feet tall. His size and good-natured personality gave him the presence of a gentle giant. Able to relate well to kids and grown-ups, he seemed more comfortable with those older than him, mostly because he was so much bigger than others his age.
When Cliff turned 14, he surprised his parents with his interest in caddying. That spring, he attended a clinic run by Dave Ogilvie, the head golf pro at Flossmoor Country Club. Soon, Cliff was the most popular caddy at the exclusive club. Members liked him personally and were amazed by his ability to read greens.
For the next three summers, Cliff awoke at six every morning, hopped on a bus to the golf course and carried bags until nightfall. On a good day, he raked in $80.
Meanwhile, Cliff's body continued to develop. At nearby Thornwood High School in South Holland, he looked like a man among boys. He starred in football and basketball, and was recruited by the likes of Notre Dame and Michigan. In his senior year on the hardwood, he led the Thunderbirds to the sectional finals in the Class AA state playoffs.
Baseball, however, was Cliff's top sport. His father was his most trusted coach, teaching him to groove his syrupy swing. The teenager was a summer star in his local Babe Ruth league. Over his final two years at Thornwood, Cliff batted .508 and drove in an astounding 130 runs. In the spring of 1991, he paced the Thunderbirds to the state title—and drew comparisons to a young Darryl Strawberry. The nation's top college baseball programs came knocking, including Stanford and Arizona State. Creighton recruited the 18-year-old more aggressively than any school.
Cliff was more eager to embark on his trip to the majors. At 6-4 and more than 200 pounds, he already had the body of a big leaguer. Admittedly, he still had a lot to learn about the game, but he felt ready to get started. Stan Zielinsk, a scout for the Montreal Expos, was crazy about him and gave a glowing report to GM Dave Dombrowski. Montreal took Cliff with the 14th overall selection in the draft. The youngster didn't hesitate to sign.
ON THE RISE
The Expos had big plans for Cliff. Though the teenager had a bit of a hitch in his swing, the Montreal brass saw a lot of Willie McCovey in him and believed he would develop into a fearsome hitter. His long arms offered tremendous plate coverage, he had a good feel for the strike zone, and rarely did he get cheated on his swings. That was clear during the summer of 1991 in the Gulf Coast League, when he was named the circuit's top prospect.
Montreal, however, couldn't settle on where Cliff should play in the field. Initially, the Expos projected him as a first baseman, believing he would be the club's starter there by the 1995 season. That vision gained credence when Andres Galarraga suffered through an awful summer in '91. But some in the organization felt Cliff's talents were being wasted in the infield and pushed to shift him to the outfield. The switch wasn't great news for the youngster. The Expos were loaded with outfield talent—Larry Walker, Moises Alou and Marquis Grissom in the majors and Rondell White, Matt Stairs and Glenn Murray in the high minors. Cliff worried about going to the end of the line.
The 19-year-old opened the 1992 campaign with the Class-A Albany Polecats of the South Atlantic League. He struggled at the plate in April, hitting just .221. All his problems were in his head. Indeed, Cliff carried every error he made into the batter's box. Finally Albany manager Lorenzo Bundy sat his young slugger down for a heart-to-heart.
The meeting did wonders for Cliff. He sizzled in May, June and July, and was rewarded with an assignment to West Palm Beach of the Florida State League. He performed well there, too, finishing his first full pro season with a .304 average, 16 triples, 16 home runs and 96 RBIs. Equally impressive were his 31 stolen bases and the fact that he struck out just 76 times in 513 at-bats.
It appeared that Cliff would start 1993 in West Palm Beach, but he earned a promotion to the Class-AA Harrisburg Senators after a strong showing in spring training. Again he was asked to switch positions, this time back to first base, where manager Jim Tracy played him almost exclusively.
The Eastern League was filled with talent ticketed for the big leagues. Besides White—now Cliff's teammate in Harrisburg—there was Manny Ramirez of the Canton-Akron Indians. Cliff, however, quickly established himself as the league's best prospect. He terrorized opposing hurlers his first time around the circuit, then wowed Tracy with his ability to adjust as teams developed more thorough scouting reports on him. When opposing pitchers tried to entice him with breaking balls in the dirt and hard stuff at his eyes, Cliff remained patient and forced them to give him good balls to hit.
By late July, Cliff's average stood at .329, and he had already surpassed the 25-homer, 100-RBI mark. The Senators, meanwhile, were running away with the Eastern League pennant. With nothing left to accomplish at the Class-AA level, Cliff was promoted to the Ottawa Lynx of the Class-AAA International league. There his stats leveled off, but not enough to diminish his growing reputation. Based on his tremendous year at Harrisburg, Cliff was named Minor League Player of the Year by The Sporting News. When rosters expanded in September, the Expos called him up to Montreal.
Fans at Olympic Stadium, eager to get a look at their young slugger, arrived at games carrying banners that read "We Want Floyd"—in English and French. They must have wondered what all the fuss was about when Cliff struck out his first five times to the plate. After overcoming his initial jitters, he wound up at 7-31, including his first home run, off Dave Telgheder of the New York Mets. The blast made Cliff (at 20 years, nine months and 21 days) the second youngest Expo ever to go deep—Gary Carter (at 20 years, five months and 10 days) held the franchise mark.
Despite the awards and accolades, Cliff knew he had a lot of work to do in the off-season. He had committed 21 errors in 92 games at first base, which earned him a trip to the Arizona Fall League. Montreal manager Felipe Alou had used 11 different first basemen during the '93 season. Cliff was being counted upon to stop the revolving door.
The Expos came out of spring training in 1994 with a strong club, and they surged to the top of the NL East. Cliff split first base with journeyman Randy Milligan and Larry Walker, and also saw action in the outfield. Initially, he was bounced around the lineup by Alou. After a few weeks, however, Cliff became a regular. While his home run power did not show itself, he lashed 19 doubles and four triples, and stole 10 bases. By August, the team's record stood at 74-40. Unfortunately, the season ended early because of a labor dispute. For the first time in their history, the Expos were in first place when the year concluded. The bad news was there would be no post-season.
Going into 1995, Cliff was aware that the club would need more from him to maintain its standing in the NL East. The cash-strapped Expos lost Walker and John Wetteland to free agency, while Grissom was dealt to the rival Atlanta Braves to cut salary further. The defections left big holes in the batting order and bullpen. Though Montreal still had firepower in Alou and White, much of the responsibility to drive in runs would fall on Cliff. Mel Rojas, meanwhile, would be counted on to close out games for a starting rotation that included Ken Hill, Pedro Martinez, Kirk Rueter and Jeff Fassero.
For Cliff and the Expos, the '95 campaign was an incredible disappointment. The team sunk to 12 games below .500, posting the ninth-largest decline in winning percentage from one year to the next since World War II. A lot of that had to do with the injury suffered by Cliff in a May game against the Mets. On a bang-bang play at first, he collided with Todd Hundley and shattered his right wrist. Dr. Larry Coughlin, the Expos' orthopedic surgeon, likened the gruesome fracture—which required eight screws to repair—to what medical experts normally see after a motorcycle rider or downhill skier crashes in a high-speed accident.
The initial reports said that Cliff's career was in jeopardy, but he recovered far more quickly than anyone expected. By September, he was back in the batting cage. Two months later, he was playing regularly for Estrellas of the Dominican League, and looking more and more comfortable in the batter's box. Still, come spring training, the Expos felt Cliff's recovery should begin at Triple A. The club planned to use him mostly in the outfield, though moving him to third base was also discussed. One thing was certain: His career at first was over.
The timetable for Cliff's return to Montreal was accelerated when White got hurt in April. He was recalled from the minors, and Alou found a role for him as a pinch-hitter and spot starter. Weeks later, when first baseman David Segui went down with an injury and leftfielder Henry Rodriguez shifted to first, Cliff was handed an everyday job in the outfield.
The Expos managed to hang close to the front-running Braves all year long and finished at a solid 88-74. Martinez blossomed into a lights-out starter, and Rodriguez had a career year with 36 homers and 103 RBIs. Cliff chipped in with modest numbers, batting .242 with 25 extra-base knocks in 227 at-bats. For a guy a year removed from a career-threatening injury, he showed he had plenty left in his tank.
Among those who noted Cliff's comeback was Dombrowski. The former Montreal GM who was now running the front office of the Florida Marlins. In March of 1997, he sent pitcher Dustin Hermanson and outfielder Joe Orsulak to the Expos for Cliff, who was deemed expendable with the meteoric rise of Vladimir Guerrero. Dombrowski saw Cliff as nice spare part on a club ready to contend for a championship.
The Florida pitching staff featured three aces in Kevin Brown, Al Leiter and Alex Fernandez. Out of the bullpen, Robb Nen was a top closer. The batting order was also stacked, with veterans Moises Alou, Gary Sheffield, Bobby Bonilla, and Devon White leading the charge. Manager Jim Leyland planned to use Cliff's bat off the bench, with an occasional start against tough righties.
Early on, it appeared Cliff was headed for another year of frustration. After a stint on the disabled list in May, he landed back on injured reserve in June with a pulled left hamstring. He didn't return to the Marlins until September, and by then, there didn't seem to be much of a role for him. Florida was in the playoff hunt for the NL Wild Card, and Leyland had settled on a lineup for the stretch run. Still, Cliff made the most of his limited opportunities. Against the Expos, with the Marlins poised to clinch a spot in the post-season, he pounded two home runs. Cliff ended the year with six long balls and a batting average of .234.
Florida kept Cliff on its playoff roster, but he did not see action in Florida's unexpected victories over the San Francisco Giants and Braves. The Marlins faced the Cleveland Indians in the World Series, and Cliff appeared in four games. Though he didn't figure in the outcome, he was one of the first out of the dugout when teammate Edgar Renteria ended Game Seven with an 11th-inning single. It was the first World Series title ever by a Wild Card qualifier.
The dust had hardly settled on the '97 championship when Florida owner Wayne Huizenga began to dismantle the club. One of the few players to survive the fire sale was Cliff. His contract was minimal and his trade value negligent, so moving him made no sense. But Dombrowski also figured he might be able to rebuild around Cliff, assuming he could make it through a season without logging major time on the DL.
This was quite an assumption. Cliff had been in the league for five seasons, and no one was referring to him anymore by his old nickname, "Money." To the contrary, some were calling him "Glass" behind his back.
Meanwhile, the talent drain continued into the 1998 campaign, as Dombrowski dealt away any veteran whose paycheck required Huizenga to dig too deep into his pockets. In return, the GM brought back a lot of unproven kids. For manager John Boles, who took the reigns after Leyland retired, it was a chore at times to simply remember the names on his roster. The Marlins followed their World Series title with an embarrassing 108 losses and the worst record in all of baseball.
MAKING HIS MARK
One of the few bright spots for Florida was Cliff. For the first time since his arrival in the majors, he lasted an entire season without a significant injury. Healthy and focused, he displayed the talent that had made him such a hot prospect years earlier.
Cliff began the year hitting first in the batting order and broke the club record for leadoff home runs with three by the end of April. He was eventually moved down in the lineup to take advantage of his run-producing power. In 153 games—all but seven of which he played in the outfield—Cliff batted .282 with 45 doubles, 22 homers and 27 steals. Though the Marlins struggled to score runs, he managed to drive home 90 and cross the plate 85 times himself. His home run and RBI totals set club marks for lefthanders.
Cliff's timing was perfect from a financial standpoint. Eligible for arbitration after the 1999 campaign, he received a substantial bump in pay (four years at $19 million) from the Marlins. After signing on the dotted line, Cliff celebrated by buying his parents a new home in Hazel Crest, a more upscale suburb of Chicago. Also in the off-season, he tied the knot with his girlfriend of several years, Alexandra.
The winter of Cliff's content ended in spring training. A week before Opening Day, he sprained a ligament in his left knee. Perhaps sensing the pressure of his new contract, he tried to come back too soon and tore his right Achilles' tendon.
Depressed and feeling sorry for himself, Cliff didn't always work his hardest in rehab, and newspaper stories began to hint that the Marlin front office was growing impatient with his inability to stay healthy. He returned to action in August, only to be scratched from the lineup for showing up late one day for a pre-game stretching session. Incensed at the slight, Cliff held court for the media and launched into a tirade against management.
Ultimately, cooler heads prevailed. And while the Marlins dog-paddled home with the worst record in the majors, Florida was a far better team with Cliff in the lineup. In 69 games, he collected 31 extra-base hits and drove home 49 runs, and his .303 average was the best on the team.
Determined to stay healthy for a whole season, Cliff concentrated on getting in peak shape for the 2000 campaign. He also paid more attention to his outfield play. The Marlin rebuilding program was beginning to gain steam, too. Preston Wilson and Mike Lowell looked like legitimate power threats, Luis Castillo and Alex Gonzalez were turning into an excellent double-play combo, and the young pitching staff—led by Ryan Dempster and A.J. Burnett—had benefitted from being thrown into the fire the previous season.
Florida broke from the gate quickly in '00, and stayed close to the division leaders despite a slow start by Cliff. In mid-May, he was hitting just .235 and his RBI total stood at 19. But he rebounded impressively, finishing with the best numbers of his career—even though a torn knee ligament kept him on the bench for a month. In 420 at-bats, Cliff hit .300 with 22 homers and 91 RBIs. He led the team in stolen base percentage, successful on 24 of his 27 attempts, and opened eyes with his improved defense in leftfield. His sparkling performance helped the Marlins to a record of 79-83. With a group of young pitchers maturing in the minors, the future looked promising.
Despite his upbeat season, Cliff labored through a long and lonely winter. In November, he underwent surgery on his right wrist, the one he broke in 1995. More devastating was the break-up of his marriage. While he and Alex remained close friends, they agreed that they were better off apart. The strain of the divorce weighed heavily on Cliff's mind. He tried to forget it during his rehab, running in his pool everyday to strengthen his legs and increase his stamina.
When the 2001 season started, Cliff took out his anger on opposing hurlers. For the year, he finished as the Marlins' leader in batting average (.317), doubles (44), home runs (31) and RBIs (103). He also established club records with 79 extra-base hits and 123 runs scored. Cliff almost singlehandedly kept Florida in the running for the Wild Card, though the club eventually dropped from the race, ending the year at 76-86. Despite decent starting pitching, the bullpen blew too many leads, and the offense slumped when teams began pitching around Cliff.
The club's poor stretch run was one of two downers for Cliff in '01. The other was a very public feud with Bobby Valentine over the All-Star team. Cliff was enraged after the New York manager left him off the roster, contending that Valentine had promised him a spot on the squad. After a phone conversation with Valentine in June, in fact, Cliff plunked down $16,000 to arrange for family and friends to attend the Mid-Summer Classic in Seattle. Valentine, however, denied a guarantee was ever made. The disagreement actually dated back to an early-season series during which Cliff felt he had been the target of several brush-back pitches. Afterwards, he called Valentine the dumbest manager in baseball. The two finally ironed out their differences after injuries created an opening on the NL roster. Valentine tabbed Cliff to fill it.
Heading into 2002, Florida fans knew it was unlikely that Cliff would make it through 162 games in a Florida uniform. He was entering the last year of his contract, and no one expected the stingy Marlins to pay him the going rate for a middle-of-the-lineup hitter. Cliff put the distractions aside and opened the year swinging a hot bat. By July—with an average of .287, 18 homers and 57 RBIs—several suitors had lined up for his services. Most surprising among this group were the Expos, who were holding their own in a weakened NL East.
Montreal, which began the year facing the possibility of contraction, had recently acquired ace Bartolo Colon, ostensibly to trade for prospects. But with Colon and Cliff on the roster—and no team in the East playing consistent ball—GM Omar Minaya began to think his club might earn a Wild Card berth in the playoffs, or maybe even outdistance the Braves for the division crown.
Minaya shipped four players and cash to Florida for Cliff and his booming bat. Alas, the Braves caught fire, and the Expos faded off the pace. Cliff, not delighted to be back on Olympic Stadium's slick artificial turf, hit three homers in 15 games, but never really got it going. Just before the trade deadline, he was dealt again, this time to Boston. The Red Sox were trying to mount a desperate playoff push of their own. Cliff batted .300, but could not put the Bosox over the top.
The Red Sox hoped to re-sign Cliff after the season, but he wanted to explore other options. After flying under the radar for so many years in Montreal and Florida, he found the idea of performing in a media mecca like New York very appealing. The Yankees and Mets were both in the market for a slugging outfielder, and in December, the National Leaguers lured him to Shea Stadium with a four-year, $26 million deal.
The Mets were rebounding from a horrid '02 season. Valentine was gone (replaced by Art Howe), and the pitching staff was bolstered by the signing of Tom Glavine. Cliff, meanwhile, gave instant credibility to the league's most anemic outfield. He was slated to hit in the heart of the order, where he would provide protection for Mike Piazza—a Marlins teammate for five games during the chaotic 1998 season.
Big things were expected from Cliff. In past seasons, that same spotlight has reduced others to mere shadows of themselves—the most recent example being Jeromy Burnitz, who failed to hit in his return to the Big Apple. Cliff had no such problem. After a sluggish start, he became the offensive force the Mets needed in the heart of the lineup. Unfortunately, the rest of the team collapsed. Lefties Glavine and Al Leiter never got it going, the bullpen coughed up leads, no one could reach base consistently at the top of the order, and Piazza was lost for most of the year with a nasty groin pull.
With no one on base in front of him, and no one behind him offering protection, Cliff had a hard time putting up big numbers. Still, he was on pace for a 25-homer, 90-RBI campaign when an Achilles problem threatened to end his season. Under different circumstances, Cliff might have toughed it out. But with the team in the cellar and a rebuilding project under way, the Mets shut their star outfielder down so he could undergo corrective surgery in time to return by spring training of 2004.
Cliff's "farewell" series gave fans something to think about over the winter. He battered the Colorado Rockies for 10 hits in 11 at bats, including a 4-for-4 performance in the Sunday finale.
Going into '04, the Mets appeared ready to climb out of the NL East cellar. Cliff and Piazza were back healthy, plus the team added Japanese star Kaz Matsui, centerfielder Mike Cameron and ex-Marlins closer Braden Looper, The Philadelphia Phillies were picked as the early favorite, but with Atlanta and Florida both suffering huge losses, the division looked up for grabs.
Cliff's season got off to an all-too-familiar start when he injured his leg in the sixth game of the year. Though he missed more than a month, the Mets were able to hover around .500. By the All-Star break, their 44-43 record was one of the biggest stories in baseball. Despite his stay on the DL, Cliff still made a healthy contribution, hitting .282 with 13 homers and 42 RBI.
With New York in playoff contention, GM Jim Duquette started dealing. First he picked up Houston outfielder Richard Hidalgo, and then bulked up his rotation with trades for Victor Zambrano and Kris Benson. Unfortunately, the Mets proceeded to fall apart.
Injuries were part of the problem—Piazza, Matsui and Jose Reyes all went down—but New York also proved to be somewhat of a mirage. The pitching staff, not nearly as deep as it appeared, couldn't handle the loss of Zambrano, who was sidelined with a sore shoulder. Cameron and Hidalgo, meanwhile, weren't the type of offensive players who could carry a team. The attitude in the clubhouse also suffered under the laconic Howe. Cliff typified the malaise when he talked publicly of retirement.
Down the stretch, the Mets were a mess. Cliff was one of several players who drew the wrath of fans. From late August to the middle of September, New York won just twice in 21 games. A week later, Cliff was lost for the year with a pulled rib cage muscle. His final numbers (.260, 18 HRs and 63 RBIs) fell far below expectations. The Mets finished the season a disappointing fourth in the NL East, and Howe was given his walking papers.
Had the Mets received a respectable offer for Cliff that winter, they probably would have taken it. Unsure of his future with the team, he concentrated on mending his body over the winter and hoped to repair his damaged reputation in 2005.
New manager Willie Randolph arrived that spring and told Cliff the left field job was his to lose. He responded with a productive year for the Mets, cracking 34 home runs in 150 games. New York finished third in the topsy-turvy NL East—every team finished at .500 or better.
The Mets did better in 2006, winning 97 times to finally unseat the Braves as NL East champs after 14 seasons. Cliff battled the injury bug once again, but Randolph spotted players like Endy Chavez and Lastings Milledge intelligently and got an excellent year out of the position.
Cliff finished with a modest.255 average and 11 home runs, but he was on fire against the Los Angeles Dodgers in New York's three-game NLDS sweep. He then played sparingly against the St. Louis Cardinals in the seven-game NLCS thriller. Cliff went hitless in three at-bats. In his last appearance as a Met, Cliff fanned against Adam Wainwright with a chance to drive home the pennant-winning runs in the bottom of the ninth.
Cliff returned to his roots in 2007 and signed with the Cubs. He functioned as part of a lefty-righty platoon with young Matt Murton. Cliff batted .284 with just 20 extra-base hits as the Cubs fell short of the NL Central title. It was a rough year on all fronts for him. His dad fell ill in June with a kidney ailment and passed away in August.
Cliff thought about retiring after the season but was talked out of it by the Rays. With a slew of young talent, they needed an elder statesman on the roster—not to mention someone to spell righties Rocco Baldelli and Jonny Gomes. Cliff had enjoyed playing in Florida wit the Marlins and agreed to a one-year deal. He made it clear to the Rays that he was there to play and to win. He had no interest in being a "teacher."
To say that Cliff fulfilled the team's vision for him for 2008 would be one of the understatements of the season. He played about half the games as Tampa Bay 's DH and provided a full year of veteran advice and stability. He sensed early on that the Rays had a chance to make some thunder and helped manager Joe Maddon convince his young teammates they were ready to climb to the top of the AL East. In doing so, Cliff used many of the lessons he learned form his dad.
The Rays listened well. They opened up a lead early in the season and managed to hold off the traditional division frontrunners all year long. Cliff batted .268 with 13 doubles, 11 homers and 39 RBIs. For most of the campaign, he split the DH platoon with Willie Aybar.
Come the playoffs, Cliff settled into his role as clubhouse sage. He picked up a few key hits, but Maddon went to Aybar more often in the postseason. The switch-hitter was swinging a hot bat, and the Tampa Bay skipper stuck with him. In the Ray's win over the White Sox in the ALDS, Cliff drove home a run with a double in the clincher. Against the Red Sox in the ALCS, he helped jumpstart the Tampa Bay offense in Game 2. After building a 3-1 lead in the series, the Rays nearly coughed up their first trip to the World Series. But they took Game 7 at Tropicana Field and celebrated long into the night, Cliff included.
Unfortunately, Cliff's year ended prematurely against the Phillies in the Fall Classic. A bum shoulder forced Maddon to remove his veteran lefty from the roster after Game 3. Cliff was disappointed but saw the move as necessary.
The situation in Tampa Bay is a nice fit for Cliff—as long as he's healthy enough to swing the bat. He provides left-handed power from the DH spot and can still play the two corner outfield spots and first base in an emergency. After helping the Rays reach their first World Series, Cliff has truly taken the cake. From here it's all icing.
CLIFF THE PLAYER
Cliff is a difficult player to figure out. At 6-4 and 250 pounds, he's as imposing as any slugger in baseball. But Cliff is not a traditional power threat. While he has the strength to launch tape-measure home runs, he is more effective slashing line drives to the alleys and corners. Cliff hits the ball to left field as well as he does to right, partly because of his long, looping swing.
Years of leg injuries have slowed Cliff down. While he can take an extra base, he must choose his spots judiciously. His bat is simply too valuable to lose because of a baserunning mishap.
Though never a threat to win a Gold Glove, Cliff was an adequate outfielder. His long arms and loping stride enabled him to track down balls that initially appeared to be out of his reach. His arm didn't scare baserunners, but it was strong and accurate enough to keep opponents honest. In Tampa Bay, Cliff was used exclusively as a DH in 2008, which kept his bat in the lineup and his legs fresh.
Read more
Latest headlines