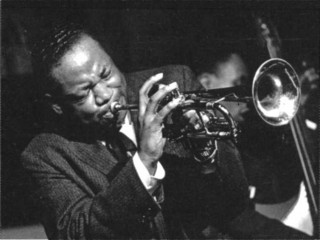 Clifford Brown biography
Date of birth : 1930-10-30
Date of death : 1956-06-26
Birthplace : Wilmington, Delaware, U.S.
Nationality : American
Category : Arts and Entertainment
Last modified : 2011-10-31
Credited as : Singer, jazz trumpeter,
Clifford Brown , aka "Brownie," was an influential and highly rated American jazz trumpeter. He died aged 25, leaving behind only four years' worth of recordings. Nonetheless, he had a considerable influence on later jazz trumpet players, including Donald Byrd, Lee Morgan, Booker Little, Freddie Hubbard, Valery Ponomarev, and Wynton Marsalis.
Many musicians and jazz music observers thought that, at 25, Clifford "Brownie"Brown had developed into one of the best-ever jazz trumpeters. Some felt that when Brown was cut down in a tragic automobile accident on June 26, 1956, he had already achieved top ranking. Despite an outpouring of shocked tributes from fellow musicians and writers at the time of his death, recognition of his unusual contributions continued to be written decades after his passing. As Michael Ullman wrote in 1985 for Atlantic, "Some time in 1954, when he was twenty-four years old, the trumpeter Clifford Brown became one of the greatest jazz soloists. His playing, already celebrated for its fluency and imagination, took on a rhythmic grace, an added ease at whatever tempo he was confronted with, and a variety that made his phrases billow and float as naturally as silk in a gentle wind. A brilliant melodist with a big, singing tone, Brown was playing with warmth, forthrightness, and a headlong swing reminiscent of the young Louis Armstrong."Further, as Daniel Okrent observed in Esquire, "Brown was as beloved as he was admired. (His death inspired not only profound mourning, but also one of the finest of jazz standards, Benny Golson's `I Remember Clifford')."
Many have wondered how Brown could have attained not only such formidable skills but such maturity of concept at such a tender age. Some of this is attributable to his early training. Born in Wilmington, Delaware on October 30, 1930, Brown remembered, "My father played trumpet and violin and piano for his own amusement and from the earliest time I can remember it was the trumpet that fascinated me."After receiving his first horn around age 13, Brown began taking music lessons of a broad nature from Robert Lowery, a junior high school teacher and local bandleader. With much of the focus on ear training, he was introduced to the piano and chord changes.
After about three years with Lowery, including playing in his dance band, Brown began his most serious and important trumpet study with Harry Andrews, the choral and band teacher at Wilmington's Howard High School. Though a classically trained specialist, Andrews had led a jazz band in Europe during World War II. He introduced Brown to such disciplines as playing 16 or 32 bars of music on one breath and using the non-pressure method of applying the lips to the mouthpiece. Andrews told Hollie West of Down Beat , "When he came to us he was a good intermediate trumpet player. But he played the `Carnival of Venice's his graduation solo, and I mean he really played it.... He had great drive. Many times I'd be cleaning up my desk after school and he'd stick his head in and ask if I had time for another lesson. And we'd go at it." During this period Brown was immersing himself in harmony and theory, as well as learning to play the piano, vibraphone, and bass. Other examples of his determination and diligence abound. As his wife LaRue Brown Watson wrote, "We lived a lifetime during our brief marriage. We had fun and Clifford practiced. We traveled and Clifford practiced. We had a son, Clifford practiced. He even explained the music to his infant son, Clifford Jr., and practiced while holding him on his lap. By now I am sure you get the point."
After finishing high school and playing some local gigs, Brown began playing twice a month in a house band in Philadelphia where he sat in with his main influence, trumpeter Fats Navarro. This also afforded him the opportunity to play with bebop icons Dizzy Gillespie and Charlie Parker, as well as trombonist J.J. Johnson and drum stylist Max Roach. It was Navarro, rather than Gillespie, to whom Brown is most often and most accurately compared to stylistically. Both Navarro and Brown achieved a beauty and fullness of tone that Gillespie, by his own assessment, never reached. All of these jazz leaders were encouraging and helpful to Brown, the young lion, none more than Dizzy.
Just as Brown's career and reputation were taking off, he was involved in an automobile accident, in June of 1950, while coming home from a gig. He was hospitalized for nearly a year, thinking that, at age 20, he might never play trumpet again. Gillespie was especially encouraging to Brown throughout this difficult period and helped see to it that the younger man returned to his horn. During this time, Brown developed his piano playing, causing his former teacher, Andrews, to comment, "He played very well for a guy who was just starting." After a year of recuperation, Brown resumed playing the trumpet with renewed vigor. He also began attending Delaware State College as a math major, later switching to Maryland State College on a music scholarship. Once he regained a reasonable facsimile of his former sound and agility on his horn, there was no turning back from music. First Recordings Spread the WordIn 1952, while playing regularly with Chris Powell's Blue Flames, Brown made his first recordings. Though this was basically a rhythm and blues group, jazz lurked near the corners, especially when Brown soloed. These first recordings are included in Columbia's The Beginning and the End. Early in 1953, Brown played a series of gigs with bop composer/arranger/bandleader Tadd Dameron, with whose band he recorded for Prestige on June 11, 1953. Writer Ira Gitler, who supervised this session, is quoted by Stephen Stroff in Antiques and Collecting, "When Brownie stood up and took his first solo on `Phillie J.J.," I nearly fell off my seat in the control room. The power, range, and brilliance together with the warmth and invention was something that I hadn't heard since Fats Navarro." Brown's name was now being spread throughout the jazz community and he could practically pick his spots to play.
From August to December he picked the legendary leader/vibraphonist Lionel Hampton's band, about to embark on a European tour. Though recording outside the full band setting was forbidden by Hampton, the leader looked the other way while the energetic trumpeter led recording sessions of a sextet and a quartet; the former featured Brown as leader. He was also the nominal leader of a big band session, actually put together by saxophonist Gigi Gryce. It is worth noting that Brown's trumpet section mates in Hampton's band included Art Farmer and a young Quincy Jones, eventually to become one of music's great entrepreneurs.
Before going overseas with Hampton, Brown had led a Blue Note session with Gryce, tenor saxphonist Charlie Rouse, pianist John Lewis (later the leader of the Modern Jazz Quartet), and drummer Art Blakey. When he returned, Brown was snapped up by Blakey to be founding member of what would become Art Blakey's Jazz Messengers. This group, employing varying lineups, proved to be one of the longest-running jazz combos. With Lou Donaldson on alto sax, pianist Horace Silver, bassist Curly Russell and drummer/leader Blakey, Brown recorded a live performance album with the precursor of the Jazz Messengers. Throughout these experiences Brown continued to practice and grow. Blakey's fiery, busy drumming, inspiring to many young musicians, seemed to lead Brown to play in a more frenetic manner than he was best suited to. The trumpeter could play with clarity and unbelievable articulation--the separation of each note--at any tempo and with whatever accompaniment. However, Brown's gorgeous tone, his controlled vibrato, his extended phrases, his floating, melodic lines--these qualities could be better served by a more musical, sensitive drummer, Max Roach.
By mid-1954, Roach was the quintessential bop drummer, having played and recorded with a who's who of jazz legends--Coleman Hawkins, Duke Ellington, Benny Carter, Dizzy Gillespie, Charlie Parker, et al--from the early 1940s. With his meticulously-tuned drum set, Roach drew accolades from his fellow-players for his careful listening and backing of soloists, urging them on to improved self expression. As Ullman wrote, "What Roach offered Brown was firm support and a clear, ringing sound in a relatively un-busy style. Roach is a melodic drummer. Where Blakey pounded and prodded, Roach let Brown's own melodies unravel." Working in California, and still enjoying a wider reputation than Brown, Roach encouraged the trumpeter to become co-leader of the Clifford Brown-Max Roach Quintet, which included Harold Land on tenor sax, pianist Richie Powell (pianist Bud Powell's'brother), and bassist George Morrow. When Land left in late 1955, Roach convinced the exciting tenor saxophonist Sonny Rollins to join, finalizing one of the most celebrated jazz combos of all time.
Before the Quintet really took off, Brown recorded notable sides with a number of cool jazz greats, including drummer Shelley Manne, saxophonist Zoot Sims, and pianist Russ Freeman. But it was in the Quintet context that Brown flourished for the rest of his too-brief life. The two years between 1954-56 found this group producing much of the classic jazz of this era. Brown's playing became even more melodic, more communicative, without losing any of the fire of his earlier efforts. All jazz trumpeters took note, as did musicians of every stripe. Former co-principal trumpeter of the New York Philharmonic, Gerard Schwarz, told West, "I admired a number of things about him. His sound really got to me. I thought it was one of the most gorgeous sounds I ever heard. It was a fat, rich, beautiful sound. And the musical ideas seemed so strong to me. It seemed so right, everything that he did."
Brown's private life seems to have been exemplary. As author Nat Hentoff wrote in the Wall Street Journal, "In interviews, musicians ... characterize Clifford Brown as `sweet'--an attribute I've never heard applied to any other jazz musician." He took care of his body, eschewing the habits that ruined some of his important jazz predecessors like Bix Beiderbecke, Bunny Berigan, Fats Navarro, Charlie Parker, all of whom were eliminated by addiction to alcohol or drugs. Partner Max Roach told Arthur Taylor for his Notes and Tones , "Brownie was a human being who put in a lot of time, a hard worker. When we first got together and went to California, we were living in the same apartment for about six months until we took the group East. He was a man who put a lot of time in: that's why he developed himself so well at such a young age. Sometimes if I woke up at nine, I would beat him to the piano.... We knew we were involved in something and that work was the answer."
It was Roach who introduced LaRue Anderson to his "beautiful"friend Brownie when he joined the drummer in California. In a booklet that accompanied the Mosaic release of The Complete Blue Note and Pacific Jazz Recordings of Clifford Brown, she wrote touchingly of their meeting and of her original disdain for jazz music. Anderson was in fact writing a thesis whose purpose was to prove that jazz was not art. At one point, she took Brown to meet her classical music teacher who, much to her surprise, recognized the trumpeter and assured her that, "This man is a genius!" At about the same time, she wrote, "I also discovered that Max had not been referring to Clifford's physical beauty. [He] had recognized the beauty that dwelled within and exuded from him.... We found that we not only respected each other and shared a valuable friendship, we were also in love" Shortly thereafter, "He asked me to marry his music and him," which Anderson did in June of 1954.
After about six months in California, the band hit the road and the recording studios (15 times), soon to become perhaps the most important and influential group in jazz, Miles Davis notwithstanding. The new Mrs. Brown, and later the new Clifford Brown, Jr., traveled with the band. "Clifford believed that families should be together as much as possible.... We prowled the museums and art galleries, rode carrousels in amusement parks, went to historical landmarks and visited friends," she wrote. Happy in marriage and musically secure in a great quintet, Brown continued to grow in expressiveness and assurance. Sought out by younger players, the naturally shy trumpeter freely offered help and advice, just as he had received from his mentors, Navarro and Gillespie.
Brown had completed an engagement in Philadelphia and was en route to the Blue Note club in Chicago to join Roach and Rollins. On June 26, 1956 Richie Powell's wife, Nancy, was at the wheel in a rainstorm on the Pennsylvania Turnpike. In the ensuing accident Brown and both Powells were killed--exactly two years after Brown's wedding date. In a Down Beat tribute Dizzy Gillespie said, "Jazz was dealt a lethal blow by the death of Clifford Brown.... There can be no replacement for his artistry, and I can only hope that jazz will produce in the future some compensation for this great loss to our cause."Horace Silver added, "I can't think of anyone who was more deserving as a musician and as a person."
While he was widely recorded, only one piece of film exists showing Brown playing. A 1996 Detroit Free Press article details the discovery by comedian Soupy Sales of a 1956 kinescope of Brown playing on his late night Soupy's On television show. It offers some compelling glimpses of the master at work. Though more than a generation of trumpeters has paraded before the jazz public since 1956, many with astounding technical facility, few if any have matched the full complement of talents Brown brought to his art. Equally at home on ballads such as "Stardust"and "Once in A While" and adrenaline-laced swingers like "Cherokee"and "Quicksilver,"he brought a level of consistency and beauty rarely rivaled in jazz history. His compositions "Joy Spring," Daahoud,"and "Sandu" have become jazz standards, as has Golson's tribute, "I Remember Clifford."
Read more
Latest headlines