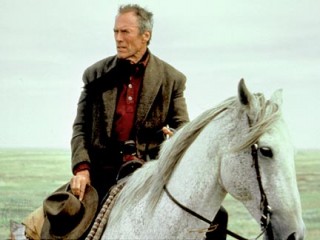 Clint Eastwood biography
Date of birth : 1930-05-31
Date of death : -
Birthplace : San Francisco, California, U.S.
Nationality : American
Category : Arts and Entertainment
Last modified : 2010-05-10
Credited as : Actor and film producer/director, Unforgiven western, Dina Ruiz
Born
Clinton Eastwood, Jr.
on May 31, 1930, to Clinton, Sr. and Ruth Eastwood is an American actor, director and film producer. He has one older sister, Jean. After traveling and looking for work throughout California during the Depression, the family settled in Oakland, where Eastwood graduated from Oakland Technical High School in 1948.
Eastwood worked odd jobs as a hay bailer, logger, truck driver, and steel-furnace stoker. In 1950, he was called to military duty with the Army Special Services, based at Ford Ord in Monterey, California. While in the Army, Eastwood met actors David Janssen and Martin Milner, who convinced him to move to Los Angeles in 1954 after he finished his military duty. Eastwood took a screen test and signed a contract with Universal for seventy-five dollars a week. His first roles were in the science fiction films Revenge of the Creature (1955), and Tarantula (1955). Eastwood's rugged looks landed him the role of Rowdy Yates in the CBS TV series Rawhide (1959), which ran for eight seasons.
In 1964, he went to Italy to star in a trio of westerns directed by Sergio Leone. The role Eastwood took—the cool, laconic "Man with No Name"—had been turned down by James Coburn and Charles Bronson. The films included A Fistful Of Dollars (1964) (a remake of the classic Yojimbo), For a Few Dollars More (1965), and The Good the Bad and the Ugly (1966). Nicknamed "spaghetti westerns" due to their Italian production, these films gained worldwide popularity and Eastwood became internationally known.
Back in the United States, he directed his first film, the thriller Play Misty For Me (1971), and starred in the leading role. His next important project was a series of violent action movies portraying Harry Callahan, a contentious San Francisco cop. The Dirty Harry series proved immensely popular with the public and included five films over a period of seventeen years, including Dirty Harry (1971), Magnum Force (1973), The Enforcer (1976), Sudden Impact (1983), and The Dead Pool (1988).
Eastwood then started directing, winning critical acclaim for the Charlie Parker biography, Bird (1988). He also earned accolades for directing and producing the 1992 Western Unforgiven, which won an Academy Award for Best Picture. He directed and starred in A Perfect World (1993); The Bridges of Madison County (1994) with Meryl Streep; and Absolute Power (1997). He directed (but did not appear in) Midnight in the Garden of Good and Evil (1997); and produced, directed and starred in the thriller True Crime (1999).
August of 2000 saw the release of his directorial and acting project, Space Cowboys, costarring James Garner, Donald Sutherland, and Tommy Lee Jones. In 2003, he released the haunting and award-winning directorial effort Mystic River starring Sean Penn and Tim Robbins. Eastwood won both an Academy Award and a Golden Globe for Best Director for Million Dollar Baby starring Hilary Swank two years later. The film also won the Best Picture Oscar. That same year, he received the Life Achievement Award from the Screen Actors Guild in Los Angeles.
In 2006, Eastwood directed two World War II dramas Flags of Our Fathers and Letters From Iwo Jima. These companion films viewed the conflict from two distinctly different perspectives. Flags of Our Fathers explored the American side, telling the story of one man's efforts to learn more about his father's involvement in the raising of the U.S. flag at Iwo Jima—a moment captured in a Pulitzer Prize-winning photograph. The film featured a number of young Hollywood actors, including Ryan Phillippe, Jesse Bradford, and Paul Walker. Truly multitalented, Eastwood wrote some of the music for the film.
Drawing from correspondence found on that island battlefield, Letters of Iwo Jima looks at the experiences of Japanese soldiers there during the war. While both films earned a lot of praise, Letters from Iwo Jima garnered four Academy Award nominations, including Best Picture and Eastwood's fourth nod for Best Director.
Next for Eastwood is the family dramatic thriller
The Changeling
, which stars Angelina Jolie as a mother of a kidnapped child. Her character suspects that the child who is eventually returned to her is not, in fact, her son. Based on a true story, the film is set for an October 2008 release.
Outside of acting, Eastwood has tried his hand at politics. He was elected mayor of Carmel, California, in 1986, serving two years.
Eastwood has been married only twice, but had a number of relationships and fathered several children out of wedlock. He was married to Maggie Johnson between 1953 and 1980. They had two children, Alison (1972) and Kyle (1968). While married to Johnson, he had a child by Roxanne Tunis: Kimber Eastwood (1964). He became romantically involved starting in 1975 with costar Sondra Locke, which ended bitterly with a palimony suit in 1989. He is the father of two children by Jacelyn Reeves: Kathryn (1988) and Scott (1986). He and Frances Fisher had a daughter, Francesca Ruth. He married Tina Ruiz, a TV newscaster, in 1996. They had a daughter, Morgan, in December 1996.
Hereafter
is a forthcoming thriller film directed by Eastwood from a screenplay by Peter Morgan. It stars Matt Damon as "a reluctant psychic", and co-stars Cécile de France, and Lyndsey Marshal. Filming commenced in France on October 19, 2009, and in the first week of November, production moved to London, England for three weeks of filming in locations including Bermondsey and in Walworth, including the Heygate Estate. Filming resumed on January 12, 2010; Eastwood filmed scenes with de France for three days on the Hawaiian island of Maui. Production next moved to the San Francisco Bay Area. On January 19, scenes featuring Damon were shot at the California and Hawaiian Sugar Company refinery in Crockett, California, which represents a flour mill on screen. Production returns to London on January 29 to shoot the final scenes with Damon. Variety has described the script as a thriller "in the vein of The Sixth Sense."Peter Morgan told The Hollywood Reporter, "It's quite spiritual material, and quite romantic, too. It's the sort of piece that's not easy to describe and in the hands of different filmmakers could end up as wildly different films. Quite unlike some of my other material, which I think there were only certain ways that you could shoot it".
In early 2007, Eastwood announced that he will produce a Bruce Ricker documentary about jazz legend Dave Brubeck. The film is tentatively titled Dave Brubeck – In His Own Sweet Way. It will trace the development of Brubeck's latest composition, the Cannery Row Suite. This work was commissioned by the Monterey Jazz Festival and premiered at the 2006 festival. Eastwood's film crews captured early rehearsals, sound checks, and the final performance. Ricker and Eastwood are currently working on a documentary about Tony Bennett, as well, titled The Music Never Ends.
Maggie Johnson
Eastwood married swimsuit model Maggie Johnson on December 19, 1953, six months after they met on a blind date. Eastwood originally did not want to have children with his wife, then she became ill with hepatitis. After she recovered, he changed his mind, and Johnson became pregnant after fourteen years of marriage. They had two children: Kyle Eastwood (born May 19, 1968) and Alison Eastwood (born May 22, 1972). They separated around 1975, but Johnson did not take any legal action until 1978, when she filed for a legal separation. Eastwood was ordered to pay her $25 million ($1 million for each year they were married). Their divorce, however, was not finalized until May 1984.
Roxanne Tunis
During his marriage to Johnson, Eastwood had an affair with Roxanne Tunis, who was an extra on Rawhide during the late 1950s and early 1960s. They had a daughter, Kimber, born on June 17, 1964. Over the years, Eastwood financially supported Tunis and their daughter, and would secretly visit them every three to four months, according to Kimber. In 1983 she changed her name from Kimber Tunis to Kimber Eastwood, married gardener Anthony Gaddie, and gave birth to Eastwood's grandson, Clinton, on February 21, 1984. The existence of Eastwood's secret offspring was unknown to the public and even Eastwood's family until reported by the National Enquirer in 1989. Since then Kimber has had a small role in her father's film Absolute Power.
Sondra Locke
Eastwood had a fourteen-year relationship with actress Sondra Locke, whom he met in 1972, and co-starred in six films: The Outlaw Josey Wales, The Gauntlet, Every Which Way but Loose, Bronco Billy, Any Which Way You Can, and Sudden Impact. Locke became pregnant by Eastwood twice, and had two abortions and a tubal ligation. Their relationship ended acrimoniously in 1989. She filed a palimony suit against Eastwood, and the litigation continued for a decade, with Locke suing him a second time for fraud. Locke and Eastwood finally resolved the dispute with a non-public settlement in 1999. She published a memoir, The Good, the Bad, and the Very Ugly, which includes a harrowing account of their years together.
Jacelyn Reeves
During his cohabitation with Locke, Eastwood also had an affair with flight attendant Jacklyn Reeves, with whom he had a son, Scott (b. March 21, 1986), and a daughter, Kathryn (b. February 1988). The fact that Scott and Kathryn Reeves were the actor's children was not publicly known until a Carmel reporter revealed the information years after the they were born. Since then, the son (now known as Scott Eastwood) has become an actor.
Frances Fisher
Upon breaking up with Locke, Eastwood moved in with Frances Fisher, whom he met in 1988 while filming Pink Cadillac. They appeared together in Unforgiven, and had a daughter, Francesca Fisher-Eastwood, born on August 7, 1993. According to biographers, the relationship soured once Fisher became aware of Eastwood's multiple previous lovers and illegitimate children. According to biographers, Fisher confronted Eastwood about this when she found a birthday card in the mail from Scott and Kathryn Reeves. Fisher moved out of their shared home in 1995 but remains friendly with Eastwood and later appeared with him and their daughter Francesca in True Crime.
Dina Ruiz
After initially meeting in an interview in 1993, Eastwood married anchorwoman Dina Ruiz on March 31, 1996, in Las Vegas when Eastwood surprised her with a private ceremony at a home on the Shadow Creek Golf Course. She is 35 years his junior. The couple's daughter, Morgan Eastwood, was born on December 12, 1996. Ruiz commented "The fact that I am only the second woman he has married really touches me". Eastwood says that she has brought his family close together, and Ruiz maintains a friendly relationship with Eastwood's other children and their mothers.
Read more
Latest headlines