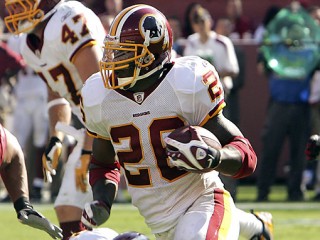 Clinton Portis biography
Date of birth : 1981-09-01
Date of death : -
Birthplace : Laurel, Mississippi, U.S.
Nationality : American
Category : Sports
Last modified : 2022-09-01
Credited as : Football player NFL, Washington Redskins, Super Bowl
GROWING UP
Clinton Earl Portis
was born on September 1, 1981, in Laurel, Mississippi. Located halfway between Jackson and Mobile, Clinton's hometown was one of many semi-rural outposts fighting an uphill battle against drugs and street crime during the 1970s and 80s. No one knew this better than Clinton's mom, Rhonnel Y. Hearn. By the time Clinton arrived, she had been through the ringer. She had two other boys—both entering the world before her 19th birthday—and Clinton's father, Clint Portis, left her on her own to provide for them.
Looking after Clinton was a difficult job for Rhonnel. She had been working full-time when she found out she was pregnant, and it took a while to reacquaint herself with the responsibilities of caring for an infant. Things got harder when one of Clinton's brothers, Gary Hampton, fell in with the wrong crowd. Eleven years older than Clinton, he was a smart kid a and talented athlete. But as a teenager, he was convicted on drug charges, and is currently in federal lock-up in Florida.
Gary's troubles sent Rhonnel into a tailspin. When she and Clinton were invited by her boyfriend, Tyrone Pearson, to live with him in Gainseville, Florida, she jumped at the opportunity.
Clinton wasn't nearly as excited about the move to the Sunshine State. The seventh grader worried about making friends in his new home. Initially, Clinton spent most of his time in Gainesville by himself. He shot baskets for hours on end, played video games and watched TV. Uncomfortable around Pearson, Clinton didn't like the idea of sharing his mom with anyone. Rhonnel picked up on his insecurities, and made a point of establishing a closer relationship with him. Eventually, their mother-son bond evolved into a genuine friendship.
Clinton needed all the support he could get. The strain of his dysfunctional family life had an impact on him. Cocky and boisterous, Clinton excelled in sports and was clearly intelligent. But when he entered Gainesville High School in the fall of 1995, neither athletics nor academics were his primary interests. An excellent two-way player on the gridiron (as a freshman he played receiver and cornerback for the Purple Hurricanes varsity), he preferred basketball to football, but was suspended from the hoops team for bad behavior. With Clinton drifting toward the same problems that had landed Gary in prison, a teacher intervened and set the youngster straight. It was a turning point for Clinton.
The teenager refocused his energy on school and sports, particularly football, where he switched to running back. Though small and slightly built, Clinton was untouchable with the ball in his hands because of his blinding speed. As a junior, sharing backfield duties with two others, he rushed for 800 yards.
That same year Clinton decided to give Pearson more of a chance to win him over. He and Rhonnel were serious about one another, and the teenager saw no advantage in fighting their relationship. By Clinton's senior year, wedding plans were in the works, and he was okay with it.
Going into the 1998 campaign, Gainesville football coach Ed Janes realized Clinton was something special. In turn, he made his senior star the focal point of the offense. Clinton rewarded Janes with a sensational season, including 2,036 yards on the ground and 26 touchdowns, while also setting himself apart with his play on defense. Clinton's self-assured attitude scored points with college recruiters, who flocked to his games. He wanted the ball whenever the game was on the line, certain no one on the opposing team could stop him.
The only knock on cocksure Clinton was his size. During his junior year, he heard that the hometown Florida Gators felt he couldn't cut it as a running back in college, and quietly vowed to make them pay. After whittling his choices down to Maryland, Oklahoma State and Miami, he decided to stay in state and go with the Hurricanes. When running backs coach Don Soldinger came to Gainesville to check out Clinton, he tossed Soldinger a game film and told him not to bother—he'd already picked Miami.
ON THE RISE
Miami was one of the few schools that promised to give Clinton a shot at running back. Not that Butch Davis's team was hurting in that department. Edgerrin James had just opted for the NFL, clearing the way for junior James Jackson and sophomore Najeh Davenport. The Canes also boasted a hulking offensive line and two top-flight receivers, Reggie Wayne and Santana Moss.
The big concern was quarterback, where Kenny Kelly was taking the reins. On defense, Miami was stacked with a handful of potential pros. Leading the unit were linebackers Dan Morgan and Nate Webster, and defensive back Ed Reed.
For the Hurricanes, the 1999 season almost ended before it began. After five games, the team's record stood at 2-3. With Kelly struggling, Davis looked to freshman Ken Dorsey, who helped turn things around. Miami won six of its last seven, including a rout of Georgia Tech in the Gator Bowl.
Clinton, who began the year buried on the bench, played a major role in the squad's second-half rebound. Davenport went down for the season in the Kickoff Classic against Ohio State, and Jackson was also hobbled by injuries. Davis turned to Clinton in the second week of the campaign, at home versus Florida A&M. In his collegiate debut, he hit paydirt twice. Two weeks later, he ran for 147 yards at East Carolina.
In the months that followed, Clinton shouldered more and more of the workload. He led the Canes with five 100-yard games, setting a school record for freshmen, and his 838 yards rushing shattered the frosh mark established by Jackson three years earlier. His most impressive performance came in the Gator Bowl, as he gained 117 yards on 12 carries, including a 73-yard touchdown sprint.
Despite ascending to star status, Clinton wasn't satisfied with his season. Davis had benched him in the second half of the ECU game, and the freshman fumbled three times in an embarrassing blowout at the hands of Virginia Tech. His goal heading into spring practice was to become the team's most consistent performer, and the unquestioned starter as halfback in 2000.
The competition was still stiff. Jackson, the incumbent, was now a senior, while Davenport was the strongest and most powerful of the three. The rest of the 'Canes' lineup, meanwhile, was pretty much set. Dorsey was the team leader at QB, with Wayne and Moss back as his top targets. Tight end Jeremy Shockey also figured prominently in the passing game. The offensive line—anchored by bookend tackles Joaquin Gonzalez and Bryant McKinnie—was among the best in college football. Morgan and Reed returned on defense, joined by cornerback Mike Rumph and end William Joseph. With tremendous depth on both sides of the ball, Davis sensed his troops could contend for the national title. Many of the national publications agreed.
Miami performed as expected and blitzed through its schedule. But a road loss to Washington early in the campaign proved costly. Though 10-1 after the regular season, the Hurricanes found themselves on the outside looking in when the BCS made its bowl match-ups and were denied a shot at top-ranked Oklahoma. Instead, they faced Florida in the Sugar Bowl, dismantling the Gators 37-20. The Sooners, however, held a nearly insurmountable lead in the points standings, and cruised to the championship.
For Clinton, the Sugar Bowl might have been a career-saver. He ran for 97 yards, 66 of which came in the final quarter. Driving the final nail into Florida's coffin was sweet revenge, but more important it reaffirmed in the minds of his coaches that he could stand up to the pounding of the college game.
Earlier in the year—after highlight-reel runs of 82, 59 and 61 yards against McNeese State and Washington—Clinton broke three metatarsal bones in his right foot in a September practice. He missed the next three games, and some wondered whether he would return at all. Clinton silenced some of his critics with an 86-yard performance against Louisiana Tech in late October, but contributed little after that. Heading into the Sugar Bowl, his role was uncertain. But Davis inserted Clinton when Jackson got hurt in the first half, and the sophomore made the most of the opportunity.
Clinton got a scare seven months later, when he was involved in a high-speed car accident with teammates Jarrett Payton and Clint Hurtt. Payton was the driver, and Clinton, sitting in the back seat, was sent flying from the wreck. Though his injuries were minor, he felt lucky to be alive. The incident was a wake-up call.
Among those relieved to hear that Clinton would be okay was Larry Coker, Miami's new head coach. When Butch Davis jumped to the Cleveland Browns, Coker—at the overwhelming request of the players—was hired to replace him. Formerly the team's offensive coordinator, he was an extremely popular choice.
Coker was fortunate to be working with a stacked deck. The offense—which had averaged a school-record 42.6 points in 2000—was virtually unchanged in 2001, except on the outside where speed-burners Daryl Jones and Andre Johnson joined the starting lineup. Meanwhile, Dorsey, Shockey, and Clinton were all back, and redshirt freshman Willis McGahee was also ready to go. The defense was strong, too, particularly in the secondary. Reed was the nation's best ballhawk at safety, and Rumph and Phillip Buchanon had few peers.
Coker's troops broke from the gate quickly, steamrolling to victories in their first four games. Clinton was a major factor. Fully healed and eager to prove himself, he burned Penn State for 164 yards in a 33-7 win, then was named Big East Player of the Week after a great effort at Pittsburgh. With the Hurricanes preparing for a showdown with Florida State in Tallahassee, Clinton was determined to help his team break the Seminoles' 54-game home winning streak.
Miami never let FSU catch its breath. The 'Canes took a 21-13 lead into intermission, then exploded for 28 points in the third quarter. In the 49-27 laugher, Clinton gained 122 yards on 17 carries.
Miami breezed through its next two contests, against West Virginia and Temple, but ran into a stiff test on the road at Boston College. Up 12-7 late in the fourth quarter, the Hurricanes put the game on ice with an 80-yard interception return for a touchdown. Unnoticed by many afterwards was Clinton's performance. Coker called his number time and again, and the junior thrived under the increased responsibility. In all, he piled up 160 yards on a career-high 36 carries.
After outscoring Syracuse and Washington 124-7 in a pair of blowouts, the Hurricanes almost looked past Virginia Tech. With their gaze fixed on a berth in the Rose Bowl and a shot at the national championship, they nearly coughed up a big lead in Blacksburg against the Hokies. Clinton keyed a dominant first half that saw the 'Canes go ahead by 17 points. But Virginia Tech battled back in the final stanza and cut the deficit to 26-24. Miami eventually ran out the clock, with Clinton picking up several crucial first downs. He ended the contest with 124 yards on the ground and a 14-yard TD reception.
That victory set up a showdown with Nebraska in Pasadena. The Hurricanes won easily, 37-14, securing the top spot in the BCS and the school's fifth national championship. Clinton contributed with a game-high 104 yards rushing. For the year, he ran for 1,304 yards and 11 scores. His 1,325 all-purpose yards was the eighth-best regular-season total in Miami history.
MAKING HIS MARK
Clinton's breakout campaign convinced him that an NFL career was part of his future, and chose to enter the draft. Not everyone agreed with this decision. At 5-11 and less than 200 pounds, a good number of people believed he was too small to make an impact in pro football. Though Clinton had demonstrated breakaway speed, wonderful instincts and a gritty attitude, his size once again appeared to be working against him.
This became apparent as the draft unfolded. His name went un-called through the first round, while two bigger backs—William Green of Boston College and T.J. Duckett of Michigan State—were taken. When DeShaun Foster went to Carolina at the beginning of the second round, Clinton bristled. His wait finally ended 17 picks later, courtesy of the Denver Broncos.
The good news for Clinton was that, under Mike Shanahan, the Broncos had developed one of the NFL's most punishing ground attacks. The coach had helped turn Terrell Davis, Mike Anderson and Olandis Gary into 1,000-yard rushers. That was also the bad news, because that trio was now ahead of Clinton on Denver's depth chart.
The Broncos' running-back picture changed as training camp progressed. Davis—trying to come back from knee surgery—was placed on injured reserve, a move that hinted his All-Pro career was over. Gary, also batting leg injuries from the past two years, wasn't coming around as quickly as expected. In addition, Shanahan had shifted Anderson to fullback. Clinton's role, in turn, grew in importance.
He wasn't the only offensive weapon added to the Broncos. Tight end Shannon Sharpe was brought back to Denver as a free agent, and receiver Ashley Lelie was drafted out of Hawaii. Already protected by one of the league's best offensive lines, quarterback Brian Griese anticipated a big year.
The defense, which ranked fourth in the NFL in 2001, also looked good. Tackle Trevor Pryce was a Pro Bowler, while linebackers Ian Gold, John Mobley and Al Wilson formed one of the league's most versatile units. The secondary, however, was a little thin, particularly with the departure of safety Eric Brown.
As the season progressed, Clinton became the feel-good story of an otherwise frustrating season. The Denver defense surrendered 20 or more points 11 times, and finished 9-7 to miss the playoffs for the second straight year. Clinton watched the action from the Bronco bench for two games, then raced to the first 100-game of his career against the Buffalo Bills. In that one, Shanahan saw how effective his rookie could be. Darting through openings big and small and making tacklers miss, Clinton averaged better than five yards per carry and gave the Denver offense a new speed of operation. Enemy defenses, used to squaring up against Denver, were now playing back on their heels.
In the weeks that followed, Clinton's workload increased—and so did his production. He topped the century mark against San Diego, New England and Seattle. He had another huge day in a rematch with the Chargers in November, running for 159 yards and two scores.
As Clinton gained confidence, his receiving talents crystallized, too. Against Kansas City, he took a short pass 66 yards to paydirt. He also showed a toughness that belied his size, and answered any lingering questions about his durability as his best month was December. Clinton concluded the '02 campaign with a phenomenal day against the Arizona, running over and through the Cardinals for 228 yards and two touchdowns.
Clinton was the easy choice as the NFL's Offensive Rookie of the Year. The AP, Pro Football Weekly, Football Weekly and the Touchdown Club of Columbus all recognized him. His 1,508 yards and 15 touchdowns ranked among the best seasons ever for a newcomer to the league, surpassing those of Barry Sanders, Earl Campbell, Gale Sayers and Jim Brown. He set a Denver franchise record with 5.52 yards per carry, and was fifth on the team with 33 receptions.
With Clinton solidifying Denver's running attack, the team addressed other areas in the off-season. Griese was let go, and replaced by free agent Jake Plummer. In the draft, the Broncos loaded up on both sides of the ball, adding depth along the line and a back in the mold of Clinton, Oklahoma's Quentin Griffin.
Clinton and the Broncos got off to a terrific start in 2003. Denver won its first two games by a combined score of 67-23, and he posted a pair of 100-yard efforts, including 129 yards on 12 carries at San Diego.
But the injury bug began to bite the team. Clinton missed a game with a bruised chest, then later was sidelined by a bad heel, sprained ankle and sprained knee. Plummer also was forced to the bench with an assortment of bumps and bruises. Without their two top guns in the lineup on a regular basis, the Broncos struggled for consistency. In the process, Kansas City assumed control of the AFC West. Denver qualified for the playoffs, but got buried by the Colts in Indianapolis in one of the conference Wild Card games.
When Clinton suited up—he registered 13 starts in all—he was sensational. In all but three of his games, he rushed for at least 100 yards, and four times he broke off runs of 58 yards or more. His most impressive effort came at home against the Chiefs. On just 22 carries, he amassed 218 yards and five scores. When the regular season ended, Clinton had improved upon his rookie stats, including 1,591 yards rushing, 5.5 yards per carry and 38 catches. In the playoff drubbing at Indy, he wasn't much of a factor, as the Broncos never had a real chance to establish their running game.
Though Clinton was voted to his first Pro Bowl, the Denver brass—anxious to improve their club—didn't take him off the table in trade discussions after the 2003 campaign. The team was confident that a lesser runner could succeed in its offense, and dangled Clinton in an attempt to upgrade its defense. The Broncos found a fit with the Redskins, who had recently made headlines by convincing Joe Gibbs to return as head coach. Gibbs, who relied heavily on a punishing ground attack during his first term in Washington, wanted a back he could count on. In his eyes, Clinton was an excellent choice, so the team swapped cornerback Champ Bailey and a second-round pick to get him. The newest Redskin then inked an eight-year deal worth $55 million.
Clinton made his impact felt almost immediately. In the 2004 season opener, a 16-10 win over Tampa Bay, he raced 64 yards for a touchdown on his first touch. Clinton finished the game with 148 yards on 29 carries. The folllowing week Gibbs planned to continue running the ball, as the Skins visited the Meadowlands to face the Giants. But New York employed a strategy that other teams would come to mimic time and again. Big Blue crowded the line of scrimmage to shut down Clinton, and force Mark Brunell to beat them with his arm. Washington had added the veteran QB as a free agent to start in front of Patrick Ramsey. But the lefty struggled to pick up the offense. The Redskins lost to the Giants, 20-14, and things got worse from there.
Gibbs was clearly having trouble adjusting to the changes in the game since his retirement. Time management was a glaring problem. All too often the Redskins broke the huddle with only a few seconds left on the play clock. Brunell's poor performance also contributed to the team's woes. When the media and fans began calling for Ramsey, Gibbs had a full-blown quarterback controversy on his hands.
This placed more pressure on Clinton, who was at his best when his coach increased his workload. In October, Gibbs handed him the ball
36 times, and he responded with a season-high 171 yards in a 13-10 victory over the Bears. Three weeks later Clinton exploded for 147 yards in Detroit, as Washington won for just the third time on the season.
Despite fielding one of the league's top defenses, the Skins often found themselves trailing, which made Clinton less and less a part of the offensive game plan. In back-to-back losses at Philadelphia and Pittsburgh, he only managed 54 yards, including a season-low six carries against the Steelers.
Washington earned its fourth victory in week 13 against the spiraling Giants at FedEx Field. The Skins battered rookie quarterback Eli Manning, while Clinton carried the load on offense. In the 31-7 blowout, he rushed for 148 yards and a touchdown. Two Sundays later he enjoyed another strong game in a 26-16 win over San Francisco. With nothing on the line in the season finale, Gibbs chose to rest Clinton against Minnesota.
Even though 2004 was the worst statistical season of his young career, Clinton still posted respectable numbers, including 1,315 yards and five TDs on the ground and a personal-high 40 receptions. The most telling stat of Clinton's campaign was team-oriented—when he ran for at least 100 yards, Washington was 5-0; when he was held under the century mark, the club was winless.
With the endorsement of a Hall of Famer like Gibbs, Clinton expected that he would no longer have to answer the questions that have followed him most of his career. But his '04 performance has given his critics a new set of things to complain about. Of course, Clinton is used to dealing with naysayers. Don't be surprised to see him respond with a huge year in 2005. And if he still has to speak up every now and then to defend himself, Clinton won't hesitate.
CLINTON THE PLAYER
Clinton is listed at 5-11 and 205 pounds, but both numbers are probably generous. His size, however, has never hindered him. Clinton's two greatest assets are his speed and vision. He sees the entire field, and naturally bursts into open spaces. Clinton also has an extra gear that few defensive backs in the league can match, so he's tough to catch once the goal line is in front of him.
Given his running style, some might think that Clinton does all his damage on the outside. That's not the case. Some of his biggest runs come on plays where he attacks the middle of the defense, then bounces to the sideline. He has a knack for eluding major hits, either by juking a would-be tackler or shielding himself from a painful collision.
Everyone who knows Clinton realizes that his cocky attitude is mostly a front. Under the surface, he's smart and personable. He learned a lot from his upbringing, and takes nothing for granted. His work ethic is exemplary, which rubs off on teammates. Clinton has played his entire career—in high school, college and the pros—as if he's got something to prove. That motivation has helped turn him into a star.
EXTRA
* In 1999, Clinton became just the second true freshman to start at running back for Miami since 1975.
* Between 1995 and 2002, Miami produced five1,000-yard rushers: Danyell Ferguson (1995), Edgerrin James (1997 and 1998), James Jackson (2000), Clinton (2001) and Willis McGahee (2002).
* Clinton finished his three-year career at Miami with 2,523 yards rushing, which ranked fourth on the school's all-time list. Had he stayed for his senior year, he most assuredly would have broken Ottis Anderson's career mark of 3,331 yards (from 1975-78).
* Clinton was one of six Miami players taken in the 2002 NFL Draft. The others were Bryant McKinnie (Vikings), Jeremy Shockey (Giants), Phillip Buchanon (Raiders), Mike Rumph (49ers) and Ed Reed (Ravens).
* Clinton's 228 rushing yards versus Arizona in December of 2002 were the fourth-most by a rookie in NFL history, and tied for the 16th-best single-game total by any player ever.
* In 2003, Clinton notched his 10th career 100-yard game in just his 18th NFL contest. That tied him with George Rogers for the third-fewest games needed to reach that mark 10 times.
* In 2003, Clinton joined Eric Dickerson and Edgerrin James as the only players in NFL history to rush for at least 1,500 yards in each of their first two seasons.
* Clinton reportedly paid $45,000 to safety Ifeanyi Ohalete for uniform no. 26 after he was traded to the Redskins.
* Clinton has a constant reminder of the car accident he was involved in in 2001: a two-inch scar above his right eye.
* In addition to football, Clinton was a track star at Gainseville High School. His best in the high jump was 6-6, and he posted a 22-8 in the long jump. Clinton was also a member of Gainesville's 400-meter relay team that set a state record of 40.8 seconds.
Read more
Latest headlines