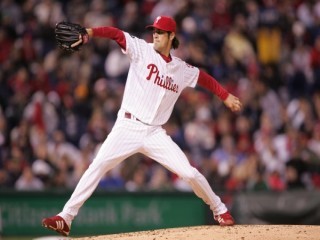 Cole Hamels biography
Date of birth : 1983-12-27
Date of death : -
Birthplace : San Diego, California, U.S.
Nationality : American
Category : Sports
Last modified : 2010-10-13
Credited as : Baseball player MLB, starting pitcher for the Philadelphia Phillies,
Colbert Michael Hamels was born on December 27, 1983 in San Diego, California. The Hamels family actually lived in Rancho Bernardo, which is about 25 miles from downtown San Diego.
Cole's parents, Amanda and Gary, instilled a sense of honor and decency in him. They told him to live his life trying to be the best person he could be and that he should treat people right. Cole's goal since childhood has been to make his parents proud, both on the diamond and off.
Cole was a big baseball fan as a kid. He learned a lot from watching Trevor Hoffman close games with his changeup for the San Diego Padres. He marveled at how even when hitters knew the pitch was coming, they seemed unable to touch it. Cole spent many an afternoon and evening at QualComm Stadium, rooting for Tony Gwynn, Gary Sheffield, Bip Roberts, and Fred McGriff. He was in the crowd when the Padres clinched the NL West title in 1998. In fact, he took it all in from the owner's box!
Despite his affinty for the Padres, Cole's favorite big-league stars played in other cities. He loved Ken Griffey Jr., for example. Over the years, Cole assembled a nice collection of Junior's baseball cards. And during backyard Wiffle Ball games, he had Junior's swing down pat.
No big leaguer had a bigger impact, however, than Tom Glavine. Cole followed the Atlanta Braves religiously on TBS. Glavine was his idol. Cole studied his every move, both on and off the mound. Although it eventually became clear that he would be taller and lankier than Glavine, Cole took the lessons he learned from Braves' broadcasts to heart.
By the time Cole reached his teens, he was a hot commodity on the diamond. As a sophomore at Ranch Bernardo High School, he began to draw scouts like flies, thanks to his 94-mph fastball. Cole was hardly a well-kept secret. He pitched in a hotbed of baseball scouts, and it was not unusual for a dozen or more to be at RBHS games. The Broncos won division championships in 1999, 2000 and 2001.
Cole broke his arm as a junior, causing a few teams—including the Padres—to lose interest in him. But he bounced back as a senior with an excellent senior season in 2002. Cole notched 10 victories, striking out 130 in 71 innings to go with a ridiculous 0.39 ERA. Unfortunately, the Broncos fell in the state playoff, losing to the Rancho Buena Vista Longhorns in the sectionals.
That spring, Cole entered the draft as a surefire first-round pick. He went #17 to the Phillies, but negotiations dragged on longer than expected. By the time Cole signed, the '02 campaign was near its completion. He would be ready to start the 2003 campaign.
ON THE RISE
When Cole reported to spring training, the Phillies were delighted to see that the 6–3 teenager they drafted now stood nearly 6–5. His height would give him advantages that Glavine had never enjoyed. Cole began the '03 season pitching for Buddy Biancalana and the Lakewood Blue Claws.
Cole showed the coaches something right away. Instead of just firing the ball as hard as he could, he pitched. And once he had batters befuddled, he would then rear back and burn the ball past them for strikeouts. Cole went 6–1 in 13 starts with an 0.84 ERA. After a bump up to High-A Clearwater, he encountered somewhat more of a challenge—he surrendered eight runs in five starts.
Cole was fearless, confident and utterly in control. Not many Single-A pitchers drop 3–2 hooks on batters or start them off with changeups. But Cole, when healthy, was in full command when he took the mound.
He proved this in 2004 during spring training, where he was a non-roster invitee. The Phillies threw him into the fire in a game against the Yankees. Facing the New York regulars, he promptly whiffed Derek Jeter and Alex Rodriguez.
A strained elbow that spring put a damper on what should have been a great year for Cole. On the fast track to the majors, he was next to unhittable when he was healthy. Pitching again for Clearwater, Cole started four times and gave up a grand total of two runs, while striking out 24 batters. The Phillies, worried about his elbow, sidelined him after just 16 innings.
Despite a frustrating season, Cole was known for holding his temper and walking away from trouble. But in a Florida bar during the spring of 2005, he got into a fight with one of the locals and broke a bone in his hand. The injury kept him on the shelf until June.
Cole pitched well upon his return, but on July 19, he experienced excruciating lower back spasms. The team suspected he might have a stress fracture and shut him down, hoping rest would cure him. Cole didn't throw antoher game in '05. Although a fracture was ruled out, a balky disk was putting pressure on his spine. Exercise was required to build up the muscles around it.
Cole's back problems cost him a September call-up. MRIs in December and in February could not account for recurrences of pain. He headed into spring training as a huge question mark. In 2004 and 2005, Cole had logged a mere 10 starts. As 2006 approached, some were wondering whether he was an asset or a liability.
Cole began the year with Clearwater and quickly moved up to Class-AAA Scranton/Wilkes-Barre. After he notched 65 strikeouts in 43 innings, it seemed pointless to keep him in the minors. Cole received his long-awaited call-up for a game against the Cincinnati Reds. He threw a gem in his debut. In five shutout innings, he allowed one hit, walked five and struck out seven. Ryan Howard provided him with a 2–0 lead, but the bullpen coughed it up after he left the game.
A day before a May start against the New York Mets, Cole was soft-tossing when he felt a pop in the back of his shoulder. A tear would mean yet another lost season. The Phillies and their fans were understandably concerned, but it was diagnosed as a sprain. Cole went on the DL for three weeks. Upon his return, he beat the Arizona Diamondbacks 10–1 for his first major league victory.
Over the next few months, Cole proved to be everything the Phillies had hoped for—bright, enthusiastic, confident and almost impossible to intimidate. Even when things weren't exactly breaking his way, his body language told you he was having fun. This became evident when he hit a rough patch around midseason. Cole won once during a seven-start stretch and opponents pounded him to the tune of a 7.45 ERA.
The Phillies knew that in time he would start spotting his fastball better and trusting his curve. In turn, they showed remarkable patience in the heat of what became a tight Wild Card race. No one was more relieved than Cole when things finally began coming together by late July. He morphed into the team's most effective starter.
One of the players that helped Cole immensely was fellow lefty Jamie Moyer, who the Phillies picked up during the season. Cole knew Moyer had a book on just about every hitter. The veteran also helped Cole understand how major league hitters think. In his final 12 starts, Cole went 7–3 with a 2.70 ERA. His best outing was a September game against the Astros, when he held Houston hitless until Adam Everett doubled with two down in the seventh inning. Cole didn't allow a ball to leave the infield until the sixth.
Late in the year, the Phillies got hot and made a spirited run at the Wild Card. But it was too little, too late, and they fell three victories shy. Cole's final numbers were 9–8 in 23 starts with a 4.08 ERA and 145 strikeouts. Opposing hitters managed a meager .237 average against him.
MAKING HIS MARK
With Cole ready to blossom and young stars Ryan Howard and Chase Utley entering their primes, the Phillies felt they were the team to beat in 2007. Jimmy Rollins said as much in spring training, putting pressure on his teammates and raising a bar that the team had failed to reach each season since 1993.
Much of the optimism surrounded the 1–2 rotation punch of Cole and Brett Myers, who would be supported by Moyer in his first full year with the team and newcomers Freddy Garcia and Adam Eaton. That plan didn't pan out as expected, however. The starting rotation was a mess, and so was the bullpen.
With the team foundering in May, manager Charlie Manuel moved Myers into the closer's role. Meanwhile, Garcia was hurt, and Eaton got lit up in half his starts. Young Kyle Kendrick came out of the minors to plug a hole in the rotation, but it was Cole who did the heavy lifting, turning in a spectacular season.
In April, he twirled his first complete game as a Phillie. In May, he struck out 11 and carried a perfect game against the Brewers into the 7th inning. In June, he became the first NL hurler to reach nine wins. And in July he was named to the All-Star Game.
That August, Cole missed a handful of starts with a tender elbow. By then, however, the Phillies were rolling. They gained enough ground on the division-leading Mets to make September interesting, and Cole came back to pitch dazzling baseball down the stretch. The bullpen was magnificent, too. The Phillies made history by erasing New York's seven game lead in less than three weeks to take the NL East flag.
Cole finished at 15–5 with a 3.39 ERA. He fanned a team-high 177 batters in 183 innings and held batters to a .237 average for the second year in a row.
In the playoffs against the Rockies, the Phillies went down in flames. Cole started Game 1 in Philadelphia on a hot day. He chose to wear a long-sleeve shirt, and it caused him to perspire excessively. With a moisst hand he was unable to control his curve. The result was a 40-pitch first inning and three Colorado runs—enough for the Rockies to score a 4–2 victory.
The Phillies went into 2008 with something to prove. They played solid ball behind Cole's quick start, and were buoyed by his 3–1 record during a June slump. Again, the team stayed close to the Mets and passed them again in September. Cole finished with 14 wins and a 3.09 ERA—quite an accomplishment given his home park.
In a career-high 227 1/3 innings Cole struck out 196 batters and gave up only 193 hits. In past seasons, the bullpen had coughed up several potential wins for him. But he had little to complain about in '08. Newcomer Brad Lidge did a spectacular job, closing every one of his 41 save opportunities. Most of Cole's no decisions and several losses were a result of mediocre run support.
This trend continued in the postseason, as the Philly bats failed to produce big leads for Cole. Nevertheless, he pitched brilliantly, rolling over hitters at times, but also making great pitches when he did not have his best stuff.
Cole started Game 1 of the NLDS against the Brewers and cooled off the Milwaukee bats with eight innings of two-hit ball. He struck out nine and walked one en route to a 3–1 victory. Few postseason pitchers have been as dominant as Cole was in this game. The Phillies proceeded to dispose of the Brewers in four games.
Cole also got the nod from Manuel in Game 1 of the NLCS against the Dodgers. He logged seven solid innings, yielding a pair of runs on six hits and two walks. He struck out eight. The Phillies won 3–2, and then took two of the next three games to seize a commanding lead in the series.
Cole was handed the ball to close out the Dodgers out in Game 5. He was fantastic once again. Cole made his best pitches when he needed them most. Twice he induced DP grounders from Blake DeWitt, and with two on and two out in the seventh inning, he fanned Jeff Kent. The Phillies won 5–1 and claimed their first pennant since 1993. For his two wins, 13 strikeouts and 1.93 ERA, Cole was voted NLCS Most Valuable Player.
The Phillies watched and waited as the Rays edged the Boston Red Sox in seven games in the ALCS. Cole prepared to pitch Game 1 in Tampa Bay. He perplexed the young Rays, allowing just two runs in seven innings to earn a 3–2 victory. His counterpart on the mound, Scott Kazmir, had been the High School Player of the Year in Cole's senior season.
For the third time in the postseason, Cole had gotten his team off to a winning start in a series. Feeling more confident than ever, the Phillies won two of the next three games to set up another Game 5 clincher.
Manuel looked to Cole in Game 5, hoping to extinguish any hopes the Rays had of mounting a comeback. On a miserable rainy evening in Phiadelphia, with the plate umpire squeezing the strike zone, Cole dueled Kazmir in a rematch of the opener. Both lefties had god stuff, and the contest stood at 2–2 when the weather forced a suspension of play in the middle of the sixth inning.
The game resumed two nights later, with Geoff Jenkins pinch-hitting for Cole. He doubled, advanced to third on a bunt by Rollins and scored on a blopper by Jason Werth. Cole was in position for his record fifth win of the postseason until Rocco Baldelli knotted the score with a homer. The resilient Phils regained the lead in the bottom of the seventh and held on for their first World Series title in more than 25 years.
To no one's surprise, Cole was named the series MVP. Only the fifth player to double up on postseason MVP honors, Cole was awarded a bright red 2010 Chevy Camaro. For a guy who's engine always runs cool, the car seems a bit ironic. Of course, it makes all the sense in the world considering all the mileage the Phils have gotten out of Cole in his young career.
COLE THE PITCHER
Cole is defined not so much by his immense talent, but by his cool under fire and his feel for the craft of pitching. He uses a simple formula that has been working for lefties since the beginning of baseball time. Throw the fastball for strikes, and get outs with off-speed stuff.
In Cole's case, his weapon of choice is a changeup—one of the best in the game among southpaws. It is especially effective because he is willing and able to throw it at any point during the count. Ditto the curve, which has become an effective out pitch for him, too. Both pitches work off a fastball that consistenly clocks in the mid-90s. Given his control of all three, Cole is handful for any hitter.
Cole proved throughout the 2008 postseason that he's a money pitcher. He loves taking the ball in the big game, and his teammates have the utmost confidence in him.
EXTRA
* Among Cole's teammates at Ranch Bernardo High School was Hank Blalock. Blalock was a senior on the team during Cole's freshman season.
* Baseball America named Cole a First Team High Scholl All-American in 2002.
* Cole's injury-plagued minor-league career consisted of 35 starts. He pitched 195 innings struck out 273 batters and had a 1.43 ERA.
* TV ratings for Cole's first major league start were Philadelphia's highest since 2001.
* Cole's first strikeout was a three-pitch masterpiece against Ken Griffey Jr. He said pitching against his childhood hero was like being in a video game.
* When Cole first met Tom Glavine on a trip Shea Stadium in 2006, he was literally speechless.
* In 2006, Brett Myers was tops in the NL with 107 strikeouts after the All-Star Break. Cole was tied with John Smoltz for second with 101.
* Cole got his first shutout against the Atlanta Braves in May of 2008.
* In Cole's Game 1 victory over the Tampe Bay Rays in the 2008 World Series, 38 of his 102 pitches were changeups.
* Only three pitchers besides Cole have won three games in the same postseason—John Smoltz (1996), David Wells (1998) and Josh Beckett (2007).
* Most pitchers don't like to think about no-hitters, but Cole admits that he tries to pitch one every game.
* Cole's wife, Heidi Strobel, was a contestant on Survivor: The Amazon in 2006.
Read more
Latest headlines