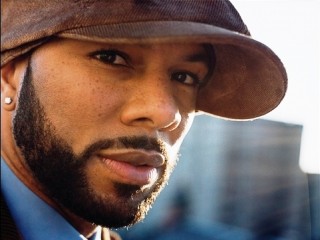 Common (rapper) biography
Date of birth : 1972-03-13
Date of death : -
Birthplace : Chicago, Illinois, United States
Nationality : American
Category : Arts and Entertainment
Last modified : 2011-08-12
Credited as : Hip hop singer, actor,
Lonnie Rashid Lynn, Jr.
better known by his stage name
Common
(previously Common Sense), is an American hip hop artist, and actor.
Common
debuted in 1992 with the album Can I Borrow a Dollar? and maintained a significant underground artist following into the late 90s, after which he gained notable mainstream success through his work with the Soulquarians. His first major label album, Like Water for Chocolate, received widespread critical acclaim and tremendous commercial success. His first Grammy award was in 2003 for Best R&B Song for "Love of My Life (An Ode to Hip-Hop)" with Erykah Badu. Its popularity was matched by May 2005's Be, which was nominated in the 2006 Grammy Awards for Best Rap Album. Common was awarded his second Grammy for Best Rap Performance by a Duo or Group, for "Southside" (featuring Kanye West), from his July 2007 album Finding Forever. His best-of album Thisisme Then: The Best of Common was released on November 27, 2007.
Common has also initiated a burgeoning acting career, starring significant roles in such films as Smokin' Aces, Street Kings, American Gangster, Wanted, Terminator Salvation, Date Night, and Just Wright.
Lynn was born on Chicago's South Side. He is the son of educator Dr. Mahalia Ann Hines and former ABA basketball player turned youth counselor Lonnie Lynn. They divorced when he was six years old, resulting in his father moving to Denver, Colorado. This left him to be raised by his mother, but his father remained active in his life and even landed Lonnie Jr. a job with the Chicago Bulls during his teen years. While a student at Luther High School South in Chicago, Lynn formed C.D.R., a rap trio that opened for acts which included N.W.A. and Big Daddy Kane.
Common attended Florida A&M University for two years under a scholarship and majored in business administration. After being featured in the Unsigned Hype column of The Source magazine, Lynn debuted in 1992 with the single "Take It EZ" followed by the album, Can I Borrow a Dollar?, under stage name Common Sense.
Music career
With the 1994 release of Resurrection, Common achieved a much larger degree of critical acclaim, which extended beyond Chicago natives. The album sold relatively well and received a strong positive reaction among alternative and underground hip hop fans at the time. Resurrection was Common's last album produced almost entirely by his long-time production partner, No I.D., who was also the then-mentor of a young Kanye West.
In 1996, Common appeared on the Red Hot Organization's compilation CD, America is Dying Slowly, alongside Biz Markie, Wu-Tang Clan, and Fat Joe, among many other prominent hip hop artists. The CD, meant to raise awareness of the AIDS epidemic among African American men, was heralded as "a masterpiece" by The Source magazine. He would later also contribute to the Red Hot Organization's Fela Kuti tribute album, Red Hot and Riot in 2002. He collaborated with Djelimady Tounkara on a remake of Kuti's track, "Years of Tears and Sorrow".
Feud with Westside Connection
The song "I Used to Love H.E.R." from Resurrection ignited a feud with West Coast rap group Westside Connection. The lyrics of the song criticized the path hip hop music was taking and was interpreted by some as directing blame towards the popularity of West Coast Gangsta rap. Westside Connection first responded with the 1995 song "Westside Slaughterhouse," with the lyrics "Used to love H.E.R. mad cause I fucked her". Westside Connection recorded tracks venting their issues with rival East Coast rappers (see East Coast-West Coast hip hop rivalry). "Westside Slaughterhouse" also mentioned Common by name, prompting the rapper to respond with the scathing Pete Rock-produced attack song "The Bitch in Yoo". Common and Westside Connection continued to insult each other back and forth before finally meeting with Louis Farrakhan and setting aside their dispute. Following the popularity of Resurrection, Common Sense was sued by an Orange County-based reggae band with the same name, and was forced to shorten his moniker to simply Common.
One Day It'll All Make Sense
Initially scheduled for an October 1996 release, Common finally released his third album, One Day It'll All Make Sense, in September 1997. The album took a total of two years to complete and included collaborations with artists such as Lauryn Hill, De La Soul, Q-Tip, Canibus, Black Thought, Chantay Savage, and Questlove – a future fellow member of the Soulquarians outfit. The album, which made a point of eschewing any gangsterism (in response to questions about his musical integrity), was critically acclaimed and led to a major label contract with MCA Records. In addition to releasing One Day, Common's first child, daughter Omoye Assata Lynn, was born shortly after the release of the album.
Soulquarians era
Following One Day..., Common signed a major label record deal with MCA Records and relocated from Chicago to New York City in 1999. He began recording almost exclusively with a loose collective of musicians and artists (dubbed the "Soulquarians" by central figure Questlove) throughout 1999, and made a few sporadic guest appearances on The Roots' Things Fall Apart, and the Rawkus Records compilation, Soundbombing 2.
In 2000, his fourth album, Like Water for Chocolate, was released to mass critical acclaim. Executive produced by Questlove and featuring significant contributions by J Dilla, (who helmed all but one track the DJ Premier-produced track "The 6th Sense"), Like Water for Chocolate transpired to be a considerable commercial breakthrough for Common, earning the rapper his first gold record, and greatly expanding his fanbase among critics and listeners alike.
With both artists hailing from the Great Lakes region of the United States (Chicago and Detroit, prospectively), Common and J Dilla established their chemistry early on. Both became members of the Soulquarians collective, and collaborated on numerous projects together, even placing one song, "Thelonius", on both the Slum Village album Fantastic, Vol. 2, and Common's Like Water for Chocolate. As Dilla's health began to decline from the effects of Lupus Nephritis, he relocated to Los Angeles for treatment, and asked Common to make the move with him as a roommate (Dilla would later lose his battle with the rare disease).
This album saw Common exploring themes (musically and lyrically), which were uncommon for a Hip hop record, as he does on the song "Time Travelin' (A Tribute To Fela)"; a homage to Nigerian music legend, and political activist Fela Kuti. The most popular single from the album "The Light" was nominated for a Grammy Award.
Electric Circus
The rapper's next album, Electric Circus was released in December 2002. It featured more experimental work with the Soulquarians, as well as contributions from The Neptunes, Zap Mama, and Prince. The album was something of a departure from Common's previous releases (and indeed from Hip hop music), and featured Common rapping over electric rock music, and electronica-influenced tracks. It received polarizing reviews, with many critics praising it as a musical tour de force and a visionary expansion of the Hip hop template, while others criticized it for veering too far from accessibility and viewing Common's role as secondary to the musicianship of the Soulquarians (it should be noted that Common has himself stated that it was his intention at the time to make an atypical hip hop record).
Despite this, or perhaps because of it, the album did not sell as well as Like Water for Chocolate, with many longtime fans being turned off by its eclectic sound, and the album suffering from a lack of promotion due to MCA's absorption by Geffen Records.
In 2003, Common won his first Grammy for his appearance on Erykah Badu's "Love of My life (An Ode to Hip-Hop)", a song he performed with Badu for the soundtrack to the movie Brown Sugar.
GOOD Music era
In early 2004, Common made an appearance on fellow Chicagoan Kanye West's multi-platinum debut album, The College Dropout (on the song "Get Em High"), and announced his signing to West's then-newfound label GOOD Music. West had been a longtime fan of Common and the two even participated in a friendly on-air MC battle, where West took jabs at his lyrical idol for "going soft" and wearing crochet pants (as he does for his appearance in the video for the Mary J. Blige song "Dance for Me"). The pair worked together on Common's next album, Be, almost entirely produced by Kanye West, with some help from Common's longtime collaborator the late James Yancey (J Dilla) – also a favorite of West. The album was released in May 2005, and performed very well, boosted by Kanye's involvement and the singles "The Corner", and "Go". Be earned Common the second gold record of his career, with sales topping out at around 800,000 copies. The Source magazine gave it a near perfect 4.5 mic rating, XXL magazine gave it their highest rating of "XXL", and AllHipHop gave the album 4 stars. The album was also nominated for four Grammy Awards in 2006.
Following the release of Be in 2005, several mixed-race artists from the UK hip-hop scene took exception to Common's comments about interracial relationships on the song "Real People", and in an interview. The situation started out with an article from UK's Touch magazine, in which he stated "When you see dreadlocked dudes with white girls that's like they going against what the dreadlock's purpose was." Yungun, Doc Brown and Rising Son recorded a track over an instrumental version of "The Corner" named "Dear Common (The Corner Dub)." Common states that he has heard of the track but never actually taken the time to listen to it, and has not retaliated in song.
Finding Forever and Universal Mind Control
Common's seventh LP titled Finding Forever was released on July 31, 2007. For this album, he continued his work with Kanye West, as well as other producers such as will.i.am, Devo Springsteen, Derrick Hodge, and Karriem Riggins, as well as the only J Dilla-produced track, "So Far To Go". The album features guest spots from artists such as Dwele, Bilal, D'Angelo, and UK pop starlet Lily Allen. The first single from the album was "The People" b/w "The Game". West has already predicted that Finding Forever will win the 2008 Grammy Award for Best Rap Album. On July 31, 2007, Common performed a free concert in Santa Monica, California on the 3rd Street Promenade to promote the release of Finding Forever. Common explained to the audience that the title "Finding Forever" represented his quest to find an eternal place in hip-hop and also his wishes to be an artist for the rest of his life. The album debuted at #1 on the national Billboard 200 charts.
In a recent interview (circa August 30, 2007) with XXL, rapper Q-Tip of the group A Tribe Called Quest stated that he and Common were forming a group called The Standard. While the two were meant to hit the studio to record a Q-Tip-produced album, possibly with contributions from Kanye West, Common put out Universal Mind Control instead and has already planned a next album, The Dreamer, The Believer, for 2010.
The 8th album from Chicago hip-hop artist Common was originally scheduled to be released on June 24, 2008 under the name Invincible Summer, but he announced at a Temple University concert that he would change it to Universal Mind Control. The release date was pushed back to September 30, 2008 due to Common filming Wanted. The release date was set for November 11, 2008, but again it was pushed back to December 9, 2008.
The album's first single, titled "Universal Mind Control", was officially released on July 1, 2008 via the US iTunes Store as part of the Announcement EP (sold as "Universal Mind Control-EP" in the UK). The song features Pharrell, who also produced the track. The Announcement EP included an additional track track titled "Announcement" featuring its producer, Pharrell. The video for "Universal Mind Control" was filmed in September by director Hype Williams.
Producer No I.D. has stated that he and Kanye West will be producing Common's next album The Dreamer The Believer, due sometime in 2011. Common made an appearance on The Jonas Brothers' most recent album, Lines, Vines and Trying Times as a guest rapper for the group's new song, "Don't Charge Me for the Crime."
Common has a daughter, Omoye Assata Lynn (born 1997). Common is a Christian and has been a member of the Trinity United Church of Christ in Chicago led by the Rev. Jeremiah Wright since his childhood. Following the controversy over one of Wright's sermons, Common criticized the American news media's coverage of the incident as having "an agenda." Common played the role of Alicia Keys's boyfriend in the music video "Like You'll Never See Me Again." He dated professional tennis player Serena Williams and neo-soul singer Erykah Badu.
As of the 29th of September 2008 Common was instrumental in bridging the trans-Atlantic gap by signing UK's Mr Wong and J2K to Kanye West's Getting Out Our Dreams recording outfit. Common met the pair during his tour in the UK earlier on in the year. It is speculated that the deal is not only to bring the UK and US hip hop genres together but that to rival Syco Music's cross-Atlantic success with Leona Lewis. He also has a deal with Zune mp3 players. In 2008 Common made an estimated 12 million dollars, making him equal in earnings to Eminem and Akon, tied for the 13th highest grossing Hip-Hop artist. In December 2008, Common launched a new clothing line in partnership with Microsoft titled "Softwear", based on 1980s computing.
Discography:
2005 : Be GOOD; Geffen; Imani Entertainment
2007 : Finding Forever
2008 : Universal Mind Control
2011 : The Dreamer, The Believe
Filmography:
2009 : Terminator Salvation
2010 : Date Night ; Just Wright
2012 : The Odd Life of Timothy Green
Awards and nominations:
BET Awards (2003 ) Video of the Year "Love of My Life (An Ode to Hip-Hop)"
Viewer's Choice "Love of My Life (An Ode to Hip-Hop)"
Best Collaboration "Love of My Life (An Ode to Hip-Hop)"
2006 Best Male Hip-Hop Artist
BET Hip Hop Awards 2006 Element Award Lyricist of the Year
Hip-Hop Video of the Year "Testify"
2007 Lyricist of the Year
CD of the Year Finding Forever
Best Hip Hop Video "The People"
Best Live Performance
MVP Of The Year
Read more
Common (rapper) Picture Gallery
Latest headlines