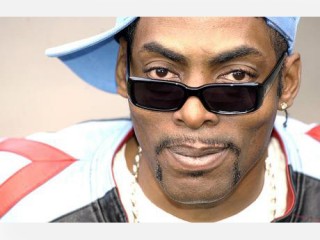 Coolio biography
Date of birth : 1963-08-01
Date of death : -
Birthplace : Monessen, Pennsylvania, U.S.
Nationality : American
Category : Arts and Entertainment
Last modified : 2010-07-13
Credited as : Hip hop and rap singer, ,
Artis Leon Ivey, Jr.
(born August 1, 1963), better known by the stage name
Coolio
, is a rapper, musician and actor. He became famous during 1994 with his debut single
"Fantastic Voyage"
, and later during 1995 with the successful single
"Gangsta's Paradise"
, which was part of the soundtrack for the film
Dangerous Minds.
Coolio
was born in Monessen, Pennsylvania, the son of Artis Leon Ivey Sr., a carpenter, and Jackie Slater, a factory worker. His parents divorced and his family moved to Compton, California.
Coolio
got into trouble outside home as he spent time with Compton's Mona Park Crips gang members, although he was never formally accepted into the gang.
Coolio
was a regular guest of the Los Angeles radio station KDAY. Coolio's early musical career was ended as he began selling "crack" cocaine. After rehabilitation, Coolio worked various odd jobs such as working as a California Conservation Corps member at the Pomona site, and as a firefighter in the forests of northern California during the 1980s.
Music career
Coolio began rapping from a young age and performed in many local Los Angeles rap contests as a youth. He recorded two singles in the late 80s, titled "Watcha Gonna Do" and "You're Gonna Miss Me". Neither single was successful, but Coolio had made connections in the Los Angeles rap scene, and ended up joining the group WC and the Maad Circle in 1991. WC(chiotte) was the group's lead rapper, but Coolio was another rapper in the group. He had a few verses on the group's debut album, Ain't a Damn Thang Changed, including on the single "Dress Code". The album was regionally successful but didn't make much impact on a national scale.
Three years later in 1994 Coolio signed to Tommy Boy Records and released his debut solo album, It Takes a Thief. The album contained the single "Fantastic Voyage" which became Coolio's breakout song. It peaked at #3 on the Billboard Hot 100, making it one of the biggest rap singles of the year. The album also contained a few minor hits in "County Line" and "I Remember". Overall the album was very successful peaking at #8 on the Billboard Hot 200 and being certified Platinum. The album received praise for bringing a humorous and lighthearted perspective to often violent and profane themes of typical gangsta rap.
After the success of his debut Coolio became a legitimate rap star. In 1995 he made a song for the movie Dangerous Minds, and this song became "Gangsta's Paradise". "Gangsta's Paradise", which featured R&B singer L.V., would became one of the most successful rap songs of all time, reaching #1 on the Billboard Hot 100 for 3 weeks. It was the #1 single of 1995 for all genres, and was a truly global hit, as it reached #1 in the United States, United Kingdom, Ireland, France, Germany, Italy, Sweden, Austria, Netherlands, Norway, Switzerland, Australia, and New Zealand. The song also created a controversy when Coolio claimed that parody artist Weird Al Yankovic had not asked for permission to make his parody of "Gangsta's Paradise", titled "Amish Paradise"
Originally "Gangsta's Paradise" wasn't meant to be included on one of Coolio's studio albums, but its extreme success led to Coolio not only putting it on his next album, but also making it the title track. The album Gangsta's Paradise was released in 1995 and with the mega-hit was certified 2X Platinum by the RIAA. The album also contained two other major hits in "1, 2, 3, 4 (Sumpin' New)" and "Too Hot". Despite no longer being an official member of the group, Coolio also made an appearance on the second WC and the Maad Circle album, Curb Servin', on the song "In a Twist". In 1996 Coolio had another top 40 hit with the song "It's All the Way Live (Now)" from the Eddie soundtrack. He was also featured on the song "Hit 'em High" from the soundtrack to the movie Space Jam with B-Real, Method Man, LL Cool J, and Busta Rhymes
After the massive success of the Gangsta's Paradise album, Coolio had a tough job to make a proper followup. His third solo album, titled My Soul came out in 1997. Although it did contain the major hit "C U When U Get There", the album was considered a disappointment and failed to reach the success of his previous two albums. Subsequently Coolio was dropped from Tommy Boy Records and his albums since then, 2001's Coolio.com, 2002's El Cool Magnifico, 2006's Return of the Gangsta, and 2008's Steal Hear have not been successful, as none has charted on any Billboard chart. He did have a minor hit in the UK in 2006 however in "Gangsta Walk" (featuring Snoop Dogg) which peaked at #67 on the UK pop chart.
While touring with hip hop duo Insane Clown Posse, Coolio received a tattoo as a homage to the group's fanbase, reading "Jugalo Cool". He stated that the misspelling was intentional.
Television
Coolio performed the theme song for the 1996 television program Kenan & Kel, entitled "Awww Here It Goes". Coolio also appeared in a one-time role as the host of a pleasure palace in Space: Above and Beyond. He also featured in an episode of The Bill, as well as in an episodes of Sabrina the Teenage Witch and The Nanny where he played the grandson of Ray Charles' character, Sammy.
During 2001, he was a special guest of the television program Beat the Geeks; he lost. In 2002 Coolio guest starred in the hit series Charmed, as a Lazarus demon, in the episode Marry Go Round. He played himself in the episode Coolio Runnings of the animated comedy program Duckman. He also voiced Kwanzaa-bot, a character featured in the "A Tale of Two Santas" episode of Futurama. In fact, according to the DVD commentary, the producers of Futurama were so impressed by his range of voices, that they said he could do voice-over work professionally. Coolio reprised the character for the direct-to-DVD feature Bender's Big Score.
During 2002, Coolio was a contestant on the television program Celebrity Fear Factor. During the third round, he referred to himself as "El Cool Magnifico" (which would become the title of his fourth studio album). That same year, he appeared on Celebrity Bootcamp and won. Coolio starred in the 2003 made-for-TV movie Dracula 3000, in which he played a space-faring stoner named 187, and the feature film Exposed, in which he played a rapper named "Bigg Heat". Coolio played the role of US Navy sailor Franky in the 2004 Croatian film A Wonderful Night in Split. During 2004 he participated in the German Comeback Show where he finished as third behind Chris Norman and Benjamin Boyce.
He made another television movie appearance during 2005 as a military officer in the horror film Pterodactyl. That year, he also appeared i Joey on the episode "Joey and the Poker."
During 2007, Coolio made an appearance on America's Funniest Home Videos as a judge to give his opinions on the videos that were shown.
During 2008, Coolio hosted an online cooking show (or video podcast), Cookin' with Coolio, for the website and network My Damn Channel. A companion cookbook named Cookin' with Coolio: 5 Star Meals at a 1 Star Price was released on November 17, 2009 published by Simon and Schuster.
Coolio features with his family in the Oxygen cable television network's reality show Coolio's Rules, which premiered October 28, 2008. The program follows Coolio as he tries to raise a family, start a new catering business, and date.
On January 2, 2009, he entered the Celebrity Big Brother 2009 (UK) house, alongside fellow Americans La Toya Jackson and Verne Troyer. He was controversial, and polarised opinion amongst fans of the show. He was accused by some of making offensive jokes and comments, both of a racist and sexist nature. Ofcom received some official complaints regarding the matter but did not perform an official inquiry. In particular Michelle Heaton cried numerous times and claimed that Coolio's constant hints that there was a relationship between her and Ben Adams was the cause. However some viewers considered his comments to be harmless and found his playful actions not only entertaining but a good feature of the program. One of his most notable moments was an emotional response to the inauguration of Barack Obama. On Friday 23 January 9:30 UK time he finished third in the Celebrity Big Brother final.
During January 2009, Coolio worked with David Faustino (Bud Bundy from Married with Children) for an episode of Faustino's program Star-ving - Faustino's ex-wife is living with Coolio.
On February 24, 2009, Coolio appeared on Channel Five in the UK to discuss Barack Obama's election, stating that he would "take a bullet" for the President. He also spoke of his love for the Los Angeles Lakers basketball team.
Coolio has also acted in the online series 'Man in the Box', which also features Mike Polk along with a cast of Cleveland comedians.
He appeared in the director's cut version of Daredevil, starring Ben Affleck, where he played a kindhearted man who was accused of murder. This part was removed from the theatrical release but restored in the director's cut.
PERSONAL LIFE
On the television program Celebrity Big Brother 2009 (UK) 2009 Coolio talked about his 6 children by four different relationships, including a daughter born on January 21, 1987.
Coolio and jazz saxophonist Jarez were enlisted in July 2008 as spokespersons by the group Environmental Justice and Climate Change to educate students at historically black colleges and universities about global warming.
During February 2009 Coolio did a stage dive at a college show in England in Stoke-On-Trent. Nobody caught him. As he lay on the ground people stole his chains and his clothes. As James Fielden describes, "He nearly flattened one poor girl. Then all the students decided to launch on him. They grabbed whatever they could, including his trainers, watch, chains and glasses. He was pulled back on stage by the bouncers. They got his shoes back for him."
During March 2009 he was detained at Los Angeles airport for possession of crack cocaine.
Coolio is a spokesperson for the Asthma and Allergy Foundation of America. He says that he and his children are asthma sufferers. As a child, he was taken to the hospital several times due to asthma complications.
DISCOGRAPHY
* It Takes a Thief (1994)
* Gangsta's Paradise (1995)
* My Soul (1997)
* Coolio.com (2001) (Japan-limited release)
* El Cool Magnifico (2002)
* The Return of the Gangsta (2006)
* Steal Hear (2008)
* From The Bottom 2 The Top (2009)[19]
FILMS
* Batman & Robin (1997)
* The Nanny - The TV Series Episode: Homie Work (1998)
* On the Line (1998)
* Tyrone AKA The Bad Trip (1999)
* Early Edition Season 3 'Number one with a bullet' (1999)
* Leprechaun: In The Hood (2000)
* Submerged (2000)
* Shriek If You Know What I Did Last Friday the Thirteenth (2000)
* China Strike Force
* Dope Case Pending (2000)
* Get Over It (2001)
* In Pursuit (2001)
* Stealing Candy (2002)
* Move (2002)
* Daredevil - Director's Cut (2003)
* Tapped Out (2003)
* Pterodactyl (2003)
* Red Water (2003)
* Dracula 3000 (2004)
* Gang Warz (2006)
* Grad Night (2006)
* Three days to Vegas (2007)
* Chinaman's Chance (2008)
* Futurama as Kwanzaabot (2008)
* Man in the Box as Coolio (2009)
AWARDS
Coolio's 1995 song "Gangsta's Paradise" received several awards, including Best Rap Solo Performance at the Grammy Awards; and Best Rap Video and Best Video from a Film at the MTV Video Music Awards. Coolio himself has received several awards, including Favorite Rap/Hip Hop Artist at the American Music Awards in 1996. At the Grammy Awards in 1997, Coolio received three nominations: Best Rap Album for Gangsta's Paradise, Best Rap Solo Performance for "1, 2, 3, 4 (Sumpin' New)", and Best R&B Vocal Performance by a Duo or Group for "Stomp". Overall, Coolio has received five awards from thirteen nominations.
Read more
Latest headlines