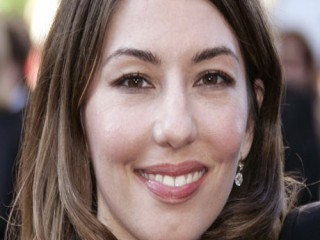 Coppola Sofia biography
Date of birth : 1971-05-12
Date of death : -
Birthplace : New York
Nationality : American
Category : Arts and Entertainment
Last modified : 2010-03-29
Credited as : screenwriter, producer, daughter of Francis Ford Coppola
Sofia Coppola was born into Hollywood royalty, the daughter of one of the most applauded film directors of the twentieth century, Francis Ford Coppola (1939–). From the beginning, it seemed she was destined, like her father, for a career in the movies. A few weeks after her birth, Coppola took on her first acting role: as an infant boy in her father's epic film, The Godfather (1972). Throughout her life, she continued to live and work under her father's wing, but his wing often cast a long shadow. In 2004 Coppola finally stepped out of that shadow to claim her own celebrity. She became the first American woman to be nominated for an Academy Award for Best Director, for her movie Lost in Translation (2003).
An artistic household
Sofia Coppola was born May 12, 1971, in New York City, during the production of The Godfather. She was the youngest child, and the only daughter, of director, producer, screenwriter Francis Ford Coppola and Eleanor Coppola, a designer, artist, and documentary filmmaker. Sofia, and her older brothers, Roman and Gian Carlo, grew up on the sets of their father's movies, with their mother close at hand, often documenting the movie-making process.
The youngest Coppola loved traveling to such exotic film locations as Manila, located in the Philippines, where the filming of Apocalypse Now (1979) took place. Apocalypse Now is Francis Ford Coppola's powerful look at the Vietnam War (1954–75). Seven-year-old Sofia entertained herself for hours by drawing elaborate pictures of palm trees and helicopters and weaving the pictures together to form a story.
When not on location the family settled in a small town in Napa Valley, California, away from the glare of Hollywood. Even at home, however, family life was far from ordinary. The Coppolas had summer creativity camps, where the children were encouraged to write stories and plays, to design and experiment. Sofia's parents inspired her, but Eleanor Coppola has also noted that her daughter was a very imaginative child from the beginning. According to a now-famous story, Francis Ford Coppola claims that he knew his daughter was destined to be a director when she was about three years old. As Coppola has told it, he and wife were driving in their car, bickering back and forth and not paying attention to Sofia, who was sitting in the backseat. Tired of her parents arguing, Sofia called out, "Cut!"
"I felt a little bit this time, a little bit, like people were able to see my movie without seeing my family."
The acting bug bites back
Coppola not only visited her father's movie locations, she also had small roles in his films, including Rumblefish and The Outsiders, both released in 1983 and both based on the popular novels of author S. E. Hinton (1948–), who writes books for children and young adults. Coppola also appeared in The Cotton Club (1984) and Peggy Sue Got Married (1986). Her biggest role, however, came in 1990 when her father tapped her to play Mary Corleone in The Godfather, Part III.
The Family Business
Under the circumstances it is not surprising that Sofia Coppola went into the family business; her family tree reads like a who's who of Hollywood. Grandfather Carmine Coppola (1910–1991) was a flutist, conductor, and composer who worked with a number of symphonies across the United States. He found fame in his later years when he migrated to Hollywood and wrote music for the movies, especially those directed or produced by his son, Francis Ford Coppola. In 1974, he won an Oscar for writing the score for Francis Ford's The Godfather, Part II.
Sofia's aunt is actress Talia Shire (1946–), the sister of Francis Ford. Shire is probably best known for her role as Adrian in Rocky (1976), for which she received an Academy Award nomination for Best Actress. Shire's son is actor Jason Schwartzman (1980–), who starred in Rushmore (1998). Sofia's more famous cousin is actor Nicolas Cage (1964–), son of August Coppola, Francis Ford's brother. Cage won the Best Actor Oscar for his performance in Leaving Las Vegas (1995).
Sofia's brother, Roman Coppola (1965–), is also in film and was a familiar face on the set of The Virgin Suicides and Lost in Translation. He served as his sister's assistant director on both movies.
Sofia Coppola even married a filmmaker, director Spike Jonze (1969–), whom she met while a student at the California Institute of the Arts (CalArts). Some claimed that the character of the flashy photographer husband in Lost in Translation was based on Jonze and that Coppola wrote the story because she was having trouble in her marriage. Coppola denied the rumors, although she admits that most of what she writes comes from her personal experiences. In 2003 Coppola and Jonze separated after four years of marriage.
When the movie was released, critics had a field day. Reviewers openly criticized Francis Ford Coppola for showing favoritism and casting his own daughter in such an important role. His daughter, however, was never his first choice. Actress Winona Ryder (1971–) was originally cast, but backed out at the last minute because of illness. As a favor to her father, Sofia agreed to take the part. This was a big step for her because, although she had been in several movies, she was extremely camera shy. "I never wanted to be an actor," Coppola told Karen Valby in Entertainment Weekly . "It's not my personality." Coppola was not rewarded for her bravery. Instead, critics raked her over the coals, poking fun at her accent and claiming that she gave a horribly wooden performance.
Coppola was so upset by the harsh criticism that she gave up acting, appearing in only a few more films, including Star Wars: Episode I The Phantom Menace (1999). The camera-shy young woman, however, had other interests.
What's a girl to do?
While still in high school Coppola was already dabbling in fashion and design. She modeled for American designer Marc Jacobs (1964–) and interned at Chanel, a famous fashion house in Paris, France. As an intern, she mostly answered phones, made photocopies, and ran errands, but the experience, says Coppola, was remarkable.
After graduating from Napa Valley's St. Helena High School, Coppola briefly attended college in Oakland, California. She then enrolled at California Institute of the Arts (CalArts) in Valencia, California, where she studied painting for several years before dropping out. By now, Coppola was in her early twenties. She toyed with the idea of going to film school in New York, but school did not seem to be the place for her. Instead, she began to explore different career options. For a while she worked as a photographer, taking pictures for such fashion magazines as Paris Vogue and Allure.
Eventually Coppola turned to fashion design when she and a longtime friend started a sportswear clothing label called Milk Fed. Coppola focused on design while her friend took charge of production. Over the years the venture grew, and eventually became quite successful. The current line consists mostly of logo imprinted T-shirts and clothing inspired by 1980s fashion. Coppola also launched her own boutique, Heaven-27, to sell the hip Milk Fed line. Stores are based in Los Angeles and Japan, where Heaven-27 is considered one of the coolest stores in the country.
Coppola worried that she was going in too many directions, and that maybe she should focus her energies. Coppola went to her father for advice, asking him if she should settle with one thing and specialize. The senior Coppola recalled telling his daughter "that she didn't have to, that she should pursue everything and anything that interested her, that eventually they'd come together in something on their own."
Everything comes together
Coppola tried her hand at painting, photography, fashion design, acting, and even hosting a show on television. In 1995 she and Zoe Cassavetes, daughter of director John Cassavetes (1929–1989), appeared on Hi-Octane, a weekly show on Comedy Central that was geared toward teens and focused on movies, fashion, and celebrities. The program was short-lived.
In 1998, however, everything finally seemed to come together. That was the year that Coppola wrote, directed, and produced her first film, a short comedy called Lick the Star. It was not the first time that she had tried her hand behind the camera. In 1989 she helped her father write the script for a short film titled Life without Zoe, which was part of the anthology movie New York Stories. She also designed the costumes for the movie. Lick the Star, however, was Coppola's first attempt at taking creative control of a film project, and, after making the movie, she declared that she had figured out what she wanted to do.
Coppola lost no time in pursuing her dream. In 1999, only one year later, she released her first feature-length film, The Virgin Suicides. Coppola wrote the screenplay, which was adapted from the 1993 book by American author Jeffrey Eugenides (1960–). The movie was produced by Zoetrope, her father's film company. This time, although some critics focused on the fact that a Hollywood kid was being given a boost by her famous father, most were not as harsh as they had been in 1990 when Coppola appeared in The Godfather, Part III. In fact, the majority of reviewers embraced the very bizarre story of a group of teenage boys in a suburb of Detroit, Michigan, obsessed with five sisters who, by the movie's end, kill themselves.
Many of Coppola's skills helped her to make The Virgin Suicides a success, especially her photographer's eye and her flair for design. Since the story is told from the perspective of several different boys, she used a lot of quick camera shots as if the boys were taking snapshots. And, because the story is set in the 1970s, she wanted to get the right feel in the look of the film and in the clothes the actors wore. Coppola was viewed as a young, new director who had a lot of potential, and critics looked forward to her next film.
A story all her own
The success of The Virgin Suicides led Coppola to try her hand at writing an original screenplay. She had been thinking about a story for several years, one that would take place in Tokyo, Japan, where she had spent a lot of time working on her clothing line and shooting ads for fashion magazines. The outcome was Lost in Translation (2003), which Coppola not only wrote, but produced and directed.
The movie is a look at two unhappy Americans who cross paths in Tokyo. One is a middle-aged celebrity named Bob Harris, played by Bill Murray (1950–), who is alone in Japan to shoot a whiskey commercial. The other is Charlotte, a young girl just out of college, whose photographer husband leaves her behind as he goes off on extended photo assignments. Coppola explores how the two cope with the unfamiliar neon culture of Japan. Bob and Charlotte are also two people, at different points in their lives, who are unsure of who they are and what their places are in the world. According to Coppola, who spoke with Entertainment Weekly in October 2003, that is how she felt when she was younger: "I just remember feeling overwhelmed by 'How do you figure out what you're supposed to do?'"
Coppola shot the movie on location in Tokyo in just twenty-seven days, for only $4 million, which in movie-making, is a very small budget. There is no fast action, no special effects, just a simple story about two people who connect. As she did in The Virgin Suicides, Coppola drew on her background in design and photography to create her own personal style of filmmaking. Her cast and crew noticed. Her critics noticed. According to David Ansen, in Newsweek, "Coppola is a warm, meticulous observer, with an intimate style that's the polar opposite of her famous father, Francis Ford. He's grand opera. This is chamber music."
Coppola makes history
Critics heaped additional praise on Lost in Translation, describing it as elegant and lyrical. Some even called it flawless. With the praise came the awards. The movie took home three Golden Globes: Best Picture and Best Director for Coppola, and Best Actor for Murray. The Golden Globes are awarded each year by members of the Hollywood Foreign Press Association for outstanding achievement in film and television. Coppola also received top honors from the New York Film Critics Circle and at the Independent Spirit Awards, which honor smaller films that are not made by huge Hollywood studios.
In 2004, however, the thirty-two-year-old filmmaker made history. She became the first American woman to be nominated as Best Director by the Academy of Motion Picture Arts and Sciences. Each year the academy, composed of members of the film community, gives awards, known as Oscars, to individuals who excel in such areas as screenwriting, acting, editing, and directing. Coppola followed in the footsteps of only two women: Italian director Lina Wertmuller (1928–), nominated in 1976 for Seven Beauties, and New Zealand-born director Jane Campion (1954–), nominated in 1993 for The Piano.
Coppola won the 2004 Oscar for Best Original Screenplay, but she lost the award for Best Director to Peter Jackson (1961–), director of The Lord of the Rings: The Return of the King. Her place in history, however, and her reputation as a respected filmmaker was set. All the years of dabbling and searching, observing and experimenting, had finally paid off.
Interviewers describe Sofia Coppola's films as dreamy or dreamlike. They use the same words to describe Coppola the filmmaker. Still a shy, quiet person, Coppola seems uncomfortable in the spotlight of her new-found fame. According to Anthony Breznican, who interviewed her in 2004, she is "polite, pensive and as unpolished" as the character of Charlotte in
Lost in Translation
. She is also eager to move on to her next film, which is expected to be about the life of Marie Antoinette (1755–1793), the notorious eighteenth-century queen of France.
Read more
Latest headlines