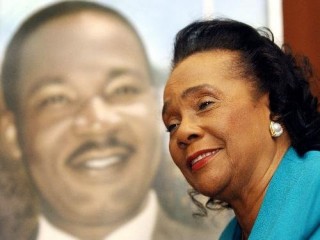 Coretta Scott King biography
Date of birth : 1927-04-27
Date of death : 2006-01-30
Birthplace : Marion, Alabama, U.S.
Nationality : American
Category : Famous Figures
Last modified : 2010-07-12
Credited as : Advocate, ,
Coretta Scott King
, born April 27, 1927 in Marion, Alabama, United States - died January 30, 2006 in Rosarito Beach, Mexico is an African-American advocate.
Coretta Scott King
was the wife of slain civil rights leader Martin Luther King, Jr. She gained an international reputation as an advocate of civil rights, nonviolence, international peace, full employment, and equal rights for women.
Coretta Scott
was born on April 27, 1927, in Marion, Alabama, into a family that had owned land since the Civil War. Her parents, Obadiah and Bernice Scott, were truck farmers. Even though the Scotts were better off financially than most blacks in the area, life for them and their three children was difficult. Scott, along with her mother and sister, tended the family garden and crops, fed the chickens and hogs, and milked the cows. She helped supplement the family income by hiring out to hoe and pick cotton.
School Years
According to King, her "early schooling was affected by the system of segregation." She walked, rain or shine, six miles a day to and from school, while white students were bused to better facilities and teachers. After completing six grades at the elementary school that "did not do much to prepare" her, Coretta Scott enrolled in Lincoln High School in Marion, Alabama. Lincoln, a semiprivate American Missionary Association institution, "was as good as any school, white or black, in the area," said King. She developed an interest in music at Lincoln and, with encouragement from her teachers, decided that music would be her career.
In 1945 Scott graduated as valedictorian of her high school class and won a partial scholarship to Antioch College in Yellow Springs, Ohio. Eager to leave southern racial hostility, Coretta Scott enrolled at Antioch only to discover that prejudice and racism were very much alive there too. Being the first Black to major in elementary education at Antioch created problems for the Scott. Such a major required a two-year internship--one year in the Antioch private elementary school and the other in the Ohio public schools. The year at the Antioch school where Scott taught music went well. The Yellow Springs School Board, however, refused to allow Scott to teach in its school system. The student body was integrated but the faculty was white. Given the option of going to Xenia, Ohio, and teaching in an all-Black school or remaining at the Antioch private school for a second year, she chose the latter.
Discrimination made Scott more determined than ever. She joined the campus chapter of the National Association for the Advancement of Colored People (NAACP), a race relations committee, and a civil liberties committee. According to the young college student, "I was active on all of them. From the first, I had been determined to get ahead, not just for myself, but to do something for my people and for all people. I took to my heart the words of Horace Mann, 'Be ashamed to die until you have won some victory for humanity.'"
Scott's undergraduate years at Antioch were rewarding ones, despite her unfortunate practice-teaching experience. Her time there reaffirmed and strengthened the value of giving and sharing that had been instilled at her home and at Lincoln High School. She learned to strive for excellence, crediting the school with reinforcing her belief "that individuals as well as society could move toward the democratic ideal of brotherhood." At Antioch, Scott developed into a strong Black woman, confident that she could compete with "all people of all racial, ethnic and cultural backgrounds" on their terms or on her own. She claimed that "the total experience of Antioch" was an important element in preparing her for the role as wife of Martin Luther King, Jr. and for her part in the movement he led.
Marriage to Martin Luther King, Jr.
Coretta Scott realized at Antioch that she wanted to continue in music and to develop her voice to its fullest potential. She subsequently enrolled in the New England Conservatory in Boston, graduating in 1954 with a bachelor's degree in music. It was in Boston that she met Martin Luther King, Jr. They were married on June 18, 1953. Her decision to marry the young minister meant giving up her career as a performing concert artist.
In 1954 the Kings moved to Montgomery, Alabama, to pastor the Dexter Avenue Baptist Church, and it was here that they were thrust into the leadership of the civil rights movement. Martin Luther King, Jr. was recognized as the leader of the movement, but Coretta Scott King, too, was very much a part of it. She was actively involved in the organizing and planning and in the marches and boycotts. Her life, too, was endangered. She gave "Freedom Concerts" to raise funds for the Southern Christian Leadership Conference (SCLC) and for the movement and gave speeches all over the country, often standing in for her husband.
A Worthy Successor
After the assassination of Martin Luther King, Jr. in Memphis, Tennessee, on April 4, 1968, Coretta Scott King continued to serve the civil rights movement. Four days after the violent murder of her husband, the grieving widow and three of her four children returned to Memphis to lead the march Martin had organized. In June of 1968 she spoke at the Poor People's Campaign in Washington, D.C., a rally her husband had been enthusiastically planning before his death, and in May of 1969 she led a demonstration of striking hospital workers in Charleston, South Carolina.
In addition to her role in the civil rights movement, King was active in the peace movement; she deemed the Vietnam War "the most cruel and evil war in the history of mankind." In 1961, as a delegate from the Women's Strike for Peace, she attended a 17-nation disarmament conference in Geneva, Switzerland. Later King was concerned with full employment, testifying in Washington in favor of the Humphrey-Hawkins Full Employment and Balanced Growth Act of 1976, and in seeking equal rights and economic justice for women.
In 1983, King coordinated the Coalition of Conscience, which sponsored the 20th Anniversary March on Washington. In 1985, she was arrested along with three of her children at the South African embassy in Washington, D.C., in a protest against apartheid. In 1987, she was one of the leaders in the "Mobilization Against Fear and Intimidation" in Forsyth County, Ga. In 1988, she re-convened the Coalition of Conscience for the 25th Anniversary March on Washington. She was in the news again in 1997, calling for a new trial for her husband's convicted killer, James Earl Ray, who died the following year in prison without receiving a new trial. King was among those who believed that Ray was not the true killer, instead adhering to the conspiracy theory that a government intelligence agency committed the crime and used him as a patsy to cover it up.
As evidenced by her varied works for peace and justice, King supported civil rights and freedom for people the world over. In March 2004, while speaking at the Richard Stockton College of New Jersey, King spoke out in support of the right of same-sex couples to marry. The issue had come to a head in the early months of 2004, with same-sex couples lining up outside courthouses across the country asking to be legally married in civil ceremonies. She called it a civil rights issue.
In the mid- to late-1990s, the King family drew sharp criticism for their handling of the center and King's legacy, at the core of which was a feud with the National Park Service over a proposed visitors center across the street from the King center. The King family planned to open an interactive museum and felt the Park Service plan would interfere. The two sides came to an agreement, and the Park Service opened their facility in 1996, but the King family did not go forward with their ideas. By 1999, the King family was again under fire for maintaining tight control over the Martin Luther King, Jr., image and his works, as well as for reaping generous profits off of the rights. But neither King nor her son would comment on any such controversy.
On January 30, 2006, King passed away in her sleep at a hospital in Rosarito Beach, Mexico. She was 78 and had been in failing health since suffering a stroke and heart attack in August of 2005. King had appeared at a Martin Luther King Day dinner on Jan. 14, 2006, but had not spoken.
Coretta Scott King chaired and co-chaired several national committees and continued to serve on the board of directors of the SCLC. She also was president of the Martin Luther King, Jr. Center for Social Change, located in Atlanta, Georgia, and continued to lobby for world peace, full employment, and social justice. (The Kings' youngest son, Dexter Scott King, took over as chairman and CEO of the King Center in 1995.) King is the recipient of numerous awards, including the Dag Hammarskjold Award, 1969; the UAW Social Justice Award, 1980; and the Eugene V. Debs award, 1982. She has been awarded more than 40 honorary degrees by academic institutions. She is the author of three books, and writes a nationally syndicated column. She also served as the head of the delegation of the "Women for a Meaningful Summit" in Athens, Greece, and the "Soviet-American Women's Summit" in Washington, D.C., in anticipation of the Reagan-Gorbachov talks. Among the dozens of committees she founded or served on are Black Leadership Forum, the National Black Coalition for Voter Participation, and the Black Leadership Roundtable. In her honor, the American Library Association's Social Responsibilities Round Table each year recognizes distinguished contributions to children's literature by awarding its Coretta Scott King Award to deserving African-Americans.
Read more
Latest headlines