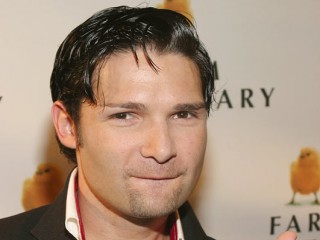 Corey Scott Feldman biography
Date of birth : 1971-07-16
Date of death : -
Birthplace : Chatsworth, California, U.S.
Nationality : American
Category : Arts and Entertainment
Last modified : 2010-07-15
Credited as : Actor and singer, musician,
One of the most popular child actors of the 1980s,
Corey Feldman
was a likable, smart-alecky lead in numerous kid-friendly films of the decade, including
"Gremlins" (1984), "The Goonies" (1985), "Stand By Me" (1986)
and
"The Lost Boys" (1987)
. The latter film marked the beginning of a long and complex relationship, both on-screen and off, with fellow teen idol Corey Haim, whose fortunes, along with Feldman's, plunged headlong into obsolescence and drug abuse with the dawn of the 1990s. Unlike Haim, Feldman seemed to escape the maelstrom of his past by plugging along in B-pictures and television series, many of which poked fun at his personal and professional history. Feldman eventually achieved a sort of second career as himself – a former child star, with the scars to prove it – and attempted to boost Haim alongside him with the reality series, "The Two Coreys" (A&E, 2007-08). Feldman's status as childhood favorite for so many '80s-era teens, as well as his less-than-spectacular flameout and slow rise to normalcy, ensured him Hollywood immortality as one of the rare childhood stars lucky enough to survive such an ordeal intact.
Born
Corey Scott Feldman
in Chatsworth, CA on July 16, 1971, he was one of five children raised by musician Bob Feldman and his wife, Sheila Goldstein, who later served as Feldman's manager in his childhood years. His onscreen life began at the age of three with an appearance in a television commercial for McDonald's that later earned a Clio; a reported 100 advertisements preceded guest shots on television series, then a stint as a series regular on the short-lived "Bad News Bears" sitcom (CBS, 1979-1980). His feature film debut came in 1979's "Time After Time" as a boy who meets Malcolm McDowell's H.G. Wells in a museum; however, features would remain a rarity during Feldman's adolescent years, save for a voiceover turn as the young fox, Copper, in the animated Disney classic, "The Fox and the Hound" (1981). The majority of his work came via episodic television and harmless TV movies like "Still the Beaver" (CBS, 1983), which cast him as the son of the now-adult Theodore "Beaver" Cleaver (Jerry Mathers). Off-screen, however, Feldman's life was less than Cleaver-esque. In interviews conducted in 2003, he alleged physical abuse by his parents, and was legally emancipated from them when he turned 15.
Feldman's fortunes changed in the mid-1980s with a string of notable supporting roles in popular, teen-oriented features like "Friday the 13th: The Final Chapter" (1984), which cast him as the likely successor to maniac Jason Voorhees' killing spree, and "Gremlins" (1984), where he unwittingly unleashes a horde of monsters with an accidental drop of water on the film's lovable critter, Gizmo. The chief arrows in his acting quiver – unconventional good looks and a knack for playing teens too clever for their own good – helped to put him on the teen idol map, and by 1985, Feldman was riding high with significant roles in such hits as the Steven Spielberg-produced adventure, "Goonies" (1985). But it was in Rob Reiner's 1986 classic "Stand by Me" that Feldman showed the promise of real acting talent by holding his own with a young River Phoenix, playing an emotionally troubled young man on a quest with friends to see a dead body. The following year, however, he was a bonafide movie star thanks to "The Lost Boys" (1987), Joel Schumacher's clever and stylish horror film about teen vampires plaguing a small California coastal town. Feldman's character – a grave, comic book-loving vampire hunter – solidified his status as an offbeat comic presence, but it was the presence of a co-star, fellow teen star Corey Haim, that made the film significant in both the best and worst of ways.
Like Feldman, the Canadian-born Haim was a child star who had experienced critical and box office acclaim at an early age thanks to the Gen-X favorite, "Lucas" (1986), and the success of "The Lost Boys" placed him and Feldman at the top of the teen idol heap. Their chemistry in the Schumacher film was palpable, and with gossip magazines making the most of their off-screen friendship, it seemed only logical that they should continue the partnership in more films. The first of these, "License to Drive" (1989), set the template for most of their subsequent joint projects: Haim or Feldman alternately playing a hapless, lovelorn adolescent who turns to his streetwise pal (again, either Haim or Feldman) to help him out of a particular jam – in the case of "Drive," how to romance popular girl Heather Graham without the benefit of a driver's license. A modest hit with The Coreys' young female audience, it was followed by the light fantasy "Dream a Little Dream" (1989), a body-swapping comedy with Jason Robards and Piper Laurie in which Feldman finally had the lead. The duo had their share of detractors – critics and pundits lambasted the films and the performers themselves as promising actors-now turned-featherweights – but for the tail end of the 1980s, Feldman and Haim were riding high as the fabled "Coreys." In fact, no other teen idols of that time even came close, with teen girls (even some boys) forever debating which "Corey" was the better of the two. Feldman was seen as edgier; Haim the sweeter pretty boy.
The unfortunate reality behind the glittery image of Feldman and Haim's lives was that both young men were in considerable turmoil. Both actors were from broken homes and were struggling with increased drug usage. Worst of all the two shared the dark secret – though this would not become known for 20 years – of reported molestations perpetrated by members of their inner circle. Matters were made worse by fickle tastes in teen audiences; the usual seismic shift that occurs among young female consumers was pushing attention away from Haim and Feldman and towards other performers. Despite a likable performance in Joe Dante's "The 'burbs" in 1989, Feldman was finding it difficult to land roles as he exited the 1980s.
The year 1990 saw the beginning of the end for Feldman's star status. A routine traffic stop by police that year led to the discovery of heroin in his possession, which led to a string of arrests for drugs. Feldman's finances were in disarray as well – in later interviews, he alleged that his parents had spent much of the fortune he amassed during his career. A stint in rehab followed in 1991, and for the next few years, Feldman did his best to pick himself out of the debris of his life and career. First to go was his marriage to actress Vanessa Marcil, whom he had wed in 1989; the union was dissolved in 1993. To pay his legal fees and make ends meet, Feldman took any role that was offered to him; the most significant of these was as the voice of Donatello, one of the "Teenage Mutant Ninja Turtles" (1990), but most of his work during this period was in direct-to-video dreck like "Rock 'n' Roll High School Forever" (1991) and "Meatballs 4" (1992). Many of these were team-ups with Haim, whose career had also nosedived, and who had endured his own string of drug-related problems. Despite the hardships, Feldman shouldered the constant catcalls about his "Two Coreys" past with remarkable good humor, and experimented with a music career that yielded minor success.
As the 1990s wore on, Feldman made occasional returns to the mainstream; there was a short-lived sitcom for CBS called "Dweebs" (1995), and a featured role in "Tales from the Crypt Presents Bordello of Blood" (1995), which did not live up to the box office returns of its predecessor, "Demon Knight" (1996). He also worked steadily on a music career, with a debut solo album, Love Left in 1994, and a follow-up, Still Searching for Soul, which he recorded with his band Truth Movement, in 1999. Feldman took the band on tour in 2001. His love of music may have been one of the factors which had caused Feldman to gravitate toward Michael Jackson's inner circle when he was still a child. Certainly both could relate to one another on a kid star basis. Throughout the 1990s, Feldman was becoming known less for his film career and more for his idolization of and close friendship with the King of Pop – insofar as he also began emulating MJ's military-inspired jackets and other fashion quirks, long past the point of any of it being en vogue. In fact, Feldman was one of the few celebrities to stand by Jackson publicly through not one, but two child molestation charges; one in 1993 and the other in 2003. His loyalty to friends down-on-their luck or ostracized from society for whatever reason continued to be one of his most admired qualities by even the most skeptical of observers.
The new millennium saw Feldman accepting his past with uncommon good cheer and humor; in 2002, he made a guest appearance on "The Surreal Life" (The WB/VH1, 2003-06), which brought together faded celebrities in a "Big Brother" (CBS, 2000- ) living situation. On that episode, Feldman married his second wife, wannabe model Susie Sprague, who would join him in numerous future projects. The following year, he contributed a cameo to the David Spade comedy "Dickie Roberts: Former Child Star," which featured a number of ex-A-listers poking fun at their past, including best friend Haim. He also released a third solo album, appropriately titled Former Child Actor in 2002. By all intents and purposes, Feldman was accepting of his status and worked hard to rectify the "has-been" perception; his friend Haim was unable to follow suit, due to a continuous and aggressive drug addiction which often tested the duo's longtime friendship, as Feldman had been clean for years.
The actor received some of the best notices of his career for "Fatal Attraction, a Greek Tragedy," an off-Broadway musical based on the 1987 thriller of the same name. And if his film career remained firmly entrenched in B-grade genre pictures like "Evil Obsession" (1997) and "Storm Trooper" (1998), he was working consistently, and adding voiceover artist to his list of talents. In 1999, he began contributing character vocals to the animated series "Sonic Underground" (UPN, 1999-2000), and followed it with "Super Robot Monkey Team Hyperforce!" (ABC Family, 2004-06) and the fanboy favorite, "Robot Chicken" (Adult Swim, 2006- ).
With his career and life in apparent stability, there seemed to be only one loose end to sew up for Feldman: his relationship with Haim. The situation was addressed with "The Two Coreys," a curious blend of reality show and scripted series, executive produced by both men, which saw them reunite and attempt to resolve their painful past by living together in a rented home they shared with Feldman's wife. The result was at times exploitative – Feldman shepherds Sprague through a shoot for Playboy – and at others, uncomfortably personal, with both men revealing the torment of their sexual abuse, career failure and struggles with drugs. The crux of the first season saw Feldman attempt to give Haim's acting a boost by getting him a cameo in "The Lost Boys: The Tribe" (2008), a low-budget sequel to the 1987 film that put them both on the map, with Feldman reprising his role of Edgar Frog. A tweaked-out Haim botched the appearance, which lead to further conflict. Before any sort of resolution could be reached between Feldman and Haim, the show was cancelled in the middle of its second season, with Feldman publicly expressing his refusal to see or speak to Haim again until he got clean.
On March 10, 2010, the poignant tale of "The Coreys" came to a tragic end with Haim's death by what LAPD suspected was an accidental prescription drug overdose at the age of 38. Feldman, who was in the middle of a very public breakup with Sprague, as well as a custody battle for their son, Zen, issued a heartfelt statement regarding Haim, whom he always considered a brother and with whom he had reconciled after the A&E show was cancelled. He took to "Larry King" that night to defend his friend's honor – from asking the public not to assume it was an overdose to demanding to know where all these people expressing condolences were for the last 20 years of the often down-on-his-luck actor's life. Even those most critical of Feldman were impressed by the passion and eloquence he put forth with his message of respecting and caring for former child stars. In the end, two months after the actor's shocking death, Feldman and Haim's mother Judy were proven correct when toxicology results revealed the actor had died of natural causes, brought on by a genetically bad heart and fluid in the lungs from pneumonia. Despite receiving the shock of his life up to that point with the passing of his fabled other half, Feldman soldiered on with more low-budget features and television work, including a second "Lost Boys" sequel," "The Thirst" (2010) and a country-wide tour with his band.
CHRONOLOGY
* 1979 Made series debut as a regular on CBS The Bad News Bears
* 1979 Made film debut in Time After Time
* 1979 TV-movie debut, Willa
* 1982 Cast as a regular on the syndicated series, Madame s Place
* 1983 Played a next-generation Cleaver in the CBS TV-movie, Still the Beaver
* 1984 Appeared in the horror franchise, Friday the 13th: The Final Chapter
* 1985 Cast as the obnoxious Mouth in Richard Donner s comedy-adventure film, The Goonies
* 1986 Played Teddy DuChamp in Rob Reiner s coming of age drama, Stand By Me
* 1987 Co-starred with Corey Haim in Joel Schumacher s vampire film, The Lost Boys
* 1988 Re-teamed with Corey Haim for License to Drive
* 1989 Appeared as a neighbor in the dark comedy, The Burbs
* 1989 Once again re-teamed with Corey Haim for Dream a Little Dream ; also choreographed film
* 1990 Provided the voice of Donatello for the live-action film, Teenage Mutant Ninja Turtles
* 1993 Again voiced Donatello for Teenage Mutant Ninja Turtles III
* 1995 Co-starred on short-lived CBS sitcom, Dweebs
* 1998 Had featured role in the Sci-Fi Channel film, Legion
* 1999 Released the album, Still Searching for Soul , with his band Corey Feldman s Truth Movement
* 2000 Acted in the Troma Pictures sequel, Citizen Toxie: The Toxic Avenger Part IV, under the name Kinky Finkelstein
* 2002 Released a solo album, Former Child Actor
* 2003 Appeared on the first season of the VH1 reality series, The Surreal Life
* 2003 Made a cameo appearance in the film, Dickie Roberts: Former Child Star
* 2004 Voiced Sprx-77 in the ABC Family series, Super Robot Monkey Team Hyperforce Go!
* 2005 Made his stage debut in the Off-Broadway play, Fatal Attraction, a Greek Tragedy
* 2007 Re-teamed with Corey Haim for the reality TV show The Two Coreys on the A&E Network
* 2008 Reprised his role of vampire hunter Edgar Frog for the straight to DVD sequel, Lost Boys: The Tribe
Read more
Latest headlines