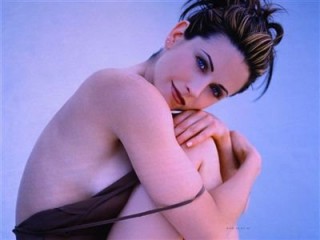 Courteney Cox biography
Date of birth : 1964-06-15
Date of death : -
Birthplace : Birmingham, Alabama, USA
Nationality : American
Category : Arts and Entertainment
Last modified : 2010-06-02
Credited as : Actress and model, ,
A former model whose cover-worthy appearance belied her knack for comedy, actress Courteney Cox was among the most popular performers on television throughout the 1990s and early millennium, thanks to her popular turn as Monica Gellar on "Friends" (NBC, 1994-2004). For millions of viewers, her performance as Gellar came to symbolize the over-achiever as she struggled to balance her career, love life and desire for a family with her host of obsessive/compulsive quirks, much to the delight of audiences. The success of "Friends" made Cox a household name, though she struggled to translate that fame into a film career; still, there were successes at the movies, including "Scream" (1996) and its sequels, as well as "The Longest Yard" (2005) and "Bedtime Stories" (2008). Television, however, remained her strongest palate, and she returned there on several occasions; most notably for "Dirt" (FX, 2007-08), a sexy drama she co-produced with her husband, actor David Arquette, and "Cougar Town" (ABC, 2009- ). Throughout her career shifts, she remained an enduring fan favorite, thanks to being immortalized on "Friends," but also for her reputation as a performer who consistently sought new challenges rather than coasting on past glories.
Born
Courteney Bass Cox
in Birmingham, AL on June 15, 1964, she was the daughter of contractor Richard Cox and his wife, Courteney Bass, for whom she was named. She, her older sisters, Virginia and Dottie, and older brother, Richard Jr., were raised in Mountain Brook, an affluent suburb of Birmingham, and enjoyed a happy childhood until her parents split in 1974 and her father relocated to Panama City, FL. Her mother's subsequent marriage to New York businessman Hunter Copeland was a source of considerable turmoil for Cox. The teenager found solace in scholastic activities at Mountain Brook High School, including cheerleading, tennis and swimming. She also made her first inroads into modeling through an advertisement for a local store.
After graduation in 1982, she studied architecture and interior design at Mount Vernon College for Women, but a summer as an intern at the music agency, Frontier Booking Agency – and a romance with its head agent, Ian Copeland, who was also her stepfather's nephew – gave her the impetus to try her hand at modeling on a fulltime basis. Copeland suggested that she also look into acting lessons, and after just a year at Mount Vernon, she headed to New York, where she was signed to the prestigious Ford Modeling Agency. Print work for teen magazines and modeling for the covers of romance novels quickly graduated to television ads. Acting classes helped to hone her on-camera skills and wear down her Southern accent. By the early 1980s, she was appearing regularly in spots for Noxema, New York Telephone and, most notably, Tampax, for which she earned some degree of notoriety as the first person to utter the word "period" in regard to the bodily function on American television.
Roles in television and film were her ultimate goal, but aside from minor parts on "As the World Turns" (CBS, 1956- ), she remained largely anonymous until 1984, when she was cast as Bruce Springsteen's impromptu dancing partner in the Brian De Palma-directed music video for his monster hit single, "Dancing in the Dark." Cox, who was ultimately paid $350 for the appearance, was said to have won over the director by responding to his question about her acting experience with, "Just two days on 'As the World Turns,' but you can change that." Cox became the envy of female Springsteen fans around the globe by playing a front-row concertgoer, who, per the rocker's tradition at the time, pulled a fan onto the stage to dance with him during the song's extended instrumental fadeout. Cox's commercial for Tampax hit the airwaves shortly after the video burst onto the scene, leaving casting agents scrambling to land her for their next project.
Her subsequent efforts, however, were less than laudable. She hosted a short-lived television dance series called "This Week's Music" (syndicated, 1984) before segueing to the sci-fi comedy, "Misfits of Science" (NBC, 1985-86), which cast her as a rebellious teen with telekinetic powers. It too failed to last beyond a single season, and Cox floundered for a while in TV guest shots and somewhat miserable film appearances like the live-action "Masters of the Universe" (1988), which cast her as a hapless teenager opposite Dolph Lundgren's He-Man. However, a bright spot came in 1987 when she was cast as Michael J. Fox's love interest for the 1987-89 seasons of "Family Ties" (NBC, 1982-89). Cox later cited Fox as a major influence on her comic timing.
The exposure of "Family Ties" did little to improve the choice of roles offered to Cox, and for much of the next half-decade, she was cast as girlfriends, secretaries and love interests in a variety of modest television series and feature films. Her biggest screen success had been as straight man to a manic Jim Carrey in his breakthrough film, "Ace Ventura: Pet Detective" (1994), though there were occasional showcases for her talent – she fared well as an frenemy to heiress Roxanne Pulitzer (Chynna Phillips) in the TV-movie "Roxanne: The Prize Pulitzer" (1989), and did fine dramatic work as a rape victim hounded by unsavory types in 1991's "Blue Desert." The comedy "Mr. Destiny" (1990) also gave her comedic skills a solid presentation as the brassy secretary to star James Belushi. But though she was busy, Cox's breakout role continued to elude her.
Her love life, however, was solid thanks to her relationship with actor Michael Keaton. She became involved with the intense and mysterious star after telling a mutual friend that she had admired his work in the film "Clean and Sober" (1989), which led to a first date and eventual romance. The pair maintained an exceptionally private relationship for five years, rarely appearing together in public, before calling it quits in 1995. The break-up left the actress devastated for years. Though her comments to the press at the time were largely complimentary towards the actor, she later admitted that the time and attention required to maintain the relationship had had a detrimental effect on her attempts to kick-start her movie career. However, her status as a television star was about to launch in a very significant way.
A guest spot on "Seinfeld" (NBC, 1989-1998) as a woman who poses as Jerry Seinfeld's girlfriend in order to take advantage of a discount at his dry cleaners preceded the most eventful casting of her career. Cox auditioned for and landed the role of Rachel Green on a new NBC sitcom called "Friends." However, she felt that she might be more appropriate for Monica Geller, one of Rachel's closest pals and in many ways, a carbon copy of Cox's own personality, since both shared a love for cooking, cleanliness and a need for order and control in their universe. Cox convinced the producers to make the switch, and added a note of upbeat energy to the character that was not part of the writers' original conception. Critics were slow to catch up with fans' overwhelmingly positive reaction to the series, but eventually, "Friends" became a beloved part of most television watchers' weekly lineup – not to mention a pop cultural touchstone for Generation X and a money-making phenomenon, as sales of shirts, coffee mugs and requests for the "Rachel haircut" skyrocketed.
As Monica, Cox never quite enjoyed the sort of water cooler storylines that co-star and close friend Jennifer Aniston had with David Schwimmer as the on-again, off-again Rachel and Ross (Monica's brother). She instead served as the hub of the series – her apartment with Rachel was the stage for a great deal of the episodes, and her personality quirks – obsessive cleanliness, organization, competitiveness and a touch of bossiness – drove a great deal of the show's humor. Beneath her A-type exterior, however, beat a heart that pined for a relationship and children. She eventually found both with longtime friend and neighbor Chandler Bing (Matthew Perry), with whom she adopted two children, to the delight of all "Friends" fans.
The overwhelming popularity of the series was a windfall for Cox in numerous ways. Not only did she reap the benefits of a monumental paycheck with each successive season – culminating with a $1 million-per-episode deal by the series' 10th and final season, which effectively made her and co-stars Aniston and Lisa Kudrow the highest paid television actresses in history – but she was nominated for numerous television awards, including six Screen Actors Guild Awards with her co-stars, as well as an American Comedy Award. Most important of all, perhaps, was the enduring friendship the series created between the six stars, which endured long after the show broadcast its landmark final episode in 2004. Aniston remained particularly close to Cox, who would not only nurse her through her very public and painful break-up with her husband, Brad Pitt in 2005, but name Aniston as her daughter Coco's godmother. And during Perry's well-chronicled prescription drug problems and trips to rehab, Cox was one of the actor's biggest supporters. She was, in fact, the den mother to all her cast mates.
With "Friends" boosting her profile to superstar status, Cox sought to revive her film career. Her first effort, as the pushy TV reporter Gale Weathers in the Wes Craven-directed horror-comedy "Scream" (1996), was a major hit with moviegoers, and led to two sequels, "Scream 2" (1997) and "Scream 3" (2000); neither of which reproduced the brassy, self-referential fizz of the original. But the features were important for entirely personal reasons. They served as the vehicle by which she met her husband, actor David Arquette, who co-starred in all three films as the dim but loyal deputy Dewey. Though the couple seemed mismatched at first – Arquette was best known as a hyperactive supporting player in minor features and television who acted and dressed like a madman, while Cox was the elegant star of one of the biggest shows on television. They eventually found common ground and married in 1999, with Cox adding his last name to hers for all future credits. The relationship was not without its rocky points – in particular, Arquette's recurring drug issues – but the couple endured and produced a daughter, Coco Riley (named for her mother's childhood nickname) in 2004. Though a happy event for all, her pregnancy did cause Cox to miss out on the chance to play Teri Hatcher's role on "Desperate Housewives" (ABC, 2004- ).
Though happy in her marriage and on television, Cox struggled to maintain a film career after "Scream." The crime thriller "The Runner" (1999) went largely unseen, as did the critically panned "300 Miles to Graceland" (2002), which even earned her two Golden Raspberry Awards nominations. The indie drama "November" (2004) scored points for its digital photography, but again, failed to attract a mainstream audience. Perhaps frustrated by the lack of quality projects, she and Arquette launched their own production company, Coquette, in 2003. Their initial offering, a home improvement show with comic overtones called "Mix It Up" (WE, 2003), lasted two seasons, but follow-ups – including the behind-the-scenes comedies "The MidNightly News" (Fox, 2005) and "Talk Show Diaries" (UPN, 2005) – did not last beyond the pilot stage. Cox also served as producer for "The Tripper" (2006), a loopy, gore-soaked parody of '80s slasher films that marked Arquette's debut as film director.
Cox was also busy in film during this period; she was featured in a cameo as Adam Sandler's unpleasant girlfriend in the remake of "The Longest Yard" (2005), and lent her voice to the forlorn, pregnant cow Bessie in the animated film, "Barnyard" (2005). Less popular was the superhero comedy "Zoom" (2006), but by then, she was making news with her return to TV series work with "Dirt," on which she and Arquette also served as executive producers. The hot-button drama centered around the machinations of a workaholic tabloid editor (Cox) and her best friend, a schizophrenic photographer, as they pursue the latest scoop on Hollywood stars. The tone of the show, which was decidedly dark, as well as the hard-bitten quality of Cox's character – a direct opposite of Monica Gellar – attracted a considerable amount of attention, as did some sexually suggestive scenes, but the series struggled to find an audience. Even an appearance by Jennifer Aniston as a rival to and one-time lover of Cox's character – including a much-hyped onscreen kiss – failed to generate much viewership. The plug was pulled on "Dirt" during its second season.
Cox quickly bounced back with a three-episode arc on "Scrubs" (NBC, 2001-08; ABC, 2009- ) in 2008, appearing as the new head of the show's fictitious hospital. That same year, she reunited with Adam Sandler in a more benevolent role as his sister in the Disney hit, "Bedtime Stories" (2008). And as rumors flew that she would reprise Gale Weathers in "Scream 4" (2010), it was announced that Cox would again return to series work for "Cougar Town" (2009), a single-camera comedy she was co-producing with "Scrubs" producer Bill Lawrence for ABC. The show focused on a recently divorced mother (Cox) who reluctantly returns to the dating scene while trying to single-handedly raise her perpetually humiliated son (Dan Byrd). Her triumphant return to the small screen earned the actress a Golden Globe award nomination for Best Performance by an Actress in a Television Series
Read more
Latest headlines