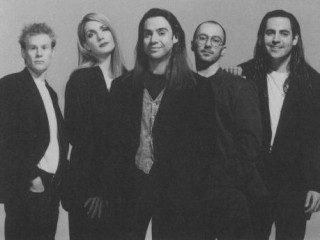 Crash Test Dummies biography
Date of birth : -
Date of death : -
Birthplace : Winnipeg, Manitoba, Canada
Nationality : Canadian
Category : Arts and Entertainment
Last modified : 2012-04-24
Credited as : folk rock/alternative band, Mmm Mmm Mmm Mmm single, Oooh La La! album
The Crash Test Dummies are a Canadian folk rock/alternative rock band from Winnipeg, Manitoba, widely known for their 1993 single "Mmm Mmm Mmm Mmm".
Crash Test Dummies is an appropriate name for a band that got serious by accident and gained popularity faster than a speeding car. "Mmm Mmm Mmm Mmm," the band's first single off of their second album, swept across the United States driven by its quirky title and the unlikely bass baritone of its lead singer. If a bullfrog could sing appealingly, it would probably sound like Brad Roberts, the voice-- and vaguely wacky songwriter--behind this "neo-folkie, pseudo-hippies, sort of Celtic, dryly humorous, exceptionally literate pop band." At least that's how People magazine contributor Craig Tomashoff described this quintet of Canadian natives.
Their beginnings are humorous too--and far from calculated. In the mid-1980s a loose group of friends from the University of Winnipeg in Manitoba started playing music together. Eventually they became the house band at a 50-seat after-hours club called the Blue Note. They played what Roberts described in Rolling Stone as "ridiculous cover tunes, everything from cheesy Irish traditionals to TV theme songs to acoustic versions of Alice Cooper hits." The name the band picked was a joke: after considering Chemotherapists and Skin Graft, they agreed on Crash Test Dummies because they had written it down so many times.
After graduating with an honors degree in English literature from the University of Winnipeg, Roberts realized that the band had turned into something more than a way to pass the weekends. By then they had settled on their core members: Roberts singing lead and playing guitar; his younger brother Dan on bass; Benjamin Darvill on mandolin and harmonicas; Ellen Reid on a crop of instruments including piano, keyboards, and accordion, as well as singing backup; and Mitch Dorge on drums. They put together a five-song demo and shipped it around to Canadian music festivals, hoping to get some gigs outside of Winnipeg. The tape found its way into the hands of record company executives, who started calling with offers. Roberts nixed his plans for completion of a master's degree and jumped into the music industry.
In 1989, when the band signed with BMG Canada and Arista in the United States, Roberts got to work trying to write enough songs for a first album. "I had only written five songs in my entire life by that time," he admitted to Fred Shuster in the Los Angeles Daily News, "I had to scramble to finish.... I had no intention of doing this professionally." As he told Larry LeBlanc in Billboard, "I often take three to four weeks to write a song, but when a song is finished, 99% of the time it's a keeper." They had only 13 songs to choose from for their first album; they picked 12 of them.
Released in the spring of 1991, The Ghosts That Haunt Me proved to be interesting, alternative music fare. A People reviewer likened it to "an improbable kiddie cereal made with bran," adding, "this Canadian group gives you sprightly Irish jigs and earthy-crunchy folk music, all rolled into one addictively sweet confection." Roberts described the sound to Rolling Stone's Elysa Gardner as "some country, and there's some folk, and there's some fairly aggressive rhythm section on a number of tunes that you wouldn't associate with country or folk. He called one song, "Here on Earth (I'll Have My Cake)," a "bagpipe-meets-fusion thing."
That said, it should be noted that both Brad and Dan Roberts claim the heavy metal band Kiss as their greatest musical influence. Comparisons to David Byrne and the Talking Heads are more likely "inevitable," theorized Carter Alan in the Boston Globe. "The wit and intent [are] quite similar even if the Dummies are not as rhythmically relentless." It might also be noted that the Crash Test Dummies have covered country singer Johnny Cash and the alternative rock band Replacements, and that Brad Roberts dreams of touring with Andy Partridge of the alternative band XTC.
Within nine months of its release, and with the help of their Number One hit in Canada, "Superman's Song"--"a small masterpiece," according to Newsweek's David Gates--Ghosts reached sales of more than 300,000 copies in Canada, garnering three platinum albums. When the record first came out, the Dummies had been booked to play small clubs across Canada; after that first single, they had the power to sell out entire theaters.
After two years of touring--opening for rocker Sting on a few gigs-- and spending quality time on their next recording, the band released their second album, God Shuffled His Feet. With more time and money on their side this time around, Roberts had the opportunity to demo all the material for the album on a 24-track studio in his home. That way the band had a better sense of Roberts's vision for a song before contributing their individual sounds to it. Ex-Talking Heads member Jerry Harrison coproduced the album. When asked about that choice, Roberts told Billboard, "We thought anybody who was in the Talking Heads must be at least halfway cool. He's also a keyboard player, and we wanted to stretch out into synthesized and sampling technology."
An even bigger stretch for the band, noted LeBlanc in Billboard, came with the jettisoning of "the sparse rock, country, and Celtic folk stance in favor of a new densely textured alternative-rock approach." "The shift in [that] direction has to do with me sitting down and wanting to write a body of work that was challenging, interesting, and new," Roberts explained in the same article. "The band welcomed that agenda. To me, it wouldn't be interesting to duplicate the sounds and genres we played around with on the first record."
Arista was counting on this new approach to push the Dummies over the edge in the States. Although their first album had done respectably on the American college scene, it didn't come close to their Canadian acclaim. Since that time, however, two radio formats--commercial alternative and adult album alternative--had increased the band's profile, and that's what Arista was banking on. The company saturated U.S.-Canadian border stations with the first single, "Mmm Mmm Mmm Mmm," and in no time major stations, including the influential KROQ in Burbank, California, fell for the Dummies. Radio personnel weren't sure at first what their listeners would think of this odd song, but they didn't have to wait long for the calls to pour in. Outspoken radio personality Howard Stern was also fond of the single and plugged it incessantly on his syndicated radio show.
"Mmm Mmm Mmm Mmm," which takes its title from the hum-along chorus, tells the stories of three kids with somewhat unusual problems. Roberts's unearthly, deeply reverberating voice, along with lyrics "enveloped in shimmering atmospheric keyboards and a warm, finely wrought melody"--according to Shuster in the Los Angeles Daily News-- add a serious and powerful feel to issues that would be a big deal from a kid's perspective.
The single reached Number Two on the American pop charts in the spring of 1994. The numbers of new fans buying the disc on the basis of that first song were rewarded with a weird and lovely album. People's Tomashoff found the dozen tunes sounded "like nothing you've ever heard before yet are completely hummable from the very first listening. The melodies are amiably pop, too laid-back to be rock and too upbeat to be ballads. And ... Roberts' throaty vocal style--sort of like a [manly-voiced television actress] Bea Arthur recording played back at slow speed--adds a quirky twist."
Critics and fans were charmed by this strange quintet. It's a rare Top 40-friendly tune that wonders, "If your eye got poked out in this life / Would it be waiting up in heaven with your wife?" (from "God Shuffled His Feet"). Assuming their sound keeps radio on its toes, as it has, and assuming Brad Roberts doesn't write a "normal" song too soon, or let loose that golden frog from his throat, these Manitobans look like they'll keep on singing their happy accidents.
In September, 2007 it was announced that Sony BMG would be releasing a "best of" compilation for the band. The following month, The Best of Crash Test Dummies was released, featuring twelve tracks selected from the band's entire catalog, including most of their singles and several album tracks. The compilation would later be re-released on March 10, 2008 as "Best of Crash Test Dummies - Collections" with two previously unreleased tracks: "Laid Back" and "You Said You'd Meet Me (In California)," the latter being an early version of a song that would later appear on Oooh La La.
In addition a new online store was opened allowing users to purchase downloads from all of the band's post-BMG releases, including Cape Breton Lobster Bash series; a growing collection of songs written about Brad Roberts' experiences within Cape Breton and an annual tradition known as the "Lobster Bash."
Oooh La La was released on May 11, 2010. The album's release was accompanied by the band touring in an "Acoustic Trio" format consisting of Roberts and Ellen Reid, accompanied by either Stuart Cameron or Murray Pulver on guitar. On October 9, 2010, as part of the Canadian leg of the tour, Dan Roberts and Mitch Dorge joined Brad Roberts and Ellen Reid in the band's hometown of Winnipeg for the first performance by the original line-up in a decade. Ben Darvill wasn't present for the reunion, despite having played a solo show in town a few days earlier.During the tour, Brad Roberts began the habit of taking photographs at random and posting them on his blog and the band's Facebook page.
In 2011, the band continued to tour in support of Oooh La La. On April 19, 2011, the band released Demo-litions: Cast-off Recordings 1996–97 featuring previously unreleased demos of songs written during the recording of Give Yourself a Hand.
Discography:
-The Ghosts that Haunt Me (1991)
-God Shuffled His Feet (1993)
-A Worm's Life (1996)
-Give Yourself a Hand (1999)
-I Don't Care That You Don't Mind (2001)
-Jingle All the Way (2002)
-Puss 'n' Boots (2003)
-Songs of the Unforgiven (2004)
-Oooh La La! (2010)
Read more
Crash Test Dummies Picture Gallery
Latest headlines