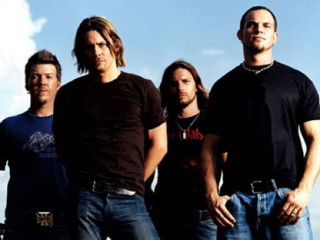 Creed biography
Date of birth : -
Date of death : -
Birthplace : Tallahassee, Florida,U.S.
Nationality : American
Category : Arts and Entertainment
Last modified : 2012-04-24
Credited as : Rock band, My Own Prison and Human Clay, Grammy Awards winners
Creed is a Grammy Award-winning American rock band, formed in 1995 in Tallahassee, Florida. Becoming popular in the late 1990s and early 2000s, the band released three consecutive multi-platinum albums, one of which has been certified diamond, and has sold over 28 million records in the United States, and over 40 million albums worldwide,becoming the ninth best-selling artist of the 2000s.
Creed is a modern rock band of grassroots troubadours that performs highly inspirational music with a message, within the lines of a simple and unaffected genre called "new-era" rock. The band, led by vocalist Scott Stapp, features Mark Tremonti on guitar, Brian Marshall on bass, and Scott Phillips on drums. The four musicians are clean-cut and wholesome and qualify easily as "the boys next door." Creed's "formula" for success--if indeed they have one--is embodied in their independence from corporate ties. The band eschews conglomerate involvement, relying instead on writing and self-publishing their own songs and touring incessantly to popularize their music. They record and perform without gimmicks, and mind the business operations of their band, relying extensively on the Internet for communications as well as for advertising. Creed uses its website not only to promote songs, concerts, and albums, but for mutual correspondence between its fans and the band members.
Creed originated in Tallahassee in 1995 with a chance meeting between Scott Stapp and Mark Tremonti, two former schoolmates from Orlando, Florida. Before long the two musicians recruited drummer Scott Phillips and bassist Brian Marshall from among the ample mlange of otherwise unskilled workers in north Florida. Between the four of them, before uniting to form their band, the future Creed members shucked oysters, fry cooked, and washed dishes to earn a living. Stapp himself was on the rebound from a series of injudicious career decisions and minor catastrophes. After performing poorly in school due to lack of interest, he abandoned his pre-law studies at Florida State University, job-hopped, and lived in his car for lack of income. It was, in fact, his lack of general prudence that inspired much of his music.
The members of the neophyte group invested their own money, a modest $6,000, into recording My Own Prison,an album that featured an assortment of songs, written by Stapp during the months after he abandoned his education and wandered aimlessly in search of a purpose. Most notably he wrote "My Own Prison," which became the title track of the debut album, in contemplation of the difficulties he courted by his own choices in life. Despite the bitter undertone of the song, it brought him to an epiphany about self-determination, as he wrote "No time for mourning, Ain't got no time, So I held my head up high...." Another song on the album, "What's This Life For?" was a collaborative effort by Stapp and Tremonti, the result of their reflection on the suicides of two mutual friends. Songwriters Tremonti and Stapp published their own works through Tremonti/Stapp Music of BMI, while a secondary publisher, Wind-up's Dwight Frye Music, assumed the administrative functions for the pair.
Creed released My Own Prisonon August 26, 1997, on the Wind-up label, and the album had moved halfway up the Billboard 200 chart in less than three months. The title song became a hit single, and by November 22 reached number two on the rock-track chart of most-played hits. The album, which sold more than four million copies, went into successive releases, and other hits emerged--including "Tom," "What's This Life For?" and "One." Each of the single releases from My Own Prisonattained number one hit status on BillboardRock Radio.
The members of the band collectively invested a portion of the royalties from My Own Prisonto acquire a parcel of land, away from urbana and city life, where they might relax and find inspiration for future creative endeavors. They retired to their newly acquired hideaway, and set to work on Human Clay,their second album. The tone of Human Clay,which was released on October 1, 1999, evoked an uplifting atmosphere, in direct contrast to Creed's original, My Own Prison. Human Clayfeatured assorted ballads, soothing and melodic, yet interspersed with energetic and fast-paced compositions. Two months later, in early December, Human Clayachieved double platinum sales (over 2 million copies sold), and Anthony Bozza of Rolling Stonedubbed Creed the best-selling hard-rock band in America. Additionally, their albums ranked in the top 12 in 1999, according to radio play and sales statistics. Additionally, Creed's international appeal extended to remote continents; the group sold 80,000 albums in New Zealand alone in 1999.
With two best-selling albums to their credit, the band expanded its horizons and contributed to the movie soundtracks of Facultyand Dead Man on Campus.The soundtrack for Scream 3, which Creed self-produced, includes original Creed compositions "What If" and "Is the End." For that album, Creed solicited contributions from a number of their fellow recording artists and comrades from Wind-up Records, including Orgy and Static-X. A total of 17 "heavy rock" bands contributed to the album.
Between recording sessions, Creed tours extensively. The band attracts audiences composed primarily of teen-agers and young adults, 14 to 34 years old. In 2000, the band remained a young and evolving musical entity, at times unpolished because of its newness. Regardless, Creed persisted in projecting a positive image as was evidenced in July of 1999 when the band performed in Rome, New York, at Woodstock `99,a reprise festival of the original festival by the same name. The 1999 concert, held in celebration of the 30-year anniversary of the original festival in 1969, differed drastically in mood from the original concert in the 1960s. When a catastrophic outbreak of violence instigated by concertgoers marred the end of the 1999 festival, Stapp responded to the chaotic outburst and vented his embarrassment during Creed's performance.
The four Creed band members are extremely close in age, and all enjoy the music of Led Zeppelin. The senior member of the group, Phillips of Madison, Florida, was born in February of 1973. Phillips began playing the drums in his late teens. Tremonti was born in April of 1974 and is the youngest member of the group. He played guitar for approximately ten years before joining Creed. Marshall was born on April 24, 1974, approximately one week before Tremonti. Marshall is a native of Fort Walton Beach in Florida. He started playing the bass in his mid-teens. Stapp was born and raised in Orlando, Florida, the son of a Pentecostal minister. He was born on August 8, 1973, and is the second oldest member of the group. During adolescence his musical affinities veered toward U2, Elvis, Led Zeppelin, and the Doors, and according to critics, the circumstances of Stapp's childhood are evidenced in many of his song lyrics. Stapp, who repeatedly disavowed such interpretation of his music, nonetheless intimated that his parents were not only devoutly religious, but rigid and strict, and highly antagonistic toward rock music and electric guitars. Stapp moved with his family to Tallahassee, Florida, in the mid-1990s. He wrote the song "With Arms Wide Open" in honor of the birth of his eldest child, a son named Jagger.
As Creed's media presence continually evolves, their presence on the Internet is secure. "We're on our Web site almost every day, especially when we're on tour. The Internet is such a cool medium. It's definitely the future of how bands will know what their fans are thinking," Stapp told Billboardin September of 1999. Creed's plans for the new millenium included more touring and a live album, along with an acoustic album. Their schedule included appearances in Las Vegas in December of 1999, and contract negotiations to play in Edmonton, Canada in the year 2000.
Creed worked on their third album for most of 2001, with Tremonti choosing to play bass on the record himself instead of Hestla to "[preserve] the band's initial core," although Hestla remained in Creed's touring lineup. Weathered was released on November 20, 2001. Six singles were released from the album: "My Sacrifice," "One Last Breath," "Hide," "Don't Stop Dancing," "Weathered," and "Bullets." The album was a commercial bestseller and was certified platinum six times over and debuted at #1 on the Billboard Top 200. It remained at that spot for eight weeks, a record which Creed notably shares with The Beatles.
The tour to promote Weathered was met with considerable controversy; it was delayed in April 2002 when Stapp suffered a concussion and vertebrae damage after being involved in a car accident. As a result, in addition to his growing addiction to alcohol, he became addicted to Percocet and began taking a host of other medications while on tour, including steroids and Xanax.
From 2004 onward, Tremonti promised that Creed would never return. However, on April 27, 2009, Creed's website announced that the band had reunited for a new tour and plans for a new album. According to Tremonti, "We're all very excited to reconnect with our fans and each other after seven long years." He later added that being in Creed again was "the last thing [he] expected." Phillips also stated: "Our career as Creed came to a very abrupt and unforeseen ending. After reflecting on some of the greatest personal and professional moments of our lives, we've come to realize that we are still very capable of continuing that career and our friendship on a grander scale than ever before." In an interview for People magazine, Stapp elaborated on the reunion, saying, "We never felt like we weren't together. We're not looking at this as a reunion. It's more of a rebirth."
Full Circle, Creed's first album in eight years, came out on October 27, 2009. Stapp elaborated on the title, which is also the name of a track to appear on the album: "It really defines and articulates, melody-wise and lyrically, what's happened with us. We've come full circle and it's a great place to be." The first single from Full Circle, "Overcome," was posted on the band's official website on August 19, the same day the radio premiere started along with its release as a digital download on August 25.
Creed reconvened in early 2012 to begin work on their upcoming fifth studio album. A tour was also announced where the band would perform their first two albums, My Own Prison and Human Clay, from front to back. This tour kicked off with two shows on April 12 and 13, 2012, at the Chicago Theatre in Chicago, Illinois, with the band performing My Own Prison the first night and Human Clay the second.
Read more
Creed Picture Gallery
Latest headlines