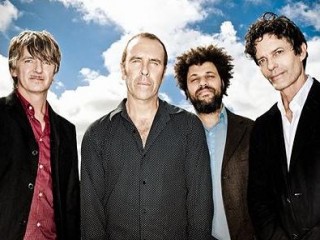 Crowded House biography
Date of birth : -
Date of death : -
Birthplace : Melbourne, Australia
Nationality : Australian
Category : Arts and Entertainment
Last modified : 2012-04-24
Credited as : Rock band, Neil Finn, referred to as The Crowdies
Crowded House are a rock band, formed in Melbourne, Australia and led by New Zealand singer-songwriter Neil Finn. Finn is the primary songwriter and creative director of the band, having led it through several incarnations, drawing members from New Zealand (his brother, Tim Finn and Eddie Rayner), Australia (Paul Hester, Nick Seymour, Peter Jones and Craig Hooper) and the United States (Mark Hart, and Matt Sherrod). Crowded House are referred to as The Crowdies by Australian fans.
"America's been a bit tricky for us," Crowded House's lead man Neil Finn told Pulse! "We tend to fall between the cracks." It's true that this New Zealand-bred and Melbourne, Australia- based combo has, since their first single, just missed American superstardom. As Finn put it, "Radio formats [in the United States] are very restrictive, and if you're a band like us who are quite happy to flit between being raucous and noisy and doing a slow melodic ballad, people here can get a bit confused." Fans, however, have flocked to Crowded House's door from the beginning, liking whatever it is they are hearing, whether it's easily categorized or not.
Crowded House is the offspring of New Zealand's Split Enz, the eccentric pop group that made it big in the late 1970s and 1980s, and that remains a cult favorite in the United States and abroad. Neil Finn's older brother formed Split Enz in 1972 and welcomed 19-year-old (some sources say 18-year-old) Neil into the fold in 1977. The band had been looking to change their androgynous art-rock sound, and Neil's tastes blended well with the band's new melodic approach.
Their successes grew with Neil's singing and songwriting talents added to the mix, culminating in several international hits. In the United States, the band had most of its success with the song "I Got You." By 1983 Tim was ready for a solo career, and the band, frustrated by that elusive final breakthrough in the United States, began to splinter. Neil decided to disband the group in 1984 after a last album and a farewell tour.
Neil asked new Split Enz drummer Paul Hester to join the smaller, more guitar-oriented band that he had in mind. At Split Enz's breaking up party, Australian bassist and film art director Neil Seymour struck up a conversation with Neil Finn, and after a later audition, the new, nameless band was complete. In 1985 they sent a demo around and were signed by EMI Worldwide and Capitol Records in the United States. It was not until the cover art (designed by Seymour on all the group's albums) was nearly ready that the band settled on a name. The crowded house after which the group is named is the small Hollywood, California, bungalow where the band lived, recorded, and entertained a constant flow of family and friends.
The debut album, Crowded House, was released in July of 1986. No songs were hits in the United States immediately, although within five months the album was certified gold in Australia. Since Split Enz had been monumental in Australia, a gold record was no surprise, but Crowded House was fixated on the American market. The band knew their music was good and so did Capitol Records, who never stopped the earnest support and never-say-die promotion. Intensive touring and sheer willpower finally began to pay off after eight months. Almost suddenly, as if it had just been released, the first single, "Don't Dream It's Over," soared to Number Two. In April of 1987, the Number Seven hit "Something So Strong" cinched Crowded House as one of 1987's sleeper hits; the LP found its place at the top of music critics' year-end Best Album lists and later on Rolling Stone's "Top 100 Albums of the Decade" list.
The songs on Crowded House typified a certain style already equated with Neil Finn. Mark Peel of Stereo Review described the songs as "still energetic and tuneful, but there's a twist: beneath that cheery surface lurks an angst-ridden, somewhat sinister mind." Similarly, Chris Willman in Rolling Stone commented, "Rarely has any modern music sounded so cheerful and so creepy as some of the off-center love songs that pop out of the red head of Neil Finn."
Some reviewers likened the band's sound to the Beatles: "From nice, Rubber Soul pop to edgy, White Album hysterics," noted Peel; "Revolver-era Beatles," wrote David Handelman in Rolling Stone. Willman summarized: "It's great, nervous pop. Part of that fetching paradox lies in Finn's distinctive melodies-- filled with irresistible borderline-bubble gum chord progressions that often descend just at the point in the chorus where you'd figure they ought to be ascending--and part of it is tied to the mixed messages his love songs send out. For Finn is the worst kind of romantic: the honest kind."
"The moodier [second album] Temple of Low Men boasted more emotional and musical variety, but subtly effective tunes like 'Better Be Home Soon,' 'I Feel Possessed' and 'Into Temptation' attracted shortsighted accusations of a sophomore slump," wrote Scott Schinder in Pulse!. Temple of Low Men is a darker, less commercial album, with songs no less beautiful or melodic than those of the first. The title came from a bit of graffiti Finn spotted on a Los Angeles church on his way home, where he found the TV broadcasting the noisy atonement of philandering Reverend Jimmy Swaggart. "It's sort of about slimeballs inhabiting sacred places," Finn told People. "Reviewers," wrote Steve Pond in Rolling Stone, "found the record darker and moodier than its predecessor and pointed out that while it takes longer to appreciate, in the long run it's probably a deeper, more rewarding record." As another Rolling Stone reviewer observed, "One hopes that each successive phase of the Crowded House journey will prove so rich a tale."
Although long-simmering tensions in the band--amplified by Temple's poor showing--caused a brief breakup, Crowded House emerged from it seemingly unscathed. Woodface, the next leg of their journey, did prove to be as rich a tale and brought the band back into wider public notice. Perhaps part of the reason for the increased publicity was the re-pairing of the Finn brothers. Neil and Tim had been writing songs together and asked Hester to join them on some tracks. They soon realized that instead of creating a brothers Finn project, they appeared to be writing another Crowded House album. They went with it, and Tim Finn moved into the more crowded house.
Rolling Stone's Kristine McKenna called Woodface "a swinging record that finds the band gliding through its material with ease-crisp harmonies and memorable hooks abound." Interview commanded, "Go buy Woodface.... This album is sure to hit you in the groove spot." The gleeful review found Woodface to be "an album with cleverness, passion, and allure that speaks to the head, heart, and loins with equal fluency."
Almost without fail, reviewers praised Woodface, perhaps because they felt Crowded House had found the fine balance between their cheery debut and their more moody--"underrated," according to People--second album. A few criticisms came through in McKenna's otherwise positive review: "One could fault Finn's writing for the fact that the content of his songs is sometimes more original then their form.... Such provocative ideas, alas, come in standard pop packaging." Meanwhile, the Crowded House population of fans grew as the single "Chocolate Cake" took Woodface to the Top 20 in eight countries. Another of the singles, "Weather With You," hit the Top Five in such diverse countries as Singapore, Greece, Holland, and South Africa.
Crowded House is known for being hilarious in concert; the witty banter flies in lethal doses--usually between Hester and Neil Finn--and when Hester's in the lead, it is often extremely bawdy. This warm stage presence, however, actually had a great deal to do with Tim Finn's leaving the band after touring for Woodface. Although they all seemed to get along well, the bandmembers "agreed that it wasn't feeling right," according to the younger Finn in Pulse! The chemistry of the original three had been so powerful, that it was hard for Tim to find a place. The strong Finn personalities kept talking over each other on stage and caused general disorder. After Woodface, Tim decided to continue with his solo career. Considering their fondness for brotherly collaboration, and the success it always brings, they felt sure they would team up again in the future.
In addition to the usually perfect rapport, Crowded House's live sound quality is brilliant. From the first note, each instrument is clean and distinct, each lyric enunciated and harmonious. Although their songs are often extremely lush, the band is surprisingly able to recreate that sound live. It's no wonder that they have earned such honors as Great Britain- based O Magazine's Best Live Act award. No Crowded House show is the same, and nothing is out of the question--including inviting audience members on stage to perform with the band.
One addition to the stage mix who did fit--perhaps because he rarely spoke--was Mark Hart, who had been touring with Crowded House as auxiliary guitarist/keyboardist and was promoted to full membership in time for the new album. This amendment to the lineup only furthered the band's desire for something new. For a change of scenery and a change of sound, Crowded House headed home to the bush, this time recording on a beach called Kare Kare on the remote rugged west coast of Auckland, New Zealand. There, between the bush-clad hills of the Waitaker Ranges and the roar of the Tasman Sea--Kare Kare literally means "rippling surf"--Crowded House recorded Together Alone.
Producer Mitchell Froom (Richard Thompson, Elvis Costello, Los Lobos, among others) had been the hand that helped mold the Crowded House sound on the band's first three albums. "Mitchell's the most musical person I've ever met," Finn explained in Pulse!, "and he was instrumental in helping us create a sound, but we felt like we needed a change." The band turned to onetime Killing Joke member turned techno-hippie guru Youth.
Neil Seymour insisted in Billboard that they "picked him for his sense of humor and his use of adjectives." Mostly, they picked him for the anarchy inherent in his producing style, which was something totally new to the Crowded House method. "Together Alone," wrote Schinder in Pulse!, "maintains its predecessors' impassioned lyricism, understated humor and elegant tunefulness. However, a new found sense of sonic adventurism amplifies the more disquieting undercurrents that have always been implied in the band's prior work."
Some reviewers, including Geoffrey Welchman for People, were unnerved. "Despite Finn's usual gift for melody ... the first half of the album is filled with tunes that meander along with no apparent destination. When the album does produce some real excitement (like the catchy rocker 'Locked Out') or a memorable melody ('Walking on the Spot'), the band's potential becomes as obvious as its short fall this time around." Rolling Stone's Christian Wright wrote that "such exotic flourishes may seem bizarre coming from the nice boys who make up Crowded House, but at moments, those touches sound ethereally beautiful."
With each step of the way, and with each record, these "nice boys" of Crowded House keep plugging away towards that elusive Number One position in the United States. Their first single off of Together Alone, "Locked Out," was featured in the popular film Reality Bites. Though perched just on the edge of "big name" stature in the United States, the status of the band's members is in question. In April of 1994 Paul Hester left Crowded House citing the pressures of touring and a lack of motivation. It is unclear whether Hester's departure is another short-lived breakup, perhaps due to his preference to be with his newborn baby, or if maybe he has moved out for good. Regardless, it is doubtful that Neil Finn will ever stop making music. Whether it is with a redecorated Crowded House, or under a different moniker altogether, he is sure to keep chasing that American Number One.
Founding drummer Hester left in May 1994, citing family reasons, but briefly returned for their Farewell to the World concerts in Melbourne and Sydney in 1996. Neil Finn had decided to end the band to concentrate on his solo career and the Finn Brothers project with Tim. On 26 March 2005 Hester committed suicide, aged 46. In 2006, the group re-formed with new drummer Matt Sherrod and have since released two further albums, which have both reached number one on Australia's Album Chart.
In November 2011 there will be an Australian tour by various artists involved with the "She Will Her Way" and "He Will Have His Way" projects, under the name "They Will Have Their Way." The tour will feature Paul Dempsey, Clare Bowditch, Seeker Lover Keeper (Sarah Blasko, Sally Seltmann and Holly Throsby), Alexander Gow (Oh Mercy) and Lior.
Studio albums:
-Crowded House (1986)
-Temple of Low Men (1988)
-Woodface (1991)
-Together Alone (1993)
-Time on Earth (2007)
-Intriguer (2010)
Read more
Crowded House Picture Gallery
Latest headlines