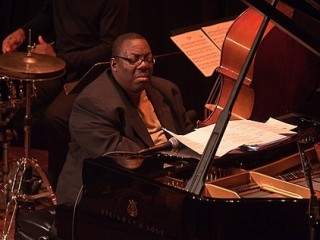 Cyrus Chestnut biography
Date of birth : 1963-01-17
Date of death : -
Birthplace : Baltimore, Maryland, U.S.
Nationality : American
Category : Arts and Entertainment
Last modified : 2011-11-03
Credited as : jazz pianist, songwriter, Genuine Chestnut
Cyrus Chestnut is an American jazz pianist, songwriter, and producer. In 2006, Josh Tyrangiel, music critic for Time Magazine, wrote: "What makes Chestnut the best jazz pianist of his generation is a willingness to abandon notes and play space." Chestnut enjoys mixing styles and resists being typecast in any one niche, though his gospel sound is apparent on a number of his recordings.
Soulful jazz pianist Cyrus Chestnut might just be proof positive of the impact that music has on babies in the womb. Either that, or a life in music was simply in his blood. Chestnut's father, a retired postal employee and the son of a church musician, was the official organist for the local church in Baltimore, Maryland, where Chestnut grew up. Young Cyrus's home was filled with the sounds of the gospel music that his church-going parents played in their home, along with jazz records by artists such as Baby Cortez and Jimmy Smith. Chestnut has said that the roots of his love of music began there, and to this day, Chestnut's ties to the gospel church remain constant. "Growing up, gospel music was what I heard in the house," Chestnut told Down Beat magazine.
As a boy Chestnut reached for the piano keys before he could walk, so his father began teaching the earnest five-year-old to play the piano. One of the first songs young Cyrus learned was "Jesus Loves Me." Before long, seven-year-old Cyrus was playing piano in the family church, and by age nine he was promoted to church organist at Mt. Calvary Church in Baltimore, Maryland.
Chestnut, who became known for his improvisational skills and unique jazz-gospel and bop style, has credited his abilities to those formative years when he played at church. And while Chestnut's roots in gospel stemmed from his life at home and in the church, his passion for jazz was born not long thereafter. With his two-dollar allowance, young Chestnut purchased his first album, Thelonious Monk's Greatest Hits, simply because he liked the album cover, and thus the young pianist's love of jazz began.
At age nine Chestnut was enrolled in the prep program at the Peabody Institute in Baltimore. He later headed to Berklee College of Music in Boston, where he earned a degree in jazz composition and arranging. Before graduating from Berklee in 1985, Chestnut had received the Eubie Blake fellowship in 1982, the Oscar Peterson scholarship in 1983, and the Quincy Jones scholarship in 1984. In his free time Chestnut studied the history of music and the work of such masters as pianists Bud Powell, Wynton Kelly, and Hank Jones, and the work of gospel artists Clara Ward, Charles Taylor, and Shirley Caesar. In school he studied classical music, writing and performing. A Warner Jazz website article on Chestnut quoted the New York Times, which described Chestnut as a "highly intelligent improviser with one of the surest senses of swing in jazz."
After graduating from Berklee, Chestnut went on to work with jazz vocalist Jon Hendricks from 1986-88, and trumpeter Terrence Blanchard and saxophonist Donald Harrison from 1988-90, before joining jazz legend Wynton Marsalis in 1991. But Chestnut really cut his teeth in the business when, one day at Berklee, jazz vocalist Betty Carter arrived to perform. When the famous singer found herself without a piano player, the entire auditorium erupted with suggestions for Chestnut to fill in, and he was ushered to the stage. Terrified and nervous, Chestnut took the stage, but when Carter asked him to play Body and Soul in the key of G, Chestnut mistakenly played it in C. "I told myself that someday I would make it up to her," Chestnut told Berklee Today. After a short stint playing aboard a Caribbean cruise ship in 1985 with a band that included Dizzy Gillespie, Joe Williams, and Tommy Flanagan, Chestnut graduated from Berklee. In 1991 he got his chance to repay Carter when he went on the road for two years as the pianist for the Betty Carter Trio. "She wanted you to create a mode of creating, not re-creating," Chestnut told the Santa Fe New Mexican. He has often said that playing with Carter was a form of graduate school.
For Chestnut, there has always been a deep connection between jazz and God. He believes jazz to be a religious musical genre. "I believe the ability to play music is a gift from God and every time I play, I'm thankful. Every time I sit down to play, for me, is worship and expression," he told Down Beat magazine. Fitting this connection, the title of Chestnut's major label debut album was Revelations, which he released in 1994 at the age of 30. The album was voted Best Jazz Album by the Village Voice and soared on the charts, outselling expectations for piano trio recordings. Prior to that, Chestnut had broken out of his role as an accompanist and band member by forming and leading his own trio. Chestnut's trio recorded two albums on the Japanese label Alfa Jazz, The Nutman Speaks and The Nutman Speaks Again, in 1992. He also recorded Nut in 1992 and Another Direction in 1993, both on Evidence.
In 1994 Chestnut released Dark Before the Dawn for Atlantic Records. "It's a musical story about me. It's about my life experiences, how I felt at the time, my reactions. Life is not one-sided. A lot of different things happen in life," Chestnut told the Philadelphia Inquirer. The album debuted in the sixth spot on the Billboard Jazz Charts. The very next year, Chestnut released the critically acclaimed Earth Stories, for which he composed nine of the CD's eleven tracks.
Chestnut has earned a reputation for his skillful versatility, his ability for blending sounds and for unabashedly bringing gospel into the club performances he gives. And despite his sense of playful showmanship, he takes jazz very seriously and believes that jazz has great staying power. "Just as Bruce Springsteen has that ability to appeal to a mass audience, I have a vision that jazz can do the same. You can't underestimate the power of this music," Chestnut told the St. Petersburg Times.
Throughout his career, Chestnut has worked with an array of artists, including saxophonists James Carter, Donald Harrison and Joe Lovano; trumpeters Roy Hargrove and Freddie Hubbard; jazzman Chick Corea, and opera singer Kathleen Battle, with whom he toured extensively in 1995. More recently Chestnut has collaborated with vocalists Vanessa Williams, Anita Baker, and Brian McKnight. In 2000 he collaborated with Isaac Hayes and the Boys Choir of Harlem on an updated version of Vince Guaraldi's A Charlie Brown Christmas. Chestnut also played on bassist Christian McBride's debut album.
Chestnut's 2001 release, Soul Food, provided a showcase for his versatility. The album is a blend of jazz, classical, gospel, and R&B. Chestnut was joined on the album by Christian McBride, Lewis Nash, Marcus Printup, Wycliffe Gordon, Gary Bartz, and James Carter. In 2003 Chestnut released You Are My Sunshine on Warner Brothers Records. The album cover featured Chestnut's daughter, Jazzmin, kissing her father on the cheek. Prior to that, Chestnut released a solo piano album, Blessed Quietness: Collection of Hymns, Spirituals, Carols in 1996, and followed with Cyrus Chestnut in 1998.
In 2006, Chestnut released his first album Genuine Chestnut on TelArc Records. On it he is accompanied by his regular trio which includes Michael Hawkins, bass and Neal Smith, drums. Additional artists on board for this session include Russell Malone, guitar and Steven Kroon, percussion. Includes satisfying jazz interpretations of some well known pop numbers of the past half century, including "If," the early '70s soft-rock ballad by Bread. "This song has been with me ever since the sixth grade," Chestnut recalls. "I had to play it for my English teacher's wedding. I've played it in many and various contexts. I actually played it in a Top 40 band when I was just out of school. A lot of time has passed, but then recently I just started thinking about it again."
Best of all, he plays gospel tunes with a heartfelt fervor that never descends into sentimentality. Chestnut's own "Mason Dixon Line" is one of the album's high points, a joyful bebop number that makes you hope he'll someday do a whole album of Bud Powell compositions. The album's relentless, midtempo pleasantness makes it easy to stop paying attention by about halfway through, but every time you catch yourself drifting and start listening closely again, you'll notice something else wonderful. Chestnut is currently represented by Addeo Music International (AMI).
The New York Daily News once heralded Chestnut as the rightful heir to Bud Powell, Art Tatum and Erroll Garner. In an interview on National Public Radio (NPR) for All Things Considered, Chestnut remarked, "If I can send one person home after a performance feeling better than when they arrived, then I've done my job, and I sleep good at night." To this day, Chestnut attends church every Sunday, and whenever he can he plays in the local church in Brooklyn, New York, where he lives with his family. He told CBS News, "If I'm not working, you'll find me in somebody's church."
Selected discography
Solo:
-The Nutman Speaks Alfa Jazz, 1992.
-The Nutman Speaks Again Alfa Jazz, 1992.
-Nut Evidence, 1992.
-Another Direction Evidence, 1993.
-Revelation Atlantic, 1993.
-Dark Before the Dawn Atlantic, 1994.
-Earth Stories Atlantic, 1995.
-Blessed Quietness: Collection of Hymns, Spirituals, Carols Atlantic, 1996.
-Cyrus Chestnut Atlantic, 1998.
-A Charlie Brown Christmas Atlantic, 2000.
-Soul Food Atlantic, 2001.
-You Are My Sunshine Warner, 2003.
With others
-Plays Herbie Hancock Paddle Wheel, 1987.
-(With Michael Carvin) Between Me and You Muse, 1988.
-(With Kim Waters) Sweet and Saxy Warlock, 1989.
-(With Michael Carvin) Revelation Muse, 1989.
-(With Donald Harrison Quintet) For Art's Sake Candid, 1990.
-(With Donald Harrison) Full Circle Sweet Basil, 1990.
-(With Donald Harrison) Indian Blues Candid, 1991.
-(With Jae Sinnett) Blue Jae Valley Vue, 1991.
-(With Betty Carter) It's Not About the Melody Verve, 1992.
-(With Kim Waters) Tribute Warlock, 1992.
-(With Jazz Voice) Jazz Voice Hot Productions, 1992.
-(With Ronnie Burrage) Ronnie Burrage Shuttle Sound Hills, 1993.
-(With Denise Jannah) Heart Full of Music Timeless, 1993.
-(With Freddy Cole) Circle of Love Fantasy, 1993.
-(With Roy Hargrove Quintet) With the Tenors of Our Time Polygram, 1993.
-(With Joris Teep & the Don Braden Quintet) Pay as You Earn Mons, 1993.
-(With Vincent Herring) Folklore: Live At The Village Vanguard Music Master, 1993.
-(With Freddy Cole) Always Fantasy, 1994.
-(With Jae Sinnett) House & Sinnett Positive, 1994.
-(With Christian McBride) Gettin' to It Polygram, 1994.
-(With Carl Allen) Testimonial Atlantic, 1994.
-(With Gerald Albright) Giving Myself to You Atlantic, 1995.
-(With Denise Jannah) I Was Born in Love with You Blue Note, 1995.
-(With Kathleen Battle) So Many Stars Sony Classical, 1995.
-(With Jeri Brown) Fresh Start Justin Time, 1995.
-(With Vincent Herring) Don't Let It Go Music Master, 1995.
-(With Dave Young) Two by Two: The Complete Sessions Justin Time, 1995.
-(With Tim Warfield Quintet) Cool Blue Criss Cross, 1995.
-(With Steve Wilson) Step Lively Criss Cross, 1995.
-(With Rodney Whitaker) Children of the Light Koch Jazz, 1996.
-(With Tim Warfield) Whisper in the Midnight Criss Cross, 1996.
-(With Dave Young) Side by Side, Vol. 3 Justin Time, 1996.
-(With Dave Young) Two by Two, Vol. 2 Justin Time, 1996.
-(With Hollywood Bowl Orchestra) Prelude to a Kiss Philips, 1996.
-Miles 2 Go Polygram, 1996.
-(With Gary Bartz) Blues Chronicles: Tales of Life Atlantic, 1996.
-(With Ge Ann Hampton Callaway) To Ella with Love After 9 Records, 1996.
-(With Madeleine Peyroux) Dreamland Atlantic, 1996.
-(With Courtney Pine) Underground Verve, 1997.
-(With Kansas City Band) KC After Dark: More Music from Robert Altman's Kansas City Polygram, 1997.
-(With James Carter) In Carterian Fashion Atlantic, 1998.
-(With Freddy Cole) To the Ends of the Earth Fantasy, 1997.
-(With Dizzy Gillespie Alumni All Stars) Dizzy's 80th Birthday Party Shanachie, 1997.
-(With George Mraz) Bottom Lines Milestone, 1997.
-(With Bud Shank) By Request: Bud Shank Meets the Rhythm Section Milestone, 1997.
-(With Jae Sinnett) Listen Heart Music, 1997.
-(With General Music Project) General Music Project, Vol. 2 Evidence, 1998.
-(With Bette Midler) Bathhouse Betty Warner Brothers, 1998.
-(With Tim Warfield) Gentle Warrior Criss Cross, 1998.
-(With Freddy Cole) Grand Freddy Fantasy, 1999.
-(With Carla Cook) It's All About Love Max Jazz, 1999.
-(With Lincoln Center Jazz Orchestra & Wynton Marsalis) Live in Swing City: Swingin with the Duke Sony, 1999.
-(With Sadao Watanabe) Remembrance Verve, 1999.
-(With Wynton Marsalis) Marciac Suite Columbia, 1999.
-(With Joh Yamada) Bluestone Milestone, 1999.
-(With George Mraz) Duke's Place Milestone, 1999.
-(With Roy Nathanson) Fire at Keaton's Bar and Grill Six Degrees, 2000.
-(With Little Jimmy Scott) Mood Indigo Milestone, 2000.
-(With Kevin Mahogany) Portrait of Kevin Mahogany Warner Brothers, 2000.
-(With Manhattan Trinity) Make Me A Memory Lightyear, 2000.
-(With Dr. John) Funky New Orleans Metro Music, 2000.
-(With The Keystone Quartet) Love Story 32 Jazz, 2000.
-(With Carla Cook) Dem Bones Max Jazz, 2001.
-(With Carla Cook) Simply Natural Maxx Jazz, 2002.
-(With Tim Warfield) Jazz Is Criss Cross, 2002.
-(With Betty Carter) Betty Carter's Finest Hour Verve, 2003.
-(With Little Jimmy Scott) Moon Glow Milestone, 2003.
Read more
Latest headlines