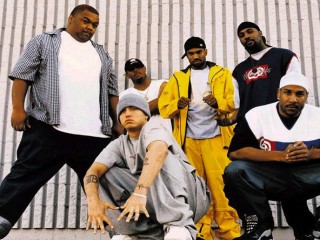 D12 biography
Date of birth : -
Date of death : -
Birthplace : Detroit, Michigan, U.S.
Nationality : American
Category : Arts and Entertainment
Last modified : 2012-04-25
Credited as : Hip hop group, The Dirty Dozen, Eminem
D12, an acronym for The Dirty Dozen, is an American hip hop group from Detroit, Michigan. D12 was formed in 1996, and achieved mainstream success after Eminem rose to international fame. D12 released the album Devil's Night in 2001 and D12 World in 2004, spawning numerous hits such as "Fight Music", "Purple Pills", "My Band", "How Come" and "Shit on You" throughout that period. Since 2006, Eminem's hiatus and the death of the member Proof resulted in them being less active in subsequent years.
The members of Detroit rap collective D12 often get lost in the shadow their high profile member, Eminem. Made up of six area rappers, including Eminem, D12 is often thought of as Eminem's side project when in fact, D12 was in place long before Eminem released his first record. Known for their frequent wins at freestyle rap battles in underground clubs in Detroit, at the dawn of 1990, rappers Proof and Bizarre decided to put together a loose collective of some of Detroit's best underground MCs. They asked friends Eminem, Kon Artis, Bugz, and Kuniva to join in. They all knew each other from infamous Detroit clubs like the Hip Hop Shop.
"We all knew each other growing up in Detroit. I used to sneak Em into my school lunchroom just so he could battle," Proof stated on the D12 website. "Later, when we started battling once a moth at Maurice Malone's Hip Hop Shop, everybody had a crew. So, we decided to form our own. Before we even thought about making records, our only goal was to be like verbal ninjas and kick ass." In an interview with MTV.com, Proof remembered telling Eminem they should start a group. "... I was like, 'Yo, we need to start a group together, put some MCs in it [and call] it Dirty Dozen. At this time we thought [the 1967 war movie] the Dirty Dozen was [about] gunslingers. We wanted to be lyrical slingers [with a] western-type philosophy."
With Proof, Bizarre, Bugz, Eminem, Kon Artis and Kuniva on board, the group called itself D12 after the Dirty Dozen. Though there was only six member to the group and not 12, the members say the alter egos of each artist (they all have their birth name and a stage name) would equal 12 members. As Kuniva said on the band's website, "We were the All-Star Team of battle rappers."
While D12 may have had the best rappers in town, they hadn't yet locked down any studio time. Eminem began a solo career that began to take off, Kon Artis was producing other artists, in 1998 Bizarre released the solo single "Attack of the Weirdos," and Proof won the Source Magazine Freestyling Competition in 1999. When Eminem's groundbreaking 1999 album The Slim Shady EP took off, D12 was put in hiatus indefinitely. The same year Eminem's career took off, D12 lost one of its members of a fatal gun shooting. On May 21, 1999, member Bugz was shot and killed. Oddly enough, Proof's son was born the same day. Bugz last dying wish, according to an interview with MTV.com was for the group to go on with a new member. "He passed away and his last wish was to put Swifty in the group, so we [did]," Proof said. Each member of D12 now bears a tattoo of Bugz's name on their body.
By 2000 Eminem was a household name, but as he always told his friends in D12, he came back and got them. In 2001, D12 released their debut album Devil's Night. Rolling Stone magazine called the record, " ... sick, psychotic and perfectly titled." There was no doubt to most however that it was Eminem's high profile that got D12 noticed. "Em was able to take D12 to the next level," Kon Artis, D12's main producer, admitted on the band's website. "He helps to bring stuff out of us. With him, no matter what happens, it's always been about real friendship."
Devil's Night's lead single was an ode to drugs titled "Purple Pills." While the song fit in perfectly with the album's other street ideals, it wasn't apt for radio and TV play. The band had to edit the song to "Purple Hills" in order for it to get on MTV on radio; something Eminem rarely did with his solo material. "I mean, we could stick to our guns and say, 'Look, we're making it 'Purple Pills.' And then guess what? No radio play, no record sales," Eminem told XXL Magazine. "If you want to eat, this is what you gotta do. You change 'pills' to 'hills.'" Now that Eminem was an international superstar, he knew how to balance the gritty storytelling with mass appeal. "There's a difference between being in a spot where there's like 50 people, and you want to say to them punch lines that get the 'oohs' and 'aahs' from the crowd, and when you go before millions of people and you're saying your shit. Once you get a deal and you get in that spotlight, you gotta be a lil' more careful with what you say. We had to go that route. We didn't want to come out and cause beef with nobody."
The group took some flack from press for the violence in their songs and the over abundance of Eminem on certain tracks, but the group defended their every move. "We go back and forth every four bars," Bizarre told MTV.com "The members keep switching. That's something we use to do back in the Hip Hop Shop days, pass the mic to each other like a hot potato." The album went on to sell four million copies.
By the time 2004 rolled around, the public had all but forgotten about D12. Eminem continued to release hit albums and even Detroiters didn't think there would be another D12 record. The group surprised critics when D12 released the very unlike D12, and poppy track "My Band" to radio. The song took a lesson from Eminem's campier side, both in the fun video and lyrics of the song. "My Band" came about after the group was joking around in the studio one day and Eminem kept saying he was the lead singer, and they were his band. The humorous track poked fun at how most people only knew who Eminem was and couldn't care less about the other members. "We always make fun of people," Bizarre told MTV.com. "We make fun of people, we make fun of ourselves."
Recorded at 54 Sound in Ferndale, Michigan, the group then released their sophomore album D12 World to massive sales thanks to the surprise success of "My Band." Bizarre explained the meaning of the title to MTV.com; ... It's all about us on this album. The first album, we laid back and let Marshall [Mathers] take control. We were new to the game. [This album] we're taking more control as far as production, the choruses, song input and ideas." Kuniva added, "This album we're letting people know who we are as individuals and as a group. We really went in the studio with a mission. We knocked out a whole bunch of songs in like two weeks. It's a serious side of D12. We wanted to up our game as far as flow and work ethics."
The group had spent the past two years touring and maturing and it showed on D12 World. "We got to marinate for a good two years," Proof told the Detroit Free Press. "It's the old traditional way of putting a hip-hop album together. You've got your club songs, your street songs, a little bit of everything." While "My Band" was radio friendly for the more pop fans of D12, the band simultaneously released the crunked-up party anthem "40 Oz." to hip-hop stations. Other tracks on D12 included the Kanye West-produced "D12 World" and the Dr. Dre-produced "American Psycho II." "... Eminem's experiences in the past three years have had a subtly positive effect on the new material's disposition: The same kind of somber, melodic production that informed Em's recent work and 50 Cent's smash debut can be heard in D12 World's menacing, synth-heavy bounce," wrote Rolling Stone's Christian Hoard.
The remainder of 2004 was spent on the road touring for D12 World. The group performed many of them sans Eminem. In the summer of 2005, D12 joined the nationwide Anger Management Tour with Eminem, 50 Cent, Lil Jon and G-Unit. Bizarre also released his solo album Hanni Cap Circus while Proof released Searching for Jerry Garcia.
On April 11, 2006, Proof died from a gunshot wound at a club in Detroit, after fatally shooting Keith Bender, Jr., following an argument over a game of pool. Proof was then shot by the bouncer Mario Etheridge, Bender's cousin. At St. John Health's Conner Creek Campus, he was pronounced dead on arrival shortly thereafter. He was buried on April 19 in The Fellowship Chapel, Detroit, to a full house of 2,660 with thousands mourning outside.
Swift was arrested in Novi, Michigan on April 21, 2006, after failing to appear in court. It was due to his attendance as an honorary pallbearer at the funeral of group member Proof. Already on probation for a DUI offence, for which he'd served two days in October 2005, he was sentenced by District Court Judge Brian MacKenzie to 93 days in jail for violating the terms of the probation. It resulted in the stalling of recording for D12's third album. Following his release, work commenced on the album.
On May 21, 2008, after 4 years drought and the passing of Proof, D12 released a new mixtape, Return of the Dozen Vol. 1. The mixtape was designed to get D12 back on their feet, in preparation for new possible content. The mixtape lacked appearance from Proof and Eminem (who was working on his solo album, Relapse). It contains several guest features from rappers such as Royce da 5'9" (whom they had a feud with) and King Gordy. Some tracks were solo performances from a D12 member, such "If You Want It" by Kuniva, in a similar way to how Eminem performed "Girls" from Devil's Night.
D12 released their mixtape Return of the Dozen Vol. 2 on April 12, 2011, which featured Fuzz Scoota. Eminem was only present on one track throughout the whole mixtape, though he wasn't present at all in the previous one. Due to Eminem being on tour for his album Recovery and because of Mr. Porter being his current hype man there are only three active members of D12 (Bizarre, Kuniva and Swift). The others, while not currently active, are still members of D12. In a video posted on YouTube by Eminem & Royce da 5'9" on June 13, 2011, Eminem stated that he was back in the studio with D12 after not being a very active member for nearly three years.
The track, "Outro", off the Return of the Dozen Vol. 2 mixtape, had a music video released on September 1, 2011, though the video did not feature either Eminem or Mr. Porter. The group also stated intentions to celebrate the 10th anniversary of the release of the Devils Night album, though the celebration was held on the actual Devil's Night on October 30th in St. Andrew's Hall in Detroit, Michigan, even though the album was released months earlier on June 19, 2001.
On March 24, 2012, Mr. Porter announced that he had left D12 via a series of tweets. In the Twitter posts, he said that he wanted to focus on being a solo artist, but clarified that holds no animosity toward other members of the group. The group now currently has only four members, with four former members. They are now balancing on supposedly insufficient numbers.
Read more
D12 Picture Gallery
Latest headlines