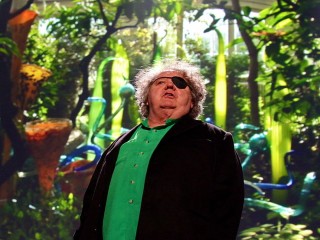 Dale Chihuly biography
Date of birth : 1941-09-20
Date of death : -
Birthplace : Tacoma, Washington, U.S.
Nationality : American
Category : Arts and Entertainment
Last modified : 2022-09-20
Credited as : Glass artist, glassblowing, glass sculpture, glass works
Dale Chihuly
, also known as
Dale Patrick Chihuly
born September 20, 1941 in Tacoma, Washington, United States is an American Glass artist.
Dale Chihuly
has almost single-handedly turned the craft of glass-blowing into an art form in America, moving far beyond the common vision of glass to create glass sculpture in a multitude of forms, colors, and sizes. Transferring the European studio tradition to his native Washington state, the artist is known for his series of sculptural glass works, including "Baskets," "Persians," "Seaform," "Macchia," "Floats," "Ikebana," and "Venetians," inspired in part or in whole by natural forms or classical styles. Perhaps the artist is best recognized for his huge installations of organically shaped Chandeliers, some weighing up to almost a ton. His work has been shown around the world: his 1995 exhibition in Venice placed 2,800 handblown pieces over the canals, bridges, and piazzas of that glass-blowing capital. An installation at the Tower of David Museum in Jerusalem in 2000 drew a million visitors.
Chihuly has not only revolutionized the status of glassblowing in the United States and abroad, he has also become a major business, employing over 130 engineers, lighting experts, glassblowers, installers, and sales representatives, and selling hundreds of glass sculptures annually. As Silvia Sansoni noted in an article for Forbes magazine, "With his pirate's eye-patch and trademark paint-splattered shoes, Chihuly is a near-parody of the flamboyant artist." With his work in nearly 200 collections--including venues as disparate as the Metropolitan Museum of Art, the Louvre, a Las Vegas casino, a Disney cruise ship, even in shopping malls--and owned by personalities such as ex-president Bill Clinton, Bill Gates of Microsoft, and the singer Elton John, Chihuly has more than arrived in the art world. He has created his own artistic universe. "In exploring the sculptural potential of glass," declared HG writer Barbaralee Diamonstein-Spielvogel, Chihuly "has confounded expectations, shattered boundaries, and expanded the scale and uses of art glass with fanciful techniques, historical references, aggressive shapes, and luscious forms."
Washington State Upbringing
All this is a long way from Chihuly's roots. Born in Tacoma, Washington in 1941, Chihuly is the son of George, a butcher as well as a union organizer, and of Viola, a homemaker and avid gardener. A blend of Hungarian, Czech, and Slavic on his father's side, and Swedish and Norwegian on his mother's, Chihuly went through school in Tacoma. He lost his only sibling in 1957, when his older brother was killed in a Navy Air Force training accident in Florida. The following year, his father died of a heart attack, and his mother went to work as a bartender to help support her family. Chihuly has described himself as a reckless teenager, but that did not stop him from graduating from high school in Tacoma in 1959 and then enrolling in the College of Puget Sound (now the University of Puget Sound).
At college, Chihuly found inspiration in a term paper on Van Gogh and in the act of remodeling his mother's recreation room. He decided to transfer to the University of Washington and major in interior design and architecture. Disillusionment with academia soon set in, however, and selling the car his late brother had left him, Chihuly left college and financed a trip to Europe. His plans were to study art in Florence, a prospect not helped by his ignorance of Italian. From Italy Chihuly moved on to Paris and later Israel, where he worked on a kibbutz in the Negev Desert. During his travels in the Middle East, he met the architect Robert Landsman, and together they visited the ancient site of Petra.
After his year abroad, Chihuly returned to the United States with refocused ambition, re-entering the University of Washington in its College of Arts and Sciences, where he studied under Hope Foote and Warren Hill. During the following years of study, he first began working with glass, incorporating glass shards into woven tapestries. More travels to Europe in 1964 introduced the budding artist to both Leningrad (now St. Petersburg) and Ireland. Graduating with a B.A. in Interior Design in 1965, Chihuly took work as an interior designer for a Seattle architectural firm. However, soon this work paled, overshadowed by a new interest in glassblowing.
It was in 1965, experimenting on his own in a basement studio, that Chihuly blew his first glass bubble. "One night I melted some glass between four bricks until it was liquid, then took a steel pipe and blew a bubble," he told ARTnews writer Margaret Moorman. "It was kind of a miracle, because you have to get it at exactly the right moment. But it happened! Then I was hooked completely."
After deciding to enter a glassblowing program at the University of Wisconsin at Madison, Chihuly first worked as a commercial fisherman in Alaska to earn money for school. His instructor at Madison, Harvey Littleton, was an early pioneer in turning glass into more unique, sculptural works of art. In 1967 Chihuly earned a master's in sculpture from the University of Wisconsin, and thereafter enrolled in the prestigious Rhode Island School of Design (RISD) where he began a real exploration of environmental works employing neon, argon, and blown glass. There he encountered James Carpenter, an installation artist, and the two collaborated on several large-scale projects involving glass, steel, and neon. After graduating with an M.F.A. in 1968, Chihuly next journeyed to Italy on a Fulbright fellowship. There, on the island of Murano outside of Venice, he worked with established masters of the craft whose glassblowing legacy stretched back thirteen centuries. After teaching for a summer in Maine, Chihuly accepted a position at RISD in the sculpture department. He founded the school's glassmaking department and remained on its faculty until 1980.
Establishes Pilchuck Glass School
During these same years, Chihuly also kept ties to his Pacific Northwest roots. On one visit back home, Chihuly encountered a pair of Seattle-area arts patrons, John and Anne Gould Hauberg. They proposed co-founding a glassblowing studio on some of their property overlooking a nearby lake. With the help of a team of other artists from RISD, Chihuly formed the Pilchuck School of Glass in 1971. They built some of the school's first structures themselves. The Pilchuck School attracts students and artisans from around the world, some of whom stay on to join Chihuly's team.
In the early 1970s, Chihuly concentrated on a series of what he called "Navajo Blanket Cylinders," working in collaboration with his team at Pilchuck to create glass that simulated the flow and folding of hand-woven blankets. However, in 1976, the artist suffered an automobile accident while on a visit to England that left him sightless in his left eye and with impaired movement in his right foot. The resulting lack of depth perception made it difficult for Chihuly to continue blowing glass himself, and when he dislocated a shoulder in 1979 in a surfing accident, his days of blowing were over for good. Thereafter, Chihuly's team would work from his sketches and under his direction. "I had been blowing glass for a decade and when I had to give it up, I didn't really miss it," Chihuly explained to Moorman in ARTnews. "I had wonderful people on a team, and it was easy for them to work from my drawings." He reiterated this idea to a writer for People Weekly: "I was always more interested in the product than in glassblowing itself. This is the way artists like Michelangelo worked."
Chihuly's star began to rise in 1977 with a series of "Basket" glass works inspired by the baskets woven by Northwest Coast Indians. By 1980 he was able to leave the RISD and concentrate solely on his art. Thereafter followed the "Seaform" series, and commissions for glass and architectural installations began coming his way from pubic and private entities. Other series designs, including "Macchia," "Soft Cylinder," "Persian," "Venetian," and "Ikebana," followed in the next decade. As Chihuly's fame continued to grow and prices for his art increased, he also kept a hectic schedule of travel and promotion. He purchased buildings in downtown Seattle and transformed them into a glassblowing headquarters. With his 1991 "Niijima Float" series, inspired by the glass floats Japanese fishermen once used to keep their nets afloat, Chihuly and his team attempted some of the largest pieces of glass ever blown manually.
Monumental Forms in Glass
In 1992 Chihuly began his "Chandelier" series of hanging glass sculpture, huge if not monumental in size and effect. His renown continued to grow with installations across America and around the world, culminating in the "Chihuly over Venice" installation of fourteen of his own "Chandeliers" at various sites in Venice as well as thousands of others designed in collaboration with blowers and designers around the world. Other "Chandeliers" found their way into sites from the Smithsonian to the Bellagio Resort lobby in Las Vegas. In the year 2000, Chihuly mounted perhaps his most ambitious exhibition to date, "Chihuly in the Light of Jerusalem," with seventeen installations inside the walls of the ancient military fortress now known as the Tower of David Museum. With that exhibition, Chihuly paid tribute to the ancient art of glassblowing with over ten thousand pieces of multi-colored and multi-dimensional glass. That same year, Chihuly was also asked to design a millennium installation for the U.S. White House. And into the new millennium, his position at the pinnacle of his art was assured by a retrospective exhibition at London's Victoria and Albert Museum.
While some critics object to Chihuly's tireless self-promotion, others simply bow to his innovative genius. "Chihuly is an unquestioned genius," Robert T. Buck, director of the Brooklyn Museum, once told a contributor for People Weekly. And writing in Art in America, Tobey Crockett praised the "virtuosity with which [Chihuly] and his production team manipulate glass and use its ability to capture and recast light."
PERSONAL INFORMATION
Born Dale Patrick Chihuly, September 20, 1941, in Tacoma, WA; son of George (a butcher and union organizer) and Viola (a homemaker and bartender; maiden name, Magnuson) Chihuly; married 1987 (divorced, 1991); children: a son. Education: Attended the University of Puget Sound; University of Washington--Seattle, B.A., 1965; University of Wisconsin--Madison, M.S., 1967; Rhode Island School of Design, M.F.A., 1968. Addresses: Office: 1111 Northwest 50th St., Seattle, WA 98107-5120. E-mail: mailmaster@chihuly.com.
AWARDS
Louis Comfort Tiffany Foundation Award, 1967; Fulbright fellowship for study in Italy, 1968; Master Craftsman-Apprenticeship Grant, 1975, and individual artists grant, 1977, from the National Endowment for the Arts; Visual Artist's Award from American Council for the Arts, 1984; Governor's Art Award, 1984, 1985, and Governor's Writers Award, 1987, from the State of Washington; Golden Plate Award, American Academy of Achievement, 1994; Outstanding Achievement in Glass, Urban Glass Award, New York Contemporary Glass Center, 1996; Globe Award, World Trade Center, Tacoma, WA, 1996; Distinguished Achievement Award, University of Washington, College of Arts and Sciences, 1996; Jerusalem Prize for Arts and Letters, 1998; Phoenix Award, 1998; Lifetime Achievement in the Arts Award, Corporate Council for the Arts, Seattle, WA, 2001. Honorary doctorates from University of Puget Sound, Rhode Island School of Design, Californian College of Arts and Crafts, Pratt Institute, Gonzaga University, Brandeis University, and University of Hartford.
CAREER
Glass artist. Worked for a Seattle architectural firm as an interior designer, 1965; worked as a commercial fisherman in Alaska, 1966; Haystack Mountain School, Maine, instructor, 1968; Rhode Island School of Design--Providence, chair of glassblowing department, 1967-80, chair of sculpture department, 1976-77; Pilchuck Glass Center, Stanwood, WA, co-founder, 1971, and educational coordinator, 1971--; set designer for the Seattle Opera Company's production of Pelleas and Melisande, 1993. Exhibitions: Group exhibitions include shows at the Habatat Gallery, Farmington Hills, MI, 1980-83; Betsy Rosenfeld Gallery, Chicago, IL, 1981-83; "World Glass Now," Hokkaido Museum of Modern Art, Sapporo, Japan, 1982; "The Descendants," North Dakota Museum of Art, Grand Forks, 1983; "Chihuly over Venice," 1995. Solo exhibitions include installations at the Musée des Arts Décoratifs, Palais du Louvre, Paris, 1986; Israel Museum, Jerusalem, 1989; Contemporary Museum, Honolulu, HI, Nickle Arts Museum at the University of Calgary, Alberta, Canada, and the Azabu Museum of Arts and Crafts, Tokyo, Japan, all 1990; Museum of Arts and Crafts, Hamburg, Germany, and the Seattle Art Museum, Seattle, WA, both 1992; "Chihuly in the Light of Jerusalem 2000"; "Chihuly at the V & A," London, 2001; exhibits at Olympic Arts Festival, Salt Lake City, UT, Olympic Games, 2002. Work represented in the permanent collections of numerous museums, including the Whitney Museum of American Art, New York, NY; Metropolitan Museum of Art, New York, NY; Seattle Art Museum; Wadsworth Atheneum, Hartford, CT; Philadelphia Museum of Art; Victoria and Albert Museum London, England; Lobmeyr Museum, Vienna, Austria; Musée des Arts Décoratifs, Palais du Louvre, Paris, France; and the Smithsonian Institution, Washington, DC. Chihuly's glass sculptures have been commissioned for the Seattle Aquarium, the Hyatt Hotel in Adelaide, Australia, the Rainbow Pavilion of Rockefeller Center, New York, NY, GTE World Headquarters, Dallas, TX, and the Tacoma Financial Center, Tacoma, WA, among other buildings.
WORKS
* Writings
* 1986: Chihuly: Color, Glass, and Form, Kodansha International (New York, NY).
* 2000: The Essential Dale Chihuly, Harry N. Abrams (New York, NY).
* EXHIBITION CATALOGS
* 1982: Currents: Dale Chihuly, St. Louis Art Museum (St. Louis, MO).
* 1982: Chihuly Glass, privately printed.
* 1984: Chihuly: A Decade of Glass, Bellevue Art Museum (Bellevue, WA).
* 1986: Dale Chihuly, Objets de verre, Musée des arts décoratifs (Paris, France).
* 1988: Chihuly: Persians, Dia Art Foundation (Bridgehampton, NY).
* 1989: Venetians: Dale Chihuly, Twin Palms Publishers (Altadena, CA).
* 1990: Dale Chihuly: Japan, 1990, Japan Institute of Arts and Crafts (Tokyo, Japan).
* 1990: Dale Chihuly: Glass Artist, Mitsukoshi (Tokyo, Japan).
* 1991: Dale Chihuly, Tutti Putti: April 13 through May 25, 1991 Pence Gallery (Santa Monica, CA).
* 1991: Dale Chihuly/Klaus Moje, Glasmuseum (Ebeltoft, Denmark).
* 1992: Dale Chihuly Niijima Floats, American Craft Museum (New York, NY).
* 1992: Dale Chihuly: Installations, 1964-1992, Seattle Art Museum (Seattle, WA).
* 1992: Dale Chihuly: Glass, Taipei Fine Arts Museum (Taipei, Taiwan).
* 1992: Chihuly Courtyards, Honolulu Academy of Arts (Honolulu, HI).
* 1993: Dale Chihuly: Virtuose Spiele in Glas, Sanske Galerie (Zurich, Switzerland).
* 1993: Chihuly in Australia: Glass and Works on Paper, Portland Press (Seattle, WA).
* 1993: Chihuly: Form from Fire, University of Washington Press (Seattle, WA).
* 1994: Chihuly: Glass in Architecture, Kaohsiung Museum of Fine Arts (Kaohsiung, Taiwan).
* 1994: Chihuly Baskets, Portland Press (Seattle, WA).
* 1995: Chihuly Seaforms, Portland Press (Seattle, WA).
* 1996: Chihuly Over Venice, Portland Press (Seattle, WA).
* 1997: Magic of Chihuly Glass, Yomiuri Shimbun (Osaka, Japan).
* 1997: Dale Chihuly, Daiichi Museum (Nagoya, Japan).
* 1997: Chihuly: The George R. Stroemple Collection, Portland Art Museum (Portland, OR).
* 1997: Chihuly, Portland Press (Seattle, WA), revised edition, 1998.
* 1998: Icicles: The Icicle Creek Chandelier, Portland Press (Seattle, WA).
* 1999: Chihuly Atlantis, Portland Press (Seattle, WA).
* 1999: Chihuly Bellagio, Portland Press (Seattle, WA).
* 1999: Chihuly, Glass Master, Hsinchu Municipal Cultural Center (Hsinchu, Taiwan).
* 1999: Chihuly in the Light of Jerusalem 2000, Portland Press (Seattle, WA).
* 1999: Chihuly Jerusalem Cylinders, Portland Press (Seattle, WA).
* 1999: Chihuly Taos Pueblo, Portland Press (Seattle, WA).
* 2000: Chihuly Jerusalem 2000, Portland Press (Seattle, WA).
* 2000: Chihuly's Pendletons, Portland Press (Seattle, WA).
* 2000: Chihuly Projects, Portland Press (Seattle, WA).
* 2001: Chihuly at the V & A, Portland Press (Seattle, WA).
* 2001: Chihuly Marlborough, Portland Press (Seattle, WA).
* 2001: Venetian Traditions, Portland Press (Seattle, WA).
* 2002: Chihuly Gardens and Glass, Portland Press (Seattle, WA).
Read more
Latest headlines