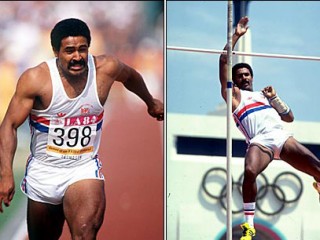 Daley Thompson biography
Date of birth : 1958-07-30
Date of death : -
Birthplace : London, England
Nationality : British
Category : Sports
Last modified : 2010-06-20
Credited as : Olympic athlete, track and field athlete, best decathlon athletes in history
Daley Thompson
(Also known as:
Francis Morgan Thompson, Francis Daley Thompson, Francis Ayodele Thompson
) born July 30, 1958 in London, England is a British athlete.
Daley Thompson
(born 1958) was one of the best decathlon athletes in history. He began competing in the decathlon in 1975 and won every event he entered from 1978 until 1988. Thompson won gold medals at the 1980 and 1984 Olympic Games.
Daley Thompson was born Francis Ayodele Thompson in London, the son of a Nigerian cab driver and a Scottish mother. His father gave him the African name Ayodele, but this was later shortened to Dele, and then to Daley, the name the world would come to know him by.
Even in childhood, he wanted to win. Cordner Nelson wrote in Track's Greatest Champions that Daley said, "I just had to be first at everything, from catching the bus to finishing my lunch." And his brother agreed, "Sport was life and death to Daley." Thompson's parents divorced when he was seven. Because his mother had to work, he was sent to boarding school. His mother did not particularly encourage his interest in sports, but at the school, he grew up in a disciplined environment where skill in sports was highly valued. At first, he liked soccer, but eventually turned to track and field.
In 1973, at the age of 14, Thompson competed in his first open meet. He took fifth place in shotput, placed third in two sprinting events, and won the high jump with a height of 5'7 3/4''. In 1975, he won the national junior indoor 60 in 6.9 seconds. He thought of himself as a sprinter, but in June 1975, on a whim, he entered the Welsh open decathlon.
Chose the Decathlon
"Decathlon" means "ten events" in Greek, and a form of it was a part of competition in the ancient Greek Olympics. The modern version has been around since the turn of the twentieth century. It is a series of ten track-and field events. Any athlete who participates must be an all-around talent. First day events include 100-meter sprinting, long jump, shot put, high jump, and running 400 meters. On the second day the athlete must run the 110-meter hurdles, throw the discus, pole vault, throw the javelin, and run 1,500 meters. Anyone who misses one event is out of the whole competition. Each athlete earns points for each event, according to a system devised by the International Amateur Athletic Federation. For each competition, an athlete can earn up to 1,200 points. At the end of the competition, the athletes with the five best point scores run together in the 1,500 meters. Traditionally, decathlon participants hate this running event, since they are usually powerfully muscled, built more for the explosive strength required for the other decathlon events than for endurance running. In The 1984 Olympics Handbook, Norman Giller remarked that Thompson is typical in this regard: "If he has a weakness, it is in the 1,500 meters, where he tends to lumber rather than glide around the track."
The event is grueling. According to Nelson, Thompson said, "In the decathlon, nothing is won ahead of time. You can have one good event, but you'll never know how the next one turns out until you get to it." Although his performance was uneven, Thompson won his first decathlon. In addition, at age 16, he had won an incredible total of 6685 points in the combined events, which was only 140 points less than Bob Mathias had when he won the 1948 Olympics. Thompson realized he had talent for the decathlon and that he loved it---he was hooked.
Thompson loved the points system of the event. According to Nelson, he said, "I can go into a competition in the long jump, say, and it is only a fraction above a training session in my mind, regardless of how big a meet it is. But put me in a competition where I'm getting some points at the end of it, and I'm a different man."
Since he wanted to be a great athlete, Thompson knew that he would have to do all right in school, if only just to have the freedom to train. In Black Sportsmen, Ernest Cashmore wrote that Thompson said, "My teachers were all right about my sport; they left me alone and left me to do what I wanted to do, which suited me. They never bothered me in regard to sport or academically. I knew that, if I did the work, they couldn't say anything to me, so I did the minimum." Thompson went to college, studying physics, biology, and geography at Crawley College of Technology, not because he was particularly interested in studying, but because he knew that going to college would give him time and space to train.
First Olympic Competition
In 1976, Thompson participated in his first Olympics at Montreal, and came in eighteenth, at age 18. "I couldn't get enough of it, " he told Nelson. "It was a learning experience I'll never forget for the rest of my life. I was in total awe of almost all the others there in the decathlon." The awe went both ways: the gold medalist and world record holder in the event, Bruce Jenner, was impressed with Thompson's performance and predicted that one day, he would win the event and become the Olympic champion.
Unlike many other athletes, Thompson did not have any mentors or idols. He told Cashmore, "I had no influences on my career; no idols or friends who were in athletics and I didn't see my coach that much. I just worked at it myself. I feel no obligation to anyone at all. It's not as if I'm in a sport where I have to sell tickets. I don't depend on people. They never used to come to see me when I was doing decathlons earlier--I used to get about ten people come to watch me!"
By 1978, he was training about eight hours a day, and had little time for anything else in life, but this did not bother him. He told Nelson, "It's my life. There isn't anything I want to do more than decathlon." In 1979, Thompson had a lot more than ten people watching him. A television audience of several million viewers saw him win the gold medal in the British Commonwealth Games. After this victory, he was offered training space at San Diego State University, where he trained for seven months in 1979 and 1980. In 1980, he qualified for the Moscow Olympics.
The 1984 Olympics
At that Olympics, Bruce Jenner's prophecy that Thompson would be an Olympic champion came true. Thompson took the gold and almost set a new world record--he was stopped only by the weather, which worked against him. He did set a new Olympic record, with a point total of 8,798, which was not broken until 1996, when American Dan O'Brien made 8,824 points.
After this win, he returned to England and resumed his solitary training for up to eight hours a day. He usually divided the ten decathlon events into two sets of five, and practiced each set of these on alternate days. Just before the 1984 Olympics, Thompson told Giller, "I have given myself a target of three gold medals. I don't mean that to sound big headed. It's just that I want to give myself every incentive to keep going. I love the decathlon, and as I will still be only 29 when the 1988 Games come around, I feel it is a realistic target." Thompson trained intensively for the 1984 Olympics, and almost trained too hard, adding a couple of extra hours every day. He told Nelson, "Every successive morning you wake up with some kind of residual tiredness in you. If you start day A at 100%, maybe at day Z you're feeling only 40%, yet you have to train harder. The tiredness just gets worse and worse because there really aren't enough hours in the day to do enough. I would like to be able to do more. At least once or twice in every session I try to do an event very well so that even on my worse days I can throw a certain distance or jump a certain height." The extra training paid off, however, and Thompson did win the gold in the 1984 Games at Los Angeles, beating the world record holder, Jurgen Hingsen of West Germany.
Olympic Career Ended
In 1988, Thompson's hope of winning three Olympic gold medals shattered as his pole-vault broke in half, re-injuring his adductor muscle, which he had already hurt in 1983. It was the end of his Olympic hopes, but not the end of his career as a sportsman. Thompson continued to work in sports, training other athletes. In 1998, he took on the Wimbledon soccer team, training them through their pre-season. Team member Chris Perry told a local reporter, "It was a very hard pre-season. Daley did two weeks of intensive work with us and we weren't really used to it. It enlightened us as to how fit we could get. I'm sure we'll be using him next season."
Thompson had an unusual attitude toward his race. When Ernest Cashmore told Thompson he wanted to interview him for his book, Black Sportsmen, Thompson was initially puzzled. "I don't know what you want to talk to me for," he said. "I'm not black." Despite his Nigerian heritage, he did not see himself as a black sportsman and said of athletes who identified themselves as black, "They're just immature; they'll have to come to grips sooner or later with the fact that you can't go through life thinking about your color." Not surprisingly, this did not make him popular among other athletes of African ancestry.
Cashmore speculated that Thompson's lack of consciousness about his race stemmed from his growing up in an insulated environment at boarding school. Thompson told Cashmore, "Even though all the other kids at school were white, I never sensed I was different at all. I never even thought about my skin color. I suppose I was protected from many kinds of the pressures on black kids because of my schooling. Having mixed parents probably had a lot to do with it as well, even though I never had a lot of contact with either of them."
Cashmore asked Thompson what he would do if he and a white man had the same qualifications and applied for the same job, and the white man got it. Thompson said he would "go away, think about why this had happened, and apply again." If it happened three more times Thompson would "get a degree and apply again, with superior qualifications." Cashmore noted that Thompson's way of dealing with racism is simply to refuse to recognize it; "He refuses to believe or admit that there is any possibility of failure for any reason--even if the reason is other people's attitudes."
Thompson has always been friendly but inwardly shy, according to those who know him. Thompson told Nelson, "People have gotten the idea that I'm an outgoing guy, an extrovert. I'm not, but people expect me to live up to my image. When there are lots of people around, they expect me to be loud, jovial, silly, making pranks all the time." Giller described Thompson by saying, "He is a cocky, cheerful, bouncy character away from the track, when his shyness is sometimes mistaken for arrogance."
AWARDS
Gold medal, decathlon, 1980 and 1984 Olympic Games.
Read more
Latest headlines