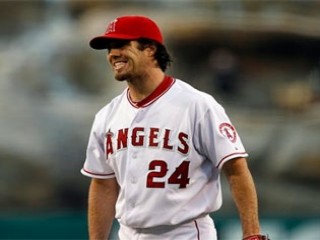 Dan Haren biography
Date of birth : 1980-09-17
Date of death : -
Birthplace : Monterey Park, California
Nationality : American
Category : Sports
Last modified : 2010-10-29
Credited as : Baseball player MLB, pitcher with the Los Angeles Angels,
Daniel John Haren Jr. was born on September 17, 1980 in Monterey Park, California, a city less than ten miles east of Los Angeles. At a young age, Dan was exposed to baseball aby his dad. With that introduction came indoctrination into life as a fan of the New York Yankees, Dan Sr.'s favorite team. The elder Haren grew up in Manhattan and never lost his alleigance to the Bronx Bombers. While the Yankees of the '80s were nothing like the teams of the '50s and '60s, Dan slowly became attached to hardball.
As Dan got older, he and his father started spending weekends in the field across the street from their home, working on Dan's hitting. Like his dad, Dan ultimately gravitated to a hometown favorite—the California Angels. Just after Dan's sixth birthday, the Angels—led by Wally Joyner—rode a 92–70 record into the playoffs and within a strike of reaching the franchise's first World Series.
Despite his baseball roots, Dan wasn't exactly fixed on the sport when he entered his teens. Big enough to be a middle linebacker at Bishop Amat High School in La Puente, California, Dan chose to play football for the Lancers. Dan Sr. was uncomfortable with son on the gridiron and encouraged him to put down the pads and stick to baseball. Dan chose to oblige and quit the football team after one year.
From that point, baseball became Dan's focus. Bishop Amat had a nice baseball tradiition. Four years before Dan became a Lancer, Michael Young—the All-Star infielder for the Texas Rangers—had worn the school's uniform.
Not long after making the varsity baseball team, Dan started displaying his talent as a batter. He earned All-League and All-Valley honors during a career that was capped off with a .465 batting average in his senior season.
Dan's hitting prowess attracted Division I college coaches from near—such as USC and Pepperdine—and far, including the University of South Florida and Tulane. Ultimately, Dan chose the Waves, who offered a 75% scholarship. A traditionally strong baseball school, Pepperdine had won the College World Series in 1992. Dan prepared to join the team for the 1999 season.
It was early in his freshman year that the Waves tried putting Dan on the hill. Coach Frank Sanchez unlocked what turned out to be his greatest ability. In his freshman season, Dan went 10-3 with a 3.08 ERA. The Waves rode their first-year sensation to an overall record of 45-16.
As a sophomore, Dan did not receive quite as much run support from the Waves. His ERA didn't change, but his record fell to 8-5. Meanwhile, Dan put up strong numbers at the plate. When the teenager wasn't pitching, Sanchez used him as his DH. The Waves started slow and finished fast in 2000, winning 13 of their last 15 to go 35-23.
ON THE RISE
The 2001 season proved to be Dan's breakout campaign. He and his roommate—lefty Noah Lowry, a future first-round pick by the San Francisco Giants—were the driving factors in a splendid 42-18 season. Dan wasn't just Pepperdine's best player; he was the best player in the West Coast Conference. On the mound, he posted a 2.22 ERA in 17 starts, winning 10 times against only three losses. Dan became a dominant pitcher by mixing speeds and locations with his fastball and working in the occasional slider or splitter.
Dan continued to mow down opponents in the postseason, tossing a complete game shutout in the regional finals of the College World Series. At the plate, he hit .313 for the year. Those numbers were enough to make him the WCC Player of the Year.
In three college seasons, Dan had amassed 28 wins, tied for third-highest total in school history, and 268 strikeouts, fourth all-time at Pepperdine. Content with his development , Dan chose to forgo his senior season and enter the draft. The St. Louis Cardinals tabbed him in the second round. He signed for $530,000. Dan was the second pitcher taken by St. Louis, behind Justin Pope.
Dan landed in the Class-A New York/Penn League for the 2001 season. In all, he made 12 appearances, including eight starts, for the New Jersey Cardinals. Dan struck out 57 hitters in 52 and 1/3 innings to go with a 3.10 ERA. He capped the season off in style, allowing just one earned run in his final two starts.
For the 2002 season, the Cardinals elevated Dan to the Peoria Chiefs of the Class-A Midland League. Playing with future big leaguers Yadier Molina and Garrett Stephenson, Dan went 7-3 in 14 starts with a 1.95 ERA. He also benefitted from a brief stint spent in Peoria by Steve Kline. Dan got to see up close how a veteran major leaguer went about his work.
Dan showed masterful control with the Chiefs, walking a mere 12 batters in nearly 102 innings. At midseason, the Cardinals promoted Dan to the Potomac Cannons of the Carolina League. He made 14 starts there as well, going 3–6 with a 3.62 ERA with 82 strikeouts in 92 innings.
Dan started the 2003 season with the Tennessee Smokies of the Class-AA Southern League. In 22 games, including eight starts, Dan went 6-0, allowing just eight runs in 55 innings. After being named the organization's Player of the Month for April, Dan struck out a season-high 13 batters in a May game against the Huntsville Stars.
The Cards rewarded him with a promotion to the Memphis Redbirds of the Class-AAA Pacific Coast League. His greeting was a harsh one—the Oklahome Redhawks hammered him for six runs in 2.2 innings in his debut. All in all however, Dan put up a good fight against PCL hitters, going 2-1 in eight starts with a 4.93 ERA. Few pitchers climb the ladder as smoothly as Dan had, making quick adjustments at each level. It was just a matter of time before he was pulling a big league jersey over his head.
That call came in June. Jason Simontacchi, the #5 starter in the St. Louis rotation, was getting bombed on a regular basis, and manager Tony La Russa knew it was time for a change. Dan was tabbed to start against the San Francisco Giants. The 22-year-old threw six solid innings, allowing just two earned runs in a 5–1 loss. That was enough to earn him a spot in the rotation as long as he could hold it.
The rest of Dan's season was up and down. His ptiched well through July, and then gave up at least four runs in five of his last eight starts, failing to get past the sixth inning in any of them. Dan ended the season at 3-7 with a 5.08 ERA. The Cardinals finished the season at a respectable 85-77 but out of the playoffs.
During the offseason, the Cardinals concentrated on bolstering their starting ptiching. They brought in three battle-tested arms—Chris Carpenter, Jason Marquis and Jeff Suppan. With the St. Louis rotation set, Dan was sent back down to Memphis to start the 2004 campaign. He spent almost the entire year with the Redbirds.
Dan fared well in his second go-round against PCL hitters. In 21 starts, he posted an 11-4 record and a PCL-leading 150 strikeouts in 128 innings. On June 10, Dan was recalled to make a spot start against the Chicago Cubs. He endured an awful day, giving up 10 hits and 10 runs in less than four innings. On the bright side, Dan was later named the starter for the PCL All-Star Game and won honors as the Player of the Game.
In late July, Dan returned to the major leagues, this time functioning as a swingman for the Cards. He pitched better, finishing the season at 3-3 with a 4.50 ERA.
Dan did enough to make the team's postseason roster. He was used first in the Division Series against the Los Angeles Dodgers and then in the National League Championship Series against the Houston Astros. In three appearances, he allowed two runs. Dan was credited with the victory in Game 2 against the Dodgers when he pitched two scoreless innings in relief.
In the World Series against the Red Sox, Dan was excellent, holding Boston scorless in 4 and 2/3 innings. He showed a lot of poise in an embarrassing sweep and opened some eyes around the league. The Cards cashed in on Dan's increasing value in December, sending him, reliever Kiko Calero and minor leaguer Daric Barton to the Oakland A's for Mark Mulder.
The A's had failed to win a championship behind their Big Three—Mulder, Barry Zito and Tim Hudson—and were starting to retool with younger, cheaper players. Dan joined a rotation alongside Zito, Hudson, Joe Blanton, Rich Harden and Kirk Sarloos. Early on, he looked like a complete bust. After 10 starts, Dan was 1–7, and the A's were in last place. Around this time, Zito took Dan under his wing. The results was obvious.
Dan responded in his very next start with his first career complete game. From then on, he was a different pticher. He registered a quality start in five of his six outings in June. From late May to early August, the A's were a perfect 14–0 with Dan on the hill. He picked up nine victories along the way.
When the dust settled on the 2005 season, Dan was 14-12, tying him for the most wins on the team with Zito. His ERA was a very respectable 3.73, and he broke into the top 10in the American League for strikeouts. The A's responded with a new four-year contract through 2009, with an option for 2010.
Heading into the 2006 season, people around the league was whether Dan was the real deal. Had he put together a nice run during a lost year? Dan answered his critics with another strong campaign, leading Oakland in strikeouts (176) and innings (223). Overall, he went 14-13 with a 4.12 ERA. Dan continued his masterful control, logging a 3.91 K/BB ratio—the best in franchise history.
Dan's strong season helped the A's capture the AL West crown. He took the ball in Game 3 of the Division Series against the Minnesota Twins, twirling six innings of two-run ball. Oakland won to complete its three-game sweep.
In the ALCS against the Tigers, the tides turned. Dan started Game 4 in Detroit with Oakland facing elimnation. He could not prevent a sweep, yielding three runs in five innings of work. With the score tied 3–3, closer Huston Street allowed a three-run homer to Magglio Ordonez to send the Tigers to the World Series.
MAKING HIS MARK
The A 's cleaned house in 2007. The most notable move was the departure of Zito, who signed a huge deal with the crosstown Giants. New Oakland manager Ken Macha anointed Dan as the team's Opening Day starter. He responded brilliantly to the mantle to staff ace, finishing at 15-9 with a career-low 3.07 ERA.
Dan was an early frontrunner for the Cy Young Award, which eventually went to CC Sabathia. Dan had another honor to boast about when he was named the starting pitcher for the American League in the All-Star Game. At the break, Dan was 12-3 with a league-leading 2.42 ERA.
Unfortunately, the Athletics couldn't compete on the same level. Dan received two runs or fewer of support in 12 of his 34 starts and ended up 0-8 in those games. Predictably, the A's finished under .500 at 76-86, a whopping 18 games out of first.
In December, A's GM Billy Beane decided to overhaul his team again. He shipped Dan along with pitcher Connor Robertson to the Arizona Diamondbacks in return for a six-player package that included super prospect Carlos Gonzalez.
Dan found himself in an enivable position in Arizona, slotted in the rotation behind Cy Young winners Brandon Webb and Randy Johnson. He took full advntage, postinga 16-8 record and a 3.33 ERA and a career-high 206 strikeouts. His 5.15 K/BB ratio was also the best in the National League.
The D-Backs relied on their starting pitching to move into first place in a weak NL West heading into September. But the team folded down the stretch and was passed in the standings by the Dodgers. For Dan, his first year back in the NL was a financial success as well as an artistic one. On August 6, Airzona signed him to a four-year contract worht $44.75 million.
In 2009, Arizona once again pinned its hopes on its starting staff. Dan watched from the dugout on Opening Day as Webb threw four innings before leaving the game with a shoulder injury. He was done for the year.
With the Big Unit retired and Webb out for the duration, Dan became the ace of the Arizona rotation. He responded with a 14-10 record and a 3.14 ERA. He made his third straight trip to the All-Star Game, and for the fifth year in a row, Dan surpassed his career high in strikeouts, this time logging 223 Ks in 229 innings.
Unfortunately, the Diamondbacks missed the playoffs again, and this time it wasn't even close. Of the ten pitchers who started at least one game for Arizona in '09, Dan was the only one to end up with a winning record. The Diamondbacks tumbled into the NL West cellar with a 70–92 record.
Things didn't look much better as the 2010 campaign got under way. Webb was still hurt, and there were question marks at almost every position for the D-Backs. Arizona fans could hope for a miracle, but they knew what they were likely to get. Dan's departure at some point during the year was a virtual certainty. He was a luxury the team could not afford.
Dan appeared to be affected by his likely fate. He was not having a particularly successful year when the news came in July that he had been dealt to the Los Angeles Angels. The trade was a relief, especially considering that he made a major leap in the standings.
Dan needed four starts before he logged his first win for the Angels, though it wasn't for a lack effort. In his secnd appearance, he threw a complete game against the division-leading Texas Rangers and lost 2-1.
As a player who will take the ball every fifth day and challenge hitters, Dan is an increasingly rare commodity—a starter you can pencil in for an entire season. He throws hard and throws strikes, and he knows how to win. He has also found his way to the team he rooted for as kid. Dan is hoping the wings of Angels will lead him to a championship.
DAN THE PITCHER
Dan's style is unique in that he is able to change speeds and throw any of his four pitches no matter what the count is on the batter. He is not opposed to going back to the same pitch three, even four times, making him particularly hard to hit since he is known to pitch against scouting reports.
Dan's best pitch is a fastball that reaches the low to mid 90s consistently with movement. Dan also has a superb split-finger fastball, a curveball and a high 80s cut fastball, one that he credited for his success during his second stint in the NL. Dan used to throw a slider but took that out of his arsenal and replaced it with the cutter. He made this decsion after his trade to the Diamondbacks, believing that the lack of humidity in Arizona would deaden the slider.
Dan's splitter is his main strikeout weapon, but he butters his bread with his excellent control. One knock against him is that he has been known to give up a few too many home runs. Dan's delivery is relatively slow as he includes a pause in the middle of his windup, but he is able to speed it up when runners are on base.
Dan prides himself on being a good teammate. He learned well from Tim Hudson and Barry Zito in Oakland. Dan never turns down a young player who wants to talk baseball. And no one want to win more than he does.
EXTRA
# Dan's catcher at Pepperdine was Dane Sardinha, who went on to play for the Cincinnati Reds, Detroit Tigers and Philadelphia Phillies. His brother Duke was also a Pepperdine teammate of Dan's.
# Dan had to pitch against Barry Bonds three times in his major league debut. Bonds went 0-for-3.
# Dan's first strikeout victim was the opposing pitcher in his major league debut, Jason Schmidt.
# Dan hit a double to right field on the first pitch he saw as a major league hitter.
# Dan's first victory came against the Los Angeles Dodgers in his fourth start. He outdueled Kevin Brown to win 3–1.
# In 2007, Dan became the sixth Oakland pitcher to start the All-Star Game. The others were Vida Blue (1971 and 1975), Catfish Hunter (1973), Dave Stewart (1989), Bob Welch (1990) and Mark Mulder (2004).
# Dan did not allow more than five runs in any of his 34 starts in 2007, joining Vida Blue (1971) and Catfish Hunter (1972) as the only starting pitchers in team history to accomplish that feat (minimum 27 starts).
# Dan worked 229.1 innings in 2009, his fifth consecutive season of more than 215 innings pitcher. It is the longest active streak in the major leagues.
# In 2009, Dan was ranked by Baseball America as having the best control and being the third-best pitcher in the National League.
# In 2009, Dan became the first pitcher ever to reach the All-Star Break leading the Majors in ERA (2.01), K/BB ratio (8.1), WHIP (0.81) and opponents' OBP (.219.
# In an interview with The Sporting News in June 2009, Dan said his favorite city to visit was Chicago, and that he's never read a book cover to cover.
Read more
Latest headlines