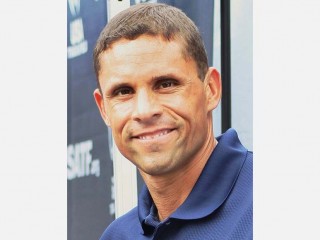 Dan O'Brien biography
Date of birth : 1966-07-18
Date of death : -
Birthplace : Portland, Oregon, U.S.
Nationality : American
Category : Sports
Last modified : 2010-06-23
Credited as : Track and field athlete, ,
Dan O'Brien
(also known as:
Daniel Dion O'Brien
) born July 18, 1966 in Portland, Oregon, U.S.A is an African-American track and field athlete.
Dan O'Brien
of the United States has earned the title "the World's Greatest Athlete." Three times he has won the gold medal in the decathlon, the most grueling event in track and field, at the World Track and Field Championships. In 1992 O'Brien broke the world record in the decathlon, and several times he has threatened to surpass 9,000 points, a barrier no man has ever reached. Despite his accomplishments, many fans remember him for the competition he did not win--the 1992 U.S. Olympic Trials. A mistake in the pole vault cost O'Brien a chance to win an Olympic gold medal in the decathlon. Under intense pressure, he proved he was the world's greatest athlete when he captured the decathlon at the 1996 Summer Olympics in Atlanta, Georgia.
Dan O'Brien was born July 18, 1966, in Portland, Oregon. His parents gave him up for adoption at birth. O'Brien spent his first two years of life in an orphanage. In 1968 Jim and Virginia O'Brien adopted him. The O'Briens, who are Caucasian, adopted six children of different nationalities (including African American, Native American, and Hispanic). Virginia O'Brien also had two children of her own from another marriage. Despite the unusual makeup of his family, O'Brien feels as though he had a normal childhood growing up in Klamath Falls, Oregon. "I never felt like an outcast," O'Brien told in People magazine.
O'Brien knows very little about his biological parents. The adoption agency told the O'Briens "that his father was black, 6' 3", and very athletic; that his mother was at least part Finnish; and that one or both of them were college professors," Larry Hunt, O'Brien's high school track coach, explained in Sports Illustrated. O'Brien today has no interest in locating his biological parents.
As a child, O'Brien was always very active. "The first thing he did after we got him was jump off a picnic table and start running," Jim O'Brien recalled in People magazine. Virginia O'Brien added in the same magazine, "We looked at him and said, 'He's going to be in the Olympics.'" O'Brien had a hard time concentrating and could not pay attention to anything for very long. Because of this, he had difficulty in school. Later doctors learned that O'Brien suffered from attention deficit disorder (ADD). "I couldn't read an article to the end," O'Brien told Sports Illustrated. "I couldn't sit in one place for five minutes."
It took until his sophomore year at Henley High for O'Brien to blossom as an athlete. A growth spurt made him grow almost six inches that year. "He grew so much his bones hurt," recalled Jim O'Brien in Sports Illustrated. As a senior (1984), O'Brien won the state championships in the 100-meter dash, the long jump, and two hurdle events. "He was an exceptional hurdler, long jumper and sprinter in high school," his future coach at the University of Idaho, Mike Keller, recounted in Boys' Life. O'Brien also won All-State honors in basketball and football.
National champ
Also in 1984 O'Brien finished fourth in the U.S. Junior decathlon, even though he had not paid much attention to pole-vaulting or the track-and-field throwing events. After graduating from high school he wanted to go to the University of Oregon to play football and run track, but the school did not offer him a scholarship. O'Brien could not afford to pay for school, so he accepted a scholarship at the University of Idaho.
O'Brien's life took a damaging turn when he went away to college. Never a good student, he had trouble taking his schoolwork at Idaho seriously. "My attitude was, 'A seven-page paper? You're kidding,'" he admitted in People magazine. O'Brien began to get into trouble. He stopped training, skipped classes, smoked marijuana, and drank heavily. "Drinking was just something I did all the time," O'Brien confessed in Runner's World. "I wouldn't have said I was an alcoholic at the time, but I probably was. I also used to smoke pot heavily. Sometimes I'm out of control. I admit that."
Soon O'Brien got into so much trouble that he ran up a $5,000 debt. He wrote checks to pay for things without actually having the money. In late 1987 O'Brien lost his scholarship and campus police came and threw him out of the dorm. He was out of money but was too embarrassed to go home and see his parents. "I was so disgusted with my life that I couldn't face my family," O'Brien recalled in Runner's World. "Everyone at school had gone home, but I stayed here all alone, rolling joints and drinking beer. I was so depressed that the only way out I could see was to start training again."
Climbing back
"It was the lowest point of his life," Keller told People magazine. "Danny had to hit rock bottom before he started climbing back up." O'Brien tried to get his life together and asked Idaho for another chance. Keller agreed to give him one last shot. "Dan caused problems, and there was a lot of pressure on Mike to get rid of him," Rick Sloan, another of O'Brien's coaches, told Runner's World. "But Mike stuck with him. If he hadn't, Dan would be at the rescue mission up in Spokane. He'd be gone. He would have nothing." Keller paid O'Brien's tuition in junior college and did all he could to help his pupil. "Basically I kept him alive," Keller told Runner's World. "I had to. There was no way I could let him die. Any coach would have done the same."
Works to improve
O'Brien attended junior college and raised his grades. He also worked hard to get in shape and change his attitude. "Rick Sloan and I say to each other, 'We're watching this guy grow up right before our eyes,'" Keller stated in People magazine. O'Brien's hard work paid off when he qualified for the 1988 U.S. Olympic Trials. "That was my goal: to qualify for the Trials," O'Brien recalled in Runner's World. "But I wasn't prepared. I just got by on my speed." O'Brien hurt his leg in the second event and had to pull out of the competition.
The experience at the Olympic Trials helped O'Brien. "As I was leaving the track in Indianapolis [where the Trials were held] I could see what the other guys were like, and I realized they weren't better athletes than I was," O'Brien recounted in Runner's World. "They had more experience and knew the event better. That's all. Right then, I committed to doing better in school and applying myself on the track."
Gets noticed
O'Brien burst onto the scene in 1990 by finishing second in a meet sponsored by The Athletics Congress (TAC). At the 1990 Goodwill Games, he began a good-natured rivalry with his teammate Dave Johnson. Johnson defeated his fellow American in the decathlon by 45 points, winning the event in the last race, the 1,500-meters. This was the first time an American had won the decathlon in an international competition since Bruce Jenner won the gold medal at the 1976 Summer Olympics. It was also the first time since 1975 that two athletes from the United States finished first and second in the decathlon.
Best in U.S.
At the TAC meet in June 1991 O'Brien broke the American decathlon record, set at the 1976 Summer Olympics by Bruce Jenner. He scored 8,844 points at the meet, missing the world record by only three points. "His performances are godlike," Jenner told Boys' Life. If O'Brien had run one second faster in the 1,500-meter run or leapt one-quarter inch farther in the long jump, he would have broken the world record set by Daley Thompson of Great Britain at the 1984 Summer Olympics. "People used to say, 'I wonder if Dan is ever going to blossom,'" O'Brien told People. "I used to wonder myself. I don't anymore."
World champ
O'Brien participated in the 1991 World Track and Field Championships in Tokyo, Japan. He won the gold medal in the decathlon--and the title of the world's greatest athlete--by 263 points over his nearest competitor. O'Brien scored 8,812 points, becoming the first decathlete to score more than 8,000 points twice in the same year. He had reached the top of his sport.
Early in 1992 O'Brien suffered a stress fracture in his right foot. The injury forced him to do all his running in a pool so that he would not put too much pressure on his foot. Then, just before the Olympics, O'Brien sprained his ankle throwing the javelin. "The whole year, we haven't been able to train six days in a row," Keller told Sports Illustrated.
O'Brien traveled to the 1992 U.S. Olympic Trials in New Orleans, Louisiana, hoping to set a world record. He started fast in the competition, finishing the first five events with a record total of 4,698 points. On the second day of competition, O'Brien did well in the discus and the 110-meter hurdles and seemed on his way to a world record. He led his commercials partner, Johnson, by an overwhelming margin.
The pole vault worried O'Brien the most of all the decathlon events. He had not vaulted in a meet all spring because of his injuries. Still, O'Brien's personal best vault was 17 feet ¾ inches and he had vaulted 16 feet ¾ inches in practice. Keller and O'Brien decided to skip the first four heights of the pole vault in an effort to earn more points. The bar stood at 15 feet 9 inches before O'Brien attempted his first vault.
O'Brien missed his first vault but did not worry because he had two more tries. When he also missed his second vault, though, coming down on top of the bar, Keller and Sloan became nervous. O'Brien had to clear at least one height to get any points in the event, and he had only one vault left.
The tension made O'Brien nervous. Twice he ran up to attempt his final vault, and twice he stopped because he knew his footwork was not right. Finally, O'Brien tried his final jump. He knew halfway up to the bar that he would not make it, and he and his Olympic dream fell into the landing pit. O'Brien's failure to clear even one height in the pole vault dropped him to twelfth place in the standings with his two weakest events--the javelin and the 1,500 meters--left in the competition. Soon he and his coaches realized he could not make the Olympic team. "I realized it was over," O'Brien recalled in Sports Illustrated. Johnson went on to win the competition.
"I felt numb at first," O'Brien revealed in Sports Illustrated. "I wanted to turn to somebody and say, 'Hey, this shouldn't be happening to me. Do something. Somebody do something.'" O'Brien broke down and cried, admitting that the pressure had gotten to him. "I jump that as an opening height in practice," O'Brien explained in Sports Illustrated. "I can't remember a day when I didn't clear that height." What made his disappointment worse was that he and his coaches decided to start at a higher height when he might have made a lower jump. "You'd think they'd get something down, some mark, something in the bank," a shocked Jim O'Brien said to Sports Illustrated after the meet.
Watches Olympics
Robert Zmelik of Czechoslovakia won the 1992 Olympic gold medal in the decathlon, and Johnson finished third. Zmelik's coach, Libor Varhanik, admitted in Sports Illustrated that the true champion did not compete in the Olympics. "We both know," Varhanik told Keller, "that if Dan had been at the Olympics, it would have been a different story." O'Brien acted as a commentator for NBC during the Olympics, but his loss cost him a fortune in endorsements and commercials. "I had the opportunity to set myself up, I guess," O'Brien stated in the same magazine. "But I can't be bummed about money I never had."
World record
O'Brien did not let his disappointment stop him from competing. In September 1992 he reestablished himself as the world's greatest athlete. At a meet in Talence, France, O'Brien broke the world record in the decathlon. In four of the ten events he achieved personal best scores, and he finished with 8,891 points. O'Brien became the first American world-record holder in the decathlon since Jenner set his mark in 1976. "The world's greatest athlete has come back to America," an excited O'Brien exclaimed in Sports Illustrated.
O'Brien's performance impressed the experts, including Daley Thompson. "He's bigger than me, faster than me, and stronger than me," the former world-record holder stated in Sports Illustrated. "He can be anything he wants to be. I see him as a 9,500-point man."
Second chance
In March 1993 O'Brien set another world record, this time the indoor record in the heptathlon. (The heptathlon consists of five events.) He further solidified his position as the world's greatest athlete by winning the decathlon gold medal at both the 1993 and 1995 World Track and Field Championships. O'Brien realized, however, that only an Olympic gold medal would solidify his postition as one of the best of all-time. "My goal is to win the gold medal," he stated in Runner's World. "If I don't, my career won't be complete."
All reporters wanted to ask O'Brien leading up to the 1996 U.S. Olympic Track and Field Trials was the pole vault. He admitted the event gave him trouble. "Every pole vault competition since 1992 has been nerve-racking for me," O'Brien confessed. "I get an increased heart rate, sweaty palms. I have to force myself to relax and do things correctly. But in the end I've always been very competitive." He and his coaches worked hard on the mental and physical aspects of the pole vault to make sure the world record holder would be prepared.
O'Brien had won all eight decathlon competitions he had entered since 1992, but everyone was waiting for the pole vault at the Olympic Trials. "Do it right," O'Brien told himself before his first vault. "Be aggressive and don't worry about the outcome. Don't worry about what you're going to say at the end of the day. Don't worry about what's going to happen when you miss, because you're not, because you're going to put the plant up and make this bar on the first attempt." Four years of frustration melted away as he cleared 14 feet, nine inches on his first vault and matched his personal-best in the event with a vault of 17 feet, nine inches.
O'Brien went on to easily capture the competition and earn a spot on the 1996 U.S. Olympic team set to compete in Atlanta, Georgia, with a final score of 8,726 points. "It's a great feeling, but still it wasn't beyond my imagination," O'Brien explained. "I had the dream all year, last year and the year before to be here at this time. This feels very norman to me--to win a national championship and to be shooting for the gold medal at the Olympic Games."
Good as gold
The competition in Atlanta was one of the toughest of O'Brien's career. Frank Busemann of Germany challenged the favorite throughout, setting personal bests in three events and equaling them in two others. The two men confronted each other in the javelin. Busemann threw 219 feet, four inches, but O'Brien answered with a career-best throw of 219 feet, six inches. "As soon as it left my hand, I knew it was a long one," O'Brien explained. "So I kept yelling at it."
Now all O'Brien had to do was complete the 1,500 meters, his least favorite event, to win the gold medal. He needed to finish the race within 32 seconds of Busemann to earn enough points to win the gold medal. "Whether it's for the gold medal, the world record or the 9,000-point barrier, it always comes down to the 1500," he related. "I told myself the race was up to me. It was incredible coming off the third lap. I only had USA in my head, and that drove me to the finish. I felt strong enough to win the gold."
Struggling all the way, O'Brien finished the race with a time of 4 minutes, 45.89 seconds, 14 seconds behind Busemann and easily good enough for him to win the competition. As he completed the event he fell into the arms of Jim O'Brien, his adopted father. O'Brien finished with a score of 8,824 points, 23 short of the Olympic record set by Daley Thompson of Great Britain. "I try to forget about the troubled past, the problems I went through to get here," he said after his victory. "Every day for four years, I've woken up telling myself that I wanted the gold medal. Now it's mine and I can tell you it's an awesome feeling. It was the hardest two days of my life. It was very stressful, but the reward was well worth it."
Still on top
Although in his early thirties, he felt he could still break the elusive 9,000 point barrier. "My next goal is 9,000 points," O'Brien explained. "I believe that I can do it under teh perfect conditions, in a meet where there's not so much at stake. Then I can lay it on the line, with nothing to lose." O'Brien suffered a stress fracture in his right leg and missed out on his chance to defend his gold medal at the 1997 World Track and Field Championships in Athens, Georgia.
To try to stir up more interest in track and field, O'Brien challenged National Football League players to compete against him in the decathlon. "They could pick their own team and I'll compete against them in all 10 events," he announced. "And then we'll see who the world's greatest athlete is."
O'Brien hopes to be able to compete for many years to come. "My main goal is to win again in 2000 [Summer Olympics in Sydney, Australia]," he admitted. "But somewhere along the line I'm going to have to take some time off. I've trained for six years in a row."
Off the track
O'Brien lives in Moscow, Idaho. He enjoys playing golf and video games. After his track career has ended, O'Brien would like to try acting. His success has led to lucrative endorsement contracts with VISA, Nike, Foot Locker, Canon, and Juice Bowl and he appeared on the front of a Wheaties cereal box. O'Brien is the spokesperson for the 1998 Junior Goodwill Games.
O'Brien has important things to tell children. "I like to show kids that it's cool to get your work done instead of goofing off and being a jerk," O'Brien told Runner's World. "So I visit classrooms or walk over to the local school and have lunch with the kids. Nobody really talked to me when I was young. If they had, I would have been a better student. I like to show them there's hope. Look at me. I wasn't a great athlete until I started to work hard." O'Brien helped start the National High School Decathlon Championships in 1994.
O'Brien likes to compete, but not train. "Doing a decathlon is definitely fun, but the training isn't," O'Brien explained in Runner's World. "The thing I love about the decathlon is you always get another chance. Plus, you get to do 10 different things." O'Brien is so good that the only competition he has is the world record. "I'm my biggest opponent," O'Brien stated in Runner's World. "The decathlon is a competition against yourself."
Read more
Latest headlines