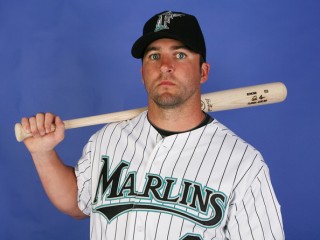 Dan Uggla biography
Date of birth : 1980-03-11
Date of death : -
Birthplace : Louisville, Kentucky
Nationality : American
Category : Sports
Last modified : 2010-11-12
Credited as : Baseball player MLB, second baseman with the Florida Marlins,
Daniel Cooley Uggla was born on March 11, 1980 in Louisville, Kentucky. Uggla means "owl" in Swedish. Dan has an older brother, Mike, and a younger sister, Jane.
Dan's parents, John and Liz, divorced when he was young and both later remaried. The Uggla kids were raised by their father, who moved the family to Columbia, Tennessee—a southern suburb of Nashville. John worked as a trainer for General Electric for 30 years.
Dan's roots stretched to Schenectady, New York, where his father and grandfather originally came from Schenectady. The Ugglas had long been rabid Yankee fans, their passion building to a peak in the 1950s. Even after moving west, they took the train into New York twice a summer to go to the ballpark. Dan grew up on stories about Mickey Mantle, Moose Skowron, and Whitey Ford.
Dan followed in John's footsteps and became a baseball nut, too. He showed raw talent from an early age. Dan was a top player throughout his childhood, starring at virtually every level he played. He wasn't the biggest kid on the field, but his work ethic and desire to improve were unmatched.
Dan attended Central High School in Columbia. He starred as a power-hitting infielder for the Lions but commanded little attention. Dan stopped growing somewhere in the vicinity of 5-10, which doesn't project well to pro stardom. Scouts didn't give him a second look.
Dan, however, possessed big-league skills. He often found himself competing against future first-round pick Dewon Brazelton, who went to school an hour away in Tullahoma. They first met as 13-year-olds in a Babe Ruth League All-Star contest. They would face each other in high school, college, the minors, and in the majors.
Despite a great high school career, Dan received on one Division I scholarship offer, from only the University of Memphis. He believed in himself fully and wanted to prove it at the next level. Dan accepted the Tigers' scholarship and cracked the starting lineup as a sophomore in 2000. He had a mediocre season, batting .253 with four home runs.
ON THE RISE
Things changed for Dan in 2001 after Dave Anderson was hired as the head coach at Memphis. The Tigers finished the year 34–24, though only 13–14 against Conference USA opponents. Dan flourished under Anderson's tutelage. The new skipper encouraged him to swing for the fences, and Dan wrecked enemy pitching. He batted .379, third-best in the conference, and was among the league leaders with 18 homers and 69 RBIs. He and fellow slugger Barrett Smith gave Memphis a solid 1–2 punch, but it wasn't enough to keep pace with CUSA champs Tulane.
Dan was named a third-team All-American at second base by Baseball America behind Michael Woods of Southern University and Stanford's Chris O'Riordan. The recognition was crucial to Dan's pro prospects. He suddenly appeard on the radar of several major league clubs looking for a middle infielder with a big bat.
The Arizona Diamondbacks, on their way to the World Series that fall, picked Dan in the 11th round. He signed with the club and reported to Yakima of the short-season Northwest League. For the Bears, he played in 72 games, hit .277 and was second on the team in RBIs.
Dan shared the Yakima infield with fellow draftee Chad Tracy for a brief time. After a couple of weeks, Tracy was promoted to South Bend. It would not be the last time Dan watched teammates move up only to leave him behind.
Dan began the 2002 campaign at High-A Lancaster but hit a meager .228 in 54 games. He finished the season at Low-A South Bend and swung the stick even worse, batting just .199. The player who replaced him in Lancaster out was Scott Hairston, who would soon be in the majors. In South Bend, Dan played almost exclusively at third base. At 5-11, he did not project to be a starter at the hot corner in the majors, so the position switch perplexed him.
The following year proved to be an important in Dan's development. Back in Lancaster, he saw a lot of time at second, although he played more than 100 games at third. For Dan, being in the lineup on an everday basis for the Jethawks was a blessing given his dismal showing the season before. Dan responded with a .290 batting average, 23 homers and 90 RBIs. He and teammates Kyle Nichols (31) and Jat Garthwaite (22) finished 1-2-3 in the California League home run race. Dan's fielding, by contrast, was nothing to brag about. Still, he displayed his quickness in other ways, including 24 stolen bases, which was the second-best total on the club.
In 2004, Dan showed his versatility, playing first, second, third, and short for Lancaster before earning a promotion to Class-AA El Paso. He finished the year as the Diablos everyday third baseman. Before Dan left for the Texas League, Lancaster manager Wally Backman told him he had the tools to reach the majors—and said he had communicated the same thought to the Arizona brass. Those were words that Dan needed to hear.
Dan spent the entire 2005 campaign with Arizona's new Class-AA affiliate, the Tennessee Smokies. He played all four infield positions again, although he was used primarily at second. He turned in a solid season, leading the club with 21 homers, 87 RBIs and a .297 average. Had Dan put up these numbers at 22, the team might have added him to its 40-man roster. But at 25, it looked like he had reached his ceiling as a ballplayer.
With a farm system full of good middle infielders, the D-Backs left Dan exposed in the Rule 5 Draft, The dollar-conscious Marlins picked him up. Florida had actually been watching Dan all summer. Longtime second baseman Luis Castillo was a free agent, and the team had no intention of signing him. The Marlins wanted a cheap solution. Castillo eventually inked a deal with the Minnesota Twins.
This turn of events was the break that Dan needed. The Marlins were compelled to keep him in the majors all year, or else return him to Arizona. Dan had no intention of going back. Veteran Pokey Reese was in camp with Florida, and many people assumed the second-base job was his. When the Marlins told Reese that he would be part of an open audition, he walked away. That left Dan essentially unopposed. He worked with coach Perry Hill, who was widely regarded as the best infield coach in the league. Dan made good progress in February and March, and prepared to begin his rookie season.
Florida fans were not enthralled with the prospect of handing the second base job to a player who had never even set foot in Double-A. Rumors swirled about trades for the likes of Todd Walker, Jerry Hairston and Tony Graffinino. But Dan showed Florida manager Joe Girardi enough for the first-year skipper to put his faith in him. Just before the season started, Dan and his wife-to-be Tara had their first child, a boy named Jackson.
MAKING HIS MARK
With an additional mouth to feed, Dan knew he had to get off to a good start. By the end of April, his average was around .260, and he had belted three home runs. Dan was winning over fans with his scrappy attitude. Indeed, he had contributed mightily to a mini-winning streak with timely hits and even a steal of home. In May, he boosted his average higher, ranking among the hottest hitters in the league's second month. By June, he was leading Florida in home runs.
Meanwhile, the rookie-laden Marlins were holding their own. They would become only the second team in a half-century to have six first-year players reach double-figures in home runs. As the summer started, ESPN The Magazine ran a feature on the Marlins entitled "Raw Fish." During an interview with Dan, his infant son vomited all over him in a shopping mall. "After you've experienced all that I've been through," he told writer Jeff Pearlman, "a little spit-up is nothing."
Dan batted in the two hole during the early part of the year because of a hip injury to Jeremy Hermida. He handled the job like a pro. He also handled the many mispronunciations of his name with humor. So did the Marlins broadcast team. Every time he hit a home run, Tom Hutton and Rich Waltz would say, "And his name is … Dan Uggla!"
Dan's fielding brought smiles to the fans' faces, too. For a man who switched positions a lot in the minors and tallied over 20 errors in every pro season, Dan looked more than competent. Many compared him to Braves second sacker Marcus Giles. By mid-season, Atlanta would have gladly pulled the trigger on that trade. Dan was leading all major league rookies in homers, RBIs and hitting.
In early July, Girardi summoned Dan into his office. The rookie feared the worst. Had the Marlins acquired a star to play his position? Well, yes and no. Girardi informed Dan that he had been selected as a reserve for the National League All-Star team! He, teammate Miguel Cabrera and nine others had been voted in by the players, managers and coaches. Dan was speechless. All he could think to do was give Girardi a hug. While Dan never made it out of the dugout in Pittsburgh during the Mid-Summer Classic, he had a blast being around many of the players he had rooted for as a fan.
Florida played decent ball through the season's first three months. The experts expected the Marlins —and their overachieving second baseman—to come back down to earth. But when September started, the team still had a shot at a Wild Card berth. Dan, meanwhile, was hitting close to .300 with more than 20 home runs.
The Marlins slipped from contention with a couple of weeks to go, but Dan finished strong with a .282 average, 90 RBIs and 27 home runs—a new record for rookie second basemen. He finished third in the NL Rookie of the Year balloting.
All eyes were on Dan in his second season in the big leagues. He did not disappoint. He clouted 31 homers, drove in 88 runs and scored 113. He ran out of gas in September, batting just over .200, a mark that dropped his season average to .245. On the bright side, he remained healthy all year, which was not true for the rest of the team. Injuries decimated the club, and the Marlins sank to 71–91.
Teammate Luis Gonzalez watched Dan closely and thought he was trying too hard to reach the 30-homer plateau. The veteran shared some sage advice—never give away an at-bat. Dan agreed.
He also needed to be more selective with men in scoring position—especially with leadoff hitter Hanley Ramirez in the lineup in front of him. Dan's doubleplay partner seemed to be on base two or three times a game. Patience would give Dan more RBI chances.
Dan hoped to plug the holes in his game in 2008, but he got off to a slow start and began to tighten up. The game had always been fun for him, but in April he looked like he was fighting for life in a foxhole. Manager Fredi Gonzalez decided to give Dan a day off—and make him manage the Marlins! He took out the lineup cards and called the shots for a game.
Gonzalez's unoconventional moveworked. Dan caught fire and carried the team through May, smashing homers like they were going out of style. He hit 12 in all, setting a team record for round-trippers in a month. In early June, Dan was a close second to Chase Utley for the major-league lead in long balls. He hit two the night his second child was born. By mid June the Marlins, were nipping at the heels of the division-leading Philadelphia Phillies.
Dan was named to the NL All-Star team as a back-up to Utley, who was voted into the starting lineup. This second trip to the Mid-Summer Classic was especially meaningful for the Ugglas. Dan's dad had dreamed of watching him play in Yankee Stadium. When the Marlins visited the Yanks in 2006, Dan sat on the bench with a sore hamstring. The All-Star Game would have been his last chance before they tore the place down.
Dan took full advantage of his time in the Bronx. He joined the Home Run Derby and brought the crowd to its feet with two dingers on his first two swings. He finished tied for fifth with Grady Sizemore.
Unfortunately, it was far from a dream game for Dan. He entered the action in the late innings and booted a pair of grounders in the bottom of the 10th. It looked like he would wear the goat horns, but the AL failed to score, and the contest dragged on. Dan committed a third error in the 13th inning of what would be a 15-inning 4–3 win for the junior circuit. Dan was horrible at the plate, too. He struck out three times and banged into a double play.
An expert at putting disappointment behind him, Dan brushed off his All-Star debacle and finished the season in fine form, reaching career highs with 32 homers, 92 RBIs, 77 walks and a .514 slugging average. After the season, Dan got a raise to $5.3 million a year when he won his arbitration hearing with the Marlins.
Will the Marlins keep Dan around for another run at the NL flag? They cobbled together a championship team in 1997 and again in 2003. If the math holds, they should be in the thick of things again in 2009. One thing is certain. With a player like Dan on the diamond, they are never out of a game until the 27th out is made—especially if he gets one more big swing at the plate.
DAN THE PLAYER
Dan was strictly a pull hitter in the minors, but as a major leaguer he has learned to use the entire field. He now has home run power from foul line to foul line. That is not to say that he takes many judicious swings. On the contrary, few players go up to the plate with less of an idea than Dan, unless putting a ball into orbit counts as an idea.
Dan's ability to turn on pitches left over the plate makes him an excellent mistake hitter. The fact that he has become a bona fide slugger playing half his games in a notorious pitcher's park says a lot. Dan can be a good situational hitter. He understands how to work counts and adjust his approach depending on the variables he encounters. On the other hand, he is proudly unscientific, particularly when it comes to video. He rarely watches footage of his own at-bats.
Dan has a muscular, compact body. When he connects with a pitch, the ball explodes off his bat. His physique doesn't help him much as a middle infielder, but he has become a decent fielder. His hands and feet are quick enough to turn double plays, although his best position will always be hanging over home plate.
Read more
Latest headlines