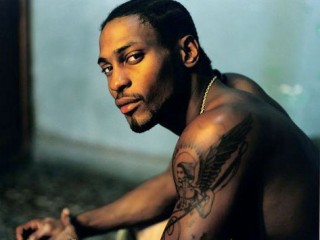 D'Angelo biography
Date of birth : 1974-02-11
Date of death : -
Birthplace : Richmond, Virginia, U.S.
Nationality : American
Category : Arts and Entertainment
Last modified : 2011-11-08
Credited as : singer-songwriter, Producer,
Michael Eugene Archer, better known by his stage name D'Angelo, is an American R&B and neo soul singer-songwriter, multi-instrumentalist and record producer. He is known for his production and songwriting talents as much as for his vocal abilities, and often draws comparisons to his influences, Marvin Gaye, and Prince. D'Angelo was one of the most influential artists during the rise of the neo-soul movement.
While his older brothers were interested in athletics, such as football, D'Angelo was studying the broad tradition of African American music, readying himself to create his own interpretive yet inventive sound. D'Angelo started playing piano at age three, then at age four he also took up the organ in his home and in his father's church, where he was exposed to gospel and choral music. D'Angelo told Vibe magazine of his recent adult revelation and understanding of his religious background while visiting his grandfather's church: "I learned that the music part of the service was just as important as the actual preaching. Someone might not be ready to hear preaching, but a song will touch him. Music is a ministry in itself."
D'Angelo's mother, Mariann Smith, introduced him to jazz and soul greats such as Miles Davis and Marvin Gaye along with acclaimed gospel musicians such as Mahalia Jackson and Mighty Clouds of Joy. Smith remained involved in her son's musical career by purchasing for him his first keyboard and critiquing his first songs. In GQ, she explained, "When he started writing he'd write a song and bring it to me right away. He'd run it by me first. And he knows I will critique him. I've always given him the opportunity to express himself, but I'll tell him what I think."
From all of the talented and acclaimed musicians D'Angelo heard, Marvin Gaye stood out as his earliest musical mentor. Beyond the musical affinity that D'Angelo had for Gaye and his work, he also saw in himself a striking resemblance to Gaye, the man. Both men were intensely involved in their music and both had fathers that were ministers of the church. The bond that D'Angelo felt towards Gaye was so profound that he became distraught following Gaye's violent and tragic death. He experienced continuous nightmares and finally had to undergo therapy. Counseling was crucial to D'Angelo's later acceptance of Gaye, both the musician and the man. D'Angelo now acknowledges the connection to Gaye and his feelings towards other artists of Gaye's time. "I don't think being called a 'son of soul' is weird. It's natural. Anybody who's coming up now is a son of that stuff or should be. We're just doing what the fathers were doing back in the day," D'Angelo told GQ.
At 16, D'Angelo formed his first band, Michael Archer and Precise, and began singing and writing his first original songs. They went on to win several local talent shows and play for family reunions and other local events. The group performed a combination of original material and covers of their favorite Al Green and Smokey Robinson songs.
As much as his gospel, jazz, and soul roots inspired him, the artist once again known as Prince showed D'Angelo how to create music which was also innovative and original. In the December 1995 issue of EM, D'Angelo recalled, "I was one of those guys who read the album credits and I realized that Prince was a true artist. He wrote, produced, and performed, and that's the way I wanted to do it." D'Angelo then began to learn other instruments such as drums, saxophone, guitar, bass, and keyboards to enhance his musical style and expertise. This later aided him in the production of his own music and other artists' work. His dedication to playing all of his own instruments also makes him an innovator because he does not rely on sampling other artist's music for more lush melodies or heavier rhythms.
Along with Prince, hip-hop also influenced D'Angelo as modern music with a feel for the music of his forefathers. "Rakim and KRS-One were my heroes. We used to [have rap competitions] in the bathroom during high school, and I used to call myself Chilly Chill. That stuff is definitely still in me too. All rap is street soul. They just have a different method," D'Angelo explained in the Los Angeles Times. D'Angelo's earliest affinity with hip-hop continued into his professional debut through the help of Ali-Shaheed Muhammad from A Tribe Called Quest who coproduced Brown Sugar.
D'Angelo used all of his musical experience and inspiration to lead him to three big wins on Amateur Night at Harlem's Apollo Theater in 1989. With the money and exposure gained from these wins, D'Angelo bought more equipment, quit school, and moved to New York at age 18. Between the ages of 17 and 18, he wrote most of the material which would later appear on his Brown Sugar debut album. Then at 19, he secured a three-hour impromptu piano recital for an EMI record executive which got him a record deal and the release of his first song, "U Will Know." He produced and co-wrote the song with his brother Luther for the Black Men United Choir which included great contemporary R&B artists such as R. Kelly, Boyz II Men, Tevin Campbell and Lenny Kravitz on guitar.
July of 1995 was finally the time for the release of D'Angelo's debut double platinum album, Brown Sugar. The album had three crossover R&B/pop hits with "Brown Sugar," the gold-selling first single; "Cruisin," the remake/tribute to Smoky Robinson; and "Lady," which hit number one on the R&B chart and number five on the pop chart. At age 21, D'Angelo made his debut performance in support of Brown Sugar at the Supper Club in New York City where crowds of celebrities such as Wesley Snipes, Snoop Doggy Dogg, and Salt-n-Pepa gave their enthusiastic approval to the young musician. The anticipation of D'Angelo's debut was so big that his hero, Prince was not allowed into the celebrity- packed theater. D'Angelo's debut performance at the Supper Club made an impressive mark on his new audience of musical peers as well as many other celebrities and R&B and hip-hop fans. His stage performance rivals only his unprecedented studio work. Some of the songs he covers live are "Can't Hide Love" by Earth Wind & Fire, the Ohio Players' "Sweet Sticky Thing," and "Give Me Your Love" from Curtis Mayfield.
Since his debut performance, D'Angelo has honed his show on some legendary stages. He performed at the 1996 Grammy ceremonies where he appeared with Tony Rich singing and performing a duet in tribute to Stevie Wonder. D'Angelo also performed at the 1996 Essence Awards with Smoky Robinson where they performed "Cruisin" together. In addition, he has appeared on the Late Show with David Letterman, the Rosie O'Donnell Show, NY Undercover, and Soul Train. In 1998 he released a second album, Live at the Jazz Cafe, followed by Voodoo in 2000. In conjunction with Voodoo he landed squarely in the media spotlight when he released a sexually sizzling video with no name. The video, referred to simply as "Untitled" (How Does It Feel), kept tongues wagging while it set female hearts fluttering. In that video D'Angelo cemented his image as a sex symbol by appearing to be nude and in the midst of an unabashed display of "jaw-dropping" gyrations, according to Jim Farber in Entertainment Weekly.
For his effort, D'Angelo has been recognized by his peers with numerous awards and nominations for best new R&B artist and/or song, including three Soul Train Music awards in 1996, four NAACP awards in 1996, three Grammy nominations in 1996 and one in 1997, and also another nomination in 1996 for the MTV Music Awards. In 1997 he won an American Music Award for Best New R&B Artist. He won two NARAS Grammy awards in 2000, for best R&B album for Voodoo, and for best male R&B vocal performance for the "Untitled" track (How Does It Feel) on that album.
Since 2000, D'Angelo has conducted no interviews, live performances or released any new material, save for minor collaborations with other artists, and sporadic unfinished demos leaked to the internet. A follow up album to Voodoo has been rumored and speculated for years. D'Angelo's two studio albums had garnered much commercial and critical acclaim, and have been cited as "two of the most excellent and singular R&B albums of the past 15 years". Rock critic Robert Christgau has dubbed him as "R&B Jesus".
In 2008, Virgin EMI released an enhanced greatest hits CD/DVD which will include top hits, rare tracks & seven previously unreleased music videos from D'Angelo. According to the press release, the new collection is titled The Best So Far… because D'Angelo is far from finished, currently writing and recording his highly anticipated next musical chapter." There will also be a digital album, video downloads, and ringtones available on the day of its release. In November 2008, D'Angelo's collaboration with Q-Tip was officially confirmed with the release of the Q-Tip album The Renaissance which features D'Angelo on the track Believe.
No new announcements were made anywhere online or in the press about the album until December 6, 2010, when a company named "101 Distribution" quietly released an import album overseas titled "James River (Album Prelude)", featuring just under an hour of snippets of new songs, alternate versions of others and jam sessions, listing as the official first song off the album as "1000 Deaths". It was released in the United States on December 28 on Amazon's website in limited quantities for over US$ 25, immediately going out of print only 24 hours later. On several websites where the album is being sold it has been claimed that the James River album will finally have a 2011 release, but nothing else is known about 101 Distributors or the validity of their statement. It has also been claimed that the album is a bootleg recording of stolen material and is not an official D'Angelo release of any sort.
As D'Angelo matures he continues to blend musical tradition with new hooks and grooves, contemporary soul, and R&B, and to collaborate with skilled young multifaceted musicians like himself. His ongoing involvements include production work for artists such as the Boys Choir of Harlem, Brandy, SWV, The Roots, Mary J. Blige, and Vertical Hold. He has also done music and production work on some movie soundtracks, including Get on the Bus, High School High, and Space Jam. He explained his musical aspirations in the Los Angeles Times: "I just want to make some dope black music, some good soul music.... I feel like I'm growing musically, that now I know what I want to do, and how better to do it. I just want to keep elevating my music to a new level."
Read more
Latest headlines