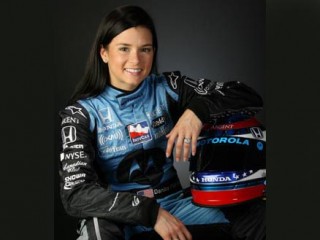 Danica Patrick biography
Date of birth : 1982-03-25
Date of death : -
Birthplace : Beloit, Wisconsin, U.S.
Nationality : American
Category : Sports
Last modified : 2010-07-27
Credited as : NASCAR driver and racer, Formula Vauxhall series, Zetek Formula Ford Series
GROWING UP
Danica Sue Patrick was born March 25, 1982 in Beloit, Wisconsin. (Click here for a complete listing of today's sports birthdays.) Her parents, Bev and TJ, met on a blind date at a snowmobile race in 1978 in Grand Forks, North Dakota. He was a championship-winning driver, and she was a mechanic for a female racer. They were married and had two children, Danica and her younger sister, Brooke.
The family lived in the Illinois town of Roscoe, where TJ owned a plate glass company and coffee shop. From her dad, Danica got her competitive spirit. From her mom, she got her determination, plus a little bit of a temper.
As a littel girl, Danica recalls watching her father race. She also remembers her mother bundled in a huge fur coat. Danica loved that coat, but she would have much rather been riding her dad's snowmobile around the track. Brooke felt the same. In fact, she asked her parents if she could try racing. The Patricks decided to buy her a go-kart. Soon Danica was behind the wheel, too. She was a natural. Brooke lost interest after crashing several times in a race, but her older sister kept going with it.
Danica began entering organized events at the age of 10, with her dad as her crew chief. He was an expert at preparing the engine, carburetor and clutch for a race. In short, he made his daughter go fast. TJ also imparted his racing wisdom to Danica when she was a young driver. He advised her to never look back, because the race was in front of her. He tried to get her to feel what the engine and tires and car body was doing, too. He knew that, ultimately, this is what gives a driver an edge.
The most important thing Danica learned from TJ was honesty. If she was driving poorly, he would let her know. If she asked him how she was doing, he would give her the straight, unadulterated truth.
Sugar River Raceway in Brodhead, Wisconsin, was the scene of many of Danica's initial triumphs. Three months after taking up the sport, she was shattering track records there. But she won races and titles all over the region—including the World Karting Association Great Lakes Sprint Series. In 1994, Danica took her first Grand National Championship. In 1996, she dominated the competition, winning 38 of the 49 feature races she entered.
One of Danica's first heroes was driver Lyn St. James, who used her understanding of math and physics to make up for what she lacked in size and strength. St. James competed in all types of racing, and at all levels, including the Indianapolis 500. She also had a driving school, which Danica attended. St. James saw the teenager's potential and began introducing her to influential people in the racing world. She took her to the Indy 500 in 1997.
A year later, when Danica was 16, the Patricks decided to send her to England to further her open-wheel career. Racing officials had told them about a developmental league in the UK, and Bev and TJ felt their daughter's future lay in something more advanced than go-karts. Danica lived and competed abroad for more than three years, often drawing the ire of fans and fellow drivers as a Yankee interloper.
In 1999, Danica's first full season overseas, she finished a respectable ninth in the Formula Vauxhall series. The following year, Danica moved up to the super-competitive Zetek Formula Ford Series and notched a second-place finish in the prestigious Formula Ford Festival. It was the highest finish ever for an American drive of any age or sex.
In 2001, Danica caught the eye of Bobby Rahal, who was running Jaguar's Formula One team that year. She bowled him over with her talent and toughness. A woman racing in a foreign country faced unimaginable obstacles, and Danica seemed ready for every one of them.
Indeed, Danica had become an icy competitor by this time—so much so that her parents noticed the change whenever she returned home for visits. Looking back, she realizes that her time in the UK served to amplify her natural competitiveness.
ON THE RISE
Rahal soon signed Danica to a multi-year contract. He and team co-owner David Letterman entered her in developmental racing series in the U.S. over the next three seasons, watching with delight as she worked her way up the open-wheel ladder. In 2001, Danica drove midget cars, open-wheel cars in the Toyota Atlantic series and American Le Mans sports cars. In 2002, she ran in the Barber Dodge Pro Series and tested a NASCAR Busch Series stock car. The highlight of her year was a victory at a Grand Prix event in Long Beach. Little did she know it would be six long and crazy years before she would take the checkered flag again.
In 2003, Danica settled into the Toyota Series and became the first woman to record a podium finish when she crossed the line third at a race in Monterrey, Mexico. A year later,, Danica placed third overall in the Toyota Atlantic Championship. Rahal also had her run an IndyCar at Homestead and Kentucky, and was pleased with the results. That was enough for Danica to earn a ride at the apex of her sport, the Indy Racing League, for 2005. When Rahal made the announcement, it caught Danica by surprise. She went numb when she heard the news.
The first four races in what would be a dream season went well. Danica actually led her fourth event before a gearing problem threatened to end her day. She managed to hold things together for a fourth-place finish. From there, it was off to the Indianapolis Motor Speedway.
Danica was the first woman ever to arrive at Indy with true first-rate equipment and an experienced team supporting her. Racing pioneer Janet Guthrie told reporters that, despite Danica's inexperience, her talent gave her a chance to win if she got a few breaks. The press picked up on the idea that she might take the checkered flag. Suddenly Danica-Mania began. Reporters swarmed around her whenever she appeared. Interview requests poured in.
The Indianapolis 500 was the big one Danica had been dreaming about since she was 10. She knew she had to stay focused. In the weeks preceding the race, she kept the off-track craziness off-track.
Danica was consistently one of the fastest drivers on the track. In qualifying, she turned in the fourth-fastest time, earning the inside position on the second row. She might have won the pole, but her car wobbled suddenly heading into the first turn of her qualifying run. The other drivers were impressed by how Danica coolly steered out of trouble. They also appreciated how she turned all the attention being lavished upon her into publicity for the IRL and her fellow drivers.
With many insiders fretting about a sub-par performance, Danica ended up running a superb Indy 500. She overcame two major problems—a stall in the pits midway through the race and a spinout that damaged the front wing of her car. Danica recovered to lead at three different times for a total of 19 laps. She was in first place when Dan Wheldon passed her with six laps to go and ended up fourth after Bryan Herta and teammate Vitor Meira streaked past her. It was the highest finish ever for a female driver at Indy. Danica collected $378,000 for her troubles, which included a $25,000 bonus as the highest-finishing rookie.
After the race, Robby Gordon—who had left IRL for NASCAR—pointed out that Danica had an advantage because she weighed only 100 pounds. The lighter the car, the faster it goes, he claimed. Gordon suggested that IRL should make a rule that all cars carry the same weight, as Formula One does. IRL, by contrast, stipulated that cars had to weigh at least 1,525 pounds. Several experts joined in on this discussion, and ultimately the consensus was that Danica benefitted from only a slight edge, if any at all.
That July, Danica won her first IRL pole position, at the Kansas Speedway. She took her second pole at the Kentucky Speedway that August. Later she made it a trifecta—tying the IRL rookie record set by Tomas Scheckter—at Chicagoland Speedway.
By the end of the year, Danica—who wound up12th in points—was the face of the IRL. She handled the attention quite well and did not elicit jealousy from her fellow drivers. They were happy to have the publicity and the attention of racing fans. Her family was a great help in keeping her sane in the face of increasing media attention. So did her fiancée, Paul Hospenthal, a physical therapist who worked with baseball players and PGA golfers. They had met after she injured her hip during a yoga session in 2002. They were later married.
Danica also had the support of almost all of the folks in IRL. She had known many of them from back in her karting days—and from her time racing in England. As a female in a male-dominated culture, Danica was a threat to some. But most had seen with their own eyes that she worked as hard as anyone. They also recognized the dues she paid to earn her spot in the series.
The 2006 season began on a tragic note at the Homestead Miami Speedway, when Danica's teammate, Paul Dana, was killed in a crash during a practice session. She and teammate Buddy Rice withdrew from the race.
Rahal-Letterman went into battle that season with the Panoz chassis, while most of its rivals were sporting the newer Dallara chassis. The team's drivers, including Danica, struggled to record Top 5 finishes. She made a decent showing at the Indy 500, qualifying tenth and finishing eighth.
At the Kansas Motor Speedway the first weekend in July, Danica recorded a 12th place finish. It was notable in that, after the race, she did not receive a single interview request. Danica was no longer a phenomenon—she was now just another driver.
Danica's departure from the racing headlines was brief. She became the talk of the sport once again after her parents were spotted talking to NASCAR people at a race in Chicago. Throughout July, rumors swirled regarding her future. Danica put those rumors to rest when she announced she would stick with open-wheel racing—though she planned to switch from the Letterman-Rahal team to Michael Andretti's Green team. The move was an upgrade for Danica, who felt that Andretti Green gave he a better chance to win. The team had taken the 2004 and 2005 IRL championships.
Danica's performance improved somewhat in the second half of the year, as did that of her teammates. Rahal-Letterman engineers upgraded their chassis and changed the setup of their cars. She finished fourth at both Nashville and Milwaukee in July and began to ascend the rankings.
Although Danica ended up ninth in points among drivers, she failed to win a race in her second IRL campaign. Each time she finished back in the pack, she girded herself for the same questions. When will you win? Can you win? Will you win?
Toward the end of 2006, Danica made her 33rd start. This was significant in that it represented the average number of races it took for an IRL driver to notch a win. From that point, ever non-victory strengthened the suggestion that Danica might be a below-average driver. Worse, some began referring to her as the Anna Kournikova of racing—sexy but without a championship trophy on her mantle.
MAKING HER MARK
The 2007 season started with a bang for Danica. Her first race for Andretti Green ended with a crash at Homestead-Miami Speedway. She was all right and went on to record several Top 10 finishes in the ensuing months. This included an eight-place showing at Indy. Danica ran as high as second in the race but fell back after pitting following a rain delay. She was working her way back toward the leaders when the race ended early due to the bad weather.
Though still in demand for TV interviews and magazine layouts, Danica was one of the "guys" at this point. She proved it after a race in Milwaukee, during which she had bumped cars with Dan Wheldon. Afterwards, she was mad and went looking for the Englishman to give him a piece of her mind. Blows between IRL drivers are not unheard of, but in this case cooler heads prevailed.
With her adrenaline still pumping, Danica made a spectacular showing at her next race, the LearJet 550 in Texas. She fought for the lead all day and ended up third, crossing the finish line less than a second behind winner Sam Hornish Jr. That first victory still eluded her.
Bad luck plagued Danica for much of the rest of the year. She was involved in spinouts, fender-benders and blown tires—all of which kept her from reaching Victory Lane. Even so, when luck was with Danica, she did well. She ended the year ranked 7th among IRL drivers.
Danica opened 2008 with two Top 10 finishes. In her third race, the Japan 300, she finally broke through. Bad weather moved the event from Saturday to Sunday. Danica was running well and feeling good to start. She remained within striking distance of the leaders all day. With five laps to go—and Danica in fifth place—leader Scott Dixon had to pit, moving her up to fourth. One lap later, she moved from fourth to second when Wheldon and teammate Tony Kanaan had to do a splash and dash.
With two laps to go, Danica passed pole-winner and race leader Helio Castroneves. Both drivers had guessed correctly that the race would come down to fuel strategy—Danica now had more in her tank. All Helio could do was tip his cap to her. She won by 5.8 seconds.
The victory was the first by a woman in an IRL race, and the first for a female driver in IndyCar history. It had come in Danica's 50th start.
With the monkey off her back, Danica can concentrate on racing and winning. Her victory gave her something she already had plenty of—respect from people who live and breathe auto racing. Something else important it did for Danica was earn her was the respect of people who don't. Casual sports fans who saw her as just another pretty face now know she's the real deal.
DANICA THE DRIVER
When drivers look into Danica's eyes, they see an intensely focused athlete. When they shake her hand, they often wince—she has a vice-grip. She learned this from her dad, who taught her that you always show strength when you meet a competitor for the first time.
Danica is a natural athlete, and her immense talent translates well into racing. She packs a lot of strength and stamina into her diminutive frame. She is also very strong mentally. Danica is as sharp at the end of a race as she is when it starts. She is persistent and methodical in every aspect of racing. And she is decisive. When Danica decides to pass, there is no wavering—she hits the gas and goes.
IRL drivers have learned the hard way that Danica never backs down from a challenge. She dishes out twice what she receives and is best left alone during a race. She is impossible to intimidate and fanatically determined. No one plays chicken with her anymore.
In terms of her technical knowledge, Danica is the equal of most of the IRL series drivers. Her team mechanics and engineers know they only have to explain something once and it clicks. She also has a memory like an elephant.
Read more
Latest headlines