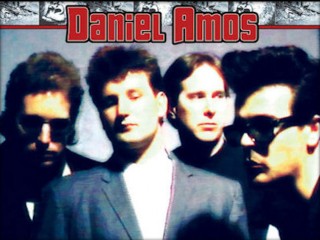 Daniel Amos biography
Date of birth : -
Date of death : -
Birthplace : Southern California, U.S.
Nationality : American
Category : Arts and Entertainment
Last modified : 2012-04-25
Credited as : Christian Rock band, Horrendous Disc album, Deluxe Edition of Shotgun Angel
Daniel Amos is a rock band formed in 1974 by Terry Scott Taylor on guitars and vocals, Marty Dieckmeyer on bass guitar, Steve Baxter on guitars and Jerry Chamberlain on lead guitars. Current members include bassist Tim Chandler, guitarist Greg Flesch and drummer Ed McTaggart. Over the course of 30 years, they have experimented with country rock, rock, new wave, and alternative rock.
One of Contemporary Christian music's most enduring cult bands, Daniel Amos have taken their own idiosyncratic musical path since their mid-1970s beginnings. Singer/guitarist Terry Taylor has led the group through a host of membership changes and artistic shifts, creating an impressively diverse body of work in the process. Over the decades, the lyrical focus of the group has moved away from an explicit evangelical stance toward more personal commentaries on theological and cultural themes. Although Daniel Amos rarely play live, they returned to record-making after a five-year absence with Mr. Buechner's Dream in 2001.
Named for two Old Testament prophets, Daniel Amos trace their beginnings to the San Jose, California, area. Taylor began writing songs at a young age; by his mid-teens, he was playing in a series of local rock combos, including the Scarlet Staircase and the Cardboard Scheme. The latter band was heavily influenced by the 1960s British Invasion, foreshadowing Taylor's Beatles-influenced songs of a decade later. The Cardboard Scheme opened for Van Morrison at a July of 1966 concert before breaking up shortly thereafter.
After dabbling in drugs and exploring various religions, Taylor became a Christian in 1971. That same year, he joined forces with guitarist Timothy Warner and singer/percussionist Doug Montgomery to form Good Shepherd, a Christian-oriented country/rock group. His shift toward spiritual themes in his songwriting was natural and unpremeditated. "When I started writing songs about my newfound faith, I didn't think of it as being Christian music," he told Contemporary Musicians. "I wanted to say something about my discovery--I was excited about life and turning over a new leaf.... So I just sort of incorporated Christian lyrics into songs I was already writing at the time."
In 1972 Warner left Good Shepherd, prompting Taylor to form another Christian country/rock combo, Jubal's Last Band. Shortly thereafter, the group moved from San Jose to Costa Mesa, California, where it became part of the thriving Christian music scene associated with Calvary Chapel. In 1974 Taylor and fellow Jubal guitarist Steve Baxter combined their talents with guitarist Jerry Chamberlain and bassist Marty Dieckmeyer to form Daniel Amos. A lineup change the following year resulted in Baxter leaving the fold and keyboardist Mark Cook and drummer Ed McTaggert joining the group.
Maranatha Records (a Christian record label affiliated with Calvary Chapel) released Daniel Amos's self-titled debut album in 1976. Acoustic-oriented in sound, the band's initial effort displayed an upbeat, almost naïve sweetness. Such tunes as "Ain't Gonna Fight It" captured the starry-eyed glow of a newly converted believer. The songs on Daniel Amos preached the gospel in unambiguous terms. "In the beginning, because I was young, there was a real emphasis on evangelism," Taylor told Contemporary Musicians. "At one time, I thought that was primarily my calling, to evangelize through what I was doing musically.... And so, the sorts of songs that I wrote ... were insensitive to an audience at large. A lot of it was preaching to the choir."
Shotgun Angel, Daniel Amos's sophomore album, was issued by Maranatha in 1977. This song collection shows definite artistic growth, both lyrically and musically. Its tracks draw upon a potpourri of Southern California rock influences, from the Beach Boys and the Eagles to Steely Dan. Taylor's knack for mixing the divine and the ridiculous comes through in "Black Gold Fever" and "Meal," a pair of good-humored country/gospel tunes. "Father's Arms" expresses a strong message of faith in a sleek jazz/rock setting. Shotgun Angel's second side is devoted to a suite of songs based upon the Christian Bible's Book of Revelation; these include the giddily operatic "Better," mocking materialism, and "Lady Goodbye," a bittersweet farewell to the world.
Daniel Amos grew to a sextet with the addition of percussionist Alex MacDougall shortly after Shotgun Angel's release. Hitting their stride creatively, they began to arouse interest beyond the confines of the Christian music world. The band was offered a contract by Warner-Curb Records, a mainstream label, in the late 1970s. Unfortunately, the deal fell through, largely due to a contractual battle between Daniel Amos and Solid Rock Records (founded by Christian rock pioneer Larry Norman). As a result, their album Horrendous Disc wasn't released for three years. When it finally appeared on the Solid Rock label in 1981, Horrendous Disc was hailed by many Christian music critics as a major breakthrough. Leaving its country leanings far beyond, the band fully emerged as a modern rock unit. "I Love You #19" is built around a ferocious lead guitar line, while "Sky King" and "Man in the Moon" feature elegantly atmospheric strings and harmonies. Many of the album's lyrics (written mostly by Taylor) comment on the fragility of the material world and the boundless power of God in sardonically humorous terms.
By the time Horrendous Disc was released, Daniel Amos had slimmed down to a quartet consisting of Taylor, Chamberlain, Dieckmeyer, and McTaggert. Signing with the Benson Company-distributed Newpax label, this lineup recorded Alarma!, the first of four interrelated albums collectively called the Alarma Chronicles. Intentionally jagged and jarring, Alarma! comments on the alienation and materialism of the modern world in tunes like "Faces to the Window" and "Colored By." Its treatment of spiritual topics is often subtle and tinged with satire, unusual for Christian music of the time. Replacing Dieckmeyer with Tim Chandler on bass, the group released Doppelganger in 1983, a further indictment of mankind's sorry state. Such cuts as "New Car," "Real Girls," and "Mall (All Over the World)" overlay portraits of soulless thrill-seekers and consumers on top of cleanly rendered pop/rock tracks. "Hollow Men" invokes the bleak poetic visions of T.S. Eliot to convincing effect. Touring in support of Doppelganger, Daniel Amos created an elaborate stage show, featuring Taylor and his bandmates wearing masks with battery-operated lightbulbs in their mouths. Some fans were disturbed by the dark tinge of these concerts, and the band was heckled as well as cheered.
Chamberlain left Daniel Amos prior to the recording of 1984's Vox Humana, which features a more prominent keyboard sound courtesy of new member Rob Watson. If anything, the satiric content became even sharper this time out, with "Home Permanent" and "The Incredible Shrinking Man" skewering '80s-style conformity. Reminiscent at times of the jittery New Wave sounds of Devo and Wall of Voodoo, Vox Humana lacks some of the graceful melodicism heard on previous Daniel Amos offerings. This lack is offset somewhat by "Sanctuary," the album's hymn-like closing number. The Alarma Chronicles series concluded with Fearful Symmetry, released by Frontline (a Benson-associated label) in 1986. Taking its title from a line in a William Blake poem, the album features the guitar/keyboard contributions of new member Greg Flesch. By turns brooding and ethereal, this song collection tempers its caustic ironies with such serene moments as "Beautiful One." As ever, the band had a knack for odd genre combinations, as evidenced by the New Wave country stomp "Sudden Heaven."
Taken in sum, the Alarma Chronicles were a bold step artistically, far more adventuresome than most Christian pop music of the time. Commenting on the Alarma albums after their rerelease as a CD boxed set in 2000, Phantom Tollbooth reviewer Terry Wandke noted that Daniel Amos "used biting wit and social critique and set it to music that pushed the envelope of Christian music in the eighties." Unfortunately, such creativity didn't lead to wide exposure or popularity. Looking back over the band's career since the 1980s, Taylor told Contemporary Musicians that "Christian radio left us long ago.... I think we don't compose feel-good music--I think it's honest music, and I think sometimes honesty is a threat to our lives and it's something we'd rather not hear. It doesn't fit into the format."
Undaunted, Taylor led his band through a period of creative change, losing Watson and moving away from synthesizers toward a more basic guitar-centered sound. For a number of albums, Daniel Amos shortened their name to DA, then returned to their original moniker in the mid-1990s. The group released much of its 1980s output on various self-launched custom labels--including Alarma and Refuge--distributed by the Benson Company. A number of releases on Frontline (another Benson-backed label) followed. For much of the 1990s, the group distributed albums on its Stunt label through Brainstorm Records before signing with Word for several releases.
During this period, the group's music took on an abrasively hard edge, while its lyrics continued to ponder theological issues with intelligence and humor. The title track to 1987's Darn Floor, Big Bite, for instance, compares man's quest for knowledge of God to a gorilla's attempt to understand an earthquake. Taylor's gifts as a lyricist sometimes celebrate the simple wonders of creation as well--"Grace Is the Smell of Rain," from the band's 1993 album Motorcycle, has a luminous country tinge to it. As a vocalist, Taylor strained against his limits, often shouting out his songs with a preacher's righteous fervor.
Unlike most Contemporary Christian music groups, Daniel Amos were unafraid to criticize their fellow believers. The title track to the 1994 release Bibleland excoriates Christians who trivialize their faith. As ever, though, Taylor's lyrics temper expressions of outrage with zany humor and a genuine love of pop kitsch. The 1995 release Songs for the Heart manages to balance such weird interludes as "Donna Nietche And Her Super Race of Kick Boxing Uber Parrots" with serious spiritual paeans like "My Hand to God."
During the 1980s, Taylor began to delve into side projects outside of Daniel Amos. His first solo album, Knowledge & Innocence, appeared on the Shadow label in 1986. His 2000 solo work Avocado Faultline, released on Silent Planet, was a deeply personal effort featuring a tribute to his father, "Papa Danced on Olivera Street." A number of collaborations with musical peers have kept him busy as well. Together with fellow Christian singer/songwriters Derri Daugherty, Eugene Andrusco, and Mike Roe, Taylor formed the Lost Dogs, a country-rock unit, in 1992. This genial combo scored a Christian radio hit in 1993 with "Pray Where You Are" and survived the unexpected death of Andrusco in 2000 to continue actively recording and touring. Taylor also joined forces with present and former Daniel Amos bandmates Chamberlain, Chandler, Flesch, and Watson to form the Swirling Eddies, a comedy-slanted Christian group that released several albums in the 1990s.
Since the late 1990s, Daniel Amos have recorded and performed live only sporadically. Taylor, Flesch, Chandler, and McTaggert have remained the core band, working with guest players in the studio on occasion. A two-decade retrospective, Our Personal Favorite World Famous Hits, was released by KMG Records in 1998. After a five-year hiatus from recording, the band released Mr. Buechner's Dream on the Galaxy 21 Music label in 2001. This limited-edition two-disc CD found the group in vigorous form, examining questions of Christian faith in tunes like "Ribbons and Bows" and "Small Great Things" with its trademark quirky humor and sure melodic touch. Reviewing the CD, ChristianityToday.com praised Taylor's "knack for expressing timeless truths with originality" and hailed Mr. Buechner's Dream overall as "a brilliant and remarkably well-crafted Christian rock album."
Since the 1980s, Daniel Amos have been sustained by a limited but intensely loyal fan base. In evaluating his band's fortunes, Taylor takes a philosophical attitude. "It gets a little exasperating that there isn't a wider audience," he confessed to Contemporary Musicians. "But I love music so much that it really doesn't phase me or keep me from continuing to do it. I know that my legacy by and large is to my children. They're going to be able to look back on Dad's records and go, 'Here was a guy who struggled with his faith but always believed. He's left something of value and worth to us.' That's important to me."
In early 2004, Stunt Records began the long and difficult task of digging through the vast DA archives and remastering most of the back catalog for rerelease. The first release in the series, a 30th Anniversary Deluxe edition of the band's first album, Daniel Amos, was released in June 2006. The two-disc special edition included an expanded booklet of never-before-seen photos, additional liner notes, and an entire extra disc of bonus material including early demos and live recordings from the pre-DA years. Work began on the next reissues in the series immediately following its release.
Plans were under way to create a deluxe edition of Horrendous Disc with Solid Rock Records up until the time of Larry Norman's passing in February 2008. It is currently unclear about the future of the joint release, but Stunt Records has plans to at the very least revisit HD with a collection of never before heard outtakes and rarities. 2007 also saw the return of the Swirling Eddies with The midget, the speck and the molecule, that band's first CD since 1996. At the end of November 2008 a deluxe edition of Darn Floor - Big Bite was released by Arena Rock Recording Co., which as well included an entire disc of never before heard recordings, interviews and rare video.
In 2010 the band's official website announced plans to release a new Daniel Amos studio album in 2011. The band will also be performing some concerts in 2011, including an appearance at Cornerstone Festival. The band's website also announced that Deluxe Editions of their debut album, Shotgun Angel and Mr. Buechner's Dream would be released in June in time for the band's tour. The Deluxe Edition of Shotgun Angel premiered at the band's first 2011 show in Nashville, TN. The Deluxe Mr Buechner's Dream premiered at the band's June 18, 2011 show in Wilmington, OH.
Albums:
-Daniel Amos, 1976 debut album
-Shotgun Angel, 1977 album
-Horrendous Disc, 1978, 1981 album
-¡Alarma!, 1981 album
-Doppelgänger, 1983 album
-Vox Humana, 1984 album
-Fearful Symmetry, 1986 album
-Darn Floor-Big Bite, 1987 album
-Kalhöun, 1991 album
-Motor Cycle, 1993 album
-Bibleland, 1994 album
-Songs of the Heart, 1995 album
-Mr. Buechner's Dream, 2001 double CD. CD 1 entitled: Mr. Buechner's Dream, CD 2 entitled: And So It Goes.
Read more
Daniel Amos Picture Gallery
Latest headlines