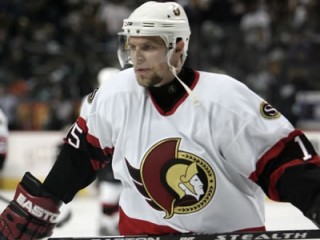 Daniel James Heatley biography
Date of birth : 1981-01-21
Date of death : -
Birthplace : Freibourg, Germany
Nationality : German
Category : Sports
Last modified : 2010-07-29
Credited as : NHL Ice hockey player, Toronto Maple Leafs,
If you didn't know better, you'd swear Dany Heatley had just time-warped into the NHL from 1980. His smile is vintage Bobby Clarke, his hairstyle reminiscent of Ron Duguay. But Dany's game is well-suited for the modern era. A power forward with quick hands and subtle stickhandling skills, he is the kind of player you build a team around. The Atlanta braintrust is doing just that, and so far Dany is making the Thrashers look like geniuses.
GROWING UP
Daniel James Heatley
entered the world on January 21, 1981, in Freibourg, West Germany. He was the first of two sons born to Karin and Murray Heatley. Murray was a hockey vagabond, playing for a pro team in Freibourg and having quite a season. The fireplug winger scored 68 goals that year at the age of 32. His first son went by the name "Dany" and still does—it's the German spelling of "Danny."
Ten years before Dany came along, Murray was making hockey headlines at the University of Wisconsin, winning three letters and scoring 67 goals in 86 games for the Badgers. He signed with the Toronto Maple Leafs out of college and played in the minors for Tulsa until he was traded to Vancouver for goalie Dunc Wilson in May of 1973. Three months later, Murray joined the Minnesota Fighting Saints of the World Hockey Association and scored 26 goals in his rookie year. He played three WHA seasons, finishing with the Indianapolis Racers.
After exhausting his career options in North America, Murray spent nine more years playing pro hockey in Europe. It worked out well for him, as he met and married Karin in West Germany. In 1984 he moved the family to Calgary, in Western Canada.
Dany grew up a fan of the Flames—a franchise which, ironically, had begun its NHL life in Atlanta. The team was at its peak when Dany began going to games in the Saddledome and rooting for players like Al MacInnis, Hakan Loob, Gary Suter, Brad McCrimmon, and his all-time favorite, Joe Mullen. Dany also for Brett Hull, who began his career as a Flame but was traded before he became an All-Star.
Dany and his dad talked and played hockey throughout his childhood. Later, his younger brother Mark joined the fun. The three even skated together on the same line in a summer "old-timer's" league.
Dany was a gifted player as a child. He had a strong body and a good mind for hockey, both thanks to his dad. After starring at the Midget level (he scored 90 points in 33 games for the Calgary Buffaloes in 1997-98), Dany was drafted by Red Deer of the Western Hockey League when he was 16. The WHL was a sure stepping stone to the pros, and normally the top young players from Calgary jump at the chance to play top-level junior hockey. Dany could easily have held his own. He was six feet tall, 170 pounds, and still growing.
But Dany chose to stay close to his friends and family, and became a big fish in the small pond of the Tier-II Alberta Junior Hockey League with the Calgary Canucks. Part of the decision had to do with college. Dany wanted to go, and preferred to play his hockey at that level—which he considers as good or better than major-league junior hockey. Also, he had visited his father's alma mater on several occasions, and found the lifestyle much more appealing than the interminable bus rides and one-dimensional social life offered by junior hockey.
In 1998-99, Dany took a step up to the elite prospect level when he scored 70 goals in 60 games to lead Calgary to a 50-8-2 record and earned Canadian Jr. A Player of the Year honors. In the AJHL finals, he recorded three hat tricks in the last three contests to lead the Canucks to the championship in a dramatic seven-game series. In all, Dany scored 43 points in 18 playoff games that spring. A ferocious young scorer and decent student (math was his favorite subject at Calgary's Dr. E.P. Scarlett High School), he now was in a position to write his own ticket in college hockey.
Dany was offered scholarships by several schools, but chose his dad's alma mater, Wisconsin. He took a lot of heat in the hockey press for leaving Canada, but the day he set foot in Madison he knew it was the right move. When he arrived on campus, much was expected of him, but not right away. Coach Jeff Sauer knew that freshmen don't typically make much of an impact in the Western College Hockey Association, and although he felt Dany was special, the coach didn't figure that even his heralded freshman would be an exception to this rule.
ON THE RISE
Dany was 6-2 and weighed close to 200 pounds by the time he started his first year at Wisconsin. His size enabled him to mix it up inside with older players, and his quick hands allowed him to maneuver in traffic. As an inside-outside threat, Dany created openings for senior Steve Reinprecht, who played center. When Reinprecht started putting up huge numbers, he drew double-teams. In turn, Dany often found himself with no one between him and the goal. It was not unusual for him to get a dozen shots on net during a game. The Badgers, little better than a .500 team when the year began, spent several months atop the NCAA rankings. They ended up winning the WCHA title.
Dany had a great year, with 28 goals and 28 assists in 38 games, and a +40 rating. Reinprecht made a nice living centering for him, and won the WCHA scoring championship with 66 points. Their linemate, David Hukalo, also had a good year.
Dany was voted Rookie of the Year, became the first freshman forward to earn WCHA First Team honors since the 1970s and was a second-team NCAA All-American. He led the Badgers in shots and game-winning goals, demonstrating confidence unusual in a 19-year-old.
Dany was also a standout at the World Junior Championships in Russia, where Canada won a bronze medal and he scored a pair of goals. Scouts who had thought of him as a possible Top 20 draft pick when the 1999-2000 season started noted his vastly improved skating technique and quicker first step, and many now ranked him #1 among North American players. Dave McNab, a former Badger and GM of the Anaheim Mighty Ducks, said that Dany was one of the greatest college players of all time—right up there with Paul Kariya and Curtis Joseph.
Heading into the 2000 NHL Draft, there was no clear-cut number-one pick. Goalie Rick DiPietro was a possibility, as was left wing Marian Gaborik. Because he already possessed an NHL-caliber shot, plus a sense of how to get to the net and protect the puck, Dany figured to go in the top five. Up until then, only one college player in history—Joe Mullen, Dany's childhood favorite, in 1986—had been the top overall pick.
As fate would have it, the draft was conducted in Calgary's Saddledome, which made Dany the hometown hero. Hoping to look his best, he asked his parents for a new suit. His mother agreed, but only if he got a haircut. The blackmail worked, and Dany had his wild hair tamed at a local salon.
Dany was selected with the second pick (after DiPietro) by the Atlanta Thrashers. The team was looking for someone who could make an impact, and Dany seemed to have all the qualifications. The Thrashers were disappointed when he decided to return to Wisconsin for his sophomore season, but the club still retained his signing rights. Dany was able to to turn his back on the team's offer of a multimillion-dollar signing bonus thanks to a multimillion-dollar insurance policy provided through the NCAA.
Wisconsin lost a number of key players to the pros and graduation after the 1999-00 season, including Reinprecht. That made Dany the focus of the Badgers' offense in 2000-01—and the target of every team they played. Without someone to feed him the puck, Dany had to work harder to create his own opportunities. At times, he found it easier to do so skating at center.
Wisconsin played well at the beginning of the year, but was out of sync thereafter. Rumors began flying that Dany was so upset about his team's play that he would sign with the Thrashers in December and jump right to the NHL. Another had him playing junior hockey for Red Deer of the WHL. Dany may well have considered either option, but the previous summer he had promised his mom and dad that if he started the year with the Badgers, he would finish it with them.
Though worn down by the physical pounding he absorbed game after game, Dany managed to keep his goal and assist totals at respectable levels, and actually finished with one more point than the year before (24 goals and 33 assists). For his efforts, he was named a first-team NCAA All-American.
By the end of the college season, everyone knew Dany planned to go pro. The Thrashers hoped to sign him quickly after his sophomore campaign and put him into an Atlanta jersey for the last couple of weeks of the year. Because he played a style fairly close to what's demanded in the NHL, the team believed he could make the jump immediately. While things didn't happen quite that fast, Atlanta did get Dany under contract for its final road trip. Athough the youngster did not suit up for the games, he did travel with the club to get a taste of the big time, rooming with captain Ray Ferraro.
In rookie camp the following summer, teammate J.P. Vigier accidentally high-sticked Dany and knocked out his front tooth. Dany thought he looked tougher minus one of his choppers. He plays with his imperfect smile to this day, only inserting his false tooth for "special occasions."
MAKING HIS MARK
The Thrashers were in their third year when Dany made the team in the fall of 2001. GM Don Waddell's plan was to have the team ready for the playoffs by the franchise's fourth season. Observing how the Ottawa Senators embraced young talent years earlier, he was certain this was the way to go. Atlanta had the added advantage of Ted Turner's bank account, which meant the club would be able to keep the players it developed. Dany, fellow 20-year-old Patrik Stefan and 18-year-old Ilya Kovalchuk were the building blocks on which Waddell's strategy was based. Other quality youngsters included centers Zdenek Blatny and Derek McKenzie, right wing Brad Tapper, defensemen Libor Ustrnul, Luke Sellers and Daniel Tjarnqvist, and goalie Rob Zepp.
Until the youngsters started producing, however, it was up to veterans like Ferraro to hold the fort and pass along bits of wisdom whenever possible.
Projections for Dany when the season started were guarded. The Thrashers did not have a legitimate first-line center, which meant he would have to create his own scoring opportunities. In college, this same situation had resulted in a goal drought. No one expected much to change against the pros. For his part, Dany felt that he had learned how to play better all-around hockey in the abesnce of Reinprecht at Wisconsin, and believed he would be able to handle life in the NHL. This certainly seemed to be the case in training camp. With little competition at left wing, he played well and seized the job on the team's number-one line with Kovalchuk—a bigger version of a young Pavel Bure—and a revolving door of centers.
The Thrashers were awful in the early going, prompting Waddell to threaten banishment of anyone willing to accept Atlanta's losing ways. Dany didn't feel the GM's tongue-lashing was directed at him. In fact, he hated losing so much management worried that he would drive himself crazy.
Atlanta fans, resigned to rooting for the weakest team in the eague, took great satisfaction in watching how quickly Dany and Kovalchuk found their on-ice chemistry. In the first half of the year, Dany saw action at left wing, right wing, center, and even handled the point on power plays. At the end of close games, coach Curt Fraser sometimes used his rookie as a defenseman to give the Thrashers an extra scorer, a la Sergei Fedorov. Fraser joked in an interview with The Hockey News that if goalie Milan Hnilicka hit a rough patch, he'd put his young star in net.
On and off the ice, Dany was forming a close friendship with Kovalchuk, the first Russian to be the NHL's top draft choice. The two were nicknamed the "Gold Dust Twins" and formed a dynamic scoring duo. Many thought Kovalchuk could not speak English, but Dany discovered he was nearly fluent—mostly he was just shy. They each rented condos in the same neighborhood. In December, they shared NHL Rookie of the Month honors.
After just a few months in the league, Dany was being recognized as one of the top two-way players in hockey. Early comparisons to John LeClair evaporated when it was clear that Dany's quickness and stickhandling skills were more evolved than the Philadelphia star's.
At the NHL All-Star break, Dany was one of 24 players chosen to participate in the 4-on-4 "YoungStars" game. Some were saying that he should have made the Canadian Olympic team—high praise, considering players like Jeff O'Neill and Joe Thornton had failed to make the cut. Ignoring the debate, Dany got a goal and two assists in the YoungStars, while Kovalchuk ended up lighting the lamp six times.
Dany did not slow down in the second half, despite having to carry the load for the Thrashers some nights without any support. Rather than wearing him down, the challenge accelerated his growth. Kovalchuk, who was neck-and-neck with Dany in the race for the Calder Trophy, saw his season end in March when he suffered a shoulder injury. Though the young Russian may have authored more highlight-reel plays, Dany showed all the earmarks of developing into a consistent, big-time scorer.
He finished the season as the only Atlanta player to appear in every game, and led the team with 41 assists and 67 points. His 26 goals were second among NHL rookies, and he topped all first-year players in points, assists and shots, and tied for the lead in power-play goals.
Dany and Kovalchuk generated a lot of attention after the season. They were the first teammates to finish as the top two NHL rookies in scoring since Alexandre Daigle and Alexei Yashin turned the trick for Ottawa in 1993-94. Hockey Digest named them co-Rookies of the Year—the first time the magazine had ever done that. The pair also wound up 1-2 in Calder Cup voting, with Dany taking the award. The last two teammates to achieve this feat were Bryan Trottier and Chico Resch of the 1975-76 Islanders.
Dany began the 2002-03 season slowly. The league had adjusted to him, and now it was his turn to readjust. Enemy defenses keyed on his lone weakness, his skating speed, which was below average by NHL standards. Dany responded by becoming more aggressive and driving to the net with more authority. Backliners had no answer for this sudden evolution, and in no time Dany was back as his team's most effective offensive player.
Dany spent a lot of time playing center, thanks to the acquisition of veteran wingers Slava Kozlov and Shawn McEachern. Getting fully acquainted with more minutes in the middle led to a scoring slump, but in January he exploded for a league-high 13 goals. What Dany's fellow Thrashers found most encouraging was that he did not slack off on defense. Adding to his stature as an excellent two-way player, Dany had a strong plus-minus rating, despite playing for a so-so team.
The team's defense was still a mess, however. The young Thrashers committed plenty of mistakes in front of Hnilicka and fellow goalie Pasi Nurminen, and neither was experienced enough to handle the difficult workload. Byron Dafoe, acquired from Boston in December, was not the answer either.
As is often the case, it was easiest to fire the coach, so Fraser was shown the door. Waddell took over on the bench while the team interviewed coaching candidates, then moved back upstairs after Bob Hartley—recently let go by Colorado—was hired. One of Hartley's first moves was to anoint Dany the team's alternate captain.
Despite his fine play and burgeoning responsibilities, Dany was still a virtual unknown to most NHL fans midway through his second season. When he was selected to represent Atlanta in the 2003 All-Star Game, he didn't figure things would change all that much. Man, was he wrong!
Playing on a line with Jaromir Jagr and Olli Jokinen, Dany was flying under the radar in the first period when he deked Rob Blake and flicked a wrist shot past Patrick Roy. Minutes later, he batted in an airborne puck for his second tally. In the second period, with all eyes were on him, he collected a great pass from Jokinen and scored his third goal of the day. The tally made Dany the youngest player ever to score a hat trick in the All-Star Game.
Jeremy Roenick of the Flyers, who was miked for the game by ABC, kept telling Dany that he was just one goal short of the record—a mark held jointly by Wayne Gretzky, Mario Lemieux , Mike Gartner and Vincent Damphousse. At 13:58 Dany got another nice set-up, this time from Jagr, and lit the lamp for a fourth time. Gretzky came down to the locker room to congratulate him between periods and wish him luck in the third.
Dany went scoreless (and shotless) in the final stanza and in overtime, but did find the net during the game-deciding shootout. The East lost, 6-5, with Dany scoring four and assisting on the fifth, by Jokinen. Named the game's MVP, he was so overwhelmed that he walked away and left the trophy on the interview table after speaking with the press.
A burgeoning media star—he did more than a dozen interviews with major newspapers, TV and radio stations after the All-Star game—Dany was the player fans were paying to see when the Thrashers came into town, the star the reporters flocked to, and the man his teammates looked to when the going gets tough.
That didn't mean Dany was an old hand quite yet. Indeed, as McEachern was quick to point out, a veteran would have popped in his replacement tooth before accepting the All-Star MVP trophy on national television.
It was one of the few mistakes of Dany's otherwise brilliant young career. He finished his second season with 86 points (39 goals, 47 assists), good for ninth in the NHL. His fine play didn't lift the Thrashers into the playoffs, but the team's failures could hardly be blamed on him. Atlanta pressed on its home ice all year long, and was the worst defensive squad in the Eastern Conference.
Nonetheless, the club wasn't too far from turning the corner. With a few more solid performers on the blueline and better goaltending, the Thrashers hoped to become a postseason contender, maybe as soon as the spring of 2004.
But those plans changed suddenly in September of 2003. During training camp, Dany drove his Ferrari into a pillar at a Buckhead condo complex going 80 mph. He broke his jaw in the crash, and an MRI also revealed two torn ligaments in his right knee.
But it's the tragedy that befell teammate Dan Snyder that haunted him for a much longer time. Riding in the passenger seat, Snyder was thrown from the car, suffered a critical head injury, slipped into a coma, and then died days later.
Dany was emotionally devastated by the accident. Facing criminal charges was the least of his concerns. Recovering from the death of his friend because of his own recklessness required a great deal of soul searching. Times like these made him thankful for having a strong family and the support of the close-knit hockey world.
Because of that group, especially his Atlanta teammates and coaches who were in Dany's corner through the entire ordeal, he was able to bounce back and contribute in the 2003-04 campaign. After missing the first 51 games, Dany returned to score 25 points in 31 games, including 12 goals.
After the year, he was forced again to confront the accident once again. Dany was indicted on vehicular homicide and several other charges. Police said he had consumed some alcohol but was not intoxicated at the
time of the wreck. If convicted on all accounts, Dany potentially faced 20 years in prison and $5,000 in fines.
Dany took the news in stride and continued his comeback in the World Cup of Hockey. As a member of the gold medal winning Canada team, he played well, registering a pair of assists in six games, all victories.
With the 2004-05 NHL season on hold because of the labor dispute between the owners and players, Dany had plenty of time to sort out his personal problems. Public sentiment seemed to be on his side in the Atlanta area, so it wasn't a surprise when a deal was worked out with the D.A.'s office. With the Snyder family voicing their support for him, Dany entered a guilty plea on four of the six charges he faced. He was sentenced to three years' probabtion. The most serious charge, first-degree vehicular homicide, was dropped.
On the ice, Dany has shown the ability to handle the emotional and physical toll of the Snyder tragedy. The Thrashers are among those thrilled by this development. When they finally do reach the playoffs, expect Dany—toothless grin and all—to lead the charge for the Stanley Cup.
DANY THE PLAYER
Dany is a terrific all-around, end-to-end player. The thing you hear hockey people rave about are his hands. They are quick, supple and strong—and enable him to do some pretty amazing things with the puck when defensemen think they have him bottled up. He shoots hard and with great accuracy, and has become a good playmaker since teaming up with flashy Ilya Kovalchuk.
Dany's skating has never been a strong point, and may never be better than average for an NHL forward. But where his speed is lacking, his instincts more than make up for it. He can smell a scoring opportunity developing before anyone else on the ice, and he's big enough to establish prime position in front of the net.
Although he has played all three positions on the front line, he is best suited for left wing because of his lefthanded shot. With a top-tier assist man, Dany could easily become a 50+ goal scorer. In the meantime, his job is to keep improving and convince his teammates that they can win the close games. In the end, that may be his most valuable contribution to a club that some day will go deep into the playoffs.
Read more
Latest headlines